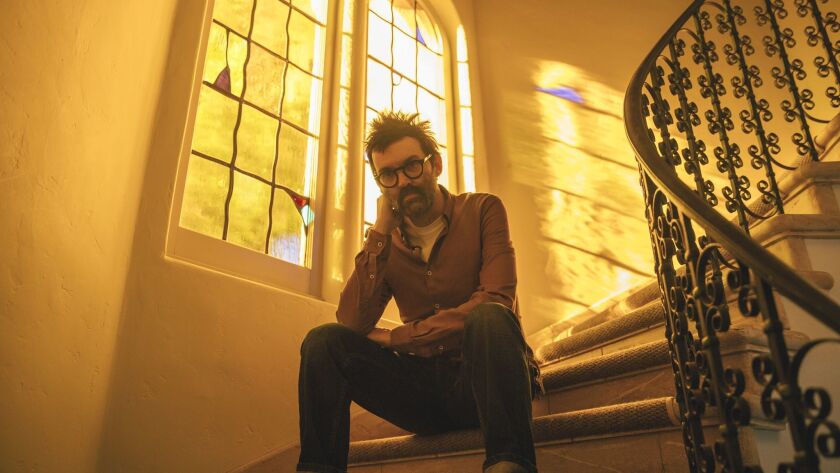 When Mark Oliver Everett finds himself recognized, as he is on a recent morning at a Los Feliz cafe, it's hard for him to know exactly who it is he's supposed to be.
Granted, he's the sole permanent member of the band Eels, which saw some MTV exposure in the '90s and has continued as a kind of hipster cult band plying a sad-sack brand of upbeat pop. He's also the author of a memoir about his unlikely life, "Things the Grandchildren Should Know," which he aimed at a different audience than his rocker fan base.
Finally, he's become an actor, playing a small recurring role on Judd Apatow's Netflix series "Love" as a not-particularly-likable character.
Everett, then, is one of those Los Angeles figures who is simultaneously obscure and well known in several different subcultures. On top of it, Everett has been in something resembling hibernation for the last four years, largely dropping out of the music career that's sustained him for a quarter-century.
"I tend to deal in extremes," he says. "Nothing for a while, and then too much at once."
His first album since 2014, "The Deconstruction," released earlier this spring, continues his mix of tunefulness and despair, and draws from a period of his life that extends a very strange track record. Nothing — as ever – is terribly simple with the man called E.
It's possible to listen to the new album – including the title track and "Bone Dry," both getting some radio play – and enjoy their mix of hooks and unorthodox electronic textures. But it helps, more than in most cases, to know Everett's back story.
"I basically grew up in 'Homeland,'" he says of a childhood in the shadow of the Pentagon, which employed his father, physicist Hugh Everett III, who came up with the quantum theory's "many worlds" interpretation. The 19-year-old E found his dad — certified genius, chain smoker and heavy drinker – dead of a heart attack, and was initially consumed with anger.
A childhood playing drums and messing around on other people's guitars and pianos, and blasting John Lennon's intensely jaded "Plastic Ono Band" LP, led to an obsessive interest in music. (He saw its pain early on, too, when his vision was damaged by a laser at a Who show.)
In 1987 he moved to Los Angeles, and after two records as E, Everett formed Eels and started … what, exactly?
Though it's grounded in the great artists of the '60s, his music is not exactly retro. It uses electronic elements, but isn't really electronica. It's pop, but not the kind that usually becomes genuinely popular.
John Parish, the longtime P.J. Harvey collaborator who produced an Eels LP, describes him as the master of atmospheric instrumentals, classic pop songs and "bittersweet melancholia." The result, sometimes, is what he calls "conflicting emotions."
That didn't mean that Eels' public image didn't harden, after Everett spoke about family tragedies – the suicide of his sister in 1996, the death of his mother two years later, his flight-attendant cousin's death in a plane that crashed on Sept. 11, 2001, into the building that had employed his father.
"I think we were pigeon-holed as 'the sad band,' or something. But all I've tried to do is reflect life. There's been some tragic stuff for sure. But that makes the bright stuff more hard-won."
"The Deconstruction" simultaneously comes out of this complex history and attempts to transcend it. "I didn't realize I was making an album for a while," Everett says as his breakfast arrives. "My goal was to take a flat-out break. I'd been working for 20, 25 years. Normal people would have taken little vacations. But I would get back from a tour and literally start the record the next day."
So he began a period of the sort he'd never experienced. "'Now I'm going to pay attention to all the other sides of life I've been neglecting – which is basically everything.' I'd say, 'Maybe I should get into model trains or something.' I never developed anything I had a real passion for. I played a lot of ping-pong."
Every few months he'd write or record something, and then put music aside again. Along the way, Everett fell in love, got married and became a father at age 54. The marriage did not last long.
"Having lost my family, I was determined to make a new family," he says. "I really wanted this to happen. And then it's pretty traumatic that it fell apart. But that made the album more meaningful to me."
Once he realized he had the sketch of a new LP, Everett poured himself into it, working on a mix of acoustic ballads and more expansive numbers that took shape in the studio, with synths and samples. "This was my lifeline – this is how I survived," he says. "I was always conscious of how music had saved me, so I wanted to give it everything in return."
Some have seen "The Deconstruction" – with its sing-along choruses alongside lyrics like "Time for me to fall apart" – as tonally confusing. Everett says he's worked to remain flexible as an artist and, as a songwriter, to be true to the way life offers a bewildering mix of good and bad.
Parish sees the key to Everett's personal and musical survival in his "caustic wit and black humor." And in fact, E seems at least as well-adjusted as the average veteran rock musician. He's also remained excited about music making.
Around the time he was starting out, E met with a record executive and told him, "I want to be the kind of artist who tries different things and evolves over the years." Looking back across the decades, it's the aspect of his career he's happiest with. "The Beatles are the teachers of that," he says. "Once you get into the Beatles, you can go anywhere. There are so many colors in the rainbow."
♦ ♦ ♦ ♦ ♦ ♦ ♦ ♦ ♦ ♦
Eels
When: 8:30 p.m. Wednesday May 30
Where: Fonda Theater, 6126 Hollywood Blvd., L.A.
Tickets: $42
Info: www.fondatheatre.com
---