Review: Garth Brooks' Stagecoach performance was as old-fashioned as his dad jeans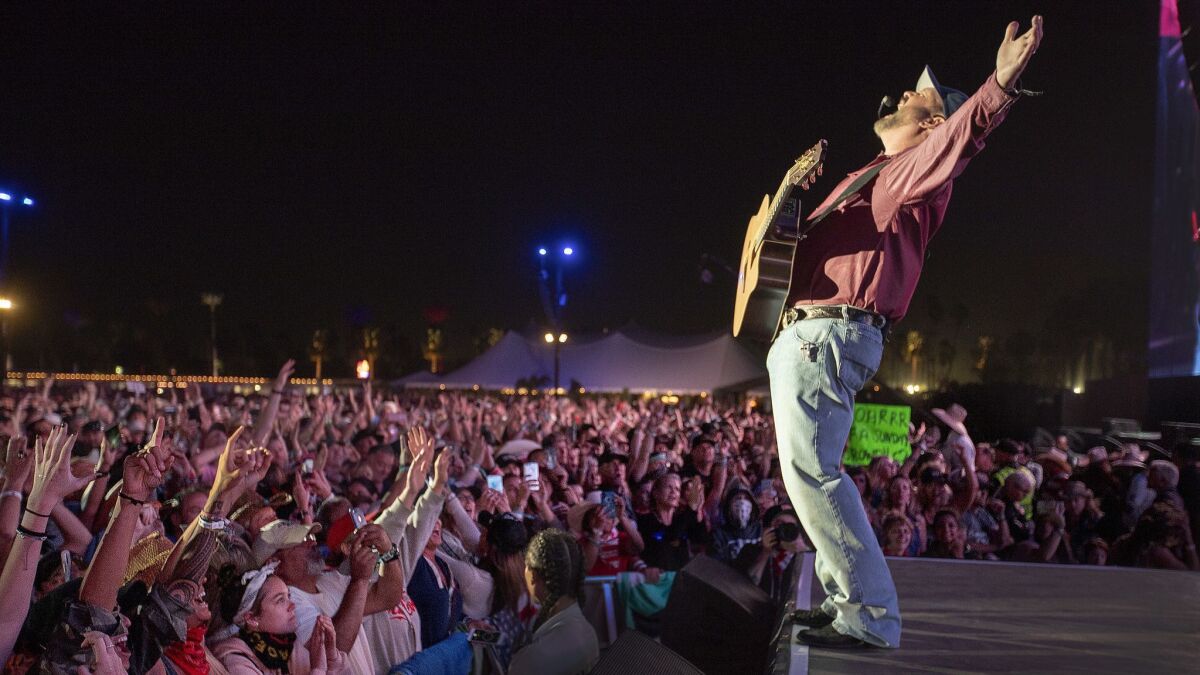 Pop Music Critic
Garth Brooks didn't become one of the biggest musical acts in history without making his audience feel special.
Superstardom relies on one's ability to wow fans, of course, but it also involves endearing oneself to them — convincing folks that they aren't wasting their adulation on someone who doesn't value it.
Flattery can be an effective way to do this, and that's the route Brooks took Sunday night as he closed out the annual Stagecoach country music festival in Indio.
The singer was wrapping up the main portion of his headlining set (before an encore) with "The Dance," his signature ballad, when he saluted the crowd for being "brave enough" to come to an outdoor country festival only six months after the mass shooting that left 58 people dead at a similar event in Las Vegas.
"Welcome to the healing process," Brooks said, noting that some at Stagecoach had been at the earlier concert or had lost loved ones there. Yet the roar in response from the field suggested that he'd managed to make tens of thousands more feel seen.
Perhaps the shout-out carried so much weight because Brooks himself was showing some serious fortitude in this proudly old-fashioned performance.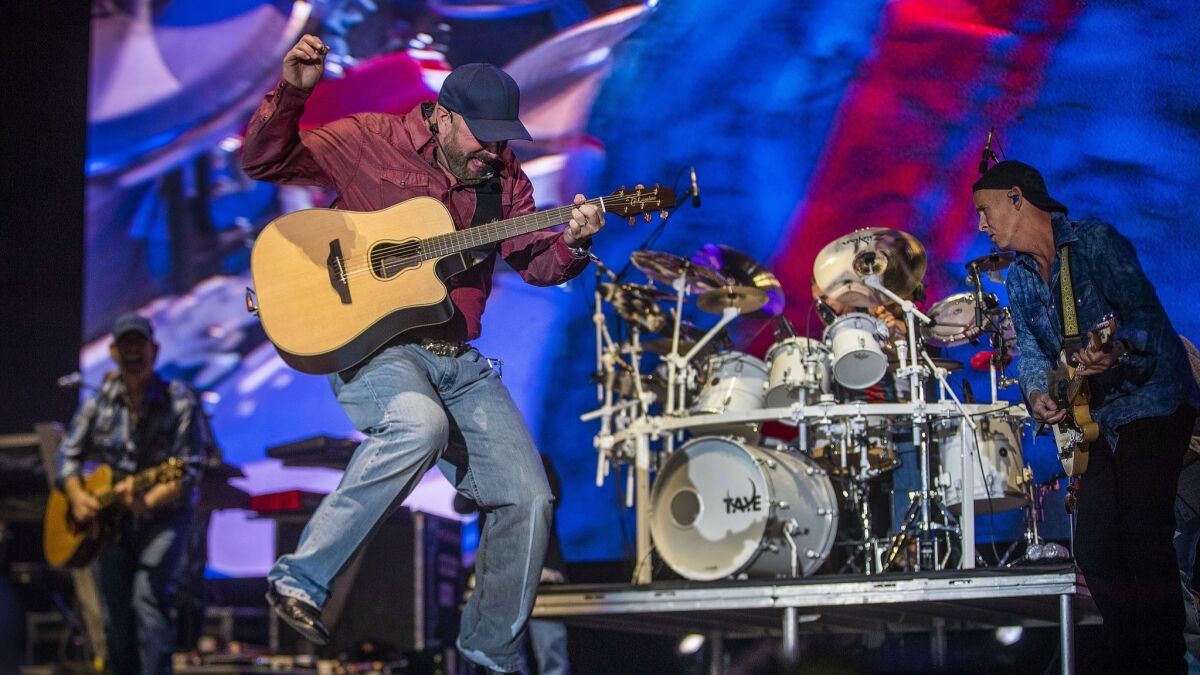 Held on the expansive grounds of the Empire Polo Club (where Coachella also takes place), Stagecoach seems to attract a younger audience every year, thanks in part to acts that mirror that trend.
Among those high on the bill for the 2018 edition were a pair of 24-year-olds in Kelsea Ballerini and Kane Brown, the latter of whom peppered his Sunday-evening set with covers of several tunes, including Travie McCoy's "Billionaire" and Outkast's "Ms. Jackson," that he said take him back to his middle-school days.
"Honestly, that wasn't so long ago," he added.
Brooks, in contrast, is a veteran at 56 — a giant of the genre so successful in the 1990s that he could spend most of the following decade raising his children before he returned to music in 2009.
It's not that Stagecoach has avoided booking headliners of Brooks' generation; just last year, the '90s' other defining megastar, Shania Twain, served as the festival's main attraction.
But Twain has worked hard (if not always advisedly) to evolve with the times; her Stagecoach set featured cameos by Ballerini and pop singer Nick Jonas, while her iffy 2017 comeback album, "Now," bore traces of electronic dance music.
Brooks betrays no such interest in keeping up with the kids — or, really, in even reaching them.
The two records he's released since coming back from retirement stick to the muscular power-country sound he developed decades ago. And he's kept his music off most of the major streaming services.
Something else to consider: A couple of weeks ago, Twain caused a sensation on social media when a photo appeared on Instagram showing the singer hanging out at a Coachella after-party with the Weeknd and Nicki Minaj, among others.
Brooks' preferred mode of festival publicity? An old-school news conference, held a few hours before showtime Sunday as though he were in the Beatles and the Polo Club was JFK Airport.
The gig itself felt just as traditional.
In his heyday, Brooks was viewed as an insurgent for his use of loud guitars and arena-concert theatrics. But now, those adaptations are part of country's standard biology.
And as he played classics such as "Rodeo" and "The Thunder Rolls," backed by his durable road band, the singer didn't update his approach with fresh arrangements or tricks of technology.
Even his wardrobe — ball cap, dad jeans and a maroon button-down shirt that looked straight off the rack from Walmart — projected a kind of radical plainness after Brown's artfully ripped T-shirt and studded suede boots.
Yet Brooks was hardly received like some past-it has-been. So how did he go over so well at Stagecoach?
No less an idealist (or a cornball) than Bono, he'd say it was simply the power of great music, as indeed, he insisted on several occasions during his nearly two hours onstage.
"Ain't no matter the size," he said, peering out at the vast space filled with people. "It's all about the song."
He's got more than a few that can live up to that setting too, be it a spirited romp like "Two Piña Coladas" or a moving piece of down-home philosophy like "Unanswered Prayers."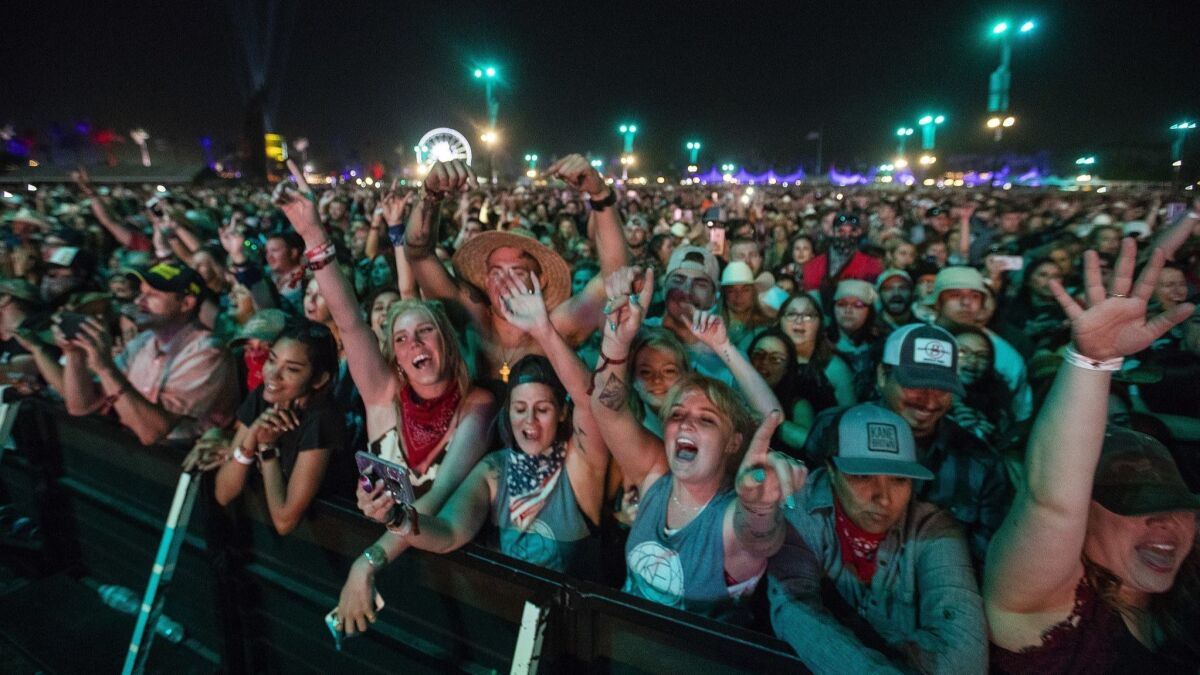 But Brooks has also mastered the art of exciting an audience with his own excitement. Whenever he'd feel the energy start to flag, he'd stretch out his arms and throw his head back and let out a bellow that basically functioned as a war cry.
It worked every time.
For all the intensity Brooks was summoning — another of his moves is to jolt an individual in the crowd by locking eyes with him or her — Sunday's show didn't offer much to surprise anyone who's seen the singer before.
The concert was more or less in keeping with the arena tour he's been on since 2014, which felt like a disappointment only because Brooks kept mentioning that he'd been looking forward to playing Stagecoach for years — far longer, that is, than the mere 12 months it took Beyoncé to devise the one-of-a-kind spectacle she brought to Coachella.
Surely, Brooks too could have come up with something unique.
Then again, spectacle might've just interfered with his real ambition, which amounts to retail politics performed on a mass scale.
It takes courage to believe that's enough these days — and skill to make it so.
Twitter: @mikaelwood
---
Get our L.A. Goes Out newsletter, with the week's best events, to help you explore and experience our city.
You may occasionally receive promotional content from the Los Angeles Times.