13 Images
Grammys 2015: Best and worst moments
Click through to see the best and worst moments from the 57th Grammy Awards ceremony.
(Los Angeles Times)
Kanye West, who attended with Kim Kardashian, was interviewed by Ryan Seacrest on the Grammys red carpet before the show. Referencing West's varied projects, the host said, "Attention deficit disorder is a good thing." Kanye's reply? "It's also called ... thinking."
(Larry Busacca / Getty Images)
It was full speed ahead on the "Highway to Hell" -- despite Malcolm Young's dementia and Phil Rudd's arrest -- with replacements Stevie Young on rhythm guitar and early-'90s member Chris Slade on drums to kick off the Grammys. Millennials, ask your elders to explain Angus Young's outfit.
(Kevork Djansezian / Getty Images)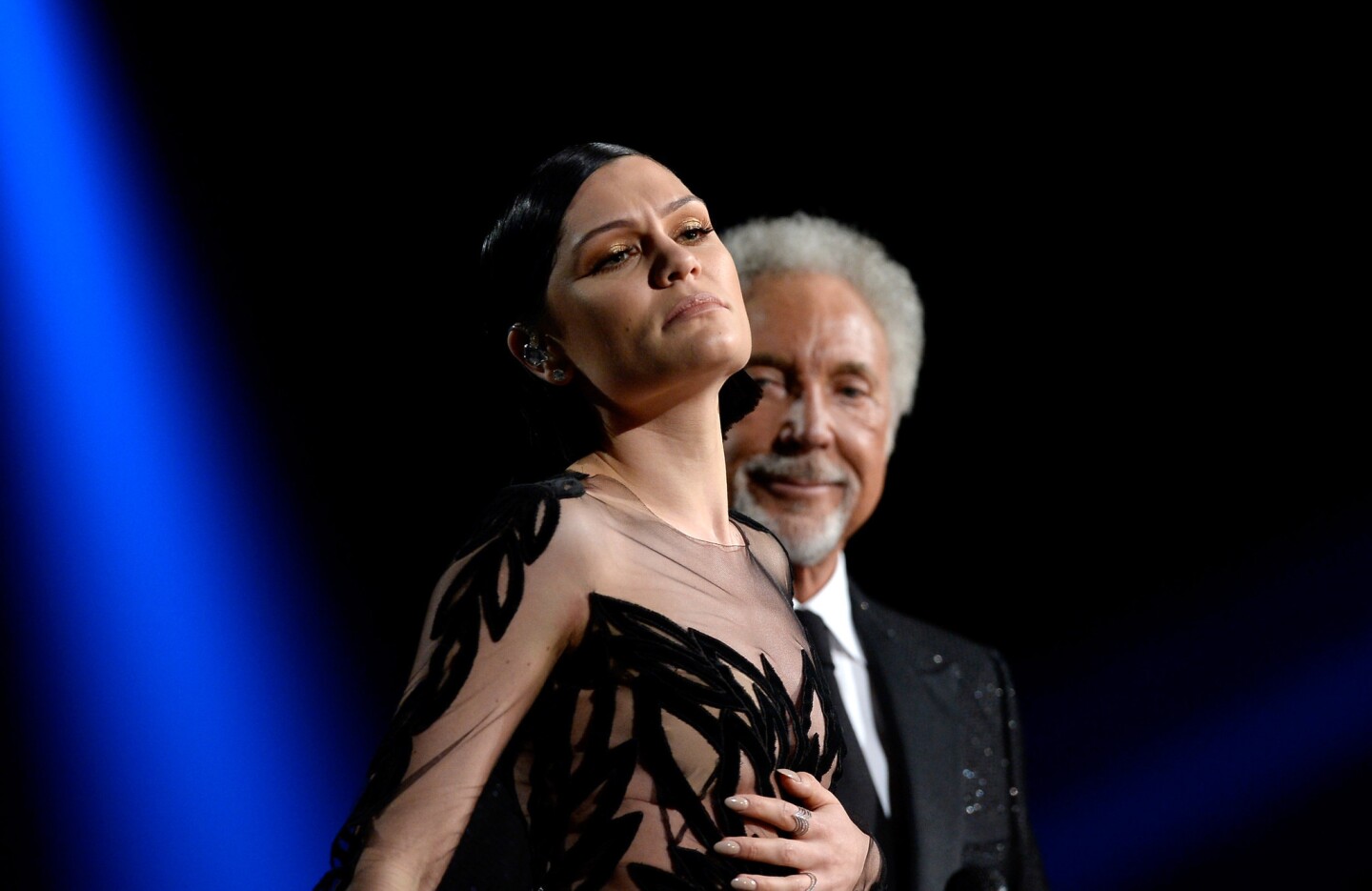 An overwrought Tom Jones and Jessie J beat "You've Lost That Lovin' Feeling" into lounge-act submission in an awkward duet. Where are Goose and Maverick when you need 'em?
(Kevork Djansezian / Getty Images)
Lady Gaga and Tony Bennett seemed as if they'd been a team for years -- which they kind of have been -- as they delivered a glamorous, snazzy performance of Irving Berlin's 1935 tune "Cheek to Cheek." Yes, they did win the Grammy for traditional pop vocal album.
(Robyn Beck / AFP / Getty Images)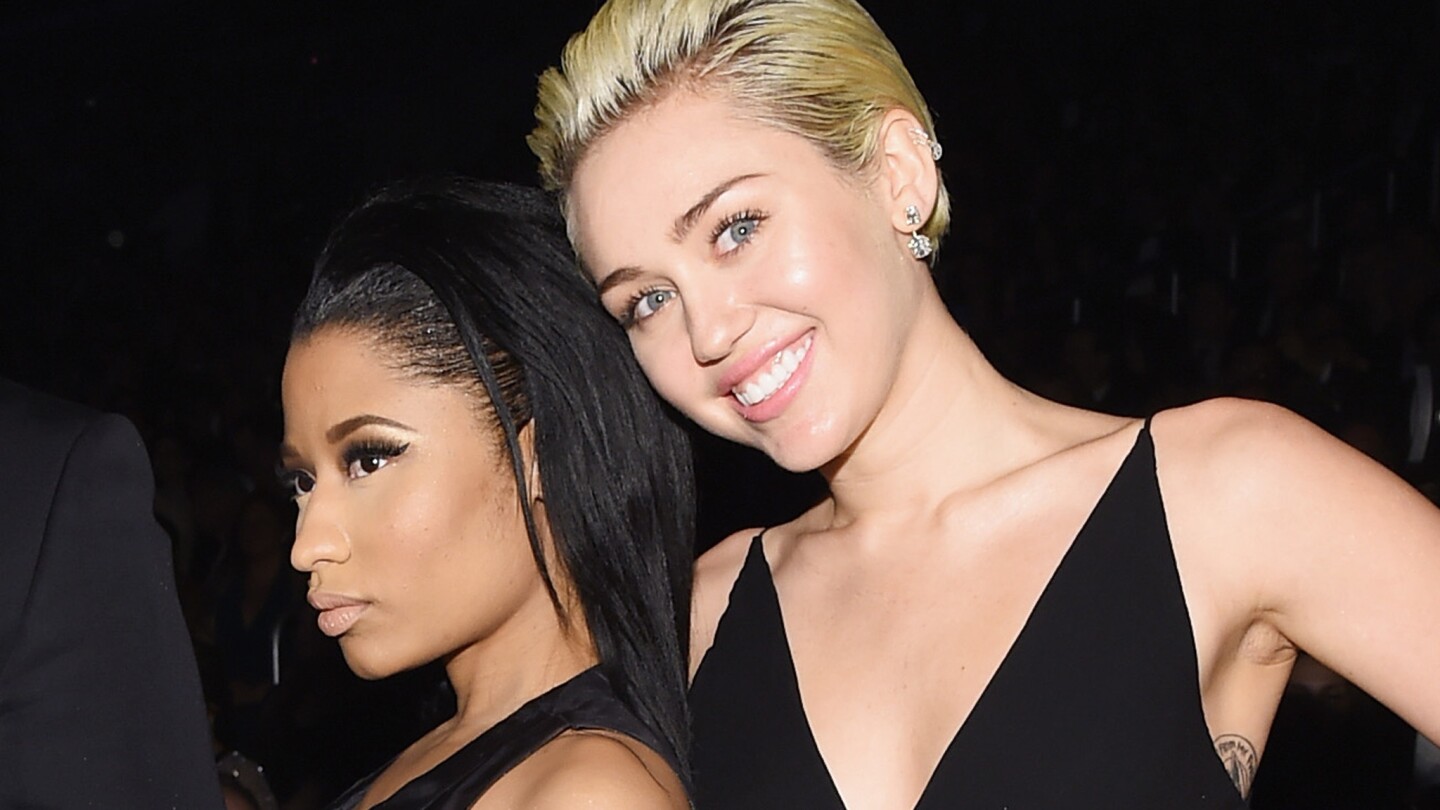 Miley Cyrus and Nicki Minaj sang Madonna's praises in a painfully teleprompted intro, noting the icon's strength, power and success. Then Cyrus urged the audience to "give it up for our bitch, Madonna." Madonna proceeded to be gored onstage by dozens of dancers wearing bulls' horns.
(Larry Busacca / Getty Images)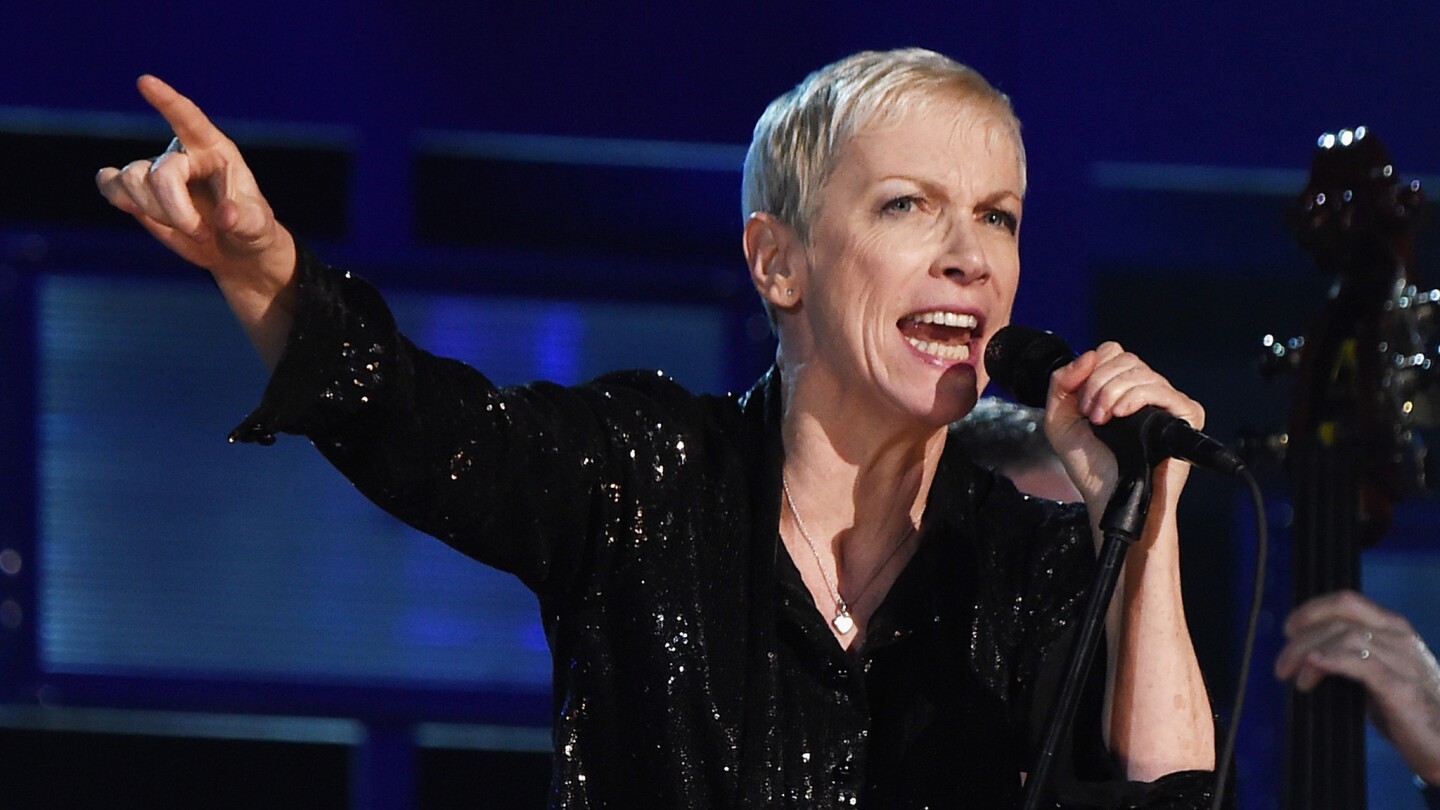 Annie Lennox, who joined Hozier at the end of his performance of "Take Me to Church," absolutely killed it with her "I Put a Spell on You." Unlike her 1980s peer Madonna, she didn't need a matador-themed onesie with a bustier to make it work.
(Larry Busacca / Getty Images)
Pharrell restyled his hit song "Happy" into a plea for racial awareness, turning the ditty serious, with symbolism including the "Hands up, don't shoot" gesture. Word from inside the show was that the audience didn't get it at first. Plus -- the bellhop hat?
(John Shearer / Associated Press)
In the middle of the Grammys -- or was it in the middle of a commercial break? -- an Imagine Dragons concert broke out. Viewers had a full four minutes to figure out what was going on. That's how much time Target bought to broadcast live footage shot in Las Vegas just moments earlier.
(Isaac Brekken / Getty Images)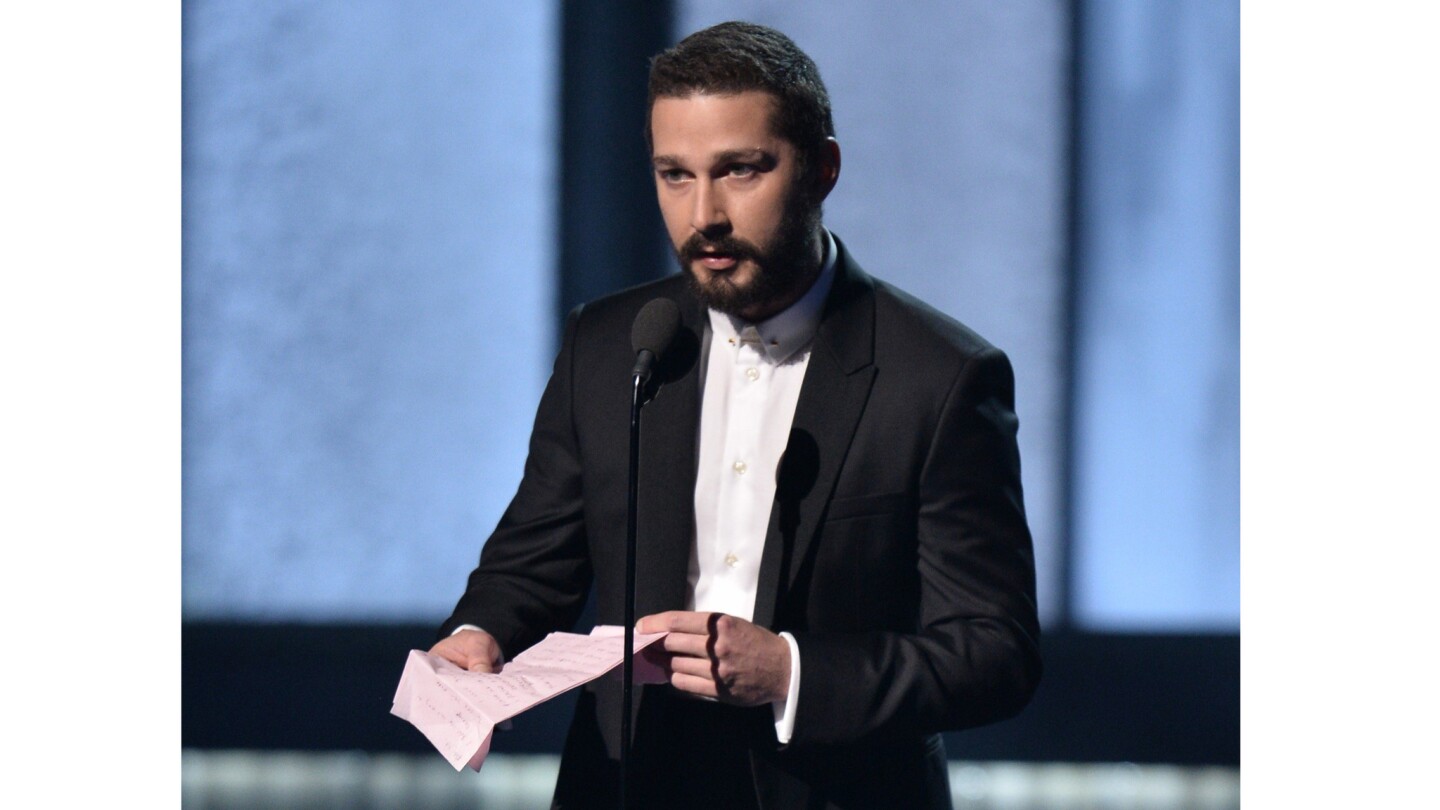 Shia LaBeouf introduced Sia's "Chandelier" performance with a weird poetic speech handwritten on pink paper (and tweeted). A sample: "I love you. So punch me if I stop crying." Turns out the missive was written by Sia's husband, Erik Anders Lang.
(Robyn Beck / AFP/Getty Images)
Sam Smith -- shown here with his best new artist award -- had words for the ex who inspired him to write "Stay With Me": "Thanks for breaking my heart, because you got me four Grammys." It's his loss, Sam. His loss.
(Kevork Djansezian / Getty Images)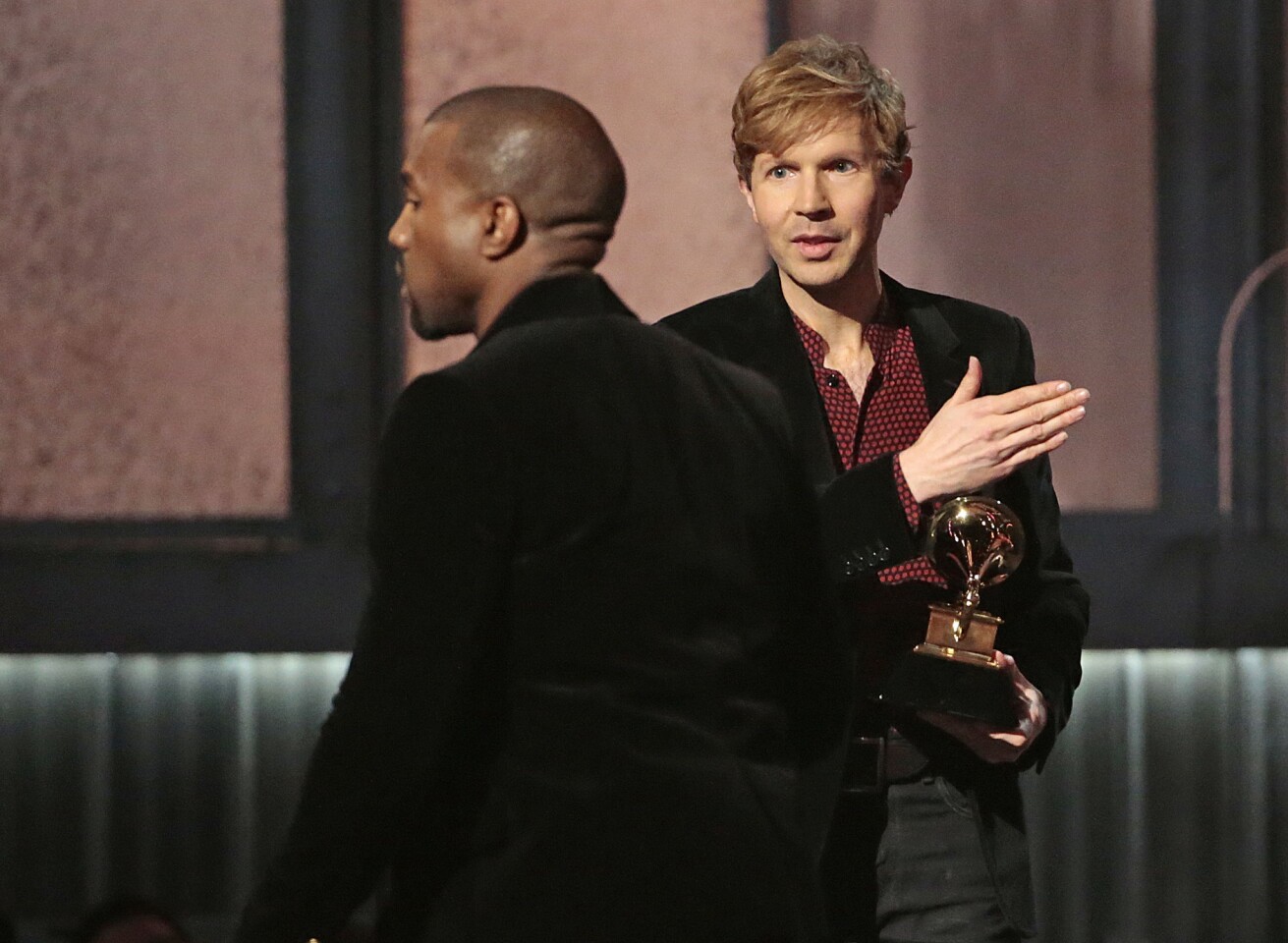 When Beck stepped up as winner for album of the year, Kanye West re-created his infamous moment from the 2009 VMAs and started to take the stage uninvited. Then the rapper cracked a smile, gestured "never mind" and returned to his seat. "No, come back, I need help," Beck said.
(Robert Gauthier / Los Angeles Times)
Gwen Stefani and Adam Levine's duet on "My Heart Is Open" was only one of what seemed like dozens (hundreds? thousands?) of slow, emotional ballads that made the 2015 Grammy Awards seem longer than 3½ hours. Our kingdom for something we could have danced to ...
(Larry Busacca / Getty Images)