Trumpeter Herb Alpert: 'The guys that are in control are not honoring the arts'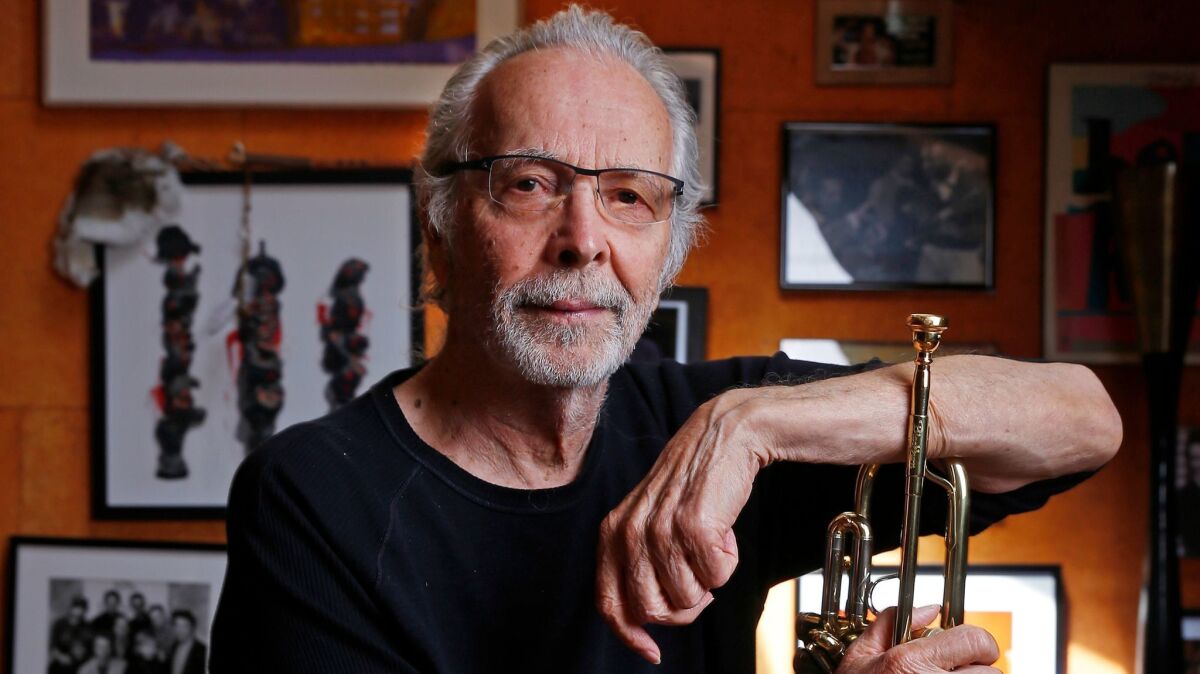 While walking from his sculpture and painting studios to his recording studio on a typically Pacific-breezy afternoon, trumpeter, A&M Records co-founder and philanthropist Herb Alpert paused to describe his first brush with a horn.
It was at a music appreciation class when he was a kid, Alpert, 82, said during a tour of his oceanfront Malibu property. He arrived to find a table full of instruments, including a trumpet.
"As soon as I started to make a noise that made sense, man, this trumpet was talking for me," Alpert says, passing a dozen of his column-sized, totemic sculptures. "It was saying things I couldn't get out of my mouth."
Alpert had invited a guest to his compound to discuss his relentless creative output, specifically his two recent albums: "The Christmas Wish," his first holiday record in 50 years, and "Music, Vol. 1," a collection of cover songs that, he writes in the liner notes, fulfills his desire to "make uplifting music at a time when the whole world feels like it could use some."
If it isn't entirely topical in its subject matter, Alpert says it's current in its tone. A contentious political climate means arts funding is a subject of near constant consternation. With "Music, Vol. 1," Alpert simply wanted to celebrate the beauty inherent in creativity.
The mostly optimistic standards he selected include Irving Berlin's "Cheek to Cheek," "Witchcraft" (as made famous by Frank Sinatra), the Beatles' "Michelle" and John Lennon's "Imagine."
As he approaches the door to his recording studio, Alpert adds that he's "still a card-carrying introvert at heart" but that he's never shaken the desire to express himself.
"I'm totally mesmerized by the mystery of all the arts. You walk through my sculptures, you can't tell me why you like them," he said. "You can come to a different conclusion — 'it touched me' — and that's good enough."
The challenge, says producer Jochem van der Saag, who collaborated with Alpert on "Music, Vol. 1," was to contemporize songs that are decades old.
There are a lot of standards records, Van der Saag says during a phone conversation, and many follow a formula: "You hire the cats, you do it all live. You go to Capitol [Studios] and you have something that is traditional in sound that matches the song, and matches the period the song originated from."
His task was to "cut the tie between the sonic representation and the point of origin of the actual song," Van der Saag added.
You won't hear Alpert playing a period-piece muted trumpet on "Cheek to Cheek," nor is he accompanied by a Depression-era ensemble. Rather, the trumpeter maneuvers the choruses and refrains through a shuffle-step rhythm and bursts of brass.
For Nat King Cole's "Unforgettable," Van der Saag and Alpert added a layer of synthetic flair, some bottom-end bass and turntable scratching.
They didn't need a massive recording facility to get the sound, Alpert says, gesturing at his home studio. He sold millions of records with his band the Tijuana Brass before selling millions more with partner Jerry Moss as proprietors of A&M, home to artists including the Carpenters, the Flying Burrito Brothers, Cat Stevens and the Police.
"Everybody has a recording studio these days. At A&M Records, we had these huge, monster studios — A, B and C — and if you went into Studio A, you could put a symphony orchestra in there."
Chuckling at the wonder of it all, he says, "The acoustics were great coming out of all those studios, but now you can do all of that on a laptop.
"I'm not sure if that's all for the good. You can definitely lose something if you're not careful. You can overthink it, over-sanitize it, make sure it's all perfect and it's in tune and everything is fitting right in order."
Asked about his intention to offer uplifting music at this particular juncture, Alpert doesn't mince words.
"I feel like we're in a funny place right now in this country and in the world," he says. His voice rising, he cites as an example President Trump's decision not to attend the Kennedy Center Honors, which celebrates American performing artists.
"You think, 'Holy moly, man, is that the type of world we're in right now, where our political system and the guys that are in control are not honoring the arts, which we need so desperately to identify who we are and keep things going?"
Alpert adds, "You ever try to watch a movie without music? It won't work."
His passion for arts education is obvious, a truth that's reinforced by the Herb Alpert Foundation, which supports arts education programs.
"I'm so eager to get kids to experience their own creativity at an early age," he says. "I was lucky. I was blessed with that. And to think that we have carved that out of the public school system — and private schools, to some degree."
Searching for the right words, Alpert is silent for a few seconds before mentioning something that the late soul singer Sam Cooke once told him.
"He didn't know he was teaching me, but he said, 'Herbie, people are just listening to a cold piece of wax. It either makes it or it don't.'" Alpert explained that he's not actively trying to connect with other people through music. "I'm trying to connect with myself.
"But if I'm authentic and honest and I play the music that's coming out of me, I know it will touch a certain amount of people."
For tips, records, snapshots and stories on Los Angeles music culture, follow Randall Roberts on Twitter and Instagram: @liledit. Email: randall.roberts@latimes.com.
ALSO
Josh Kun explores how Latin American musicians and composers influenced and transformed Hollywood movie music
Review: Tom Petty and the Heartbreakers look back on four decades, but leave the nostalgia at home
Bassist/producer Holger Czukay of Can was one of the most influential musicians you may never have heard of
---
Your essential guide to the arts in L.A.
Get Carolina A. Miranda's weekly newsletter for what's happening, plus openings, critics' picks and more.
You may occasionally receive promotional content from the Los Angeles Times.