Michael Jackson estate rips controversial 'Leaving Neverland' doc: 'It has always been about money'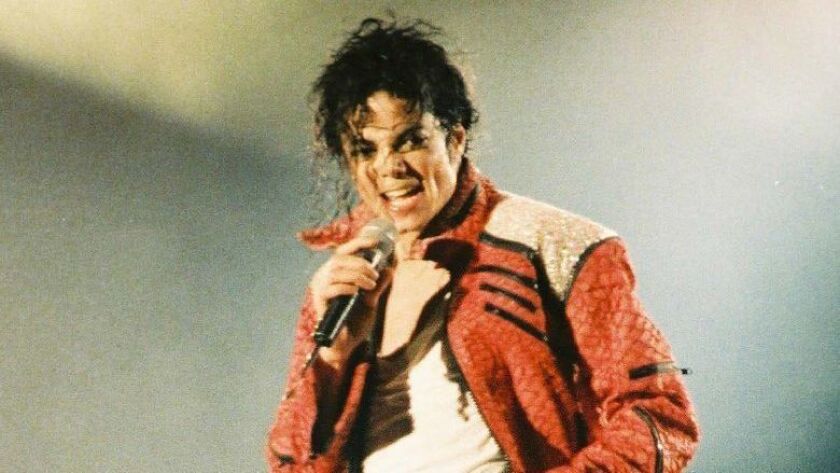 Reporting from Park City, Utah —
The Michael Jackson estate has responded to a controversial documentary about the late pop icon centered on two men who accuse him of sexually abusing them as children.
In a lengthy statement released late Friday, Jackson's estate ripped into the director and participants of "Leaving Neverland," the startling, four-hour film that premiered at the Sundance Film Festival earlier in the day.
The film explores claims made by Wade Robson and James Safechuck, two men who were befriended by the pop star as small kids. Both accuse the singer of repeated sexual abuse — described in such startling detail that the film came with an onscreen warning and festival organizers had mental health professionals on hand in the lobby for those who needed to talk.
Michael Jackson's estate has contested "Leaving Neverland" since it was first announced earlier this month, noting that both subjects initially testified on Jackson's behalf when he was accused of child sexual abuse in 1993, saying he never behaved inappropriately. (That case was eventually settled out of court.) Robson later testified on Jackson's behalf at the 2005 trial in which the singer faced seven counts of child molestation and two counts of administering an intoxicating agent to a minor, and in which he was acquitted.
The Dan Reed-directed film — it'll air on HBO in March — addresses why Safechuck and Robson testified on Jackson's behalf before deciding to come forward, first in a pair of lawsuits, both dismissed, and now in "Leaving Neverland". Their reversal has been a point of defense from the estate and Jackson's fans, who have branded both men "liars" seeking a payout. In a Q&A after the screening, both men said they received no payment for their participation in the film. "We never expected anything," Safechuck said. "This was really just trying to tell the story and shine light on it."
The new statement, which came hours after the film's premiere to a small audience in Park City that included representatives from Jackson's estate, doubled down on its stancehat the two men are just out for money and pointed to both of their dismissed cases and past testimony.
Their statement, in full, reads:
Leaving Neverland isn't a documentary, it is the kind of tabloid character assassination Michael Jackson endured in life, and now in death. The film takes uncorroborated allegations that supposedly happened 20 years ago and treats them as fact. These claims were the basis of lawsuits filed by these two admitted liars which were ultimately dismissed by a judge. The two accusers testified under oath that these events never occurred. They have provided no independent evidence and absolutely no proof in support of their accusations, which means the entire film hinges solely on the word of two perjurers.
Tellingly, the director admitted at the Sundance Film Festival that he limited his interviews only to these accusers and their families. In doing so, he intentionally avoided interviewing numerous people over the years who spent significant time with Michael Jackson and have unambiguously stated that he treated children with respect and did nothing hurtful to them. By choosing not to include any of these independent voices who might challenge the narrative that he was determined to sell, the director neglected fact checking so he could craft a narrative so blatantly one-sided that viewers never get anything close to a balanced portrait.
For 20 years, Wade Robson denied in court and in numerous interviews, including after Michael passed, that he was a victim and stated he was grateful for everything Michael had done for him. His family benefited from Michael's kindness, generosity and career support up until Michael's death. Conveniently left out of "Leaving Neverland" was the fact that when Robson was denied a role in a Michael Jackson-themed Cirque du Soleil production, his assault allegations suddenly emerged.
We are extremely sympathetic to any legitimate victim of child abuse. This film, however, does those victims a disservice. Because despite all the disingenuous denials made that this is not about money, it has always been about money — millions of dollars — dating back to 2013 when both Wade Robson and James Safechuck, who share the same law firm, launched their unsuccessful claims against Michael's Estate. Now that Michael is no longer here to defend himself, Robson, Safechuck and their lawyers continue their efforts to achieve notoriety and a payday by smearing him with the same allegations a jury found him innocent of when he was alive.
– The Estate of Michael Jackson
Times staff writer Amy Kaufman contributed to this report.
For more music news follow me on Twitter:@GerrickKennedy
---
The complete guide to home viewing
Get Screen Gab for weekly recommendations, analysis, interviews and irreverent discussion of the TV and streaming movies everyone's talking about.
You may occasionally receive promotional content from the Los Angeles Times.