Michael Jackson documentary accusers Wade Robson and James Safechuck: A brief history of their abuse claims
Reporting from Park City, Utah —
The instant "Leaving Neverland" was announced, controversy ensued. The 236-minute documentary series, set to premiere with a one-time-only screening Friday at the Sundance Film Festival, features two adult men who allege they were the victims of sexual abuse at the hands of Michael Jackson when they were boys.
The subjects of the two-part series — Wade Robson and James Safechuck — had actually defended Jackson years ago when he was accused of child molestation by other young men. Later, however, after coming to grips with what they had experienced as boys, both men said, each tried to sue Jackson's companies; those cases never went to trial and were dismissed by the court.
Meanwhile, Jackson fans have flooded Twitter and Sundance's website to decry "Leaving Neverland." Just hours after the festival announced it would debut the project — which will air on Britain's Channel 4 and HBO this spring — the musician's estate denounced the work as "yet another lurid production in an outrageous and pathetic attempt to exploit and cash in on Michael Jackson."
"This so called 'documentary' is just another rehash of dated and discredited allegations," the estate continued.
'Leaving Neverland' director talks Michael Jackson sexual abuse accusations and potential fallout »
Jackson was first accused of child sexual abuse in 1993 by 13-year-old Jordan Chandler. While he was investigated, he was never indicted, though he did pay Jordan and his family $22 million to settle a related civil case in 1994.
A decade later, in November 2003, Jackson was arrested and charged with seven counts of child molestation and two counts of administering an intoxicating agent. He was acquitted on all counts in June 2005.
Though Robson and Safechuck will no doubt share new revelations in "Leaving Neverland," their legal complaints detail years of alleged abuse. Here's what we know about their allegations:
Wade Robson, 36, choreographer
As a young boy growing up in Australia, Robson was obsessed with Michael Jackson. His mom showed him "The Making of Thriller" when he was just 2, and he instantly began trying to emulate the performer's dance moves. "Over the next few years, his fascination with [Jackson] and dancing and being like him grew into an obsession. [Jackson] became 'God' to" Robson, according to the 2014 complaint he filed in Los Angeles County Superior Court. That complaint was ultimately lodged against against MJJ Productions and MJJ Ventures, Jackson's business enterprises, which the suit alleges "were his co-conspirators, alter egos, aiders, abettors and agents for the childhood sexual abuse" Robson said he endured.
In November 1987, the complaint continues, Robson entered a dance-alike competition, in which contestants tried to mimic Jackson's moves, run by MJJ productions. He won, and as his prize, he was invited to a meet-and-greet with Jackson. It went well, and the boy was then invited to dance on stage with Jackson a few nights later.
A few years later, when Robson's family traveled to California for a vacation, his mother contacted Jackson's assistant and a meeting was arranged at a Van Nuys recording studio in February 1990, per the filing. Robson was invited to stay at Jackson's Neverland ranch in Santa Barbara, where, on the first night, he says he and his sister shared a bed with the singer while their parents stayed in the guest quarters. Robson alleges that there was "an alarm system on his bedroom so as to prevent others from entering without his knowledge."
The next night, Robson says, his sister didn't want to sleep in Jackson's bed again, so he and Jackson stayed there alone. That night, the alleged "sexual activities" began — abuse that Robson says continued for seven years.
"We can never tell anyone what we are doing," Robson alleges Jackson told him that first night. "People are ignorant and they would never understand that we love each other and this is how we show it. If anyone were to ever find out, our lives and careers would be over." Robson — who says he was given the nickname "Little One" — swore he would keep his mouth shut.
When the vacation concluded and Robson returned to Australia, he and Jackson continued to speak on the phone "for hours each week" and send faxes to each other. Before long, Robson says, Jackson helped him and his family move to the U.S. permanently by hiring Robson — then age 8 — and his mother through MJJ Ventures and MJJ Productions.
In 1993, when he was 11, Robson was subpoenaed to testify in Chandler's case against Jackson. Before his testimony, he says now, he and Jackson spoke every day for hours. "You know they are listening right now," he says Jackson told him. "They are saying we did all of this disgusting sexual stuff. We never did any of that, right?" Robson — who says he was "brainwashed" into being a "good soldier" — replied: "No, way!" In private testimony, he denied any sexual abuse.
Once Robson began to go through puberty at 13, Jackson "was no longer interested in him sexually and the sexual encounters were less frequent," the complaint reads. Robson, who loved Jackson "like a father," said he didn't think he'd been sexually abused until he suffered a nervous breakdown and went to psychotherapy as an adult.
Which is why, he says, he testified again on Jackson's behalf in his 2005 abuse trial; he had "compartmentalized" the events and still didn't believe he'd been sexually abused. Plus, he says, Jackson was persuasive, telling him: "They are just trying to take us down, take away my power and my money, take away our careers. We can't let them do this. We have to fight them together."
Under oath, Robson said in 2005 that he had never been molested by Jackson, "and I can tell you right now that if he had, I wouldn't be here right now." Asked if he had been touched by Jackson in a sexual way, he replied, "Never," and, "I wouldn't stand for it."
At the time, Robson, then 23, had become a widely recognized choreographer. He was viewed as something of a child prodigy, beginning work with Britney Spears when he was just 16 and later choreographing her "Slave 4 U" music video and Pepsi commercials. He directed 'N Sync tours, worked on a Super Bowl halftime show with Aerosmith and even had his own MTV dance reality show, 2003's "The Wade Robson Project." He later won an Emmy for creating a number during "So You Think You Can Dance's" 2006 season.
But Robson's psychological issues began to bubble up in 2011, when he was hired to direct "Step Up 4." He says in his complaint that he was forced to quit the $30-million project due to "stress and anxiety," subsequently suffering "the first of his two nervous breakdowns." The second occurred in March 2012. A few months later, in May, he began to tell psychiatrist Dr. David Arrendondo about his alleged sexual activity with Jackson.
Michael Jackson's sexual abuse accusers speak out at 'Leaving Neverland' premiere »
"But for the psychological injury, illness and damage caused by the childhood sexual abuse as alleged herein," the complaint reads, Robson "would have continued on as one of the most successful talents in the entertainment industry."
Robson's 2013 child molestation case was dismissed in 2015, when a probate court rejected the claim against Jackson's estate. A year later, he filed "child sexual abuse operation" claims against the two businesses, but a judge ruled in 2017 that MJJ Productions and MJJ Ventures were not liable because "no one other than Michael Jackson had the legal ability or authority to control Michael Jackson."
James Safechuck, 40, computer programmer
Born in Simi Valley, Safechuck began working in the entertainment industry around age 7. After appearing in a few television commercials, he was cast in one of Jackson's Pepsi advertisements around 1987, when he was 10. The two hit it off, and Jackson asked Safechuck to sit on the stage and watch as the musician performed, according to the 2014 complaint Safechuck filed in L.A. County Superior Court.
Several months after the commercial shot, in March 1987,Jackson wrote a letter to Safechuck, the complaint says:
"DEAR JIMMY,
THANK YOU FOR YOUR LETTER. IT WAS NICE HEARING FROM YOU AGAIN! I'VE BEEN WORKING ON A NEW VIDEO FOR MY ALBUM AND HAVE BEEN REALLY BUSY. IT WAS FUN WORKING WITH YOU ON THE PEPSI COMMERCIAL! MAYBE WE CAN WORK TOGETHER AGAIN. I'D LIKE TO HAVE YOU COME AND VISIT ME ON THE SET SOMETIME OR WHEN I HAVE SOME FREE TIME YOU CAN COME TO MY HOUSE. KEEP SENDING ME LETTERS! I LOVE TO HEAR FROM YOU!
SPEAK WITH YOU SOON,
MICHAEL JACKSON"
After receiving the letter, Safechuck and his family were invited to Jackson's Encino home, the legal documents say. They watched "Batteries Not Included" and then, when Safechuck was alone with Jackson, the singer gave the boy $700 and a globe.
Their friendship continued to flourish, and Jackson invited Safechuck on numerous lavish trips, including an all-expenses-paid weekend in Hawaii. Safechuck says Jackson began calling him "Rubba" — short for "rubber head" — and encouraging him "to dress like him and grow his hair long" like him.
In 1988, Safechuck and his mother joined Jackson on his "Bad" tour for six months. This is where Safechuck says the first sexual abuse occurred. When Jackson was 29 and Safechuck was 10, Jackson allegedly introduced the boy to masturbation at Paris' Hotel de Crillon. Jackson demonstrated how to masturbate and then told Safechuck to try and "his penis swelled up," the complaint says. Jackson guided Safechuck "in putting his penis into a glass of water so the swelling would go down and allow him to urinate," the document continues.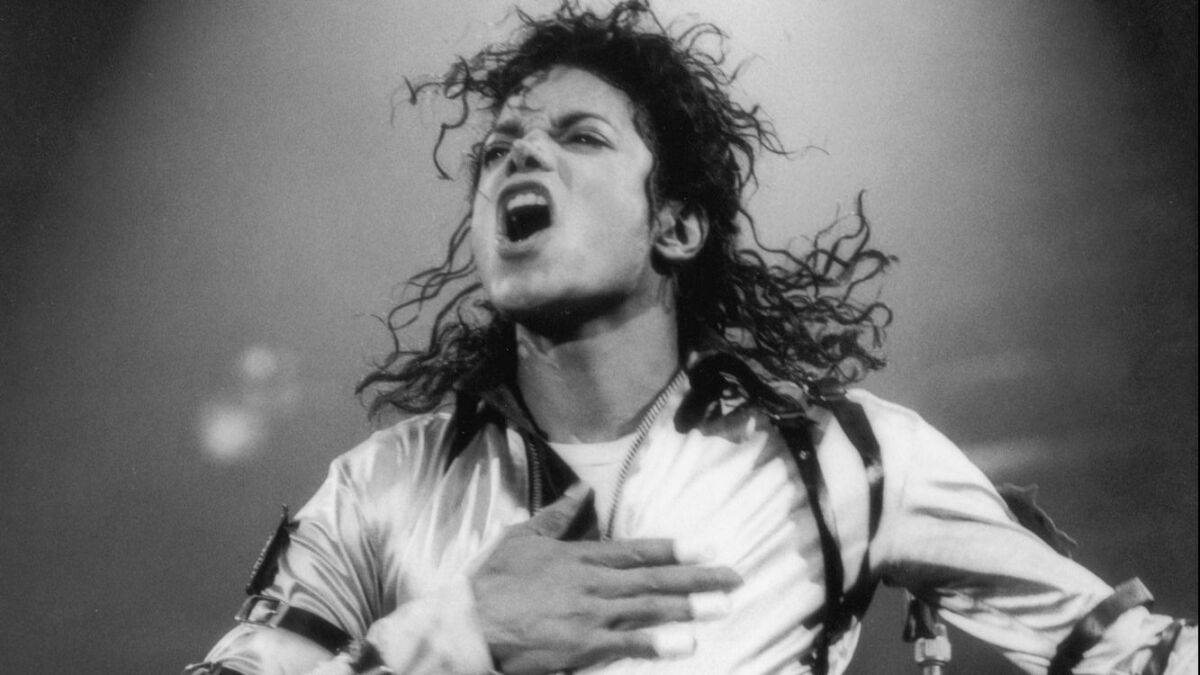 Safechuck alleges they would go on to engage in sexual acts "hundreds" of times. At another point on the tour, Safechuck says, Jackson kissed his genitals. The documents also claim that Jackson once inserted his finger into Safechuck's anus, that he had the boy rub and suck his nipples as he masturbated, and that he asked Safechuck to "bend over on all fours … grab his butt cheeks and spread them open with one hand, and masturbate himself with the other." This, the complaint says, was called "selling me some," because Safechuck would then receive jewelry as a "reward."
The two established code words for sexual activity: "bright light, big city" meant erection, while semen was "duck butter," Safechuck says.
Like Robson, Safechuck says he was instructed by Jackson never to tell anyone about the abuse, which occurred between 1988 and 1992. Safechuck began to think he was gay until he developed a crush on one of Jackson's backup dancers, Sheryl Crow. But, the complaint says, Jackson was displeased by this and showed Safechuck pictures of Crow without makeup to try to convince the boy she was unattractive.
Also like Robson, Safechuck notes that Jackson kept his bedroom at Neverland private, installing chimes near his bedroom so he could hear people coming and putting a passcode on a secret closet. Jackson and Safechuck became so close, the legal filing says, that they had a fake wedding replete with a ring and signed document.
In 1993, around the time Safechuck says Jackson was losing interest in him because he was going through puberty, he also gave a witness statement to police in the Chandler case. He says he met with Jackson's lawyers and "rehearsed questions and testimony."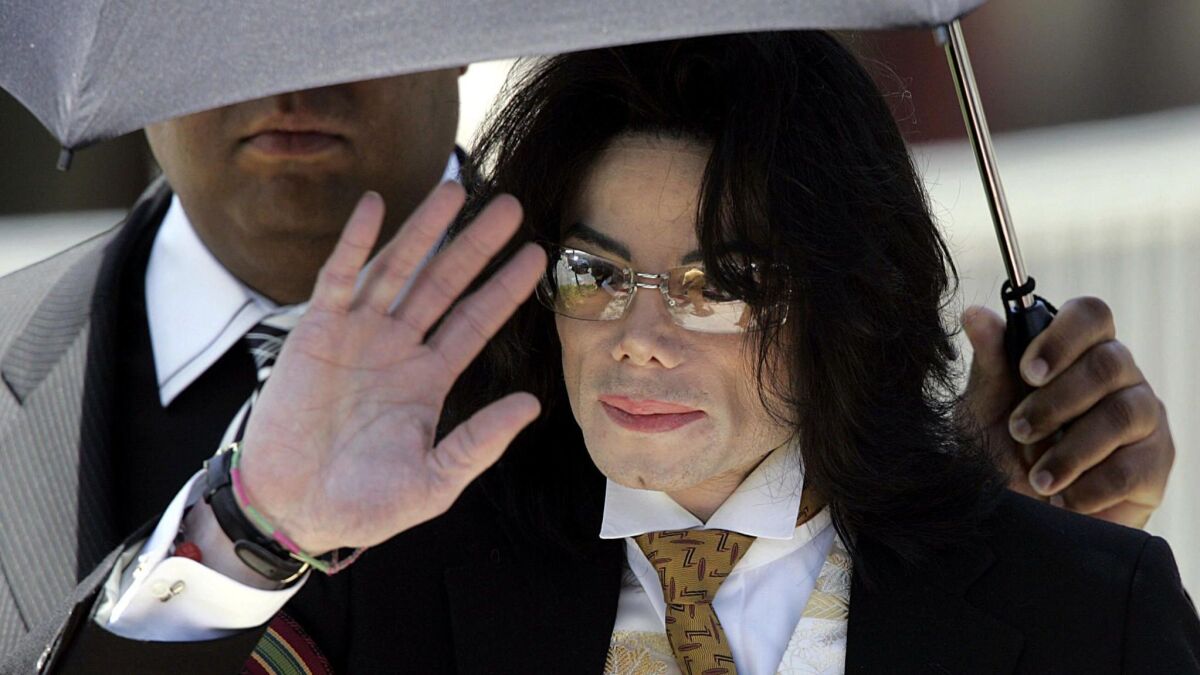 Michael Jackson documentary 'Leaving Neverland' gets Sundance off to a shattering start »
As an adult, he grew distant from Jackson. But at 27, he says he got a call from the singer requesting he again testify on Jackson's behalf in his 2005 trial. When he said no, Jackson "got angry and threatened him," saying they'd get him "for perjury" from the 1993 Chandler case. But Safechuck did not change his mind.
A few years later, in 2010, Safechuck had a son and "began to worry that he himself would have pedophilic urges," the complaint says. He got a Xanax prescription for anxiety and eventually started meeting with a psychiatrist in 2013. He says he was diagnosed with post-traumatic stress disorder, panic disorder and depressive disorder.
Safechuck's case was dismissed by a judge last year, but his legal team says more legal action is pending.
FULL COVERAGE: 2019 Sundance Film Festival »
Sundance 2019 Film Festival: See the latest video interviews
On Now
Video: Behind the scenes of the L.A. Times 2019 Sundance photo/video studio
On Now
Video: The 2019 Sundance Film Festival Boomerang Supercut
On Now
Video: How do you make the most of a small budget?
On Now
Video: Cast and filmmaker discuss trusting each other while shooting 'Premature'
3:12
On Now
Video: 'Brittany Runs a Marathon' breaks conventions and stereotypes
On Now
Video: Jillian Bell is tired of getting scripts about body image issues
On Now
Video: Jillian Bell lost 40 pounds for her role in 'Brittany Runs a Marathon'
On Now
Video: 'Brittany Runs a Marathon' actors break out of their sidekick roles
---
Get our L.A. Goes Out newsletter, with the week's best events, to help you explore and experience our city.
You may occasionally receive promotional content from the Los Angeles Times.