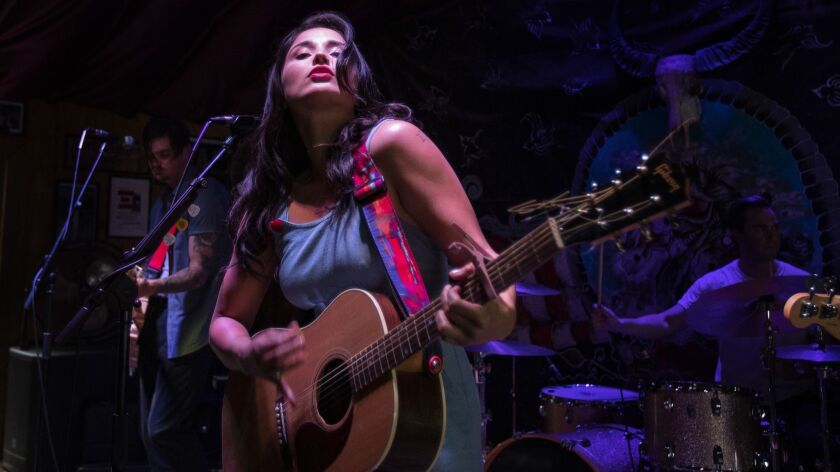 In keeping with her status as a country-music outsider, California roots singer-songwriter Jade Jackson chose an iconic Southland location to shoot the first video from her forthcoming sophomore album, "Wilderness": Pioneertown, the former Hollywood spot for filming Westerns.
The song, "Bottle It Up," incorporates a smart double entendre that Jackson applies to a sense of emotional self-preservation as well as to the classic honky-tonk remedy for romantic woes: a good stiff drink.
The chorus of the propulsive country-rock track:
Bottle it up the way we feel right now
Whenever I get lonely gonna drink a little down
Bottle it up the way you're holding me
If ever I get lonely gonna pour myself a drink
Jackson and her team also got double duty out of the Pioneertown location, taking advantage of its Old West street scene for the narrative parts of the Matt Bizer-directed video, as well as the atmospheric interior of the town's colorful restaurant-bar, Pappy & Harriet's, where she and her band played a set on a recent evening after a day of filming nearby.
"What did you think of my acting debut?" Jackson, 27, asked with a demure smile while meeting with fans following the performance. "Was I believable?"
The song, she said, came to her quickly one morning while she was out on an early run near her home in Santa Margarita, about 30 miles northeast of San Luis Obispo, where her family runs a restaurant in which she also works as a waitress when she's not recording or on tour.
"I got into a meditative state and started singing it repetitively," Jackson said. "The sound of my feet hitting the ground became the beat and the song just came to me. I got home and wrote it down — the whole idea of trying to capture the moments that aren't going to last forever. The video was very special to make too — it reflects the feeling of just trying to capture those moments."
As was the case with her critically acclaimed 2017 album "Gilded," "Wilderness," due June 28 from the L.A.-based Anti- label, is again produced by Social Distortion lead singer and songwriter Mike Ness, whose wife went to school with Jackson's mother.
As one of the eminences of Southern California punk rock, and a lifelong fan of the upstart school of California country music embodied by Buck Owens and Merle Haggard, Ness has helped Jackson highlight both deep twang and punk edginess in her sound.
That's been bolstered lately by the addition of guitarist Julian Ness, Mike's son, to Jackson's band, carrying through the bite Mike provided on the recording to her live shows.
"That was the one piece we had trouble getting right," Jackson said. "But now that Julian's in the band, I don't have to worry about what I hear coming from my right."
Twitter: @RandyLewis2
For Classic Rock coverage, join us on Facebook
---