Review: Jay-Z goes to war with himself on tour behind '4:44'
Pop Music Critic
Jay-Z put considerable effort Friday night into trying to erase himself.
The first date of a North American tour behind his acclaimed "4:44" album, the rapper's concert at Anaheim's Honda Center began with images of flames slowly burning his eyes into nothingness. Screens displayed eerie scenes from which Jay-Z had been digitally excised, including a home movie in which his young daughter, held aloft by an invisible parent, appeared to float in midair.
Most pointedly, Jay-Z opened his set with his song "Kill Jay Z," a vivid takedown of the unfeeling philanderer he says he became in recent years (until he reclaimed the hyphen he'd dropped in 2013).
"You can't heal what you never reveal," he rapped. "You know you owe the truth to all the youth that fell in love with Jay Z."
The message was as clear as it is on "4:44," which came out in June, just over a year after Jay-Z's widely adored wife, Beyoncé, accused him on her 2016 album "Lemonade" of cheating on her.
Once hip-hop's bulletproof king of cool, the 47-year-old mogul had finally taken a serious blow, one that threatened to topple him, and now he was owning up to his indiscretions — or at least attributing them to a reckless alter ego he could figuratively bury. (Male privilege dies hard.)
"I don't even know how to explain" the album's title track, he said as his backing band revved the slow-burning number in which he apologizes to Beyoncé for toying with her emotions. "It's so real it's difficult for me to perform."
Perform it he did, though — eyes closed, brow furrowed, hands gripping a microphone stand as though it were a tree trunk in a hurricane.
Yet as penitent as Jay-Z seemed in "4:44" and "Kill Jay Z" and "Family Feud," another new tune in which he says "a man who don't take care of his family can't be rich," the king of cool didn't stay buried for long.
Roaming an octagonal stage positioned in the middle of the arena — and flanked by movable screens that showed live close-ups processed to look like grainy VHS footage — Jay-Z interspersed the mea culpas with statements of triumph and braggadocio from throughout his two decades as a major pop hitmaker.
He did "Run This Town," with Rihanna's recorded vocal over a stomping soccer-stadium beat. He did "Izzo (H.O.V.A.)," in which he recounts outmaneuvering a district attorney and a shady record label owner alike.
And he did "Big Pimpin'," the deliriously funky 2000 single whose coarse description of women's value — "I take 'em out the hood, keep 'em looking good" — may deserve its own album-length apology.
"On to the next one," he rapped in the song with that title, and that appeared to be Jay-Z's guiding philosophy as he moved frictionlessly among styles and attitudes.
No one demands — or should demand — ideological consistency from a pop star, of course. Great artists get at the complexity, not the uniformity, of real life, a mission you could see Jay-Z's protégé Vic Mensa doing his best to fulfill in a so-so opening set that addressed the scourge of police violence as well as the allure of "the rock-star life."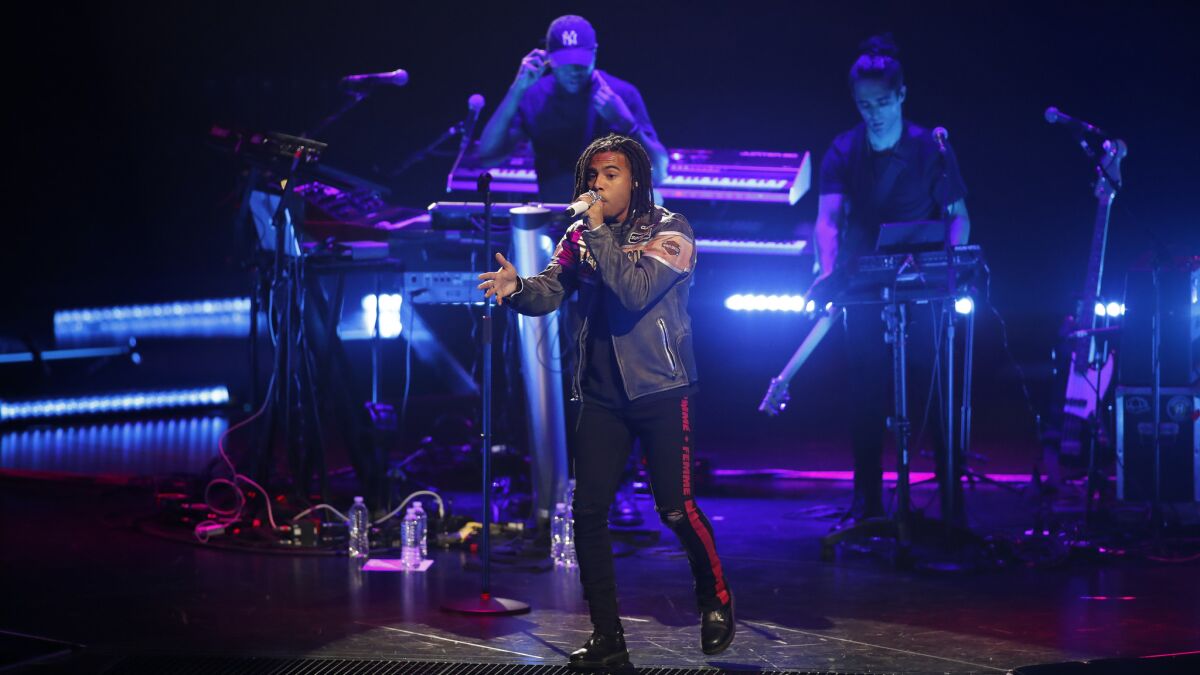 But we do demand a high level of engagement with the material at hand, especially in the case of an artist as effortlessly charismatic as Jay-Z. And too often Friday he seemed to be coasting through his old music, either because it bores him now or because he's wary of getting hung up in its contradictions.
Which is too bad, because he's capable of digging deep into familiar themes.
In addition to the stuff about his marriage, "4:44" finds Jay-Z taking up one of his most reliable subjects — the accumulation of wealth — in a fascinating new light. Where he used to rap about money as a symbol of status (itself a political act given his background), here he describes it explicitly as a tool of black self-determination in songs like "Moonlight" and "The Story of O.J."
After he performed the latter in Anaheim, Jay-Z offered still fresher context, referring to recent comments by Bob McNair, the owner of the NFL's Houston Texans, in which McNair compared football players protesting the national anthem to "inmates running the prison."
"That's what they think about you," said Jay-Z, who later explained that an unprintably titled duet with Kanye West isn't just about showing off in a high-toned city like Paris. The song, from the rappers' 2011 "Watch the Throne" album, is "really about being places where people count you out," he said.
In a set that mingled his newfound sensitivity with his old chest-beating machismo, a similarly hard look at "Big Pimpin'" — or any of his other problematic texts — might've revealed more than he did about the undead Jay-Z.
Twitter: @mikaelwood
ALSO
Has Kelly Clarkson found the 'Meaning of Life'?
Pink on her new album, Billy Joel and why she's over pop-star feuds
Why Rivers Cuomo wanted to make 'the most different-sounding Weezer record ever'
---
Get our L.A. Goes Out newsletter, with the week's best events, to help you explore and experience our city.
You may occasionally receive promotional content from the Los Angeles Times.