Jhené Aiko was in search of healing and her new project 'Trip' helped her find it
"Can you pull over," Jhené Aiko asks her driver before hopping out of the black Suburban, instructing me to take her place in the backseat.
It's a hot August afternoon and we are riding along the Pacific Coast Highway to a destination only she knows while listening to her new album, "Trip."
Surprise-released on Friday, "Trip" is the musical component to an ambitious multimedia project that also includes a short film and a poetry book – a "map," as the singer-songwriter calls it, of her quest toward personal peace.
"I want you to feel," Aiko says, turning up the volume.
The waves crashing against Zuma Beach whiz by as Aiko's gentle voice fills the car. "How you like it up there? What's your view from there," she sings, envisioning a loved one traveling in the afterlife.
Intensely personal, "Trip" is the culmination of Aiko's recent journeys toward enlightenment following the loss of her brother, Miyagi, who died of brain cancer in 2012.
"Since my brother's passing, I've been trying to navigate through my feelings," the 29-year-old said after we reached our destination, the Self-Realization Fellowship Lake Shrine in the Pacific Palisades. "I distracted myself by keeping myself busy … and trying to escape to peaceful places, by any means necessary."
Aiko says she searched for her brother's love in other men and experimented with hallucinogenic drugs. "Hoping if I get high enough, I can reach him but they only [took] me further away," she says.
Nothing worked, so she went on trips.
A week alone in Big Sur. Exploring the Big Island of Hawaii. Meditating in the Pacific Palisades. Floating through her mind with the aid of hallucinogenic mushrooms.
She was, she says, desperate to reconnect with a part of herself she forgot.
We all suffer from something. It's easier to go through something when you know you're not the only one going through pain.
— Jhené Aiko on her new album, "Trip"
"When I was born, my grampy gave me the nickname Penny. Penny is me in my purest and most authentic form," Aiko explained. "Since 2012, I've been trying to get back to her. And through this process of making music, I've been rediscovering her."
She ponders her existence with "Jukai" (named for a traditional Buddhist ceremony), sings of societal ills on "Oblivion (Creation)," offers a scathing send-off to an ex on "Never Call Me" and is joined by boyfriend Big Sean on throwback dance jam "OLLA (Only Lovers Left Alive)."
Longtime collaborators Fisticuffs executive produced the record with the singer and Amair Johnson with assists from Benny Blanco, Cashmere Cat, Key Wane and Trakgirl. Swae Lee, 6lack, Mali Music, Kurupt, Brandy, John Mayer and her 8-year-old daughter all guest on the album.
Ahead of the album, Aiko released the loosely autobiographical short film she co-wrote with Tracy Oliver ("Girls Trip"), also titled "Trip," and this fall, Ulysses Press will publish "2Fish," a book of her poetry.
The emptiness that accompanies loss, self-discovery, love and spiritual enlightenment inform the entire body of work.
"We all suffer from something. It's easier to go through something when you know you're not the only one going through pain," she said. "I feel like people think it's a weakness to show they're sad, hurt or fearing something.
"I've never really thought of myself as an entertainer," she continued. "This is healing for me and I would like it to be healing to other people — not a distraction."
The child of a Japanese, Spanish and Dominican mother and black, Native American, German Jewish father, Jhené Aiko Efuru Chilombo grew up off Slauson Avenue, near Ladera Heights and Baldwin Hills, surrounded by music.
She watched her older sisters, Jamila and Miyoko, managed by their mother, navigate the industry as members of '90s R&B group Gyrl. Her dad, a doctor and aspiring musician who was, she says, "in and out" of her life, converted part of the family home into a studio and wrote music.
By the time she was 13, Aiko had signed with Epic Records and was working on an album, but it never materialized. At 16, she asked to be released from her contract to finish high school, after which she enrolled in West Los Angeles College and worked as a waitress.
After the birth of her daughter Namiko Love ("child of the wave") in 2008, Aiko decided to refocus on music.
She began collaborating with Top Dawg Entertainment's cadre of rappers and appeared on pre-fame mixtapes from Kendrick Lamar, Schoolboy Q and Ab-Soul.
But when a label head advised her to "sell" herself, Aiko found her artistic mission: "I would 'sail' myself rather than sell myself."
Her self-released mixtape, 2011's "Sailing Soul(s)," got everyone's attention, racking up more than 300,000 downloads. As Miguel, Frank Ocean and the Weeknd earned buzz for their forward-looking R&B, Aiko emerged as one of the few women in the movement. Hip-hop producer No I.D. signed her to his Artium imprint through Def Jam.
Aiko's ability to float between ethereal R&B melodies and rapping got her dubbed a "hip-hop Sade" with J. Cole, Wale, Big Sean, Drake and Common calling on her to bring sultry counters to their records.
Her EP "Sail Out" made a major splash on the charts and scored her three Grammy nominations in 2014, even as she was promoting her debut album, "Souled Out."
The search for inner peace has always been at the core of Aiko's music. She sings of heartbreak, loss and loneliness, but also the existential experiences, and she has made her philosophies a literal part of her, through tattoos that include a Japanese rising sun, a sprawling lotus blossom, Buddha, a favorite Bible verse, the wheel of Dharma, a penny, and the phrase "Why Aren't You Smiling?" which were the last words her brother tweeted.
Buddhism, which she embraced at 15, has helped her navigate the rockier aspects of fame; her romantic life has always been the source of much speculation (and her saucy guest verse on 2014's "Post to Be" from Omarion caused a stir for a breezy reference to certain sex acts.)
"I would get all worked up because someone said something that was false. I remember being on tour with Drake and [a blog] posted I was pregnant with his baby," she said and laughed. "I used to think it was entertainment, but then I realized a lot of young people on social media took those words as facts."
Harder to tune out was the constant buzz after her union with producer Dot da Genius ended. The two married quietly in 2014 and separated the following year, with Aiko filing for divorce last summer. Her work with Dot da Genius appears on "Trip": "That's how life works," she says with a shrug.
Aiko was blasted by strangers online, who believed that her steamy joint album with frequent collaborator and close friend Big Sean (they perform together as Twenty88) was the source of the breakup. Aiko says that they only began dating last year.
She also says that she took the "negative energy" coming her way and channeled it into her work, writing and filming the "Trip" film last summer while touring with Snoop Dogg and Wiz Khalifa.
"All this stuff was happening on the Internet. I've always been about practicing mindfulness and meditation, positive thinking and this tested it," she admitted. "I had to absorb the negative energy and turn this Megatron of positivity because the Internet can be a hell of a place."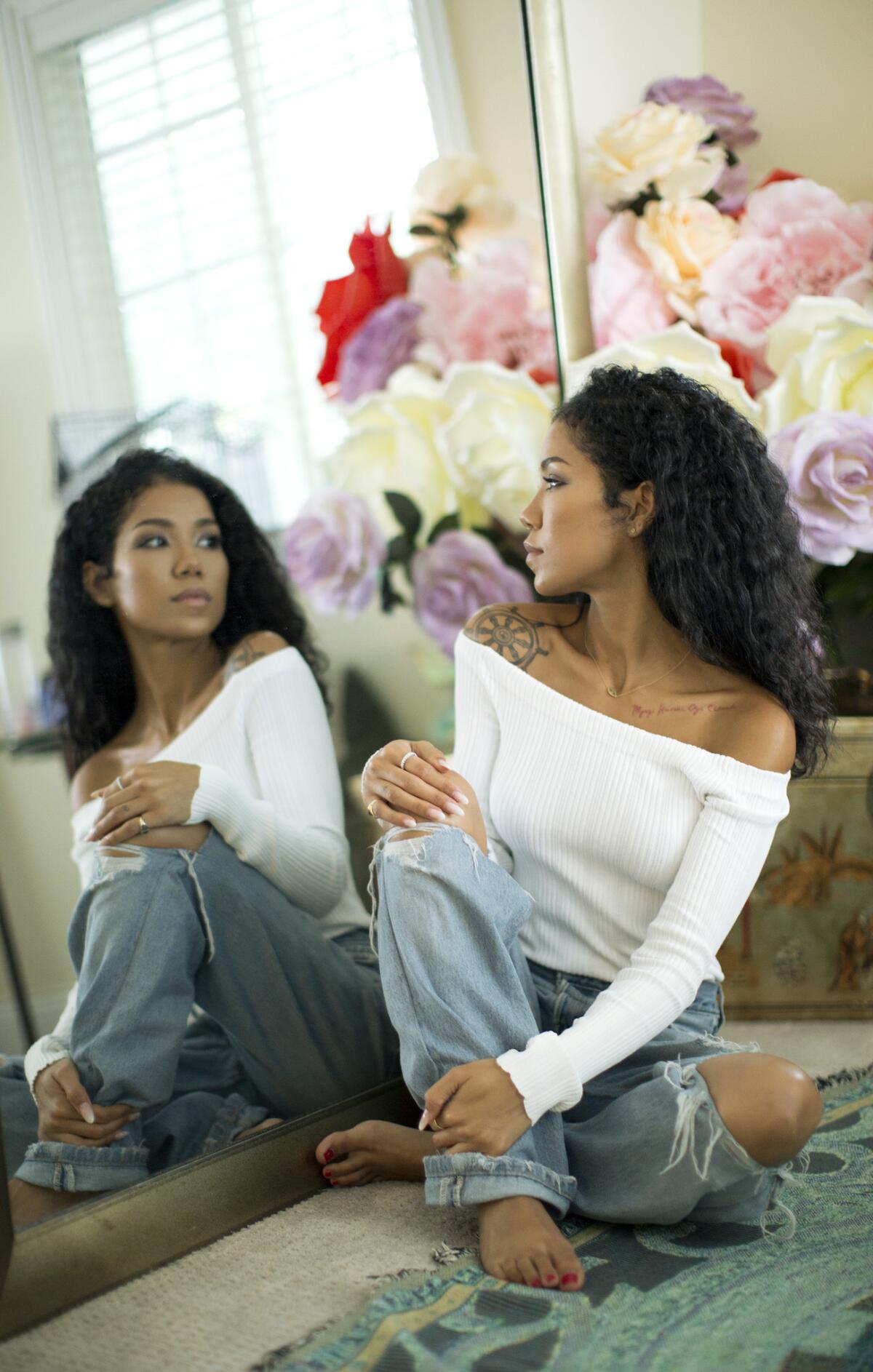 Nestled on a cliff side at the western end of Sunset Boulevard, the tranquil gardens of the Self-Realization Fellowship Lake Shrine were where Aiko often came to reconnect with herself and meditate.
On a stone bench overlooking the shrine's temple and a memorial for Mahatma Gandhi, she now recounts the two pivotal trips that inspired her project.
Two years ago, during a particularly rough time, Aiko drove to Big Sur, alone, stopping to write and record voice memos along the way. "It took me like seven hours to get there," she said and laughed. Aiko hiked, decompressed and drank tea made from hallucinogenic mushrooms.
"I was like truly connected. I got completely naked, got in the hot tub and cried for what seemed like hours," she recalled. "I talked to my brother. The mushrooms gave me all of these messages and lessons. I felt like I was on another planet."
Then, last year, she ventured to Hawaii; Miyagi had never gotten the chance to go and she'd yet to see the Big Island. In Hilo, she felt a strong, almost spiritual, connection to the small town, which, she had recently learned, was her great-grandmother's birthplace.
"She was the first person I knew for sure that I loved. I was infatuated with her," Aiko said. "To have my grandfather on his deathbed telling me that my favorite place in Hawaii is where [she's] from, it was like, 'whoa.' It was full circle."
And Aiko is focused on making sure that circle doesn't widen as she's finally found a clear path for herself.
"This [project] has made me more present in the lives of the people I love. Now more than ever, I know where I'm headed. I'm really enjoying the trip, the journey. I'm in a really good place now," Aiko said, turning her head to the sky and closing her eyes in meditation.
See the most-read stories in Entertainment this hour »
For more music news follow me on Twitter:@GerrickKennedy
Get our L.A. Goes Out newsletter, with the week's best events, to help you explore and experience our city.
You may occasionally receive promotional content from the Los Angeles Times.