Q&A: Joan Baez, rock star? Believe it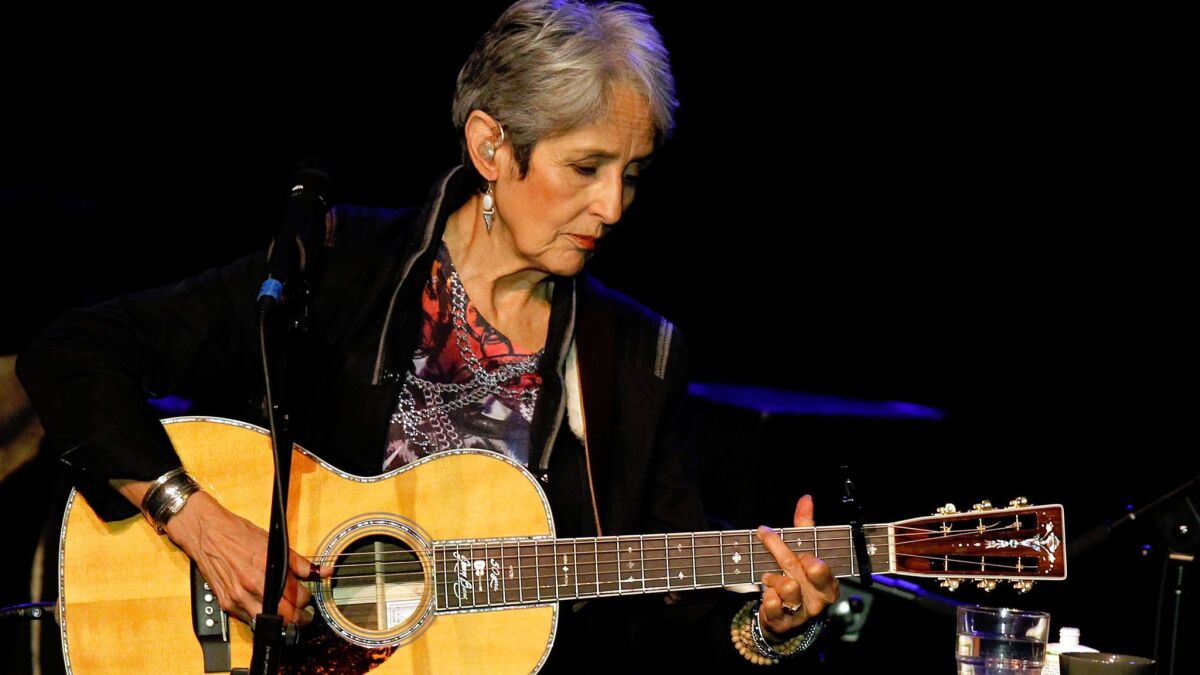 Joan Baez can hardly believe it herself.
But there she is, backstage at the Rock and Roll Hall of Fame ceremony, beaming alongside Snoop Dogg in a photo posted on her Facebook page a few weeks ago, her nest of silver threads resting on the rapper's shoulder. He looks pretty thrilled too.
"That's a great photo, isn't it?" Baez says, laughing. "And he was the only guy I really wanted to see at the show. As we were leaving, he wrapped that scarf around his face and said [adopts Snoop's swagger], 'I have just talked to a legend. I talked to Joan Baez.' And I said, 'And I have just talked to a legend. I talked to Snoop.'"
A lioness in winter, the 76-year-old folk matriarch's legacy is ripe for reappraisal after her surprise induction into the Rock and Roll Hall of Fame on April 7. (HBO will broadcast the ceremony on Saturday.)
To her delight, young female pop stars have been singing her praises in recent years, from Taylor Swift bringing Baez onstage during a show to Lana Del Rey citing her as an influence.
The newfound respect comes right as Baez is working on what could, due to what she says is an ailing singing voice, very well be her last studio album, which she's recording with producer Joe Henry in Los Angeles. (Henry recently told Rolling Stone that when Madonna, his sister-in-law, found out he was working with Baez, she texted her approval, calling the singer and activist a "warrior hero." File under: Even More Rock Cred.)
---
So Joan Baez, rock star. Really?
Believe me, I never pretended to be that. I would make a lousy rock star. I don't have the right voice for it. I don't have the "sex, drugs and rock 'n' roll" spirit. But the greatest flattery in the last couple of years is being called a "badass" by young singers.
What was your initial reaction to being voted into the Rock and Roll Hall of Fame?
I am so disconnected from the world of rock 'n' roll, and I sometimes wonder why that is. I was always peripheral, partly because of the drug culture. I was not involved in that. I really loved Janis Joplin, and I would always say to her — I was such a dope — "Oh, Janis, you oughta come over sometime and we'll have tea." And she'd hold up her bottle in a paper bag, and I'd think, "I did it again. I [messed] up. I just don't get it." So I'm square in one way, but I'm not in the other because I've been around the block. And because I know that [with] the beginning of rock 'n' roll so much of it came out of the folk-music era. It led directly into a rock boom.
I have heard more than once, 'Shut up and sing!' and I get it now.

— Joan Baez
Your career launched right as rock 'n' roll was ascending, and in your late teens you were the audience for that kind of music. Did you listen to it back then?
I was addicted to rhythm 'n' blues pretty much directly into folk music. I had my little 45s of mostly black artists. That was as close as I got. I've never listened to heavy rock or stuff that jangles my nerves, because I'm already jangled. I have a nephew who really can't survive without screaming, raging music, and I ask him, "How does that work?" [Laughs.] He doesn't even know what I'm asking. Why not? Why not lose weight standing on the floor because the bass is so loud and about to drop?
You mentioned in your Rock Hall induction speech that most young people have no idea who you are.
It's true. Unlike in Europe, the kids in this country don't particularly know me. If they have their parents' albums lying around, then yeah, sometimes they listen and they're shocked and taken by them. But basically I'm not on their radar. I was partially kidding [in that speech], but it's even funnier because of Taylor Swift. When I came out with Taylor and Julia [Roberts], she said, "yada yada yada human rights and Joan Baez!" The crowd went "yay!" not because they knew who I was, but because she was introducing me. Maybe 1/18th of them will go home and Google me and figure it out. They didn't even know who Julia Roberts was!
What do younger artists such as Taylor and Lana Del Rey say when they meet you?
From heavy-duty rock 'n' roll types right down to Taylor Swift, they say, "Thank you so much. Your music has meant so much to me. I learned X, X and X off of your third album. I learned how to finger-pick from your albums."
Patti Smith gave a very moving introduction for you a few years ago at an Amnesty ceremony. When did you start to notice that you had a connection with rock musicians?
Woodstock. That was one of the higher points of when I was visible. I think I was the second-highest-paid person at Woodstock. So I had a certain persona at that point that gave me access to anywhere. And I was impossible — I was still preaching and couldn't keep my mouth shut. I have heard more than once, "Shut up and sing!" and I get it now. (Laughs.)
You've covered a number of pop and rock songs over the years — John Lennon's "Imagine" and Paul Simon's "The Boxer" are highlights. But, no offense, I'm not so sure about your rendition of George Michael's "Hand to Mouth."
I was thinking about that song this morning and what a funny little aberration that was. It just wasn't me. It was an experiment, and that was OK.
Is there a classic rock or pop song you secretly sing in the shower?
Well, the song that's on my "Not Supposed to Listen to" list, but has the best production and the ultimate vocal performance, is Whitney Houston and "I Will Always Love You." It's so brilliant. She didn't miss anything on that. I could put that on a loop.
Maybe you should record your version of it.
Listen, you have to know that there's very little I can sing now. When I asked my first voice teacher, who was the best one, "When will I know when to stop singing?" he said, "Your voice will tell you." And it is very, very difficult to sing now.
But what can you do with your voice now that you couldn't have as the young woman who used to strip paint with that piercing soprano?
Well, everything. I like the parts that I can do, the parts that reflect 75 years of life and 60 years of singing. It's appropriate what it's doing in the lower range. But even the lower range is getting more difficult. The higher range is almost impossible. I can jump up to it, spend a certain amount of time and come back down, but I can't sustain a note. And it's better to recognize that than to try to get back up there.
Complete this sentence: "The most rock 'n' roll thing about Joan Baez is …"
That I'm a badass. I really am. When you see me hanging with Snoop Doggy Dogg, I am perfectly at home and comfortable.
Follow me on Twitter @jreedwrites.
Get our L.A. Goes Out newsletter, with the week's best events, to help you explore and experience our city.
You may occasionally receive promotional content from the Los Angeles Times.