Pianist Josh Nelson offers an L.A. history lesson with 'The Sky Remains'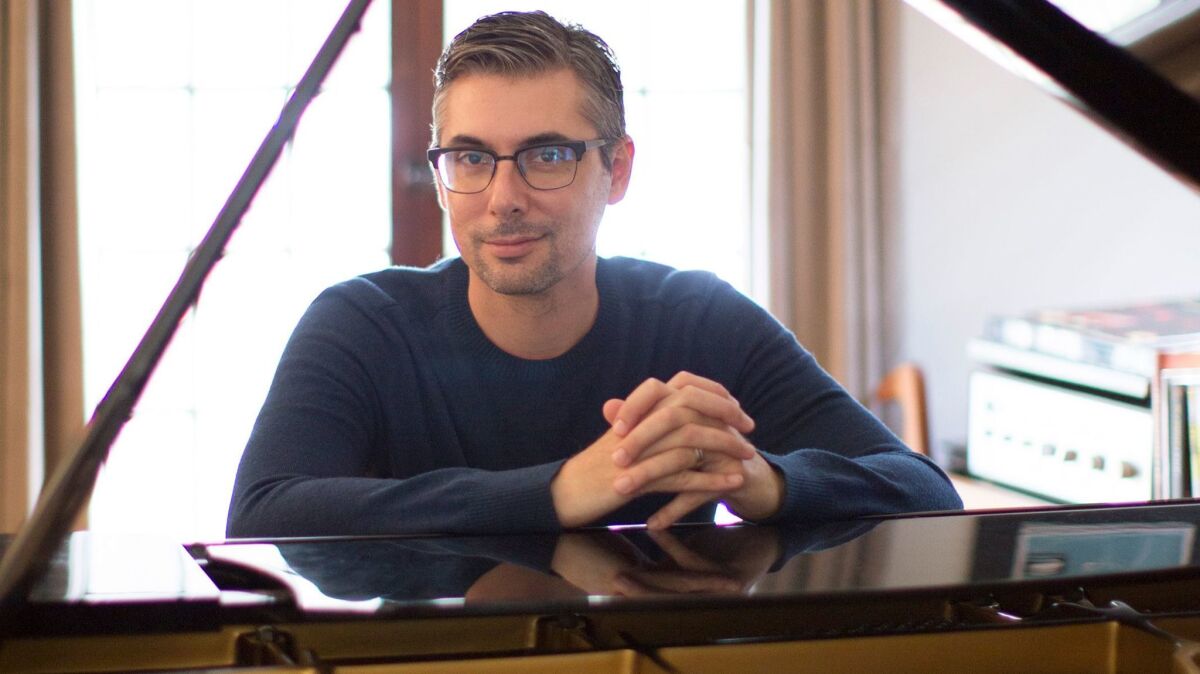 Pianist Josh Nelson's Fairfax District home is squeezed from all sides by the lore of old Los Angeles, and he is a student of the city's many tales.
For Nelson's newest release, "The Sky Remains," out now on Origin Records, he invokes a handful of Southern California ghosts for an homage to the complicated past and promising future of his hometown with the help of some of L.A.'s best young jazz musicians, including vocalist Kathleen Grace, saxophonist Josh Johnson and drummer Dan Schnelle.
Nelson, 39, has worked tirelessly on the jazz scene since the late '90s when he was juggling tours of China with classes at California State University Long Beach. He quickly established himself as a first-call accompanist, a talent that he applied to a more than half-decade gig with vocalist Natalie Cole.
In the last few years Nelson has focused on what he calls his Discovery Project, an immersive multimedia concert experience that on previous albums has touched on the works of writers H.G. Wells and Jules Verne as well as the Mars expedition. For the newest installment, Nelson has forsaken the ping of distance satellites for the tap-tap of the telegram machine, exploring Los Angeles with a little push from Robert Petersen's podcast the "Hidden History of Los Angeles."
"Robert had the episode about Griffith J. Griffith and his weird life," says Nelson one early September evening. "He shot his wife in the face. I wanted to write a tune that had some weirdness to it but also a love song coming from his wife's perspective. But how do you craft a tune that isn't 'I shot her in the face. She jumped out the window.' So that's where I started."
Nelson didn't start the project alone. Grace co-wrote the soft, propulsive ballad, weaving a love song around a sprawling metropolis and an assault with a deadly weapon conviction. "The city is different now but the sky remains the same," she sings.
As Petersen's podcast outlines, Col. Griffith J. Griffith was a drunken mad man with a redeeming streak of philanthropy that led to him funding not only Griffith Park but also the Griffith Observatory and the Greek Theatre.
"Josh's project is unique because Los Angeles is not just a lyric or setting for the songs," says Petersen. "Los Angeles is the project. He is trying to understand this complex city and tell some of its stories through song. It's his love letter to the city."
Nelson grew up in Long Beach and Simi Valley. His father was a Disney Imagineer and images of sparkling Southern California attractions dot his 91-year-old Spanish-style home. Catalina Island gleams on a Viewmaster on the dining room table, obscure soundtrack LPs recorded blocks away and decades ago fill his shelves. A few tasteful vintage souvenirs of the Happiest Place on Earth hang on his walls.
Griffith Park has an L.A. sound to me. Being on the stairways in East L.A. or hanging out downtown, I always try to come up with a tune while I'm around.
— Josh Nelson
"Griffith Park has an L.A. sound to me. Being on the stairways in East L.A. or hanging out downtown, I always try to come up with a tune while I'm around," says Nelson. "That was the fun part of this record: go into the field and do it. Just collect data. I can't do that with Mars obviously."
The end result is a suite of tunes that flows from the Los Angeles River to the ocean, from martini olives to ice cream cones. Josh Johnson spreads a hypnotizing swell of horns for his original tune "On the Sidewalk," an homage to the writer and activist Charlotta Bass. Nelson's "Ah, Los Angeles" evokes the Bunker Hill of John Fante's succinct prose while a straightforward but lusher version of Elliott Smith's "Pitseleh" is guided by Grace.
The cinematic precision of album opener "Bridges and Tunnels" is balanced by the open world of "The Architect," the fourth tune of the album and the first to embrace many of the hallmarks of "jazz": solos, swing and spontaneity. Those signals are not present on every track.
"I want to make good records and I don't know if you can call them jazz necessarily. I've gotten criticism for not having enough piano moments on my last few records. 'What are you talking about? There's plenty of me!' I wrote, I arranged and I'm playing the whole time. I'm trying to say something but I don't want it to be 'look at me' the whole time too," he says.
Nelson's record is part of a larger trend of local jazz artists stretching beyond the limited confines of the genre. Co-producer and guitarist Anthony Wilson's "Frogtown" from 2016 was a display of songwriting chops and poignant vocals that heralded another side of the six-string journeyman. Grace's 2014 release "No Place to Fall" was as indebted to the pedal-steel guitar as it was to any swinging upright bass.
"While the project is clearly rooted in jazz, it is by no means beholden to it," explains Petersen. "The songs stretch beyond traditional categories and focus more on telling a story or evoking a feeling."
But Nelson isn't prepared to hang up the changes just yet. The Discovery Project, with its bells and whistles, is a time-consuming and immersive project. The complicated and exacting presentation has inspired Nelson to hopefully return to a stripped-down trio recording session soon and appease some of his fans who like to hear a blizzard of notes and a melody they've known all their lives.
"I'm the first person to put on a Hank Jones record, and when I have sessions at my house, that's what we play. But there is something about reaching people. I'm not giving up on my roots. 'The Sky Remains' is an eccentric record. It's a little erratic. But so is L.A.," says Nelson.
♦ ♦ ♦ ♦ ♦ ♦ ♦ ♦ ♦ ♦
Josh Nelson
Where: The Blue Whale, 123 Astronaut E S Onizuka St., Suite 301
When: 9 p.m., Oct. 20 — Oct. 21.
Tickets: TBA
Information: (213) 620-0908 or www.bluewhalemusic.com
---
Get our L.A. Goes Out newsletter, with the week's best events, to help you explore and experience our city.
You may occasionally receive promotional content from the Los Angeles Times.