Kung Fu Kenny, King Kunta, K-Dot. Whatever you call him, Kendrick Lamar is a Pulitzer Prize winner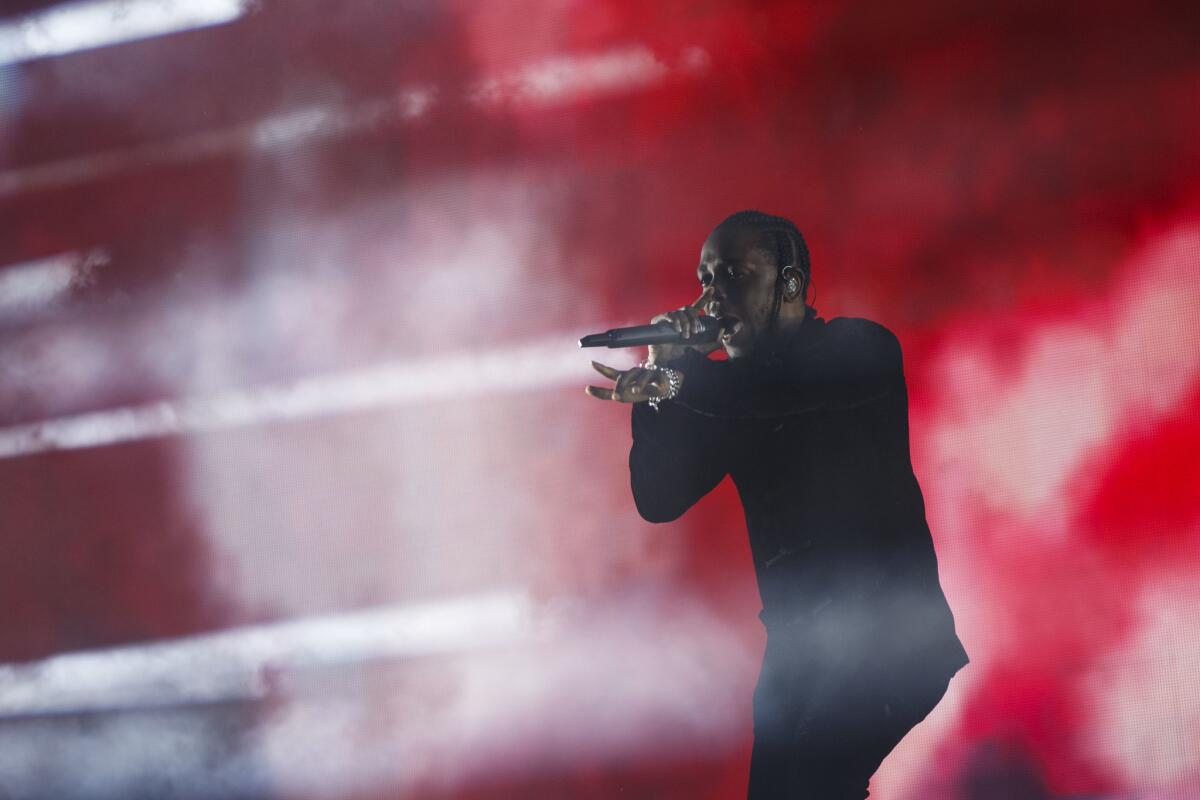 Their names are inked in history books and on the walls of hallowed concert halls as winners of American music's most esteemed award, the Pulitzer Prize for music: Aaron Copland, George Crumb, John Luther Adams, Ornette Coleman, Caroline Shaw and dozens more.
Add to that list the man nicknamed Kung Fu Kenny.

For the record:
11:15 a.m. April 17, 2018An earlier version of this story misidentified USC professor Taj Frazier's first name as Raj.
In news that caught many off guard, celebrated Compton-born rapper Kendrick Lamar was awarded the Pulitzer on Monday for his work on his 2017 album "Damn." With the announcement, the committee praised Lamar's album as "a virtuosic song collection unified by its vernacular authenticity and rhythmic dynamism that offers affecting vignettes capturing the complexity of modern African-American life."
Translation: It's an amazing album that documents South L.A. black life with wildly accomplished beats and verses.
"He's an artist who challenges notions," said Ryan Coogler, director of the blockbuster hit "Black Panther," for which Lamar orchestrated and contributed music, during a recent interview. "One of the bigger themes in our film is this idea of, 'What does it mean to be African?' Kendrick in his music is very directly challenging that question."
To say that Lamar's honor was a shocker is an understatement. Historically, the Pulitzer committee has ignored so-called "vernacular" music in the category, favoring more furrow-browed, academic work. When the Pulitzer committee has honored non-classical work, it has most often done so by giving recipients what it calls "special awards and citations."
This year's finalists in the music category, selected by a five-person jury, were "Quartet" by Michael Gilbertson and "Sound From the Bench" by Ted Hearne.
"There's something to be said that a young man from Compton, who was raised in a low-income community, has been able to be true to his mode of expression," said Taj Frazier, an associate professor at USC and the director of the Institute for Diversity and Empowerment at Annenberg.
"The fact that his music is being listened to and valued among the Pulitzer members — that it's being thought of in relation to those award winners of generations prior to him — means he'll be a name and a creator who's also referred to for those who are assessed and valued in the future," Frazier said.
Lamar follows another non-classical Pulitzer winner, Coleman, the experimental jazz pioneer who won in 2007 for "Sound Grammar." There is, perhaps, a connection, as Lamar's albums have been frequently cited as spearheading a jazz revival in Los Angeles, elevating players like Kamasi Washington, Terrace Martin and Robert Glasper to almost-pop stars, or at least crossover figures with wide, young audiences outside the traditional jazz market.
But Lamar is not merely the first rapper to earn the Pulitzer in music. He's the first honored musician who has landed a No. 1 album or gone platinum. To further illustrate the accomplishment, among those who haven't received the prize are Miles Davis, Nina Simone, Bob Dylan, Aretha Franklin, John Coltrane, Bruce Springsteen and Carole King. (Dylan and Coltrane have been given special citations.)
In a social media post reacting to the news, Terrence "Punch" Henderson, president of Lamar's label, Top Dawg Entertainment, bragged, "Pulitzer Prize winner K-dot from Compton. I bet not ever hear one of you ... speak with anything less than respect in your mouth for Kendrick Lamar."
Lamar retweeted the above comment but has yet to make a statement of his own. The artist and representatives from Top Dawg were not available for comment.
"The award will also serve as an inspiration for creators who never would have imagined this for themselves," said USC's Frazier. "To now think, 'Oh, that's possible. It's feasible that I'll be valued in this kind of space, that my name will be mentioned alongside of other Pulitzer winners in other forms of the arts, whether it be fiction or journalism.' I think that's huge."
Lamar's Pulitzer accolade comes at a time when hip-hop culture has become mainstream culture. In 2017, for instance,the combined genres of R&B and hip-hop proved to be the most consumed music in the U.S. for the first time in history, according to Nielsen Music.
Hip-hop has gone on to inform many aspects of popular American art; it punctuates the film "Black Panther" and infuses acclaimed TV shows such as "Atlanta" and "The Chi," not to mention the Broadway sensation "Hamilton." This year's Grammys also focused heavily on hip-hop in its nominations, where "Damn" was up for, but lost, album of the year.
Lamar's lyrical hip-hop has long been uniquely focused on his home city. Whether on tracks including "Backseat Freestyle," "Keisha's Song (Her Pain)" or "Money Trees," or in the videos for songs such as "Compton State of Mind" (a riff on Jay-Z's "Empire State of Mind"), "King Kunta" and "i," Lamar locates his creative world in the area in which he was raised.
Like the best writers, Lamar pinpoints small moments that illustrate larger points, in his case the kind that springboard into documentary narratives about home and history, about dangers lurking and the power of anger. Like classic L.A. chroniclers such as Iceberg Slim, John Fante, Joan Didion and James Ellroy, Lamar imbues a sense of place into his lines.
"Black Panther" director Coogler describes Lamar as possessing "an integrity to him that crosses demographics and it crosses different ages. When you hear him you feel like he's being truthful. You feel like you're scratching at a certain type of personal truth."
The rapper's 2012 mixtape, "Compton State of Mind," locates Rosecrans Avenue by name as he describes being on the street chilling, eating "five dollar Little Caesar" and food from when "mama shopped at Food for Less." Centennial High School, he raps, "had me swimming with a pool of sharks — me I'm just a good kid trying to keep it neutral / But I'm well aware that a square can get shot too."
His "good kid, m.A.A.d. city," released in 2012 and nominated for a Grammy album of the year, went deeper into the city's psyche, and his own. He describes witnessing at age 9 a gangbanger "with his brains blown out at the same burger stand where beep hang out."
The 2015 album "To Pimp a Butterfly" brought him a whole new audience as it connected past, present and future. Experimenting with Afro-futurism and collaborating with such wide-ranging jazz-influenced artists including Martin and Washington, as well as the producer Thundercat, the album was an expansive look at the African American experience in California.
Lamar's success, however, has led him to bemoan his disconnect from the streets where his most crucial lyrics were born. He acknowledged this struggle in a July 2017 interview with comedian Dave Chappelle for Interview magazine.
"[E]verything was moving so fast. I didn't know how to digest it," Lamar said. "The best thing I did was go back to the city of Compton, to touch the people who I grew up with and tell them the stories of the people I met around the world."
That desire for familiarity, noted The Times' pop music critic Mikael Wood in a review of Lamar's appearance at Coachella in 2017, stands to reason: "A vivid through-line on 'Damn' is Lamar's sense of being under attack, his stardom having made him a specific target for the media — early on the album he samples a bit of critical punditry from Fox News — and even for friends and family, as he observes in the anguished 'Feel.' 'Ain't nobody prayin' for me,' he mutters ..."
Another track, "DNA," sets part of its story at the western edge of Rosecrans near the beach. Lamar raps of having "loyalty, royalty inside my DNA" while "dodging paparazzi, freakin' through the cameras."
Those attempting to glean meaning from printed Lamar lyrics, however, are doing it wrong. Lamar earned his award for music, and to assess his words on their own — without his sublime musicality and rhythms that drive his thoughts — misses the point.
Only with focus and volume can one truly tap into Lamar's vibrations, but even then, says Coogler, "You come away from it with more questions than answers somehow."
Additional reporting by August Brown and Mikael Wood.
For tips, records, snapshots and stories on Los Angeles music culture, follow Randall Roberts on Twitter and Instagram: @liledit. Email: randall.roberts@latimes.com.
Get our L.A. Goes Out newsletter, with the week's best events, to help you explore and experience our city.
You may occasionally receive promotional content from the Los Angeles Times.