Everything you need to know about Led Zeppelin's 'Stairway to Heaven' copyright trial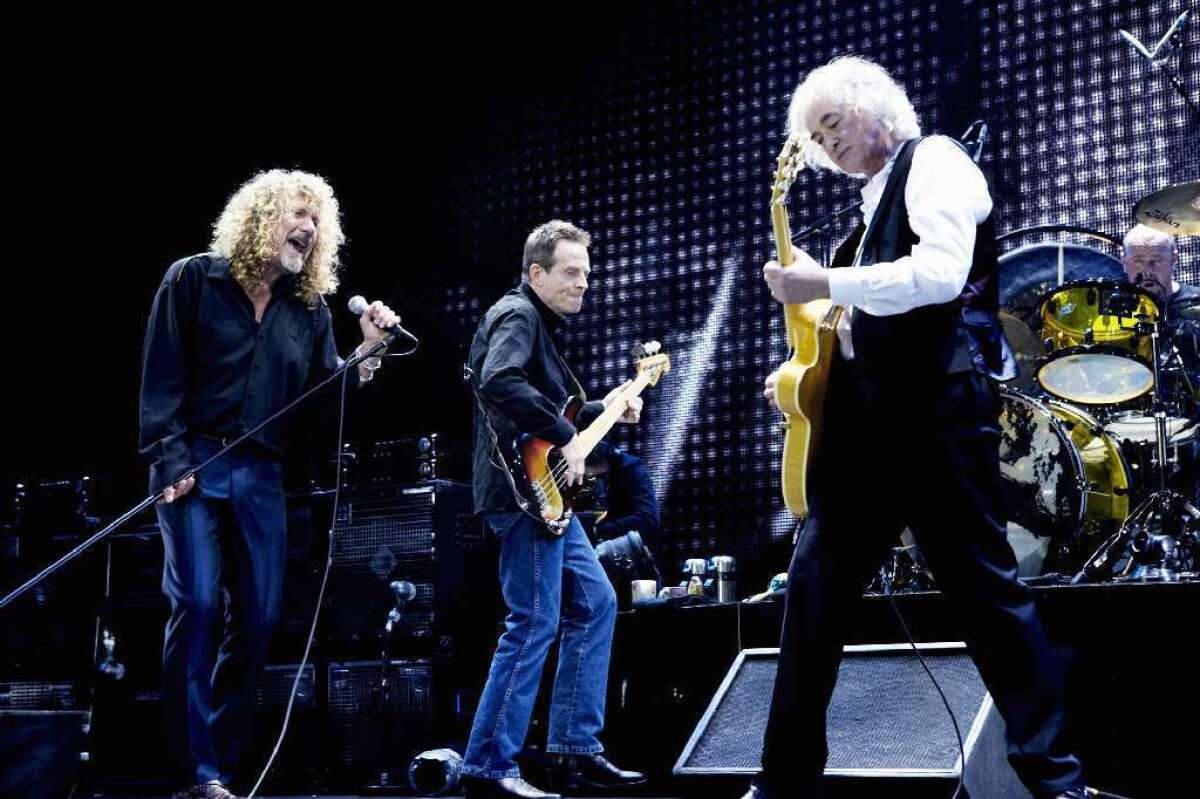 The civil trial against Led Zeppelin singer Robert Plant and guitarist Jimmy Page begins Tuesday as the pair face accusations that the opening chords from the band's iconic "Stairway to Heaven" were stolen from another band's work.
Michael Skidmore brought the suit, alleging the song lifted its famous riff from the 1967 song "Taurus" by the band Spirit. Skidmore is working as a trustee for the late Randy Wolfe, better known as Randy California, Spirit guitarist and composer of "Taurus."
Opening arguments are scheduled to begin once jury selection is completed. It's unknown whether or not Plant or Page will testify as the trial proceeds.
Here's what you need to know about the lawsuit levied in connection with one of the more legendary rock songs of all time:
What's being disputed?
The common ground between "Stairway to Heaven" and "Taurus" largely comes down to a 10-second musical theme that appears 45 seconds into "Taurus," an instrumental from the band's 1968 debut album, which is similar to the opening acoustic guitar pattern on "Stairway." That song was released three years before "Stairway to Heaven" surfaced on Zeppelin's untitled fourth album, commonly referred to as "Led Zeppelin IV."
Do we know Plant and Page were even aware of "Taurus"?
"They were on the same bill together before [Zeppelin guitarist] Jimmy Page wrote 'Stairway,' there's that," said Richard Thompson, singer-songwriter and original member of 1960s band Fairport Convention, referring to the Wolfe estate's claim that because the two bands played shows together in the late 1960s, and that Spirit often included "Taurus" in those shows, Zeppelin's members at least had the opportunity to have heard the song.
So the riff is unique?
Not exactly.
"It's not an uncommon riff, and the melody not that unusual," Thompson said.
Guitarist Laurence Juber, who used to play with Paul McCartney's band Wings, noted that the opening progression can be heard in a 16th century sonata for guitar, violin and strings by Italian composer Giovanni Battista Granata.
"The reality is that to have a descending bass line with an A minor chord on top of it is a common musical device."
Led Zeppelin's lawyers said both bands simply relied on a "centuries-old, common musical element" that is not protected by copyright law. Klausner disagreed, saying he found that "the similarities here transcend this core structure."
What's at stake?
In 2008, Conde Nast's Portfolio estimated that "Stairway to Heaven" had generated $562 million in publishing royalties and record sales since its release.
Because of the statute of limitations, the Wolfe estate is only able to seek revenue produced by "Stairway" since 2011, or the three years before the latest remastered version was released in 2014. But going forward, any percentage of revenue coming out of sales or airplay of the song could add up to a significant windfall for the estate of Wolfe, who drowned in Hawaii in 1997 while rescuing his son from a strong undertow.
Has Led Zeppelin been here before?
This is not the first time Zeppelin has faced the question of copyright infringement. The group altered songwriting credits for "Whole Lotta Love" and "Babe I'm Gonna Leave You" in the wake of similar claims, and settled an infringement suit over the song "Dazed and Confused" in 2012. Judge Gary Klausner, however, has barred the lawyer representing Wolfe's estate, Francis Malofiy, from introducing any previous infringement claims against Led Zeppelin.
MORE:
How the 'Blurred Lines' case could have chilling effect on creativity
Sound familiar? 'Stairway to Heaven,' 'Taurus' and other sound-alike songs
Ed Sheeran's 'Photograph' targeted in $20-million copyright infringement lawsuit
Follow @RandyLewis2 on Twitter
For Classic Rock coverage, join us on Facebook
Get our L.A. Goes Out newsletter, with the week's best events, to help you explore and experience our city.
You may occasionally receive promotional content from the Los Angeles Times.