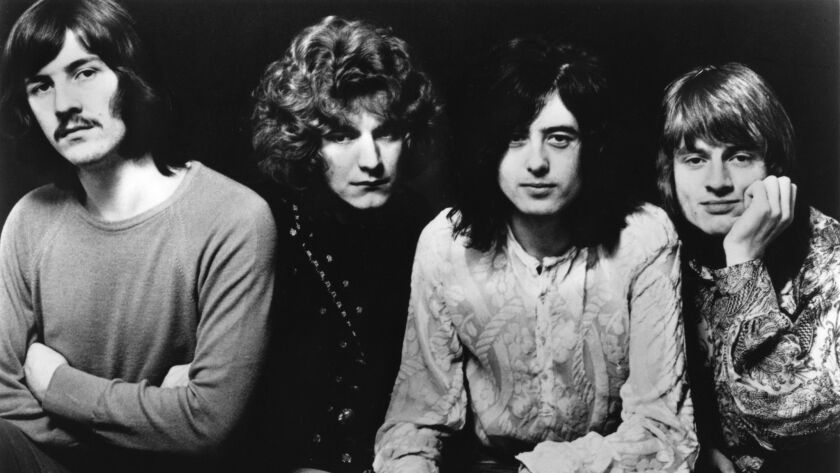 A new documentary on Led Zeppelin timed to coincide with the band's 50th anniversary this year, and the first authorized by and involving participation of the group's surviving members, is being assembled by director Bernard McMahon, part of the creative team behind the acclaimed 2017 documentary "American Epic."
The untitled Zeppelin project, which is in post-production, will be spotlighted at the Cannes Film Festival and tells the band's stories exclusively through new and archival interviews with members Jimmy Page, Robert Plant, John Paul Jones and the late John Bonham. It is the first time they have participated in a Zeppelin documentary.
In addition to being directed by McMahon, the documentary was written by him and his filmmaking partner Allison McGourty, who co-wrote "American Epic" with him. That movie won awards at several film festivals and earned a Primetime Emmy nomination for music direction.
"When I saw everything Bernard had done both visually and sonically on the remarkable achievement that is 'American Epic,' I knew he would be qualified to tell our story," Page said in a statement released Wednesday announcing the film.
In the same statement, Plant said, "Seeing [blues musician] Will Shade, and so many other important early American musicians, brought to life on the big screen in 'American Epic' inspired me to contribute to a very interesting and exciting story."
The announcement said the documentary incorporates previously unseen photographs and film footage, along with state-of-the-art transfers of their recorded music supervised by recording and film restoration engineer Nicholas Bergh, who also worked on "American Epic" restoring vintage audio recordings featured in that documentary.
Creative Artists Agency is representing the U.S. rights for the film, which is being shopped for distribution.
Follow @RandyLewis2 on Twitter.com
For Classic Rock coverage, join us on Facebook
---