Jack Ingram, Joe Henry, ZZ Ward join Americana Music Assn. salute to Loretta Lynn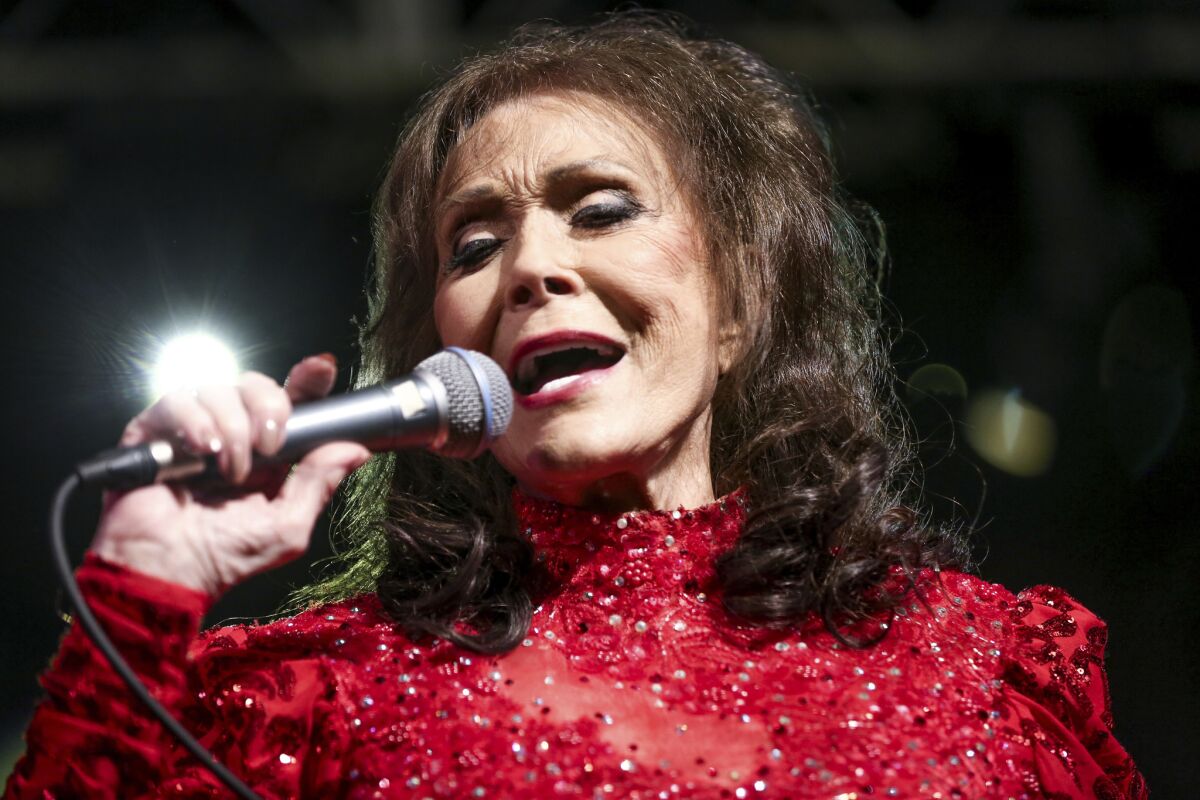 The Americana Music Assn. will devote its annual gathering of musicians on the eve of the Grammy Awards to salute country music songwriter-singer Loretta Lynn on Feb. 11 at the Troubadour in West Hollywood.
Among the acts confirmed for the concert preceding Sunday's 2017 Grammy ceremony are John Carter Cash (the son of Johnny Cash and June Carter Cash), Lynn's daughter Patsy Lynn, singer-songwriter-producer Joe Henry, Jack Ingram, Lori McKenna, Robbie Fulks, ZZ Ward, Fantastic Negrito and Lynn's granddaughter, Emmy Rose.
Henry, a three-time Grammy winner himself, said on Tuesday that he is "honored beyond measure to be invited to participate; as she occupies a singular place in the hearts of those of us who strive to be singular as songwriters, while also staying joined to the root system of American folk tradition.
See the most-read stories in Entertainment this hour »
"Loretta emerged with a do-it-yourself ethos that anticipated the emancipation of the songwriter in the '60s and beyond — deftly writing her own material when few of her contemporaries tended to, and owning a sharp and very personal point of view," Henry said.
"When you heard her, you couldn't miss that she was mining her own life for the stories her songs amplified; and they were as cunning and brazen as they were charming and seductive; as funny as they were heartbreaking," he continued. "She was elegant and soulful, yet invariably as folksy as the hollow from which she sprang."
Whether Lynn, who is now 84, will travel from her home in Hurricane Mills, Tenn., to attend is still to be determined, said AMA president Jed Hilly, one of the organizers of the salute.
"It's no small thing that she still stands here in our midst: reverent of her times, yet clearly open to all else they might invite going forward," Henry said.
Featured performers will be backed by a house band consisting of Spencer Cullum and Jeremy Fetzer from Nashville band Steelism, plus Matt Chamberlain, Robbie Crowell and Adam Popick. Tickets, which cost $50 and benefit the association, go on sale Feb. 10 at the Troubadour's website.
Last year's AMA show paid posthumous tribute to Eagles co-founder Glenn Frey, and a year earlier honored Everly Brothers singer and songwriter Phil Everly, who had died shortly before the event.
Patsy Lynn and John Carter Cash co-produced Lynn's latest album, "Full Circle," which was released in March to largely laudatory reviews for her first collection of new material in more than a dozen years. The work is nominated in the country album category at this weekend's Grammys.
Her hits from the 1960s, '70s and '80s such as "Coal Miner's Daughter," "Fist City," "The Pill," "Don't Come Home A-Drinkin' (With Lovin' on Your Mind)" and "You Ain't Woman Enough (To Take My Man)" helped redefine the role women traditionally played in country music, and more broadly in American culture. Her songs advocated strength and independence while also preaching loyalty to a mate and spiritual faith.
As much as Lynn has been revered for her distinctive vocals and outsized assertive personality, Patsy Lynn said that songwriting has always been foremost in her mother's self-image.
"She always said she's a 'songwriter-singer,'" Patsy told The Times last year, "because it's the writing that's the most important thing to her."
Lynn herself is continuing to record between shows on what remains a full slate of concerts — still about 100 per year, although some health issues have prompted a number of cancellations over the last decade.
"I'm going to keep working till they put me down," Lynn told The Times last year. "But I ain't figurin' on going any time soon."
Follow @RandyLewis2 on Twitter.com
For Classic Rock coverage, join us on Facebook
---
Your essential guide to the arts in L.A.
Get Carolina A. Miranda's weekly newsletter for what's happening, plus openings, critics' picks and more.
You may occasionally receive promotional content from the Los Angeles Times.