Review: Loudon Wainwright III inaugurates new Sorting Room space with unsparing show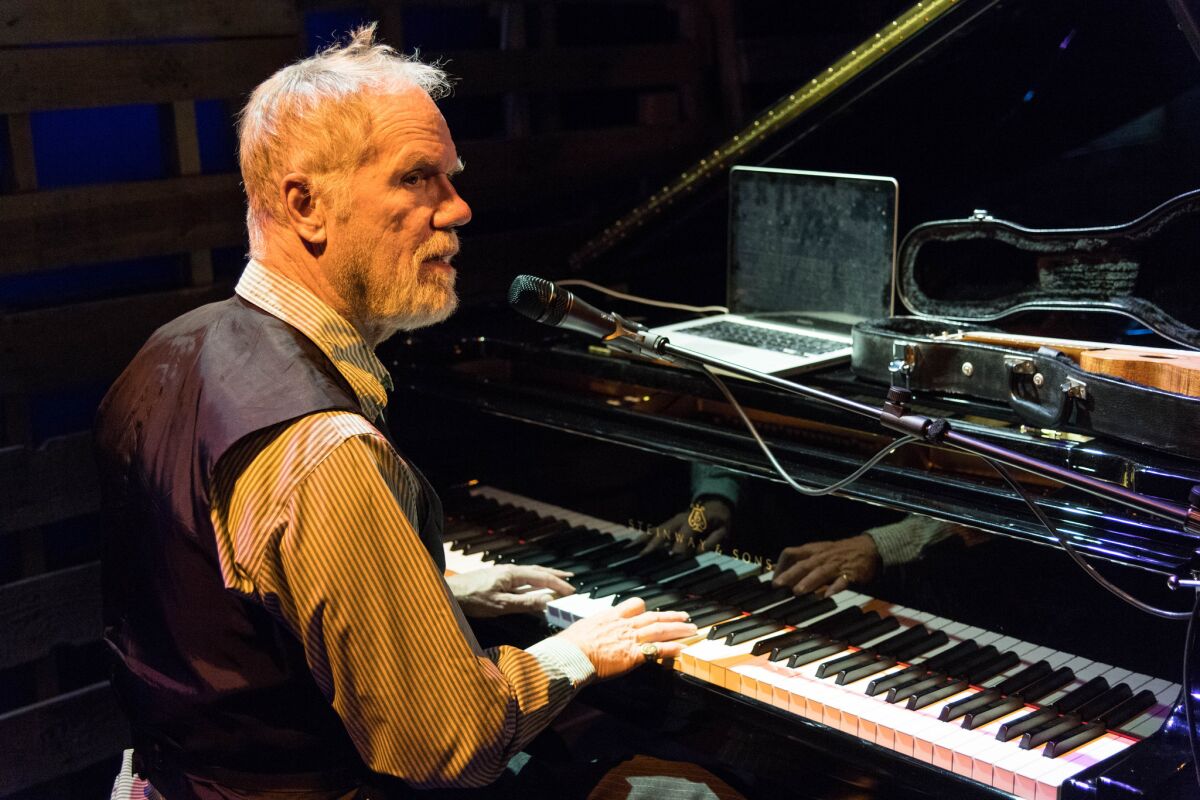 It's more a natural segue than a sharp career shift that veteran singer-songwriter Loudon Wainwright III has come up with in his one-man show, "Surviving Twin."
The production received its West Coast premiere over the weekend at the warm and intimate new performance space, the Sorting Room, in Beverly Hills.
From Day 1 when he arrived nationally with the 1970 debut album that carried his name and quickly got him pegged as yet another "next Bob Dylan," Wainwright has sung with equal amounts of piercing insight and wicked humor. His songs deal with the complexities of family relationships — with his parents, his sister, his children and a succession of wives and exes.
The primary focus of "Surviving Twin," which he has been performing in New York for some time, is not, as might reasonably be expected, a missing sibling, but his father, whom he so identifies in the 80-minute production's opening song.
"I learned to fight him, my own flesh and bone and kin, But I felt I was just like him/Can a man's son be his own twin?"
See the most-read stories in Entertainment this hour »
He and his father gained national notoriety for their creative expressions. That's not the only similarity. They each exited their families, leaving young children to be raised primarily by their mothers, and have composed work that deals with how they've been haunted by the consequences of those decisions.
As he sings subsequently in "A Father and a Son," which he wrote to his musician son, Rufus:
When I was your age I was just like you
And just look at me now; I'm sure you do
But your grandfather was just as bad
And you should have heard him trash his dad
Wainwright is unsparing, on himself and the others he references in this stabbingly funny, deeply moving piece that plays out in the small space at the Wallis Annenberg Center for the Performing Arts (which is temporarily taking over the Lovelace Studio Theater).
The theater was recently used for cabaret performances, and has been converted and rebranded the Sorting Room for a multidisciplinary series of shows. The room is set up with about three dozen round tables that each seat four, for a capacity of about 150. The plain stage gets a funky backdrop from wood pallets attached to the back wall in place of a nondescript black curtain.
The lineup for the Sorting Room in coming weeks includes comedian-actress Sandra Bernhard, who brings her "Santa Monica Blvd: Coast to Coast" show in Dec. 8-10, Broadway actress-singer Meghan Hilty, who will put up a holiday production Dec. 20 and 21, as well as tap dancer Melinda Sullivan and cabaret performers Rita Wilson (Dec. 16), Rumer Willis (Dec. 11) and singer-storyteller Christine Lahti (Jan. 6).
Wainwright's show expands on the usual content of his concert performances with a few props--he's got a sharp three-piece suit he dons early in — noting "this is the actual suit" his father had custom-made for himself in London in the 1960s — a stool for a glass of water he sips periodically, and a servant's bell that's rung at appropriate times.
He also picks up his guitar regularly, pulls a ukulele out of its case for one number and sits at a baby grand piano backstage for another.
Although it is technically a solo show — he is the only performer — he describes it as "a posthumous collaboration" with his late father, former Life magazine columnist Loudon Wainwright Jr., who wrote regularly in the national publication that was, as Loudon Wainwright III puts it, "ubiquitous on coffee tables, back when there were coffee tables."
In fact, his father's writing — which frequently referenced his own family, along with the news of the day and high-profile politicians and celebrities — constitutes a significant part of the show, with Wainwright delivering them verbatim in between his own songs and musings.
The richness in the writings of his father proves that his son came by his talent and proclivity for exploring family affairs honestly.
The first column Wainwright recites is one in which his father relates memories of his paterfamilias, whom his grandson refers to in song as "the first Loudon."
Loudon Wainwright III knows him primarily through handed-down family photos, as his grandfather died at 43, four years before he was born in 1946.
The complex father-song relationship plays out in Wainwright's songs that touch on his own progeny, singer-songwriters Rufus and Martha Wainwright (with his first wife, musician Kate McGarrigle) and Lucy Roche (from his marriage to Roche Sisters member Suzzy Roche).
It's ultimately a sweet reflection, the barbs tempered by the wisdom that comes with age and experience. As one who once also harbored ambitions of becoming an actor, and who scored a recurring role in the '70s on the TV series "MASH," Wainwright is confident in the different tones required of the various set pieces.
He's comically animated as he brings to life one of his father's columns about being fitted for the custom suit by an exceedingly proper tailor named Mr. Perry. And he's perfectly subdued reciting perhaps the most powerful of the half dozen columns he's included, one about euthanizing their beloved family dog.
As much as he tangled with his dad through their lives together, Wainwright seems to realize that anyone who can elegantly express such profound compassion for a pet can't be all bad.
He reaches a measure of acceptance and understanding of his father's shortcomings--as well as his own--in another section of "A Father and a Son" in which he sings: "This thing between a father and a son/Maybe it's power and push and shove/Maybe it's hate, but probably it's love."
Follow @RandyLewis2 on Twitter.com
For Classic Rock coverage, join us on Facebook
ALSO
The Regrettes may be high-school age, but the band's worldview is all grown up
What do She & Him want for Christmas? 'Real instruments' played by humans
---
Get our L.A. Goes Out newsletter, with the week's best events, to help you explore and experience our city.
You may occasionally receive promotional content from the Los Angeles Times.