It was the last night at Low End Theory, and Tyler, the Creator, Tokimonsta and more made sure this wasn't a night of mourning
Even cult leaders get sentimental. It was slightly after 10:30 p.m. Wednesday, the last night of Low End Theory, and Tyler, the Creator, mastermind of Odd Future, was waxing nostalgic about his group's first performance, nearly a decade ago at the internationally revered club night housed in the Airliner in Lincoln Heights.
"I'll never forget that night because we [were] so hyped that people even showed up," said the leopard-haired, Los Angeles-raised rapper and producer as he recalled the crew's early days. Then, they looked like ski-mask-wearing arsonists, and it was hard to foresee that their future would include Golf Wang fashion shows attended by Kendall Jenner, sold-out Odd Future carnivals, GQ covers and quarter-million-dollar sock paydays.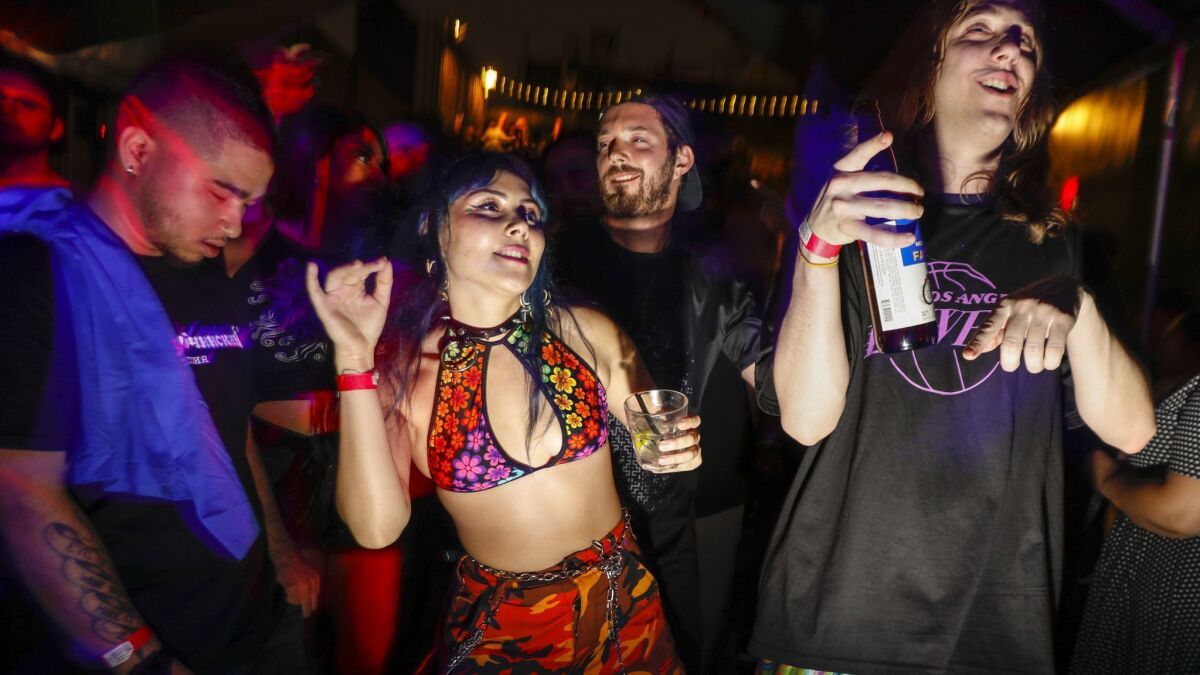 "[Low End Theory co-founder] Daddy Kev pulled me to the side and gave me $500 and we split that in the back of a Denny's off Crenshaw. It was the most money we'd ever made in our lives," he said with his Howlin' Wolf Haley rasp, laughing, flashing a jack-o-lantern grin "But years later [and] a lot of success after that, I'll never forget where it started."
The names of those whose gifts were incubated at Low End Theory are familiar to even casual fans of underground hip-hop and electronic music: Flying Lotus, Nosaj Thing, Daedelus, Baths, Shlohmo, Teebs, Dibiase, Jonwayne and Open Mike Eagle.
Jazz's reemergence in popular culture was substantially impacted and sonically altered by the alchemy conducted every week in Lincoln Heights. The fusion vanguards of the West Coast Get Down, Thundercat and Kamasi Washington have expressed a creative debt to the synapse melting laptop symphonies that thumped from the Kingston-caliber sound-clashes.
The influence filtered all the way up to Kendrick Lamar, who conscripted Thundercat, Washington, Lotus and Nosaj Thing to give his sound an inscrutable groove.
"This place, and the crews that made it great, was a superconductor of sounds that changed the world," said Busdriver, one of the regular Low End Theory performers in attendance Wednesday.
For Tyler, Wednesday wasn't too dissimilar from Odd Future's original October comet burst in 2010, when the act transformed the Low End Theory into a lake of fire. Tyler teamed up with longtime brethren Hodgy Beats and Syd, once Odd Future's DJ and engineer, now the front-woman of gossamer R&B futurists The Internet. Now as then, there were whirling dervish spins and pantherine stage dives, an audience whipped into an ecstatic frenzy and anti-social anthems about burning schools and killing people — for old time's sake.
But this time, Earl Sweatshirt, the reclusive prodigy famously dispatched to a Samoan boarding school before that now-immortalized first Low End Theory show, joined Tyler. A rare appearance after he canceled his entire summer slate of shows. They set it off with early Odd Future classic "Orange Juice," a nihilistic spiritual over Gucci Mane's "Lemonade" instrumental; it was a rarely performed reunion, punctuated by Tyler issuing his undying love for his long-time group-mates and bringing out ASAP Rocky to trade bars on their collaboration "Telephone Calls."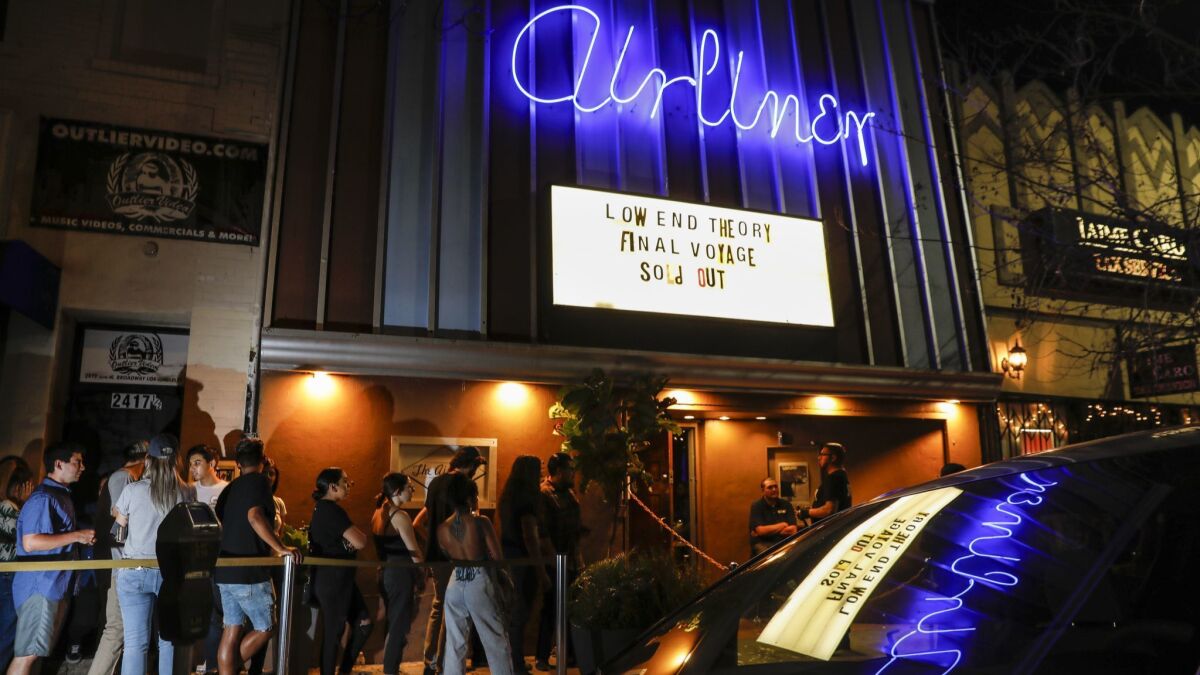 It was an ostensibly strange pairing — Rocky, the haute couture Harlem playboy and the Low End Theory, the avatar of underground subversion for most of its dozen-year run. But in reality, part of its magic lay in its refusal to construct arbitrary divisions between the popular and the subterranean.
Despite their deep Beat Scene roots, Wednesday evening's co-headliners, Glitch Mob and Tokimonsta are regular fixtures on the main stages at glowstick-riven EDM festivals. Idris Elba once rocked a DJ set at Low End Theory, and Hannibal Buress once performed an impromptu stand-up routine. Most famously, Prince mystically floated in with a lone bodyguard during a set by Minneapolis punk-rapper P.O.S. and disappeared into a cloud of velvet dust within 20 minutes.
Robberies were common in the gritty blocks surrounding the club and occasionally out front. Until the Airliner was remodeled, the toilets were overflowing swamps, the walls were caked in grime that rivaled vintage CBGB's, and the thermonuclear paroxysms of bass threatened to turn the building into ash at any time.
Nonetheless, hourlong lines faithfully wrapped around Broadway, mobs of teenagers and 20-somethings of every race, ethnicity and creative inclination, united only in the then-burgeoning instrumental beat scene and the staggering array of mesmerizing producers who materialized fully formed from the clouds of blunt smoke billowing in the backyard area.
It was the superstar guests who perhaps blew up Low End Theory to where it rightfully achieved comparisons to the vaunted acid-house locus, the Hacienda in Manchester, or Larry Levan's ur-disco, The Paradise Garage. Thom Yorke famously played twice. So did Erykah Badu and Questlove. For the diffuse community of the beat obsessed, it became Mecca.
But the fans who flocked every week for communion will inevitably remember the random Wednesday nights that could seemingly become supernatural at a second's notice. The best sets were inevitably from the locals, who used the booming system as a laboratory and testing ground, alternating between the homemade magma forged that week and previously unheard dubs emailed in from around the globe.
They'll remember the dance-floor detonations from the classic lineup of residents: Daddy Kev, Nobody, D-Styles, Nocando and the Gaslamp Killer — the latter two no longer affiliated with the club.
They'll remember the profound familial feeling induced by the residents, which extended not just to the fans but to the staff too. To frequent Low End Theory was to become friendly with Frank, the hulking and generous Samoan doorman, who never failed to banter about the Dodgers during the summer months. Or Sharky, the handlebar-mustached upstairs bartender and part owner, who poured stronger drinks than anyone else in a 20-mile radius. It was the club for people who hated clubs — it was the club that could be your life.
This was Low End Theory and this was why the tickets to watch the final requiem were among the most difficult to procure in recent Los Angeles memory. No pre-sales were available online. You had to show up early enough at the Airliner on one of the Wednesdays leading up to the last service.
Inside, there was an inescapable gravity, like a funeral, but a New Orleans jazz one, complete with sweltering tropical heat. Perhaps adding to the bittersweet nature, Wednesday's closing came after 10 months of soul-searching — and dips in attendance — following a rape allegation made on Twitter against the Gaslamp Killer (real name: William Bensussen), of which the artist has denied.
With the exception of Odd Future, the night was otherwise reserved as a tribute to the producers and DJs who made this otherwise unassuming club in Lincoln Heights feel like consecrated soil. Tokimonsta stuck closely to her early material, describing Low End as the place that made her really love music, unfurling woozy blends of '90s hip-hop and 22nd Century neon synths.
In front of a projection that read "Low End Theory," Daddy Kev, Nobody and D-Styles played toward posterity, reminding the regulars of the esoteric cuts that became ritual chants in the LET constellation: Hudson Mohawke's "Oops" remix, Mono/Poly's "Beatles Bitch" and "MS-14." They played Death Grips (whose first show was at Low End) and Portishead, the Clipse and Danny Brown, Dr. Dre and a whole lot of Lamar.
It was a reminder that Low End's diverse palate afforded it a longevity and fluidity. It artfully selected the best of all beat-driven genres and absorbed it into its orbit — computer Music for the 31st century.
But as it always does, 2 a.m. crept up like a hearse. A revolution that started with five and mutated to 50,000 beat junkies and psychedelic connoisseurs, hip-hop heads and dance music lunatics and futurists, all united to chase the furthest mutation of sound into the vanishing distance, all realized that time was up.
It revolved back to Daddy Kev and Nobody, who on this late night in the withering summer of 2018 were suddenly warped back to 1991 — a time before much of the crowd was even born.
"Every kid in 1991 was all about Nirvana, and I like Nirvana, but when I heard this other record at age 14, I was like, what is…this?" Nobody said. "And that record was 'Low End Theory' by A Tribe Called Quest. It was the record that made me want to do music. If y'all know all the words, sing along, and if you don't, then you need to do some research."
So it ended the only way it probably could have, with "Excursions," the first track from Tribe Called Quest's visionary jazz-rap opus from which the club took its name. As the last minutes of Low End Theory expired, Q-Tip's voice told us about his own roots—when he was alone in his room listening to hip-hop, only for his father to interrupt him to tell him that it reminded him of bebop. After all, don't you know that things move in cycles?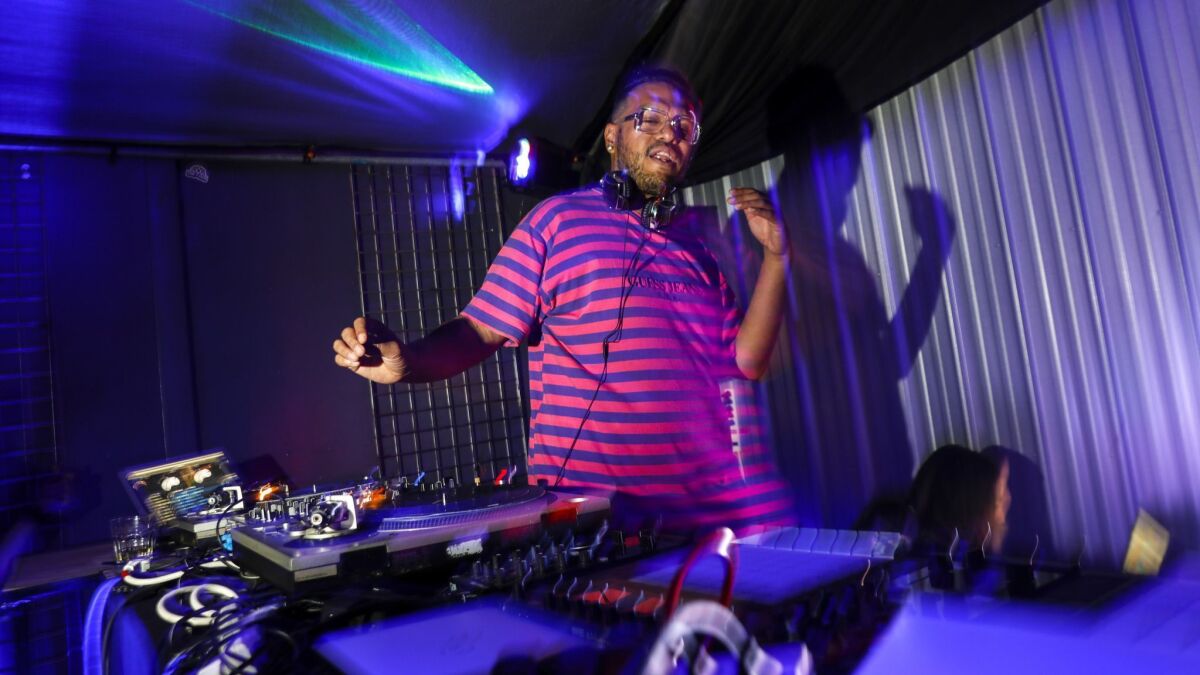 ---
Get our L.A. Goes Out newsletter, with the week's best events, to help you explore and experience our city.
You may occasionally receive promotional content from the Los Angeles Times.