The end of an era: Low End Theory's bittersweet closing caps a year of soul-searching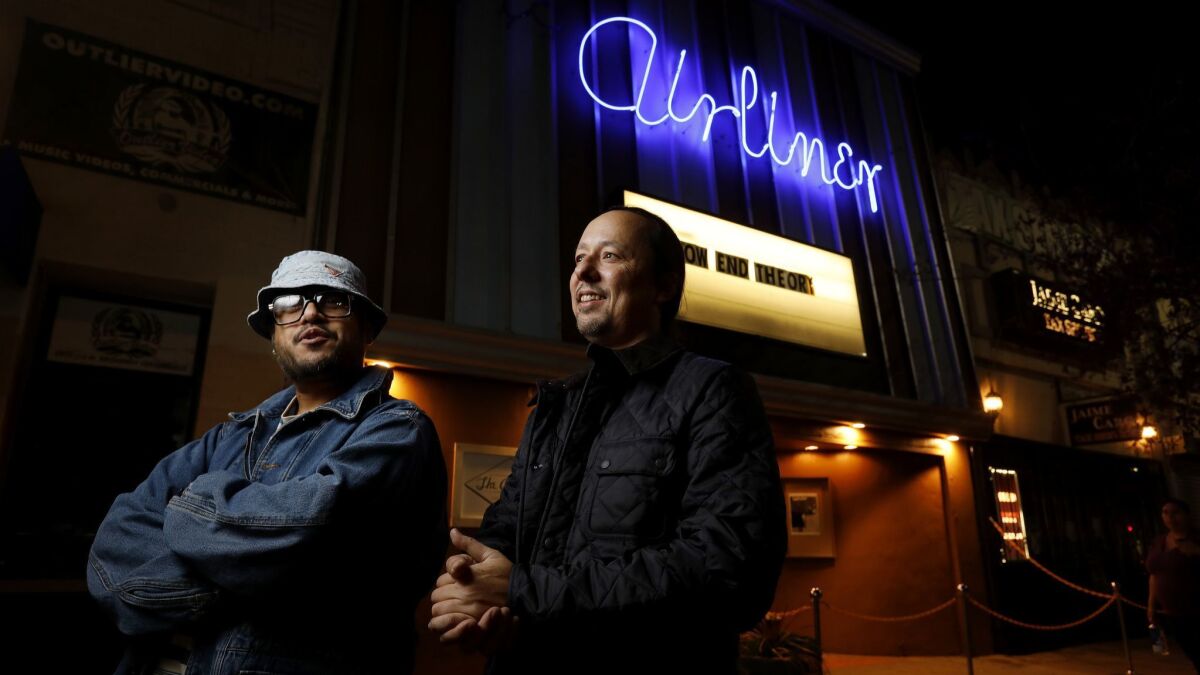 For much of the past 12 years, the Low End Theory helped define the beat-based sound of contemporary Los Angeles, in the process advancing the careers of such artists as Flying Lotus, Tokimonsta, the Glitch Mob and Nosaj Thing.
It is now the end of an era.
On Wednesday, the heavy bass that typified its sound will rumble down Broadway for the final time as the influential club night — on the second floor of a bar called the Airliner — concludes its run.
L.A.'s nightlife scene is notoriously fickle, so such an extended presence should be cause for celebration. But the decision to close was not due only to inevitably shifting cultural tastes.
Last fall, at the start of the #MeToo movement, a rape allegation was made on Twitter against one of its founding residents, William "The Gaslamp Killer" Bensussen. Bensussen strenuously denied the allegation and last November filed a lawsuit claiming that the woman spread "malicious and fabricated rape allegations...based on a consensual sexual encounter" that occurred on July 5, 2013.
The lawsuit is ongoing, charges were never filed, and the woman, contacted by The Times at the time of the original allegation, chose, like many, to not go on the record.
But the tweet echoed across social media and throughout L.A.'s musical underground.
One week the club was packed. The next week it was dead.
The accusation divided a once-tight community, ended friendships, spurred a lawsuit and helped prompt co-founders Kevin "Daddy Kev" Moo, Elvin "DJ Nobody" Estela and Dave "D-Styles" Cuasito to announce in June that it would be closing with a 10-week countdown.
"That was the definitive moment when everything changed for us," Moo said. "And unfortunately, the narrative changed. It was no longer a music narrative."
Founded in 2006, at its peak in the early '10s the Low End Theory was the destination for globetrotting music fans convinced that this little event was reframing electronic music culture. Most nights the stage was crammed with tastemakers tag-teaming and trying to outdo the others, spinning hard, instrumental hip-hop that emphasized rib-cage-rumbling bass tones, remixes and percussive tracks on a sound-system engineered for volume.
That was the definitive moment when everything changed for us. And unfortunately, the narrative changed. It was no longer a music narrative.
— Kevin "Daddy Kev" Moo
Those frequencies connected, most notably with the rise of Steven "Flying Lotus" Ellison, which coincided with the Low End Theory's ascent. Now a Grammy-nominated producer, his frenetic, jazz-influenced style was a direct influence on Kendrick Lamar's "To Pimp a Butterfly," which was nominated for an album of the year Grammy Award. (Lamar returned the favor on Flying Lotus' track, "Never Catch Me").
Like many others, Ellison refined his performance technique, and developed a way to connect and emote with crowds, while locked behind controllers and laptops on the Low End Theory stage. The club night's success spawned worldwide tours, DJ sets on prominent online hubs and a music festival. Just as crucially to the L.A. scene, it inspired a generation of could-be producers.
The beat-maker Lauren Abedini, who records as Kittens, found her calling when, as a teen, she gained entry to the Airliner with a fake ID. Although she often went alone, she never felt unsafe. In fact, she learned to DJ through lessons with Bensussen.
"In other scenes and other spaces, there's a level of underlying animosity and misogyny that you can feel," she said. "Even if it's not direct, you can feel that people are judging you, that you're not welcome."
The Airliner's capacity may be only a few hundred, but on hopping evenings it felt like thousands. A roster of guest DJs and performers including Radiohead's Thom Yorke, Grammy-nominated rapper-singer-producer Anderson .Paak, British tastemaking BBC DJ Mary Anne Hobbs and members of rap crew Odd Future signified an open-eared celebration of hip-hop, experimental rock, dubstep and techno — and caused blocks-long lines to get in.
The success, though, came with its share of headaches, and in 2015 its founders started pondering an end date, Moo said. He cited tipping points including a 2013 near-riot during a Tyler, the Creator appearance to "another near-catastrophe" when the event was forced to shut down before an appearance by Compton rapper YG. Moo said that in 2016, the Los Angeles Police Department launched an investigation after repeated noise complaints.
That decision to shutter may have ultimately been made for them in October 2017 when, while in Austin, Texas, as part of a Low End Theory anniversary tour, a distraught Bensussen entered the dressing room and told Moo of a Twitter post.
In it, a woman who was later identified in legal papers as Chelsea Tadros, alleged that years earlier Bensussen raped her and a friend at his home after meeting at the Standard Hotel in downtown L.A. She wrote: "i've been silently suffering over this for many years. the gaslamp killer drugged and raped my best friend and myself 4 years ago."
Within a few hours, Bensussen issued a strongly worded denial via Twitter. He wrote, in part, "I would never hurt a woman. I would never drug a woman and I would never put anyone in a situation where they were not in control, or take anything they weren't offering."
The next morning, the Low End Theory's social media accounts posted a statement that acknowledged the allegation and announced that Bensussen would no longer be involved with the Low End Theory, but that didn't stanch the wound.
"I literally went to sleep, we had four shows. I woke up, we had no shows," Estela said, adding that the swiftness of the judgment stunned him.
"I always hear these businesspeople say, 'I lost everything!' How does someone lose everything? And I'm like, 'This is happening to me right now. I get it.' You can lose everything within a few hours, and you have no control over it."
In November, Bensussen filed suit against his accuser and two others, claiming the Twitter post was "malicious and fabricated." Tadros declined to comment for this story. But in response to a May social media post by Bensussen that addressed the incident, her attorney, Erica Kim, issued a statement. In part, it decried Bensussen's post as "a frivolous and transparent attempt to save his career by intimidating and silencing his victims." A trial date hasn't been set.
In the weeks that followed, members vowed to forge ahead with the club night. The last thing they wanted was for Low End Theory to be remembered for anything other than its original mission: to produce an inclusive night of music where everyone, regardless of gender, sexuality, ethnicity or subgenre preferences, was welcome.
Moo also announced that, going forward, the club night would focus on female DJs and producers for its monthly residency. He hasn't spoken to Bensussen since the day after the allegation came to light. "You believe the woman," he said. Asked whether he considered inviting Bensussen for a final Low End Theory set, Moo answered with a cuss-prefaced "no."
During a phone conversation, Bensussen acknowledged that he has followed the news of the Low End Theory's demise. "The outpouring of love has been bittersweet, obviously, but I started with Kev and Elvin from the ground up. I was at the first meeting when Low End was discussed." He added, "For 11 years I was the heart, and when you cut out the heart, the blood can't flow to the brain, which was Kev. And unfortunately he had to make his executive decision," Bensussen said.
The event never recovered, Moo said on Monday.
After the allegation, DJs hesitated to commit for fear of being tainted by the controversy, according to Moo, who also hesitated to put colleagues in the position of having to pick sides.
If I made dope beats, it didn't matter if I was a girl, boy or potato.
— Tokimonsta on her experiences at the Low End Theory
Still, the electronic artist Jennifer Lee, who performs as Tokimonsta and earned early attention as a performer there, saw no connection between the weekly party and the alleged incident.
In an email, she wrote that as a woman in a predominantly male profession, she's used to being patronized, or worse. At the Low End Theory, she wrote, "If anyone ever showed disrespect, Daddy Kev, security, or even the general crowd would be the first to kick the person out."
She added that the Low End Theory was open to anyone with talent or passion. "If I made dope beats, it didn't matter if I was a girl, boy or potato."
Bensussen, who has been away from the scene since the allegation surfaced, will return to the DJ booth when he unveils a new club night in late August. Called Airplane Mode, the first installment is slated to occur at the Hi Hat in Highland Park.
The remaining members haven't announced plans beyond Wednesday's coda, but Moo has spent every Wednesday evening for the past 10 months at the Airliner working to retain a legacy he helped build. In that time, he says that he's heard from victims and survivors of unrelated incidents. "And it's brought me a humanity that I didn't have before, and for that I am thankful."
He adds, "I'd be lying if I said my heart hasn't been broken a million times over. It probably will be for the rest of my life over this. It's good for me mentally to move on."
For tips, records, snapshots and stories on Los Angeles music culture, follow Randall Roberts on Twitter and Instagram: @liledit. Email: randall.roberts@latimes.com.
---
Get our L.A. Goes Out newsletter, with the week's best events, to help you explore and experience our city.
You may occasionally receive promotional content from the Los Angeles Times.