Country trio Midland 'went all in' and came out on top with debut album 'On the Rocks'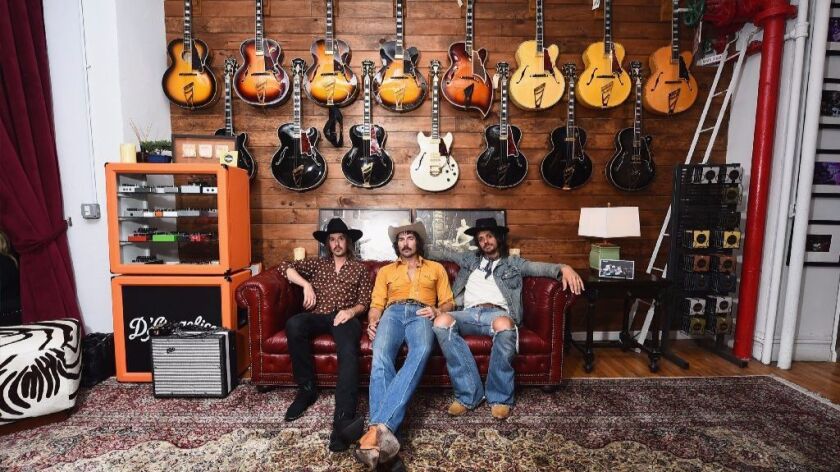 Drill down far enough and almost every band has a tiny, hidden catalyst to which it owes its existence. And before Midland had a hotly-anticipated debut album in "On the Rocks," there was a grandfather clock.
Cameron Duddy, bassist for the breakout country trio — which plays a sold-out show at the Troubadour on Wednesday— tied the knot in 2013 near Jackson Hole, Wyo.
His buddy, lead guitarist Jess Carson, had been on a road trip helping his dad and granddad deliver a grandfather clock and arrived a week ahead of the nuptials. Singer-guitarist Mark Wystrach also arrived early with time on his hands, and while Duddy had previously been in bands with both men, the three had never played together.
After trading songs on the porch — from Motown to Merle Haggard — and performing at the rehearsal dinner, they decided to make a go of it as a band.
Four years later, Midland scored a No. 1 single on country radio with "Drinkin' Problem," preceding the release of "On the Rocks" last Friday. "If it wasn't for that clock, I would never have had that one-on-one time with Mark," says Carson, who hails from rural Oregon. "I don't know if this hare-brained scheme would have even come up."
The ambling barroom ballad — a half-cheeky, half-bleak ode to self-soothing — is a down-the-middle classic country song of the variety heard frequently during the neo-traditionalist era of the '80s and '90s from artists like George Strait and Alan Jackson.
The album follows suit. "On the Rocks" is a well-balanced cocktail of vintage country twang laced with pristine Eagles/CSN-style harmonies in zippy ditties like current single "Make a Little" and the deceptively upbeat "Somewhere on the Wind," the latter of which wraps the pain and regret of goodbye in a locomotive groove.
The voluble trio, on the phone from New York recently after a turbulent night spent flying through the remnants of Harvey, cheerfully recount how they regrouped a year after the wedding in Dripping Springs, Texas (near Austin), and began logging time in the honky-tonk scene and cutting demos.
Eventually, they caught the ear of award-winning songwriter-producer Shane McAnally.
"I grew up in Texas. I am obsessed with George Strait," says McAnally, who has penned hits for artists ranging from Kacey Musgraves to Kenny Chesney, and was recently nominated for his sixth CMA song of the year award for Sam Hunt's summer-dominating smash "Body Like a Back Road." "When these guys said they loved George Strait and Gary Stewart and the Eagles, I still thought it was too good to be true."
McAnally shares writing credits with the band and Josh Osborne — and producing credits with Osborne and studio wizard Dann Huff — for "On the Rocks." Although he has had more than his fair share of chart-toppers, McAnally says he and Osborne constantly write more traditional songs that they always hope will find a home.
"I feel like we manifested [Midland], because this is our playground, writing songs for a 1982 George Strait," says McAnally. "When these guys walked in and were a vehicle for those kinds of songs, and also quite capable of writing them as well, it was like [the movie] 'Weird Science,' like, it wasn't our design, but it's almost like we put into a machine what we wanted, and out came Midland."
The Big Machine A&R team of Allison Jones and Laurel Kittleson brought Midland to the attention of Scott Borchetta, he of the shepherding of Taylor Swift's world domination and "American Idol" fame.
Borchetta says it took one listen to persuade him.
"When I heard Mark's voice, I thought George Strait, I thought Keith Whitley, and I thought, 'Thank God that voice is out there.' And if we can get them, we know what to do with them … it was one meeting, and lock the door," says Borchetta, who has had his highest profile successes with pop-leaning artists like Swift and Thomas Rhett, but has also worked with veterans including Strait and Reba McEntire. "I always laugh when people go, 'Oh man, the guy who tried to kill country music, actually signed a country band.' It's the funniest thing."
Locking that door turned out to be a wise move.
All three members of Midland had played in bands for most of their adult lives but also made ends meet in other ways. Wystrach, an Arizona native, picked up modeling and acting gigs, including a stint on the soap "Passions." Duddy was making a living as a music video director, including an award-winning clip he co-directed with Bruno Mars for "24K Magic."
"I'm kind of glad I didn't know all that," says Borchetta. "Because then I didn't have this preconceived notion of 'Oh well, he's an actor and a model.' Or 'Oh, Cam did all this stuff with Bruno Mars.'" The first time Mars' name came up, says Borchetta, was when it appeared he might be interested in signing Midland himself.
Borchetta told the band that although he had "nothing but mad respect and admiration" for Mars, he felt Big Machine would be a better fit. They agreed.
Some observers are apparently befuddled by the idea that it is possible to have had a previous life and also be a "real" country musician— as though genuineness is somehow mutually exclusive to Duddy and Wystrach's show biz ties on some nebulous, pre-determined litmus test. Particular attention seems paid to Wystrach's underwear modeling, to which McAnally says, "We're all better for those pictures of Mark, let's be honest!"
The band gets the skepticism, sort of.
"Listen, having somebody as talented as Cameron as music video director has made it easier for us to translate what our vision is," says Wystrach, who speaks protectively of Duddy. "And yes, it absolutely made the process more efficient of getting our first foot in the door in Nashville. But you can't skip steps as a band, especially the kind of music that we play and the way we record, and the way that we song-write. There's only one way to do this. And that's by putting in the work, putting all the chips on the table, and taking the gamble.
"I'm not going to sit here and say, 'Oh, poor us. We had it so tough,' especially with everything in perspective that is happening these days. But absolutely it's been a struggle," he says of borrowing money to keep the band afloat. "We all went all in, we could have done something else and could have been more secure and more stable."
And as he notes, his dad likes to say, " 'Son, if you're trying to get rich, there's easier ways.' "
McAnally laughs and recounts what he told someone attempting to question Midland's bona fides: "I used to work at a gay bar in West Hollywood without my shirt. Does that mean I don't know or love country music?"
"People love an underdog story, so it's just hard to hear about mine," reckons Duddy. "This should help them wrap their heads around it. I struggled until my mid-20s to put food in my own mouth. As did Mark, as did Jess. I didn't get any jobs for free. I experienced a brief amount of time, probably the span of two or three years, where I was actually able to pay my own rent."
But when he decided to commit to the band, Duddy and his wife, photographer Harper Smith, uprooted to Texas, "where we were playing for two or three, sometimes zero people at Cody's Roadhouse in Houston. Last year, I had to borrow money from our manager so that I wouldn't lapse on my mortgage and that we could continue to put all of our efforts into Midland in the skinniest of times."
"To me [the debate is] kind of funny, it's entertaining, and it's so irrelevant to what music is," says Wystrach. "As far as authenticity goes: come to our live show. This has been a lifelong dream for me. I grew up in my family's little honky-tonk house in Sonoita, Ariz., worshiping all the musicians that were playing at our place every weekend. I watched all these incredible talents that never made it. I think about them every night before I go on stage."
Carson wrote a song that appears on "On the Rocks" called "Check Cashin' Country" about the vagabond life of a touring musician. Sample lyric: "Out here that tip jar has got a jangle, 'cause we ain't got a single on the radio."
Now they do and they're not apologizing.
"Through the years, you build a camaraderie and a common respect for every musician that's out there trying to make it," says Wystrach. "But the light at the end of the tunnel is the thing that pushes every musician — that dream of someday making it and getting to share your music with the world. That doesn't happen to pretty much anybody and that's not lost on us."
---
Your essential guide to the arts in L.A.
Get Carolina A. Miranda's weekly newsletter for what's happening, plus openings, critics' picks and more.
You may occasionally receive promotional content from the Los Angeles Times.