Ringo Starr celebrates 77th birthday with help from his friends — including Jenny Lewis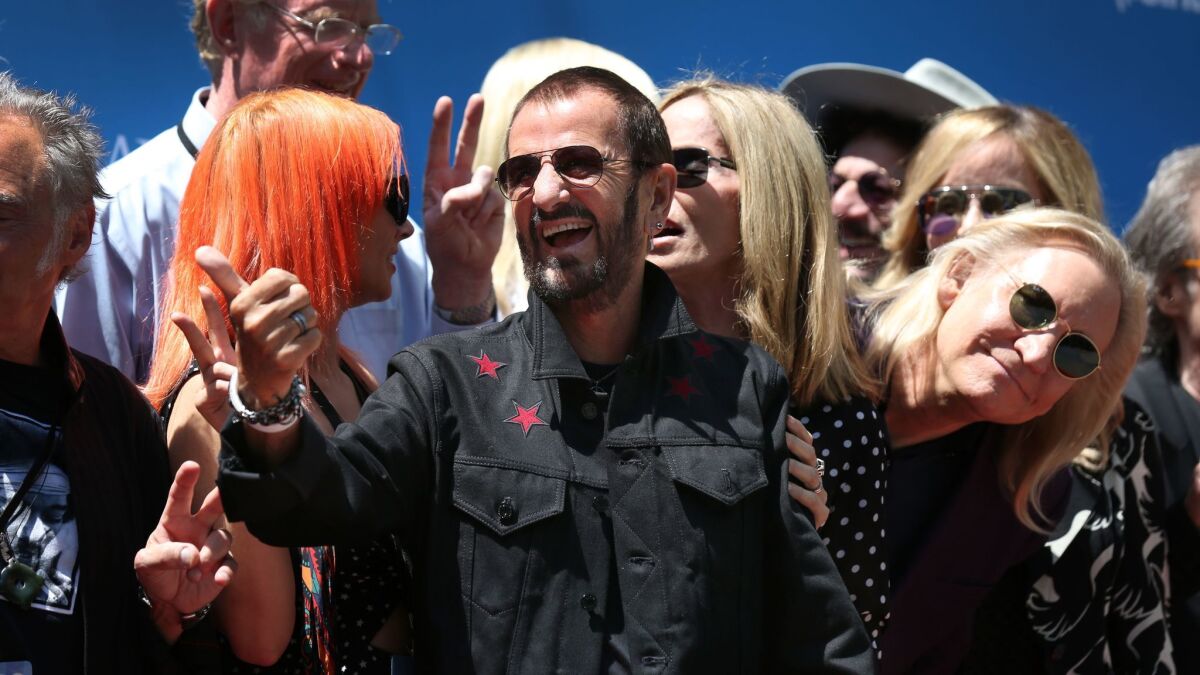 When a Beatle talks, people listen.
That maxim was proved true anew on Friday as Ringo Starr drew hundreds of fans and dozens of fellow musicians, including Jenny Lewis, as well as friends and family members to his annual "Peace and Love" birthday celebration, centered this year once again in Hollywood.
On the day he turned 77, the senior member of the Fab Four acknowledged the violence that continues to erupt around the world as well as the rancorous tone of much the day's political discourse. But he insisted that his yearly exhortation for more peace and love in the world is not falling on deaf ears.
"The great thing is that it's continuing to grow," Starr told The Times a few minutes before stepping outside the Capitol Records tower to lead the crowd in chanting "peace and love" precisely at noon, repeating a ritual that was carried out in each time zone across the globe.
See the most-read stories in Entertainment this hour »
"When this started in Chicago in 2008, there were maybe 60 or 100 people," he said. "But it keeps getting bigger every year. My dream — my fantasy — is that one day in the future everyone on the planet will stop at noon and say, 'Peace and love.'
"A few days before my birthday I was being interviewed and someone said, 'What would you like for your birthday?' I don't know where it came from, but I said, 'I'd like more peace and love, and I'd love it if at noon on my birthday everyone would say, 'Peace and love.'"
This year the number of commemorations around the globe is bigger than ever, with events in numerous U.S. cities as well as in England, Russia, India, South Sudan, Brazil, Costa Rica, Germany, New Zealand, Panama, El Salvador, Haiti and even Antarctica.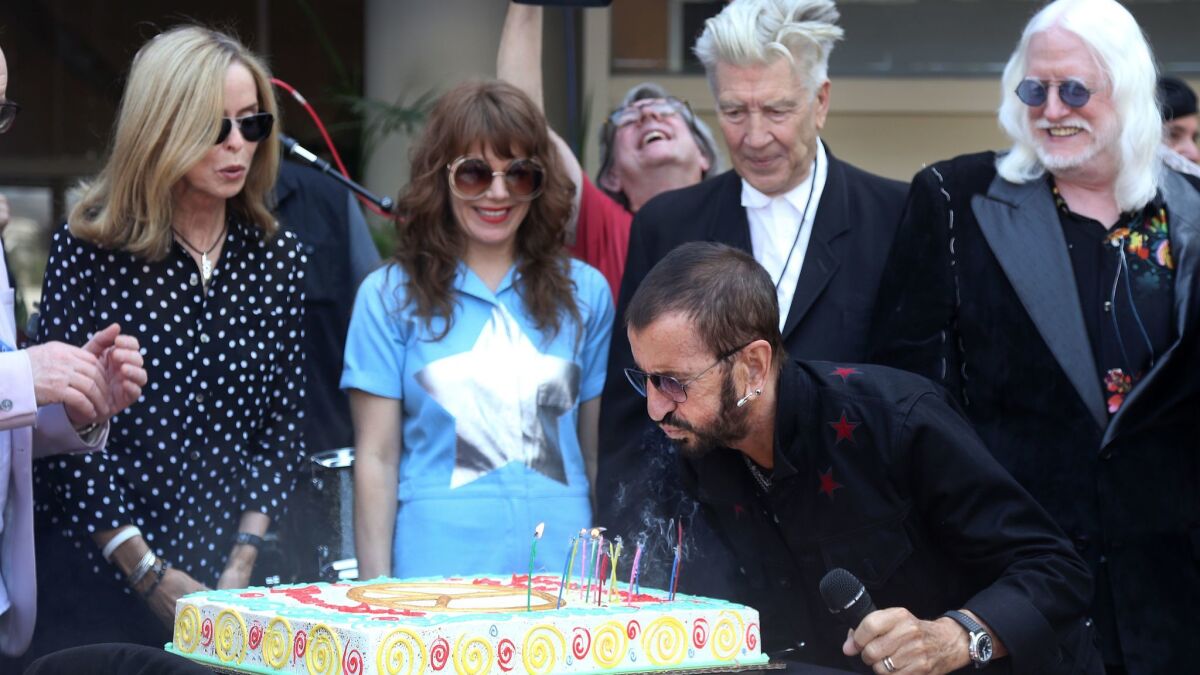 The international flavor was reflected in performances that preceded his arrival by Haitian singer Emmanuel Jal and South Sudanese rapper Paul Beaubrun. Jal served up a reggae-soaked rendition of Starr's 1971 hit "It Don't Come Easy," with its occasion-friendly refrain, "Please remember peace is how we make it."
Between Jal's sung verses of Starr's 2010 song "Peace Dream," Beaubrun, who introduced himself as "an ex-child soldier," rapped about some of the horrors he has witnessed.
Then the stakes were raised as singer-songwriter Lewis led a quartet featuring composer-arranger Van Dyke Parks on accordion, superstar session drummer Jim Keltner, bassist-record executive Don Was and keyboardist Mike Bearden in "Walk With You," a ballad from Starr's 2010 album "Y Not" that Starr and Parks co-wrote.
A raft of music and entertainment world luminaries turned out, among them: filmmaker David Lynch, Starr's actress-wife Barbara Bach, musician-producer Peter Asher, Eagles guitarist-singer Joe Walsh (who also happens to be Starr's brother-in-law), comedian Richard Lewis, singer-songwriter Lucinda Williams, ex-Guns N' Roses drummer Matt Sorum, actor Ed Begley Jr., producer songwriter Glen Ballard and longtime "Breakfast With the Beatles" radio show host Chris Carter.
Many current and former members of Starr's touring All-Starr Band also appeared: guitarist Nils Lofgren, drummer Gregg Bissonette, and guitarists-singers Richard Page and saxophonist Edgar Winter.
Starr at the event also discussed the just-announced thematically related new album he'll release on Sept. 15, "Give More Love." Starr noted that Paul McCartney contributed to two tracks on the new collection.
"I love him, of course," Starr said while seated at the mixing board in Capitol's Studio A, "but I also love the way he plays bass. He's the most melodic bass player in the world."
From his vantage point of 77 years, Starr said he looks beyond the daily headlines in carrying out his mission.
"The world has always been violent," he said. "All you can do is your part; all I can do is my part, and part of that is to keep saying, 'Peace and love.'"
Follow @RandyLewis2 on Twitter.com
For Classic Rock coverage, join us on Facebook
Get our L.A. Goes Out newsletter, with the week's best events, to help you explore and experience our city.
You may occasionally receive promotional content from the Los Angeles Times.