How a podcast is changing minds on songwriter pay and recognition in the streaming era
Ross Golan has written hit songs for Ariana Grande, Selena Gomez, Justin Bieber and dozens of other stars. But his most important contribution to pop songwriting today might be a podcast.
On each episode of his show "And the Writer Is…," Golan sits down with a songwriting peer. Some are well-known artists, others purely behind-the-scenes types. They talk about their writing processes, their lives as working musicians and their fears and triumphs in an often-overlooked corner of the pop music machinery.
"It's a myth that music is all magic," Golan says. "It's not. It's a bunch of emotional wrecks sitting in a room trying to write a song."
With the rise of streaming services decimating songwriting royalties, and as marquee pop albums take on huge casts of co-writers, Golan sees these conversations as a small but significant reminder that fans' favorite songs don't just come out of nowhere. And given the Recording Academy's recent rule change that now allows key songwriters to receive a Grammy in the album of the year category — a change for which Golan lobbied — he may already be making an impact.
Golan's roster of songwriting hits — the title track for Grande's "Dangerous Woman" LP, several No. 1 singles, including Gomez's "Same Old Love" and Flo Rida's "My House" — speaks for itself. This year, he won the publisher BMI's award for Pop Songwriter of the Year.
For pop fans, his podcast "And the Writer Is…" is an enticing look not just behind the scenes of the music business, but into those small, jittery rooms where writers take slivers of mumbled lyrics and off-the-cuff chord changes and buff them into polished pop tunes.
The craft is a weird mix of being extremely vulnerable, technically nimble and completely unsentimental all at once.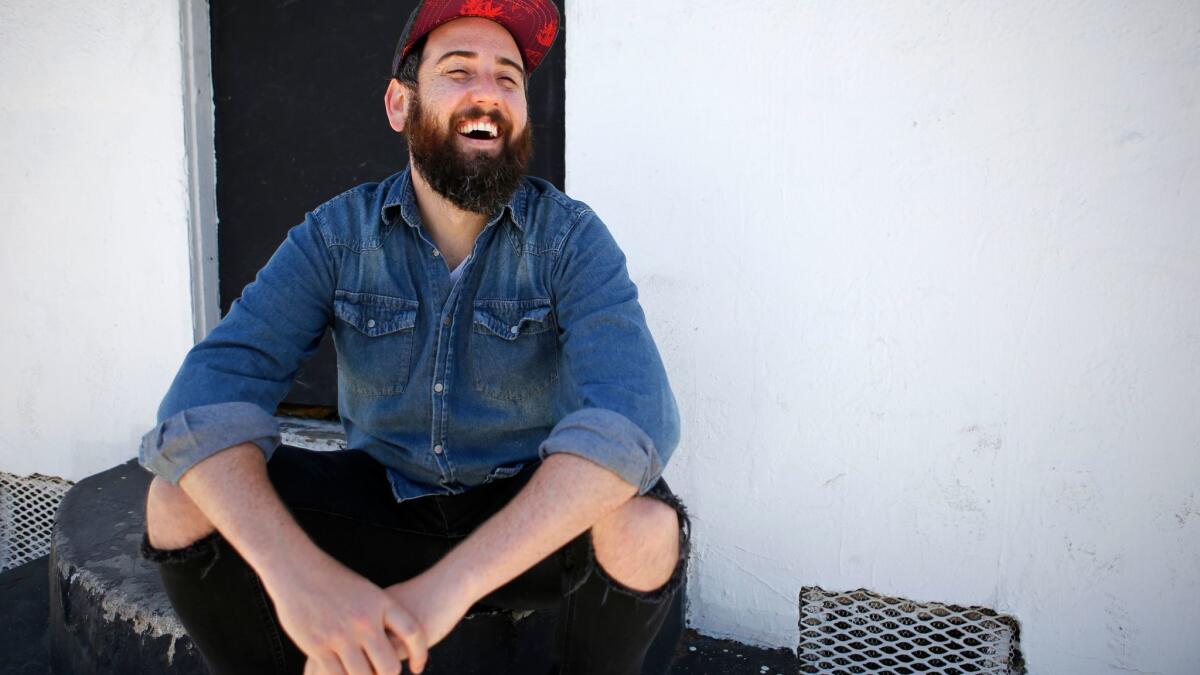 The first thing I do, even with major artists, is to sit down and ask them 'How are you doing?"
— Ross Golan
"Try to imagine walking into a room full of strangers, singing to them and then asking what they think," Golan says. "The first thing I do, even with major artists, is to sit down and ask them 'How are you doing?'"
When Golan — who has put out his own albums as Ross Golan & the Moleheads and Glacier Hiking, and created the one-man musical "The Wrong Man" — started the podcast in January, he imagined it as a place to swap favorite writers' tricks and insider music-biz stories, riffing on the strange intimacy of their line of work. He figured that even if the audience would be "about 300 people in this little community" of songwriters, it would be a fun diversion. In-demand writers like Benny Blanco, Bonnie McKee, country music mainstay Luke Laird and Mikkel Eriksen of Stargate all dropped by early to talk shop.
But as the podcast progressed and diversified (recent guests included classic rock penman Desmond Child and singer-writer Bebe Rexha), it found a much bigger crowd — now in the tens of thousands per episode. Music school students, especially at Golan's alma mater, USC, started citing it as an invaluable reference.
Golan saw that many of the most interesting moments came from working writers talking about their own lives. In the pop music pecking order, writers exist on a ledge between extremely famous artists and a precarious gig economy, where they're only as buzzy as their last big hit, usually with none of the name recognition of the artist on the cover.
Out-of-date legislation regarding royalty payments and sweetheart deals between streaming services and record labels (many of which are investors in Spotify and such) often mean that songwriters in the streaming era are the last to get paid even comically small sums for their work.
When writers like Ali Tamposi (Kelly Clarkson's "Stronger") began opening up about the anxieties of surviving in this kind of market, the candor of "And the Writer Is…" started feeling more radical. Even someone like Golan, whose credited songs had more than a billion streams on Spotify alone last year — feels that pressure, let alone a young aspirant without a chart-topping single.
We now have to battle with Google, with Spotify and Apple. They want everything to be free so they can sell your data."
— Ross Golan
"We now have to battle with Google, with Spotify and Apple. They want everything to be free so they can sell your data," Golan says. "We can't compete. How do you make a living if there are no album sales? It creates a lot of revenue but it all goes back to the record labels. It's like a jukebox that doesn't give you anything for those quarters."
Golan began using the podcast to highlight those disparities, and give fellow songwriters a reference point for their own challenges. He spoke to Congress on the issue of royalty-rate legislation, and along with the writer-producer Evan Bogart, successfully lobbied the Recording Academy for the change that acknowledges songwriters in its Album of the Year awards.
For Ryan Press, co-head of A&R at the music publisher Warner/Chappell (where Golan is signed), Golan's advocacy work with the podcast has started a whole new conversation about recognizing — and paying — songwriters.
"There are no artists without writers, and to be able to shed light on what's happening behind the scenes is extremely important," Press says. "The timing of this podcast couldn't be better. Writers all struggle to get compensated properly. When you think about a hit record and you see [stars] on social media, you think there's so much money there. But writers are so easily overlooked."
It's hard to quantify what impact Golan's podcast is making, but new features like Spotify's "Secret Genius" (which highlights songwriters behind rising pop hits) suggests that not only do fans want to know about the songwriters responsible for the hits, the services may be feeling a little guilty about neglecting them. "Even they recognize that it's" screwed up, Golan says, using a more pointed expletive.
If EDM and hip-hop can have producers-turned-superstars, and billboards lauding songwriters can go up around Nashville's Music Row, maybe modern pop songwriting can finally have its moment in the spotlight.
"Carole King, [Jerry] Leiber and [Mike] Stoller, they were all part of the zeitgeist of their time," Golan says. "And this is another moment when songwriters matter."
For breaking music news, follow @augustbrown on Twitter.
Get our L.A. Goes Out newsletter, with the week's best events, to help you explore and experience our city.
You may occasionally receive promotional content from the Los Angeles Times.