'FolkScene's' Roz Larman: 'If Roz liked it, it was folk'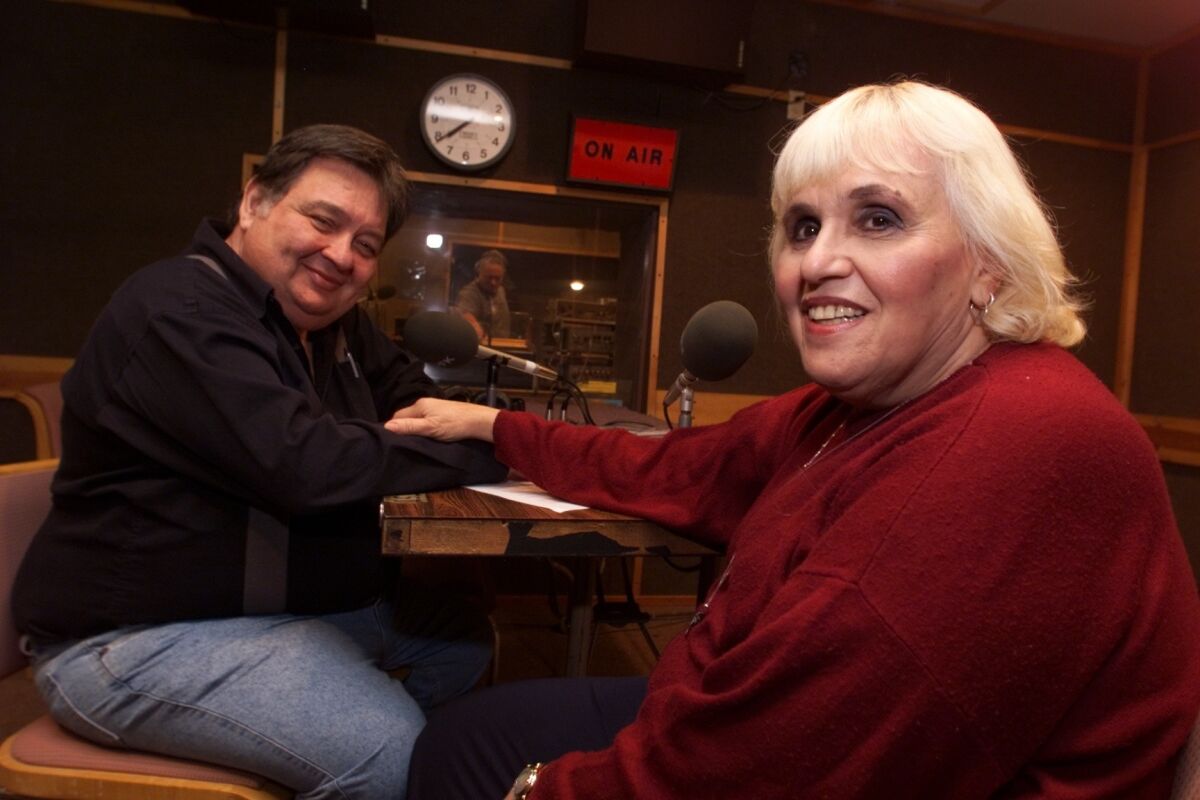 Talent churn is a given in the tumultuous world of radio, which made Roz and Howard Larman's weekly "FolkScene" program in Southern California an exception to the rule as it rolled on decade after decade.
So when the show went off the air for a time in the early 2000s because of a contract dispute between the Larmans and hosting station KPFK-FM (90.7) over ownership of "FolkScene," Roz Larman remembered a warning she was given.
"Someone said to us that 'after you've been gone a year, people forget about you,'" she told The Times in 2002. "They didn't. People were always asking us when we were coming back."
That loyalty toward the Larmans and their folk music show continued after Howard Larman's death in 2007 and has been evident since Roz Larman died earlier this month from complications of a recent heart attack and stroke. She was 83.
See the most-read stories in Entertainment this hour »
"Roz Larman and her late husband Howard Larman were simply the heart and soul of West Coast folk, the music, the scene, its very presence," said Dan Navarro, board member and former president of the Folk Alliance International organization.
"Their radio show ran over 40 years and presented practically everyone in folk-roots-singer-songwriter music," Navarro said, "from legends like Tom Paxton, Loudon Wainwright, Jackson Browne, Kate Wolf, Tom Waits and the McGarrigles, to genre-crossers like Peter Case, Dave Alvin and Lucinda Williams, to relative newcomers like Antje Duvekot, Dar Williams the DittyBops, and hundreds more.
"Their blessing could, in a single stroke, engender unshakable credibility in artists whose 'folkiness' could be considered marginal or tenuous," Navarro said. "Indeed, as was uttered more than a few times, if Roz liked it, it was folk. Such was her taste and gravity."
The Larmans were at the helm of "FolkScene" since they started the show as a labor of love in 1970, along the way becoming champions of folk and folk-related musicians, often before they went on to greater fame and fortune.
Over the last 46 years the show has spotlighted thousands of other musicians, from folk titans such as Pete Seeger and Joan Baez to rising talents such as Tom Waits and Dwight Yoakam before they landed record deals.
"When I finally got on the show," the Blasters' co-founder, lead guitarist and chief songwriter Dave Alvin told The Times in 2000, "I knew I'd made something of myself."
After the 17-month-long departure from KPFK was resolved, they were welcomed back by interim general manager Steven Starr, who hailed them as "legends in this field. Their show has been a stopping-off point for just about every single name in folk music in the last 30 years. They are the folk music radio equivalent of the Grand Ole Opry."
Rosalind Mednick was born April 17, 1933, in Waterbury, Conn., and moved with her family to California. She and Howard Larman met on a blind date set up by a mutual friend and were married for 50 years.
Their son, Allen Larman, who has hosted his own radio shows in Los Angeles, told The Times in 2007, "Both my parents had a great ear for exposing people who ... later became well-known."
She had long served as co-producer of "FolkScene" while working her day job as a credit-card arbitration consultant for different banks. She booked guests and usually introduced recordings they played, while leaving in-studio interviews to her husband. After her husband died, she took on that role as well to keep the show going.
They also produced and hosted concerts and music festivals, and compiled CDs showcasing music from many of their "FolkScene" guests. They underwrote the cost of producing their show, as Howard Larman explained to The Times in 1990.
"We buy our own tape, pay for our phone calls, use our own equipment," Larman said. "I've spent time with people who go boating or play golf. They spend lots of money on that. This is our recreation."
Allen Larman said her mother continued recording interviews for "FolkScene," although her pace had slowed because of health issues.
He said he will keep "FolkScene" going in its long-standing slot from 6 to 8 p.m. Sunday evenings with help from his wife, musician Kat Griffin, host of "Americana Matinee" on KCSN-FM (88.5), as well as the support of his parents' longtime engineer, Peter Cutler, and his wife, Debbie Hand-Cutler.
In addition to Allen Larman, Roz Larman is survived by her other son Greg.
Follow @RandyLewis2 on Twitter.com
For Classic Rock coverage, join us on Facebook
ALSO
Howard Larman, 73; longtime co-host of folk music radio show
'FolkScene' and Larmans return to KPFK
Sting unveils new album during intimate KCSN radio session
Get our L.A. Goes Out newsletter, with the week's best events, to help you explore and experience our city.
You may occasionally receive promotional content from the Los Angeles Times.