'Santa Baby' composer Phil Springer, 91, still can't figure out why his sexy Christmas song endures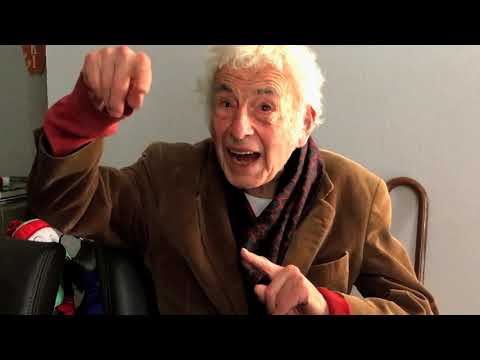 Composer Philip Springer recounts the origins of the Christmas pop classic "Santa Baby."
Phil Springer maneuvers his knobby but agile fingers across the keys of the upright piano in his daughter's living room and croons the opening lines of the Christmas song so sexy that when Eartha Kitt recorded it for the first time in 1953 it was banned in parts of the South:
Santa baby, just slip a sable under the tree / for me / Been an awful good girl / Santa baby, so hurry down the chimney tonight.
At 91, his voice might not purr like Kitt's did — it's more an affectionate bark — but Springer, who co-wrote the familiar tune, makes up for it in glee.
He wasn't always so happy with the song. When Springer and his frequent collaborator Joan Javits finished writing "Santa Baby," he delivered the music to the publishers with an apology: "I said, 'Gentlemen, this is not really the kind of music that I like to write. I hope it's OK. It's the best I could do.'"
Certainly, its coyly crass message and the way it so blithely revels in the season's greediness set it apart from the usual Christmas standards. But the publishers loved it. So did Kitt, whose recording of the song was a huge hit.
Since then, "Santa Baby" has been covered by Madonna, Taylor Swift, Lady Gaga, Ariana Grande, Faith Evans, LeAnn Rimes, Ashanti, Kylie Minogue, the Pussycat Dolls, even Michael Bublé. Earlier this month, Gwen Stefani performed it on her NBC Christmas special.
Yet the precise reason for the song's success eludes Springer.
"I ask myself, 'How come? I've written so many songs that, to me, musically are much better than 'Santa Baby,' and they're not popular," Springer says on a recent afternoon at his daughter's Pacific Palisades home. "The answer has to be that 'Santa Baby' has a magic that goes beyond a composer's plans."
In August 1953, the songwriter's plan was to turn down the "Santa Baby" assignment. Two music publishers at the Brill Building in New York had asked him and Javits to write a Christmas song for Kitt, the then-26-year-old Broadway star known for her onstage magnetism.
Springer, then in his late 20s, objected: Kitt "is the sexiest woman in the world. You don't write Christmas songs that are sexy. How are we going to do that?' "
The publishers' response was firm. " 'Stick to the music,' they said," Springer recalls. "'Let us worry about whether this song is going to be sacrilegious or not.' "
That little 'da-dum'
It's a good thing Springer listened. On the spot, Javits came up with the idea of calling the song "Santa Baby" and that was all the inspiration Springer needed. He and Javits jumped into a cab and zipped to Springer's apartment on the Upper East Side where they could work at the piano.
Along the way he hummed out a four-note melody to go with the title. He recalls prompting Javits for the rest of the line once they got to his place. She delivered the "sable under the tree" phrase. He added melody to those words and asked for a two-beat da-dum phrase as an exclamation point to end the lyric. Her response: "For me."
"That little 'da-dum' made a lot of money for me over the years," Springer says.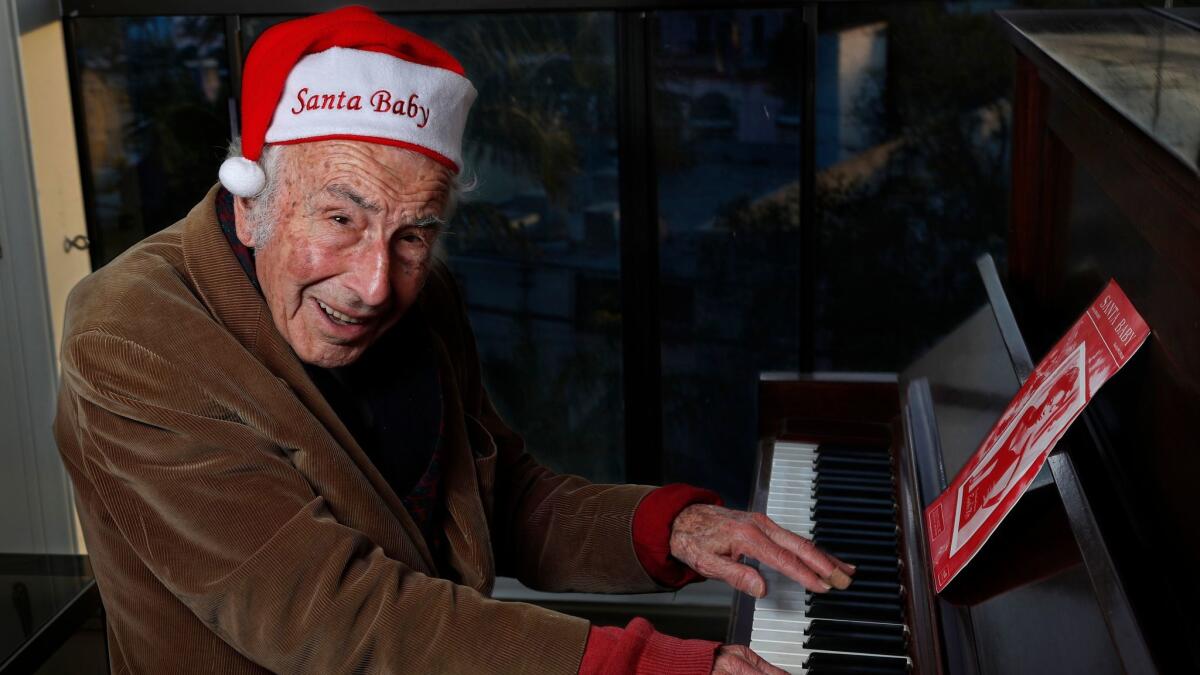 I said, 'Gentlemen, this is not really the kind of music that I like to write. I hope it's OK. It's the best I could do.'

— Phil Springer on presenting "Santa Baby" to his publishers for the first time
In his life as a composer, Springer has written or co-written songs that have been recorded by Frank Sinatra ("[How Little It Matters] How Little We Know"), Frankie Laine ("Moonlight Gambler"), Dusty Springfield ("All Cried Out") and dozens more. In the late '60s, he moved to Los Angeles and composed for TV and film, writing music for episodes of the classic western series "Gunsmoke," the detective series "Mannix" and the L.A. hospital drama "Medical Center." He also did the music for the cheeky movie parody "The Boob Tube."
"Santa Baby," however, is far and away his most famous melody.
He estimates that it took him just 10 minutes to write the tune. Javits, who wasn't available to be interviewed for this story, labored for three weeks until each saucy, seamless verse was polished:
Santa baby, a '54 convertible too / Light blue / I'll wait up for you dear / Santa baby, so hurry down the chimney tonight.
The lyrical conceit was part of a trend, says John Soss, a Chicago-based expert on Christmas music. "There were a lot of midcentury Christmas songs that involved a letter to Santa," he says, "most of which were sung by young kids either asking for gifts, or — in many cases — for one of their parents to return home."
Kitt's requests were much more adult.
"This take on that theme," Soss says, "featuring lavish gifts requested by a grown woman who was flirting with Santa, must have really stood out from the pack back in 1953."
The closest anyone had come to writing a hit Christmas song with a hint of sex was Tommie Connor with "I Saw Mommy Kissing Santa Claus" in 1952. Of course, the kissing couple was married and the first person to record the song, Jimmy Boyd, was 13 years old at the time.
Kitt, meanwhile, was "the No. 1 symbol of sex on Broadway," as Springer puts it. In early 1953, she'd had her first hit, a rendition of "C'est Si Bon." That year she also came out with "I Want to Be Evil," which was quite the incitement considering that one of 1953's biggest hits was Patti Page's toothless "(How Much Is That) Doggy in the Window?"
With "Santa Baby," Kitt turned up the heat.
"It's a sexy theme," Springer says. "Nobody had ever done that before — had written a song about a woman who is obviously a mistress of a man, and saying what she wanted."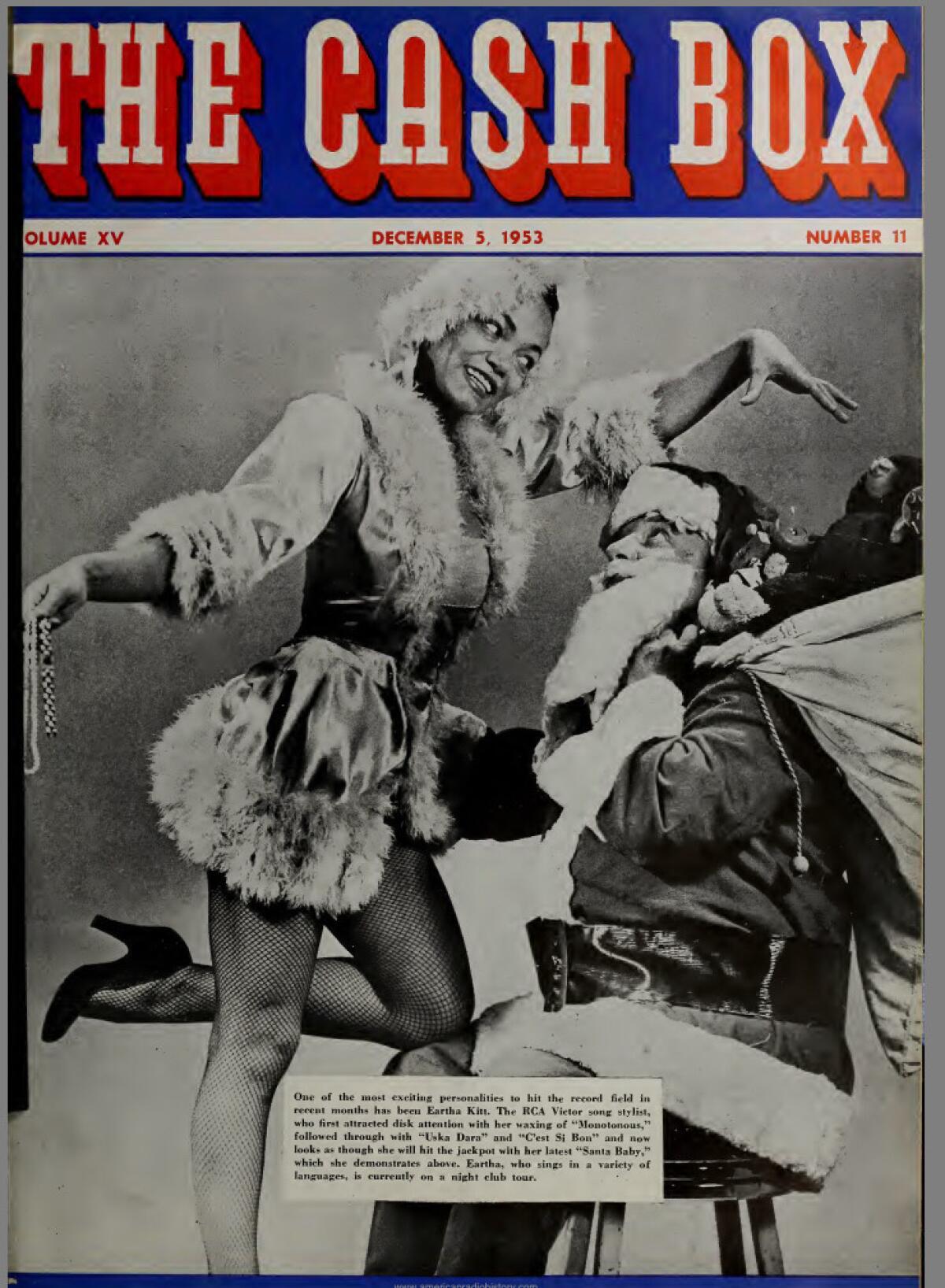 "Santa Baby" sold briskly as Christmas approached. Along with Eddie Fisher's "Oh My Papa," Kitt's holiday song helped give RCA Victor, which put out both songs, one of its most successful years. But "Santa Baby" wasn't played everywhere.
"In many cities it was a hit," Springer says. "But in some cities it was banned and there was a lot of talk against it."
When it hit, Springer says, "the queen of Scandinavia expressed herself in shock."
The Madonna effect
Kitt's success with the song spawned a 1954 sequel, "This Year's Santa Baby," featuring updated Javits lyrics.
Springer says the song's publishing company at the time also issued five new versions with different Javits-penned lyrics aimed at specific genres including country and pop. It marketed "Santa Baby" handkerchiefs and skirts. There was even a children's version of the song.
And in a "Santa Baby" parody, the country comedy duo Homer and Jethro turned Kitt's sable request into "a milkin' pail for my cow."
Two years after "Santa Baby," Kitt recorded "Nothin' for Christmas," with lyrics that flipped the song's narrative: She repented for the "Santa Baby" suggestion that she'd been willing to trade her services for goods. Written by Sid Tepper and Roy C. Bennett (who went on to write more than 40 songs for Elvis Presley), it was sung from the perspective of a "respectable" woman who shuns suitors who assume she can be bought — "I'm getting nothin' for Christmas / Cause I didn't wanna be bad."
It didn't hit. "Nothin' for Christmas" has been largely forgotten while "Santa Baby" endures.
But despite its current success, there was a period when "Santa Baby's" popularity waned, earning what Springer calls "a few bucks" every year for the rights holders. In the early 1980s, Springer bought Javits' ownership share in their composition.
One of his first tasks was to reestablish Kitt's original rendition as the definitive — and only official — version.
With so many sets of lyrics floating about, the song's meaning had become convoluted, so Springer required that publishing houses only allow interpretations with the root lyrics.
"Fortunately," Springer says, "that's what Madonna used. And that started its comeback."
Madonna was the perfect adapter for the song when she recorded it in 1987. After all, she had a hit with "Material Girl," a song that addresses similar themes as "Santa Baby."
By then, it was accepted that a woman could be direct about material demands. "Now it was just fun instead of sacrilege," Springer says.
After the Madonna revival, the song went on to be licensed for movies and TV shows, including "Driving Miss Daisy," "The Simpsons," "The Sopranos," "Elf" and dozens more.
Stefani, who has made "Santa Baby" one of her holiday concert staples, includes it on her new Christmas album, "You Make It Feel Like Christmas."
"I haven't done many covers in my career, but this song feels like a perfect fit," she says in an email. "What an extraordinary talent Phil Springer is. Eartha Kitt is so full of personality. This song must have been unbelievably edgy when it came out, and it still is."
Stefani draws on both Kitt's original and Madonna's reenergized update to create a thoroughly modern take. Like Kitt, Stefani affectionately calls Santa Claus a cutie, demands a yacht and the deed to a platinum mine, and asks that her man fill her stocking with a duplex and checks.
Adjusted for inflation, she's asking for billions, but Stefani couldn't tone it down even if she wanted to.
Springer and his daughter Tamar, who administers his catalog, are strict about approvals.
"We've turned down many," says Tamar. Tyler Perry wanted to adapt the lyrics to "Santa Baby" for a Madea movie. The version, though, had references to drugs and drinking. The family politely declined.
This year they said no to Ellen DeGeneres, whose producers hoped to adapt the song as "Ellen Baby" for the annual "Twelve Days of Christmas" segment of her talk show.
Gruff, bearded soul singer Nathaniel Rateliff recorded the song this year for Record Store Day, says that Kitt's allure long ago drew him in — both her music "and who she is as a personality who never really backed down from anybody."
Rateliff admired the song for "how explicit it was for the time," and opted to stay true to Javits and Springer's work: "I thought it was more funny me not switching the gender parts around. It's kind of the times we live in, as well, so it seemed appropriate to me."
Good thing, because Springer has allowed a few lyrical exceptions over the years, most notably when contemporary crooner Bublé requested to call his rendition "Santa Buddy."
"I said absolutely not," Springer says. But the artist persisted and he relented.
"Thank God," Tamar replies with a laugh.
Instead of asking for a sable or a ring, Bublé in his version asks for a more manly Rolex, a '65 convertible, NBA tickets and "decorations bought at Mercedes." Needless to say, the version's inferior.
But Springer's circumspect about the update. Smiling, he explains: "I had tax problems that year."
For tips, records, snapshots and stories on Los Angeles music culture, follow Randall Roberts on Twitter and Instagram: @liledit. Email: randall.roberts@latimes.com.
Get our L.A. Goes Out newsletter, with the week's best events, to help you explore and experience our city.
You may occasionally receive promotional content from the Los Angeles Times.