Don't let the drama around Sinead O'Connor eclipse her art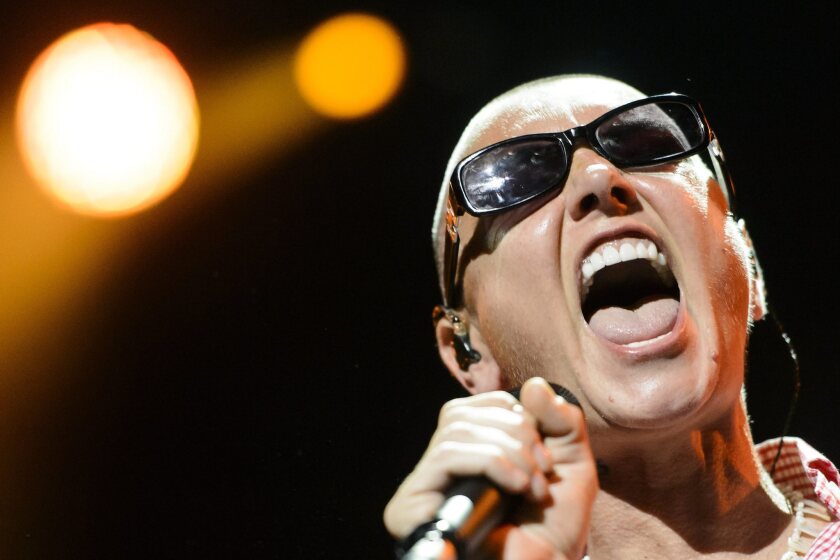 Those who have casually followed the Irish singer and songwriter Sinead O'Connor's life in the past few years likely know the basic details of her personal struggles with mental illness, as well as her recent vanishing act in Chicago's north suburbs. If not, details of this non-musical news are easily found online.
Less covered, though, is the art that O'Connor has created in that same time, which has been woefully eclipsed by the drama.
Many know her breakout debut album, "The Lion and the Cobra," its follow-up "I Do Not Want What I Haven't Got" and her stellar version of Prince's "Nothing Compares 2 U." They've seen her rip up a picture of the pope on national television.
Even as her voice and her artistic reflexes have continued to expand, though, all but her most devoted followers ignore her varied discography, which includes a dozen studio albums.
After she became a mainstream pariah for dissing the Catholic Church, O'Connor remained an outlier. She didn't go on an apology tour or recoil at the backlash. Rather, to her credit, she doubled down on her outsider status.
In the decades since, she's released an album of standards, a reggae album, a faith-based acoustic record featuring dub remixes, a few Christmas hymns and an album of traditional Irish songs, among others.
I come from a tradition of Irish artists where I am principally concerned with affecting my society,"
Sinead O'Connor
"I come from a tradition of Irish artists where I am principally concerned with affecting my society," O'Connor told the Times in 2012. "Artists are supposed to act as an emergency fire service when it comes to spiritual conflict –– not preaching or telling people what to do but being a little light that tells us that there is a spirit world."
At the time, she was promoting "How About I Be Me (And You Be You)," an often breathtaking work that focused on love and betrayal. On it, the artist wrestles with public and private truths while acknowledging she suffers from depression and PTSD. Or, in the words to "Queen of Denmark," the John Grant-penned song she recorded for the album, "I wanted to change the world/ But I could not even change my underwear."
O'Connor's most recent album, "I'm Not Bossy, I'm the Boss" (2014), finds her revisiting the sound of her early pop-rock work while continuing to explore themes of love, femininity, spirituality and their convergence.
She delivers Rolling Stones-style swagger on "The Voice of My Doctor" and offers echoed gentleness on the album-closing ballad "Streetcars." She teams with Nigerian afro-beat superstar Seun Kuti for a tribute called "James Brown."
Through it all, she's equal parts tender and defiant, and repeatedly confirms that she still possesses that soaring voice. Which is, to say, the next time you read O'Connor being described as unhinged or crazy, know that her artistic determination remains undiminished, and her muse undeterred.
---
Inside the business of entertainment
The Wide Shot brings you news, analysis and insights on everything from streaming wars to production — and what it all means for the future.
You may occasionally receive promotional content from the Los Angeles Times.