Review: Justin Timberlake had nothing to say at the Super Bowl and wouldn't stop saying it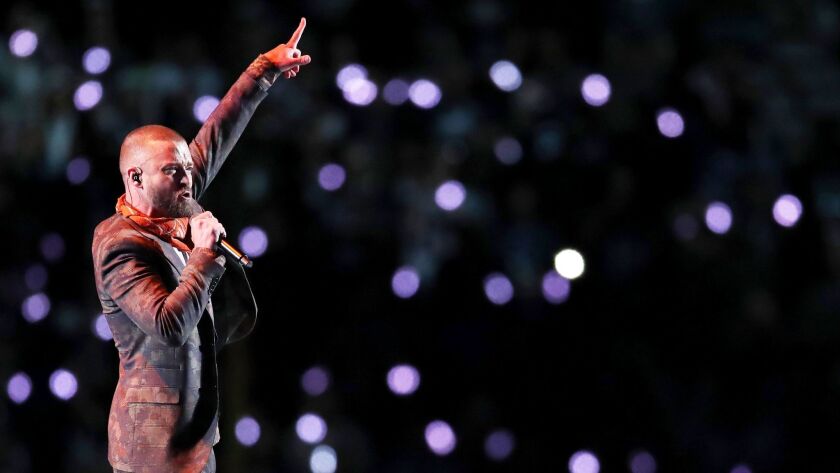 Pop Music Critic
"Haters gonna say it's fake," Justin Timberlake sang with an audible sneer to open his halftime show at Sunday's Super Bowl LII, and it was easy to wonder who precisely he was complaining about.
Always eager to point to the imagined chip on his shoulder, Timberlake was singing the words to "Filthy," the first song on his iffy new album, "Man of the Woods," which came out Friday in strategic coordination with his appearance on music's most-watched stage.
But the lyric also seemed to apply to a quick-fire controversy that ignited over the weekend on social media after TMZ reported that Timberlake — already a problematic figure in Super Bowl history thanks to his role in the 2004 "wardrobe malfunction" that famously exposed Janet Jackson's breast — planned to perform alongside a hologram of Prince. (This year's game, broadcast live on NBC, was played at U.S. Bank Stadium in Prince's hometown of Minneapolis.)
Almost immediately, Prince fans took to the Internet to proclaim that this was a terrible idea, not least because the late legend was on record referring to holograms as "demonic."
A privileged white pop star summoning a ghoulish simulacrum of an unwilling black genius?
You don't have to be a hater to see the problem here.
Whatever Timberlake's original intent was, no hologram appeared in Sunday's halftime show — though the singer did attempt a beyond-the-grave duet of "I Would Die 4 U" with Prince, whose projected image flickered slightly more tastefully across an enormous piece of billowing fabric.
Yet that merciful bit of good judgment hardly redeemed Timberlake's lackluster performance, which only confirmed what "Man of the Woods" had established earlier: that today this guy has nothing to say and just won't stop saying it.
OK, sure, the tightly choreographed production was impressive from a logistics standpoint.
The show began in what looked like an intimate nightclub, with Timberlake onstage before a small crowd. Then he moved up a set of stairs and — voila! — he was suddenly inside the stadium, surrounded by tens of thousands of people, moving down an illuminated bridge (as he sang "Rock Your Body") toward a series of small platforms on the football field.
The inventive setup, and specifically the way it expanded the space usually available to halftime performers, echoed the clever design of Timberlake's last big tour, behind 2013's "The 20/20 Experience."
Later on Sunday, after flashy renditions of "SexyBack" (which he mashed up with a few bars of "Señorita"), "My Love" (rearranged as a dreary industrial-funk dirge) and "Cry Me A River," Timberlake jumped down from the glittering main stage to the field itself, where a drum corps in formalwear backed him for "Suit & Tie."
For that number the singer played footsy with a trick microphone that kept threatening to fall over but never did — kind of cool in a cruise-ship sort of way.
From there he moved to a white grand piano for the Prince tribute, then back to the main stage for the grand finale of "Mirrors" — picture dozens of dancers holding you know what — and "Can't Stop the Feeling!," which Timberlake's trusty live band had the wisdom to reharmonize with dreamy new chords that made you 3% less sick of a song you've heard 9 million times.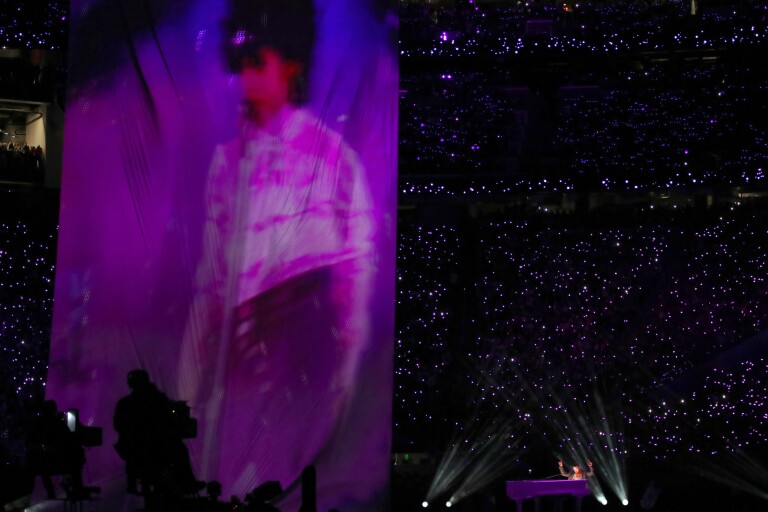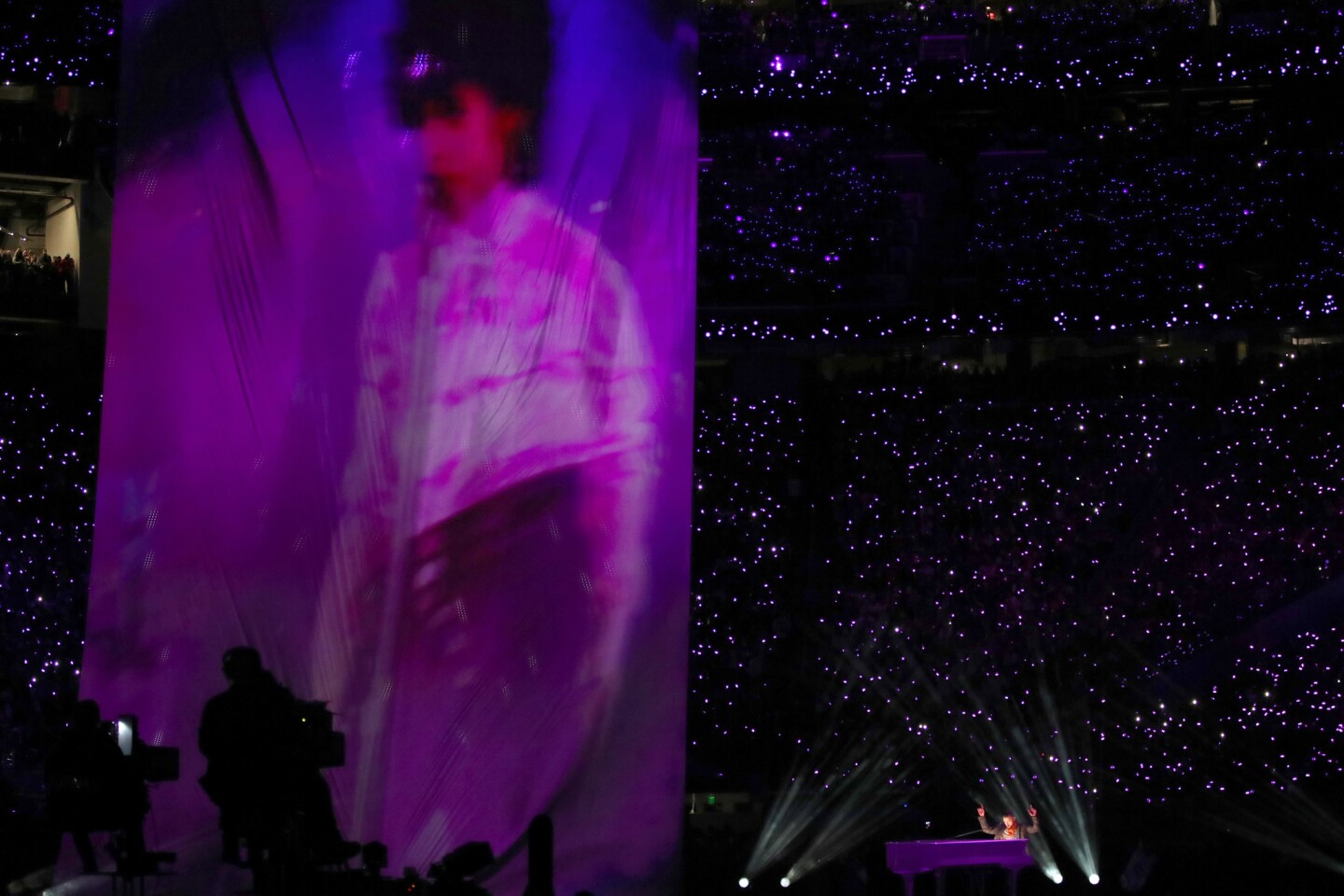 Justin Timberlake performs as an image of the late Prince is projected onto a screen.
(Christopher Polk / Getty Images)
Justin Timberlake at the piano during the halftime show.
(Larry Busacca / Getty Images)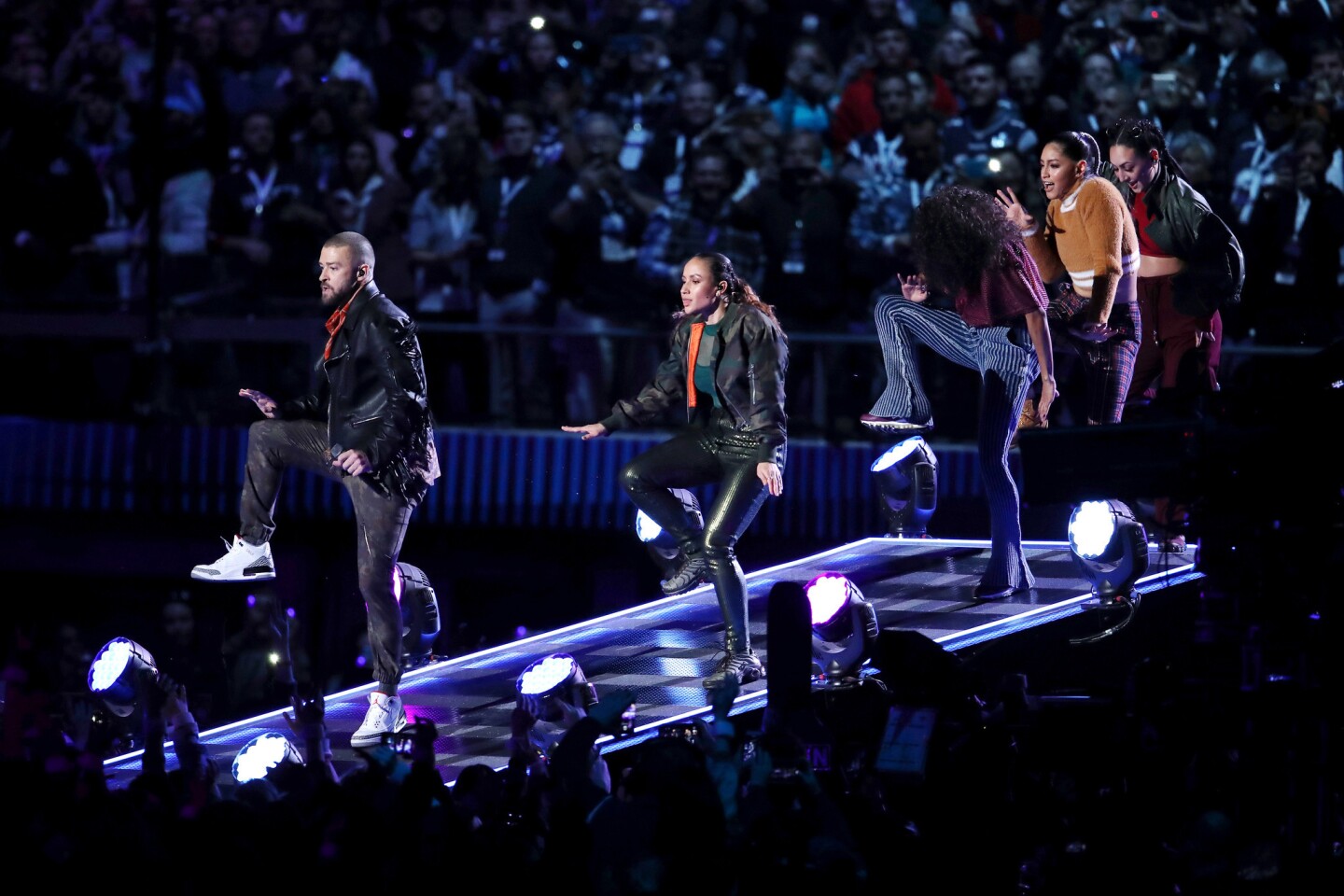 Justin Timberlake and his dancers perform at the halftime show.
(Andy Lyons / Getty Images)
The singer ended by vaulting another set of stairs to find himself in the middle of the Super Bowl crowd, next to a kid who seemed to want a selfie.
Or maybe Timberlake just wanted him to want a selfie? It was hard to tell.
Either way, a selfie was taken, which Timberlake celebrated by saying — and this is a true thing that happened — "Super Bowl selfies!"
Then the show was over.
Anyone who admires the skill required to get moving parts to move together could see something in this presentation to commend. But this was music, not civil engineering.
And there was simply nothing to enjoy about Timberlake's show beyond its careful planning. The performance lacked soul, meaning, humor; it had no message, nor was it taking any stand — soft, hard or otherwise.
The singing wasn't even that memorable, and this was after Pink's shaky (if valiant) stab at the national anthem, which she did while she said she was suffering from the flu.
Before you get going, allow me to stop you: I don't need every Super Bowl halftime gig to explode like the one in 2016 did, when Beyoncé showed up with a small army of dancers in Black Panther-style berets to do "Formation," the radical black-pride anthem she'd released one day before.
Yet Timberlake wasn't forsaking politics in order to provide joy, as Bruno Mars did a few years ago. Or as Coldplay did in 2016. (If you forgot, which you probably did, it was technically Coldplay's Super Bowl show that Beyoncé crashed.)
Or, indeed, as Janet Jackson might have if Timberlake had invited that always-vibrant performer back this year as a means of rectifying the damage her career took after the 2004 incident — even as Timberlake went on to ever greater success.
No, joy was in short supply Sunday.
This was a show about the dull reality of entrenched power: predictable, witless, a waste of the attention with which we all rewarded it.
Twitter: @mikaelwood
ALSO
The Grammys were set for change, but that's not what happened
With Rhye's new 'Blood,' Mike Milosh is stepping out of the shadows
Justin Timberlake is a song-and-dance sham on the faux-folksy 'Man of the Woods'
---
Your essential guide to the arts in L.A.
Get Carolina A. Miranda's weekly newsletter for what's happening, plus openings, critics' picks and more.
You may occasionally receive promotional content from the Los Angeles Times.