The Weeknd finds pleasure in his pain at Coachella
Pop Music Critic
The first thing the Weeknd did when he came onstage Friday at Coachella — having emerged through a crack in an enormous mask that made the stage look like some otherworldly ruin — was grin.
And why not?
Headlining the festival's first night, the Canadian R&B singer was peering out at a vast audience numbering in the tens of thousands, many of whom had watched him ascend Coachella's ranks over the past six years — from shaky newcomer in 2012 to aspiring pop star in 2015 to the established A-lister who just topped the Billboard chart with an EP he released mere hours after announcing its existence.
Still, smiling enthusiasm is hardly the emotion on which the Weeknd built his famously tortured brand.
So it came as a welcome surprise to see how much pleasure he appeared to be taking in this very strong performance, which opened with "Pray for Me," the Weeknd's contribution to the hit "Black Panther" soundtrack, and then moved freely throughout his catalog, including stuff from his early mixtapes and tunes from that new EP, titled "My Dear Melancholy," with a flourish of punctuation.
Backed by a live band, the Weeknd sang with remarkable feeling and precision, keeping his voice supple even as the music turned noisy and pummeling in "House of Balloons/Glass Table Girls" and took on a pumped-up EDM vibe in "Party Monster."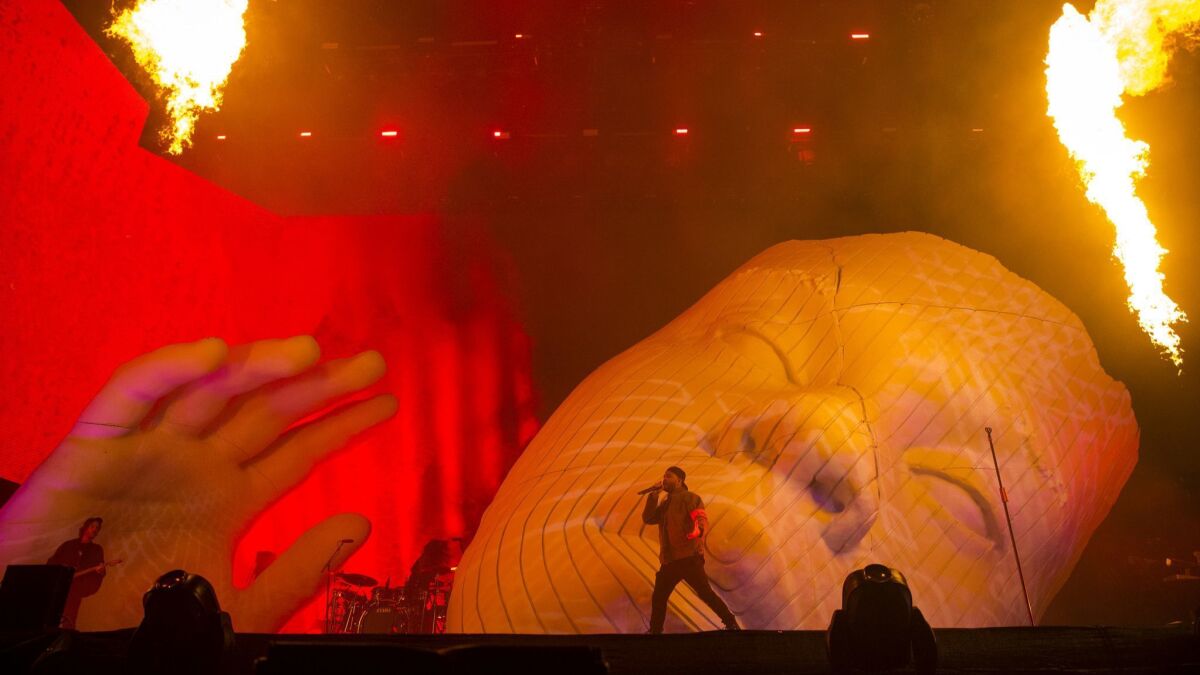 In "Secrets," he toyed easily with the song's breezy melody, steering the tune from 2016's "Starboy" album into a mashup with his breakthrough pop smash, "Can't Feel My Face"; the latter came with fireworks and even a bit of dancing by the Weeknd, who seemed to be taking inspiration from Michael Jackson, as he did again in a very pretty "I Feel It Coming."
The nods to Jackson made you think about how little competition the Weeknd has right now, as a male soul singer with Top 40 instincts, for the role once played by the King of Pop.
But his confidence — and the quality of his vocals — also made you realize what a natural fit he's become for the job.
Toward the end of his set the Weeknd performed "Call Out My Name," a lovelorn ballad from "My Dear Melancholy," that many listeners have taken to be about his broken relationship with Selena Gomez, who recently underwent a kidney transplant. (A key lyric in the song refers to the singer's having "almost cut a piece of myself for your life.")
And it was a beautiful bummer, no doubt.
For the first time, though, the Weeknd looked more comfortable sharing his pain than keeping it to himself.
Twitter: @mikaelwood
---
Get our L.A. Goes Out newsletter, with the week's best events, to help you explore and experience our city.
You may occasionally receive promotional content from the Los Angeles Times.