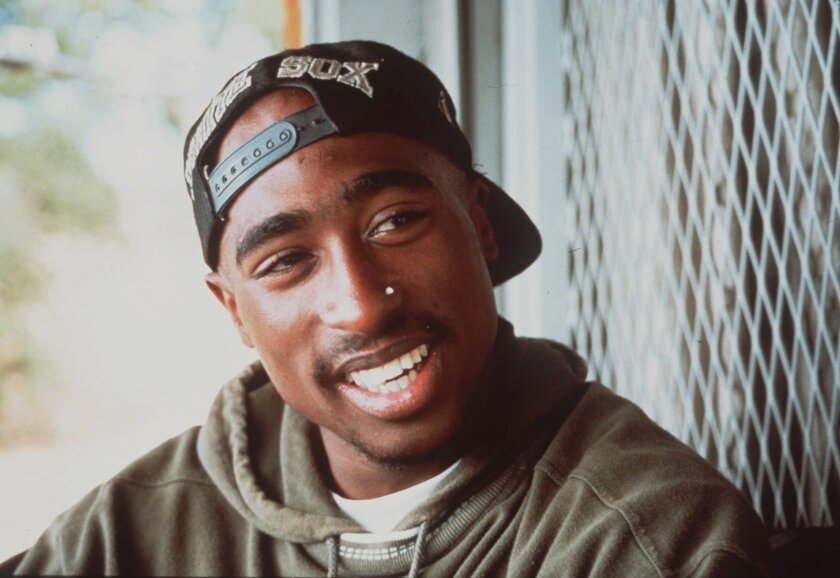 The first trailer for the long-awaited Tupac Shakur biopic is finally here.
To mark what would have been the slain rapper's 45th birthday on Thursday, Morgan Creek Productions has released the first glimpses of the often-delayed project.
In the intense minute-long teaser we see 2Pac — played here by Demetrius Shipp Jr., who bares a shockingly close resemblance to the prolific rapper — performing in front of thousands of fans, being arrested by cops, in jail and there's a glimpse of the black BMW he was riding in that would be riddled with bullets in a drive-by shooting that took his life nearly 20 years ago.
A voiceover by his mother, the late Afeni Shakur (played by "The Walking Dead" star Danai Gurira) tells him, "Like all black men, you have a bullseye on your back. They are going to give you the tools you need to destroy yourself."
Filmed earlier this year in Atlanta, the film also stars Kat Graham, Hill Harper, Lauren Cohan and Jamie Hector. Jamal Woolard will reprise his role as the late Notorious B.I.G., a role he played to acclaim in the 2009 biopic about 2Pac's friend-turned-rival.
"All Eyez on Me" is named after the rapper's smash fourth album and his first to be released on the controversial Death Row label.
Although Shakur's life had been the subject of multiple documentaries, including the 2003 film "Tupac: Resurrection" and 2002's "Biggie and Tupac" about his rivalry with the Notorious B.I.G., getting a biopic on the revered rapper proved contentious.
In 2011, Morgan Creek announced it had teamed with Emmett Furla Oasis Films to co-finance and co-produce the film, with Antoine Fuqua ("Training Day," "Tears of the Sun," "Brooklyn's Finest") attached to direct, and launched an online casting call to find a lead to fill the shoes of the polarizing, often-embattled rapper.
At the time of the casting call, a draft of the film chronicled Shakur's prolific rise as a rapper and actor, his legal troubles, his time at Death Row Records and, of course, his 1996 killing, which came at the height of the East Coast-West Coast rap rivalry.
His slaying, like that of peer Christopher Wallace (aka Notorious B.I.G.), remains unsolved -- although theories about who gunned down the two help make up one of hip-hop's eeriest mythologies.
A legal battle between Morgan Creek and Shakur's mother, Afeni, over creative control also added to the project's hold-ups -- both parties eventually settled, with Afeni serving as an executive producer on the film and granting rights to her son's extensive music catalog to be used in the film.
The film then suffered another setback when presumptive director Antoine Fuqua departed a few months later.
John Singleton was next to fill the director's chair, signing on to rewrite, direct and produce the film in 2014. He had an especially close tie with the late rapper, having directed him in 1993's urban romantic drama "Poetic Justice" alongside Janet Jackson and planning for him to star in "Baby Boy" before his 1996 death.
A little over a year later, however, Singleton was out and Carl Franklin ("Devil in a Blue Dress") was in. Singleton criticized producers of the film for not respecting the late rapper's legacy.
"Real talk! The reason I am not making this picture is because the people involved aren't really respectful of the legacy of Tupac Amaru Shakur," Singleton wrote to his fans in a lengthy missive. "How you gonna make a movie about a man when you suing his mother to get the rights to tell his story?"
Adding to the drama, in late October, producers Emmett/Furla filed a $10-million lawsuit against Morgan Creek, saying the company breached a co-production agreement by selecting a lead actor and setting a budget and production schedule without Emmett/Furla's approval.
Franklin quietly exited the project in late 2015 to be replaced by Benny Boom, who has directed music videos for a breadth of A-list hip-hop and R&B stars."All Eyez on Me" was hit with another setback, sadly, with the passing of Afeni Shakur in May.
The film is produced by James G. and David C. Robinson of Morgan Creek Productions, along with L.T. Hutton. It will be distributed by Open Road Films.
"All Eyez on Me" is tentatively set for a November release.
---