With Wajatta, Reggie Watts and John Tejada put a fresh spin on L.A. techno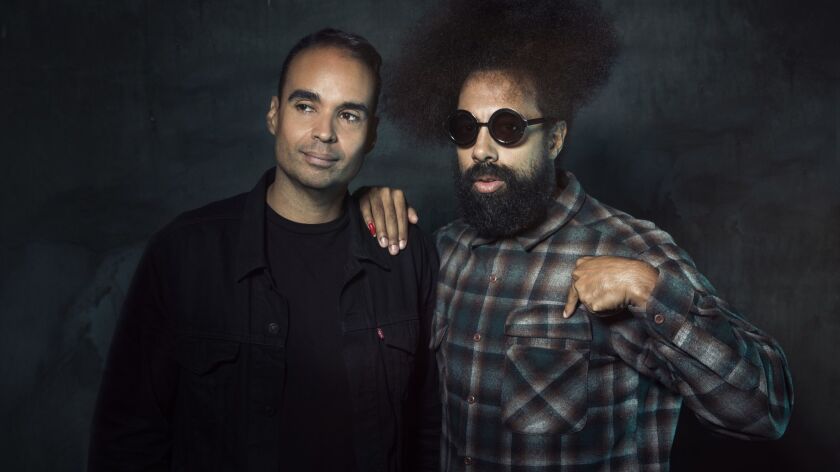 Are we finally seeing the return of the renaissance person in entertainment?
Sure, Donald Glover is probably at the top of that class right now, but Reggie Watts is making a strong case to be held in similar company. The unclassifiable comedian, vocal improviser, late-night band leader and television game-show host can now add rising progressive techno star to his ledger with the release this month of "Casual High Technology," the debut from Wajatta, his collaborative project with L.A. electronic music don John Tejada.
Their friendship is recent (the two met only a year ago at one of Tejada's after-hours gigs), and it turns out that Watts was the one who went all fanboy-gooey at their first encounter.
But if the pairing seems unexpected at first, it shouldn't be. Each is a preternatural talent at finding the mesh point between the human and the machine-driven in music, and both bring out the best in each other's skills.
Tejada has been one of the most important figures in L.A. dance music for a couple decades, but Wajatta stretches his abilities in invigorating new ways.
Working closely with a charismatic vocalist like Watts has brought out a new soulful, daytime side of his music. "Slippin'" is in league with Frankie Knuckles and Jamie Principle's classic house collaborations, with deep synth chord hits carrying Watts' weirdo falsetto to jubilant heights.
"Make Some Sense" and "Red and the Blue" are unself-conscious, fizzy hand-raisers aimed right at peak-time clubbing. Here, Watts is more grounded and musical than ever, and Tejada sounds like he's having an absolute blast behind the boards.
The record covers a lot of ground. "Runnin'" almost jogs up to Chicago footwork-caliber speeds, while "Synchronize" slows to a hotel pool-bar Balearic haze. "The Solution" is pretty much a mid-tempo Isaac Hayes soul cut with an analog-tube glow.
Even when they're goofing off, like on the near-spoken-word track "Let Me Come to Your Party" (essentially a catalog of late-night clubbing complaints, and it's a hoot), Watts is so funny and interesting a vocalist that you can imagine slipping the track into a long-form techno set just to send dancers scrambling back from the smoking patio to see what's up.
L.A. techno, the kind Tejada helped forge across a range of labels (including his current home, the Cologne, Germany-based Kompakt and his own Palette Recordings), isn't as orthodox or severe as Berlin or New York. But it still can be a little stone-faced.
Wajatta is anything but that, and it's genuinely refreshing to see a new project deliver the goods of a fog-drenched warehouse set while keeping diverse influences and a real sense of wit and personality.
But the trouble with renaissance artists is that they're hard to pin down. Hopefully, these two will figure out a way to properly tour this project, because with Wajatta, they've clearly found something better than common ground. They've found a whole new space for their formidable talents.
♦ ♦ ♦ ♦ ♦ ♦ ♦ ♦ ♦ ♦
Wajatta
Where: Teragram Ballroom, 1234 W. 7th St., L.A.
When: 7 p.m. Wednesday
Cost: $26
Info: teragramballroom.com
---
The complete guide to home viewing
Get Screen Gab for weekly recommendations, analysis, interviews and irreverent discussion of the TV and streaming movies everyone's talking about.
You may occasionally receive promotional content from the Los Angeles Times.