Cowboy yoga music? 'Red Dead Redemption 2' composer Woody Jackson conjures Western spirits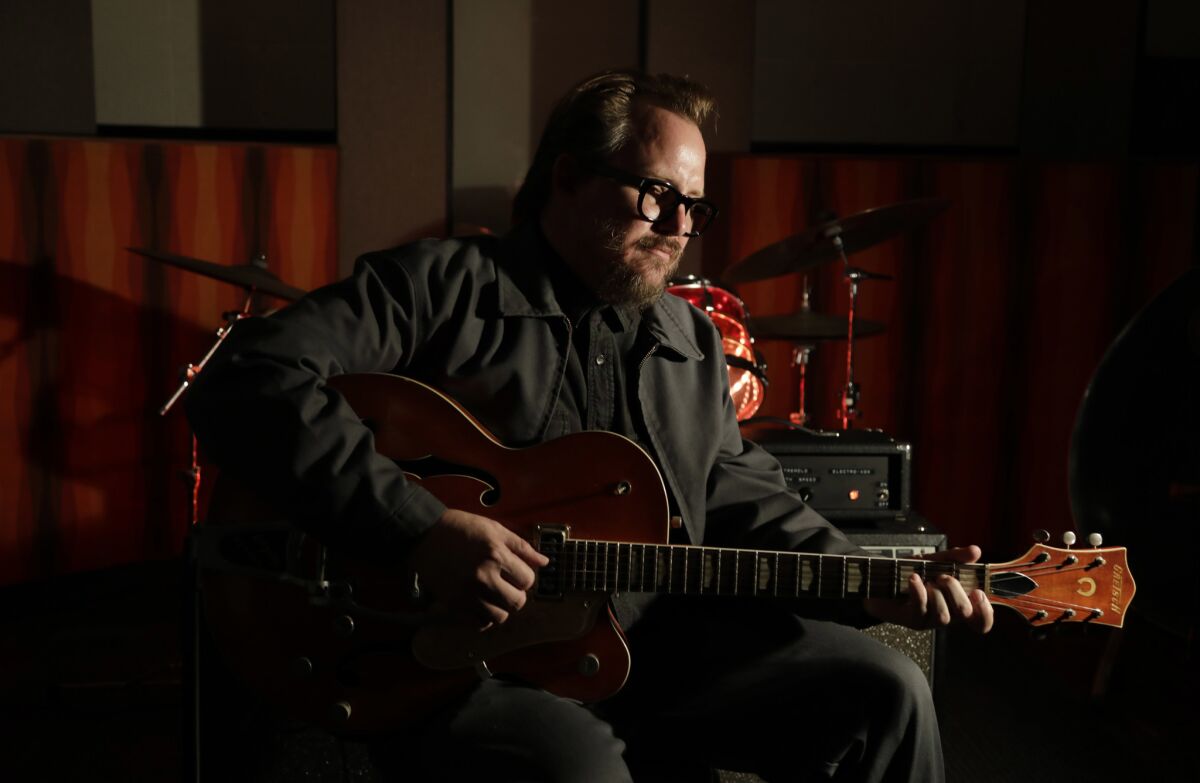 Pop Music Critic
To say that Woody Jackson composed the music for a popular video game is to tell the truth without quite telling the whole story.
For starters, "popular" doesn't capture the success of the "Red Dead Redemption" series, the second installment of which rang up sales of more than $700 million in its first weekend of release in October. An open-world adventure set on the American frontier in the late 1800s, "Red Dead Redemption 2" earned ecstatic reviews from critics, many of whom said it elevated the medium to a new level.
More to the point, the idea of video game music probably makes you think of the bleepy computerized sounds that accompanied classic 1980s titles like "Super Mario Bros." and "Out Run." And that's definitely not what Jackson does.
Full of haunting strings and atmospheric guitar, Jackson's score for "Red Dead Redemption 2" shares more with the film music of Ennio Morricone and the spooky desert rock of "Kiko"-era Los Lobos; it's an immersive experience — finely detailed but somehow also defined by negative space.
"I don't really know what you'd call it," the Los Angeles-based composer said. "Cowboy yoga music?"
Whatever the name, players have been so drawn to Jackson's stuff that they've begun posting lengthy stretches of it on YouTube. (An official soundtrack album, culled from the estimated 60 hours of original music in the game, is expected soon.)
And now it's even finding life off-screen: On Saturday night, as part of the Red Bull Music Festival Los Angeles, Jackson will lead an ensemble of several dozen players, including the esteemed saxophonist Colin Stetson, in a performance of his "Red Dead" music at Goya Studios in Hollywood.
"You can take Woody's score out of the game and it's just as beautiful as it is in the game," said Ivan Pavlovich, who oversees music for Rockstar Games, the company behind "Red Dead Redemption" and the "Grand Theft Auto" series.
"The emotion in his music — it's unique" in the video game industry, Pavlovich said.
So too is the way he makes it.
Jackson, 48, works out of Vox Recording Studios, located just across Melrose Avenue from the Paramount Pictures gate.
Called Electro-Vox when it opened in 1931, the place became a go-to spot for Hollywood composers like Henry Mancini, who demoed "Moon River" in the studio's main room, with its scuffed linoleum floor and thick acoustic-tiled walls.
Jackson took over in 2009 and filled Vox with vintage instruments, many sourced from the ultra-prolific session players whose work can be heard on countless pop hits and movie and television scores from the last 60 years.
"This will blow your mind," he said on a recent afternoon as he pulled out a mandolin once owned by guitarist Bob Bain, who died last year. According to Jackson, it was the instrument Bain played on Doris Day's "Que Sera Sera," from "The Man Who Knew Too Much."
Elsewhere in the cozy, dimly lighted studio were instruments from the collection of the late Tommy Tedesco, a guitarist in the group of hired guns known in the '60s and '70s as the Wrecking Crew.
To create the "Red Dead" score, Jackson convened musician pals such as bassist Mike Watt, drummer Jon Theodore (of Queens of the Stone Age and the Mars Volta), and singer and violinist Petra Haden for open-ended jam sessions. Often they'd use these antique instruments with their textured voices that Jackson said you simply can't get from newer gear.
"It's like all of the guys are back together," he said. It's hardly the approach you'd expect for a video game widely described as being on technology's cutting edge.
A longtime presence in L.A.'s rock scene, Jackson got into games after years of playing in bands and doing session work of his own. He played with Ry Cooder and T Bone Burnett; he appeared on the soundtracks of "Ocean's Twelve" and TV's "Nashville."
In 2010 he did the score for the first "Red Dead Redemption" with Bill Elm, his former bandmate in the group Friends of Dean Martinez. Rockstar's Pavlovich, who said he admired Jackson's "flexibility," also hired him for the company's "L.A. Noire" and "Grand Theft Auto V."
But "Red Dead Redemption 2" was by far his most serious undertaking, Jackson said. All told, he spent about five years on the music, which includes hours worth of ambient material meant to soundtrack players' movements as they wander the game's hyper-real Western landscape. (Between "Red Dead" days, he pursued other projects, including a record he's producing for Haden and her sisters Rachel and Tanya, known together as the Haden Triplets.)
The composer — who shares two young daughters with his wife, a talent agent at William Morris Endeavor — had only good things to say about Rockstar and the freedom it gives him to experiment in such an inefficient way. Still, he admitted that it took him time to get used to someone else owning his music.
"Once you've made it, you have to accept that you have no control over what happens to it," he said of the famously secretive game company.
Inside the storied walls at Vox, though, Jackson runs his surprisingly old-school show.
"The purest thing about music is the performance," he said as he strummed a few chords on Bain's weathered mandolin. "And as you can see, there's not a lot of room here for people to be like, 'Well, maybe if you change this part …' "
_________
'The Music of 'Red Dead Redemption 2'
When: 7 p.m. Saturday
Where: Goya Studios, 1541 N. Cahuenga Blvd.
Tickets: $25
Info: redbull.com
Twitter: @mikaelwood
Get our L.A. Goes Out newsletter, with the week's best events, to help you explore and experience our city.
You may occasionally receive promotional content from the Los Angeles Times.