Meet YBN Cordae, hip-hop's next great MC
Last Tuesday morning, the rapper YBN Cordae was due at LAX for a flight to Berlin in about five hours. But first, he had to shoot a music video for his single "Broke As F— " from scratch.
All around him on a South L.A. studio set, a dozen crew members frantically assembled a rig of neon light tubes. Stylists and makeup artists attended to two actors in matching red and white outfits.
The clock ticked down — four hours until takeoff. This video was essential — he had less than a month before his debut LP, "The Lost Boy," would come out on his YBN crew's label imprint Art@War, via Atlantic Records.
But Cordae, dressed in lightly bleached braids and a military-style vest, was as preternaturally friendly and chill as if he were ordering brunch.
"You mind if I eat?" asked the 21-year-old, born Cordae Dunston, as he snacked on a bowl of grapes, waiting for his cue.
While the crew prepped, Cordae riffed on Ava DuVernay's Netflix miniseries "When They See Us," which revisited the Central Park Five case in searing detail. He'd just shared a stage with the Five at the BET Awards days earlier.
"They actually introduced us when we were rehearsing, and that sparked that emotion for me to write that [verse]," Cordae said, of his guest spot with the R&B sensation H.E.R. that night, in which he rapped: "Man, we ain't even safe, they wanna deport us / Or rather keep us boxed in on the street corners / You gonna stop and frisk us, man, at least warn us / My dogg's still on probation, they got a leash on us."
"Man, y'all idiots, you voted for the Antichrist," he added, a final flourish of his poison pen.
Cordae is one of the most promising young rappers in America. His gifts are intergenerational: the introspective, meticulous lyricism of Gen X heroes such as Jay-Z and Elder Millennials including J. Cole; the exuberance and conscience of peer and collaborator Chance the Rapper; and the shape-shifting charisma that drives the SoundCloud and Spotify charts.
"I feel like, in the last four years, music hasn't been that dope," he said. "Fans are starting to get smarter and realize that people aren't putting as much time into their craft. They want more quality. We don't need twenty-song tapes anymore. Give us ten quality ones."
Though he came up in a crew of video gamers and MCs ("YBN" stands for "Young Boss ... ," some of whom also have major streaming hits of their own), Cordae is the one that everyone from Dr. Dre to H.E.R. is looking to for the genre's future.
"He cares about the culture and being a dope MC," said Ebro Darden, the global editorial head of hip-hop and R&B for Apple Music and host of "Ebro in the Morning" on New York's Hot 97 radio station. "He's not frivolous. And individuals who are accomplished in the game take note of that."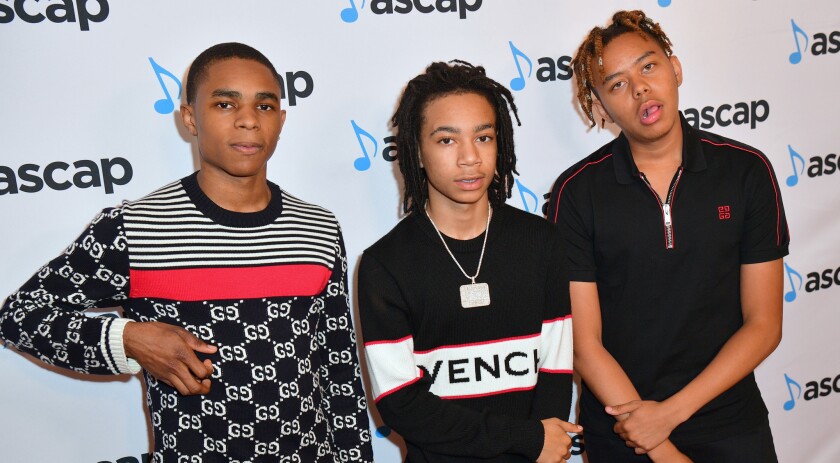 Cordae is, in some ways, a very late-2010s success story. Born in North Carolina, he grew up in greater Maryland (the "DMV," as he put it), where he cut a few mixtapes under the name Entendre. His mom, a literature buff, turned him on to foundational black writers such as W.E.B. Du Bois, whose "The Souls of Black Folk" was influential to Cordae's thinking.
The peaks and valleys of his upbringing — including a stint at Maryland's Towson College and working as a chain-restaurant waiter — gave him a range of perspectives on getting by.
"I've been through college, and I lived in a trailer park for five years," he said. "I've lived in the trenches of Maryland, and I've lived in the suburbs. I've seen all aspects of American life."
Last year, he was happy to leave behind the DMV for the sunnier pastures of Studio City, a move he documents on his new collaboration with Chance the Rapper, "Bad Idea."
"I feel like there's a dark cloud of negative energy over the DMV," he said. "The first time I ever visited L.A., I wanted to move here. It's the land of opportunity. That sounds really [obvious], but any given day, as an artist of any field, it's a mecca for any creative. Like when you move to L.A., you never go home."
YBN Crew co-founders Nahmir and Almighty Jay first met in 2014 via the online-multiplayer version of "Grand Theft Auto." Cordae linked up with them on Instagram in 2017, as Nahmir's "Rubbin' Off the Paint" went viral and eventually hit No. 46 on the Billboard Hot 100. In the summer of 2018, Cordae moved to L.A. and the crew's ambitions took on a new intensity.
Roasting your buddies on Xbox Live might indeed be a new path to rap stardom (just ask teen phenom Lil Tecca): The YBN collective now totals over a dozen rappers, gamers and social-media personalities, scattered across the country. But influential, lasting crews such as Odd Future and ASAP require clear visions and work ethics, not just fun camaraderie. Cordae has that and more for YBN.
His breakout single "Old … " was a response to J. Cole's "1985," itself a classic of hip-hop harrumphing about kids these days. But rather than troll the relatively wizened 34-year-old Cole, Cordae engages with his complaints in a thoughtful, confident-but-not-defensive fashion.
"I understand both sides, let me break it in half," he rhymes. "Lately all my idols they been failing me / Catching sexual assaults and some felonies / Then you want me to listen what you telling me / And wanna hate when we sing our little melodies."
In a world where R. Kelly is an alleged serial predator and Kanye West wears a MAGA hat, who can blame him? But Cordae's study of craft and history is indebted to heroes including Cole and Jay-Z as well. " 'Cause we came from the same struggle like Diddy and Dame / Russell was teaching and gained hustle, got rich, remained subtle."
J. Cole's original "evoked an emotion," he said. "[Cole had] a lot of great points" about Gen Z's frivolity, "but maybe this particular point isn't necessarily true. So let me give my perspective."
That intergenerational mentality caught Dr. Dre's attention, who recorded some sessions with Cordae (all unreleased for now, but he described Dre as "the god. He is hip-hop.") That care and ferocity — and dialogue with hip-hop history — netted him and his label a deal with Atlantic, where co-chairman and CEO Craig Kallman took a personal interest in his debut. (He helped Cardi B turn from a reality-show dervish into a generationally significant, culture-shifting artist.)
"Cordae grew up on old school hip-hop," Kallman said, describing Cordae as "an old soul in a young man's body."
"[He] deploys an amazing diversity of skills, including being a lightning fast freestyler," he added. "At the height of the rap battles, no one would have wanted to take him on."
Rap fans who roll their eyes at today's meme-bait singles and tossed off provocations will indeed have a lot to respect in Cordae's craft. But Cordae is also flinty about being pegged as the new embodiment of Woke Rap. The one-off singles he's done, among them "Locationships," a flip of Jay Z's giddily bawdy "Girls, Girls, Girls," show a young man reveling in newfound fame and its perks. (On Instagram, Cordae seems quite romantic with rising tennis star Naomi Osaka.) "Kung Fu" is pure trap-noir, with a similar racy virtuosity to Kendrick's "Backseat Freestyle."
"I'm still 21, you know what I'm saying?" Cordae said. "I'm introspective. I write down everything that I witness and see, but I'm still 21 years old, so I'm not this like overly politically correct artist. It comes off like you have an agenda or something."
"The Lost Boy," out July 26, will showcase the most refined of these experiments, including "Bad Idea," his anti-nostalgic hometown lament, and "Have Mercy," built off a spooky woodwind sample, on which he dives deep into his fears for the world and himself.
Back on the video set, it's almost time to start shooting. Cordae will be in the air soon, with a new album and headline tour weeks away. After all his anti-Trump fury and mixed emotions about his home, this clip should be a little more fun. He's one of rap's most insightful writers, but he's also 21. He can enjoy this.
"I don't wanna marginalize myself. I don't wanna be the overly woke rapper, and I don't wanna be the turned-up rapper," he said. "When you're not authentic to yourself, you're lying. You're going to get found out and you're going to slip up."
For breaking music news, follow @augustbrown on Twitter.
---
The complete guide to home viewing
Get Screen Gab for weekly recommendations, analysis, interviews and irreverent discussion of the TV and streaming movies everyone's talking about.
You may occasionally receive promotional content from the Los Angeles Times.