The remaining Beatles believe in 'Yesterday,' says film's screenwriter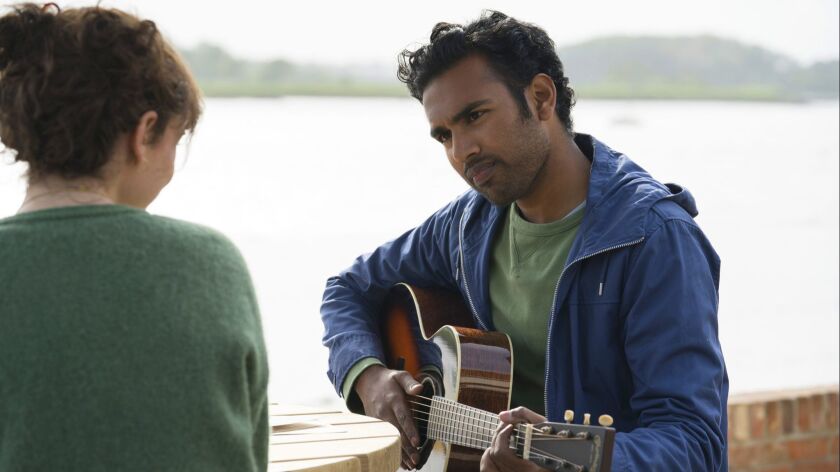 One measure of actor Himesh Patel's achievement in his starring role in the new romantic comedy "Yesterday" quickly became evident to composer and soundtrack album producer Daniel Pemberton during one of the marketing meetings for the film.
"People said, 'We could have Himesh go out and perform live,' and I had to point out, 'You do realize that Himesh has never performed live for anyone, except on the film set?'" Pemberton said. "He's not a pop star. Ed Sheeran [who portrays himself in the movie] has been doing it for 20 years; he's learned all the tricks. Himesh has only been at it for nine months."
Indeed, Patel himself was worried from the outset whether his rudimentary musical skills — he studied piano for three years as a boy, then tried to teach himself guitar as a teenager — would be sufficient to carry his role as a struggling English musician named Jack Malik, who awakens after being clobbered by a bus to find he's apparently the only person on Earth who has any knowledge of the Beatles.
READ MORE: How Danny Boyle's 'Yesterday' created a world without the Beatles »
"When I was growing up I had a keen interest in music but never really mastered an instrument," Patel, 28, said recently, a few moments before his performance for an audience of social-media influencers invited to a West Hollywood pop-up event.
He worked intensely for nearly three months with Pemberton and music supervisor Adem Ilhan to hone various elements and nuances of musical performance. He cites "In My Life" as one of the most demanding for the signature guitar lick and "The Long and Winding Road" as perhaps the most challenging.
In one of several surprisingly touching moments, he sings a stripped-down arrangement of the latter song — in our world, the final single the Beatles released before their 1970 breakup — when Sheeran challenges him to a songwriting contest one night after a concert, for which Sheeran has invited Malik to be his opening act. Patel knocks off a convincingly sensitive rendition of George Harrison's "Something" in a scene in which he's asked by "Late Late" host James Corden to write a song on the spot for his viewers.
" 'The Long and Winding Road' is one that I was very intimidated by," Patel said. "Then I realized that because I've been taught piano for three years, my fingers knew where to go. It came quite naturally, and I'm proud of getting to that point."
Patel has since done several live spotlight performances promoting the film at events such as the CinemaCon film conference in Las Vegas last spring and just last week for the pop-up event at the old Tower Records store, shortly after he taped a segment for "Jimmy Kimmel Live" around the corner on Hollywood Boulevard.
"One of the things I have to constantly remind people about is that the reason he appears to be such a confident performer is that he's an actor," said Pemberton, who co-produced full performances of Patel singing 15 Beatles songs, most of which are used in the movie in snippets. "He makes it look effortless because he is acting to make it look effortless."
Director Danny Boyle also came away impressed by Patel's musical acumen.
"How he speaks to us through the songs, it's very pure and truthful and direct," he said.
"Yesterday," in fact, is Patel's feature film debut, although he's been working in TV in England for more than a decade, perhaps best known for his role in the long-running British soap opera "EastEnders."
REVIEW: 'Yesterday' imagines a world without the Beatles »
For his big-screen breakout role, Patel not only is the lead actor in the project directed by Boyle ("Slumdog Millionaire," "Steve Jobs" and "T2 Trainspotting,") and written by Richard Curtis ("Four Weddings and a Funeral," "Bridget Jones's Diary," "Mamma Mia! Here We Go Again"). He also was called on to up his rudimentary musical chops so he might credibly deliver Beatles classics including the title tune, "Help!" "Something," "All You Need Is Love" and "Let It Be," as though they had never been sung, or heard, before.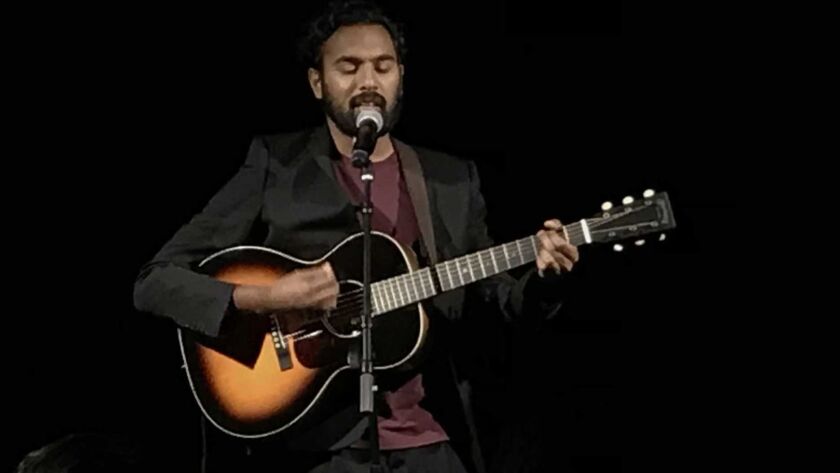 "Our generation is particularly lucky," Curtis, 62, said. "The world was ready then for the Beatles, needed them, wanted them to get better. People were less nasty about some things. Their success came early in the history of pop music, when everyone wanted music to have its day. They might have had a rougher ride today. People are more willing to be tougher."
Although the Beatles had no direct involvement with the movie, they've been supportive.
"I got the sweetest note from Paul [McCartney]," Curtis said, "and I also had a very sweet letter from [George Harrison's widow] Olivia and one from Ringo."
In fact, Starr told The Times recently, "I loved it. It's a great premise — he's like us but nobody knows him." John Lennon's widow, Yoko Ono, also has been complimentary about "Yesterday."
That's also evident in that the Beatles organization approved the use of 15 songs in the film and licensed the title song for use during the end credits.
Boyle and representatives for Universal Pictures, which is distributing "Yesterday," declined to say how much it cost to license the Beatles' music, which is rarely approved for movies, TV or other commercial uses.
The approval for "Yesterday" indicates the Beatles camp felt the film does justice to the spirit of their music, another indicator of Patel's delivery of their songs.
Patel had much in common with the alternate universe imagined in "Yesterday": Until he was 10 or 11 years old, he had little knowledge or awareness of the Beatles.
"I remember hearing John Lennon sing 'Imagine,' which was my introduction to anything Beatles. That was around the time George died [in 2001], and my mom and dad talked to me about his interests with India."
For Patel, potential landmines abounded. Not only did he have to learn the dialogue and attempt to be convincing as a musician, he had to learn to perform Beatles songs well enough to play them live during filming. Pemberton noted that Boyle typically insists on live-in-camera musical performances in his films because he believes they are more authentic than lip-syncing.
"A lot of people do think 'Oh, Beatles? Easy-peasy.' " Pemberton said. "Actually, it's one of these things where you've got to make it feel easy and look easy, but it's really not. There are so many Beatles cover versions, but there are a lot that are not very good."
For the man in whose hands so many iconic songs have been placed, the lesson is simple: "What this story, this film has given us," Patel said, "has been the opportunity to imagine the scenario in which someone makes this music their own. I'm thrilled to be part of that."
Follow @RandyLewis2 on Twitter.com
For Classic Rock coverage, join us on Facebook
---
From the Emmys to the Oscars.
Get our revamped Envelope newsletter, sent twice a week, for exclusive awards season coverage, behind-the-scenes insights and columnist Glenn Whipp's commentary.
You may occasionally receive promotional content from the Los Angeles Times.