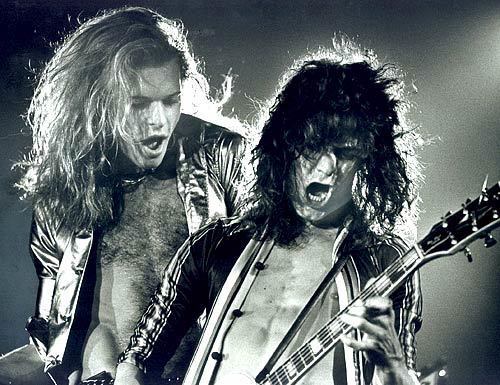 9 Images
Van Halen's ups and downs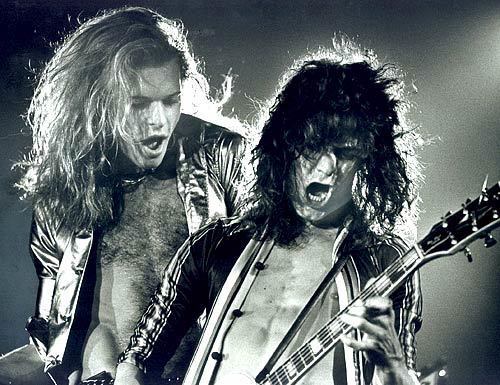 David Lee Roth, left, and Eddie Van Halen onstage in at the Long Beach Arena in 1978. Bouyed by Roth's showmanship and Eddie's guitar pyrotechnics, the Pasadena-born band reached what's widely considered the peak of their powers.
(LAT)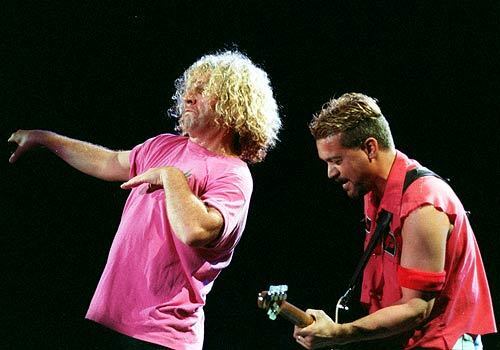 After the departure of David Lee Roth, the second generation of Van Halen featured Sammy Hagar, left, on vocals and a poppier, more radio-friendly sound. Shown here at 1995 concert, this version of Van Halen scaled new heights in sales, but some fans derisively refer to this era of the band as "Van Hagar."
(Gary Friedman / LAT)
For a brief, shining moment there was Camelot. The four original members of Van Halen reunited onstage at the 1996 MTV Video Music Award to announce their reconciliation. The good feelings didn't last, however, and the reunion was called off shortly after its announcement.
(Don Emmert / AFP)
Fronted by former Extreme singer Gary Cherone, the third era of Van Halen began with 1998's album "III." Cherone's reign is regarded as the band's least memorable incarnation, but hey, at least Gary was spared from this whole Rock and Roll Hall of Fame mess.
(Robert Gauthier / LAT)
Eddie Van Halen onstage during a 1998 Van Halen performance at the Blockbuster Pavillion in Devore. A year later the guitarist would be sidelined with hip replacement surgery as well as battling mouth and tongue cancer.
(Robert Gauthier / LAT)
After being tossed out of the band in favor of Gary Cherone, Sammy Hagar, left, returned to his roots as a solo artist. He united with David Lee Roth in 2002 for a lengthy--if not terribly collegial--tour, publicized here at that year's VMAs.
(Beth Keiser / AP)
The typically understated "Diamond Dave" onstage with his band during his 2002 tour with Sammy Hagar.
(Bill Greenblatt / For The Times)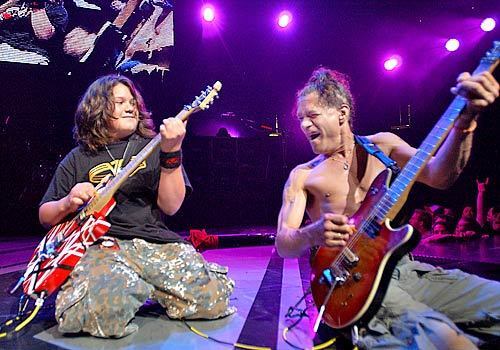 Van Halen the elder, right, with son Wolfgang onstage at the Meadowlands in 2004. Said to be the driving force behind the scotched Van Halen reunion, the 16-year-old was slated to take over bass duties for original member Michael Anthony.
(Kevin Mazur / WireImage.com)
After Gary Cherone left Van Halen in 2004, Eddie's public appearances became more and more rare. The guitarist performed live in West Hollywood in July of 2006 as part of jam session.
(Michael Bezjian / WireImage.com)