Bo Leibowitz, longtime KCRW 'Strictly Jazz' host, dies at 74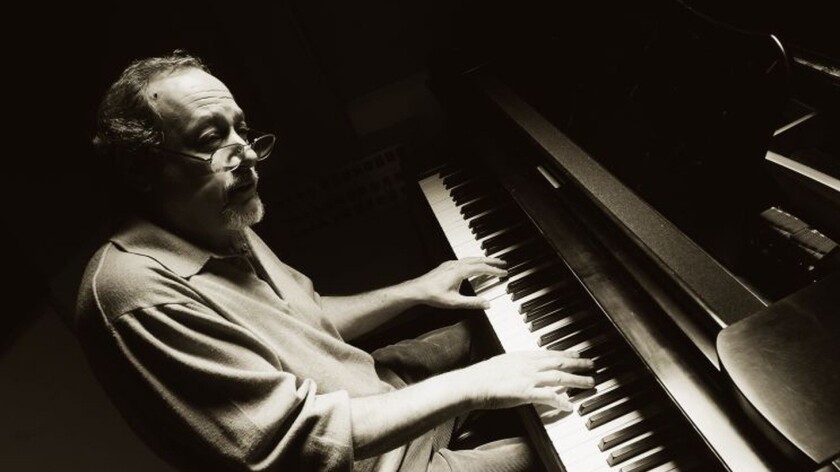 With a calm, smooth-as-polished-brass voice that was precisely attuned to the atmospherics of his 3 a.m. KCRW time slot, jazz radio host Bo Leibowitz spread the gospel of America's music to Southern Californians for 40 years.
Synthesizers, drum machines and computers may have overtaken contemporary music, but Leibowitz, who died Monday at 74, steadfastly preached the gospel of improvisation through sax-, trumpet- and piano-driven jazz.

For the record:
7:45 AM, Jun. 07, 2019This article incorrectly states that Bo Leibowitz attended Penn State. He went to the University of Pennsylvania.
His cause of death, which occurred after a long illness, was not provided. He is survived by his wife, Rosemary, and a son, Evan.
"You've got to keep seeding the fields, spreading the joy," Leibowitz said of his passion for music, comparing himself to Johnny Appleseed. "People who say jazz is dead just aren't listening. It will never die. It just needs exposure."
Listen to Leibowitz's final show:
A scholar of the genre, Leibowitz devoted his weekly three-hour show to sharing his vast knowledge and impeccable taste. His three-hour tribute to Miles Davis was a musical sermon that wove Leibowitz's narration into a chronological survey of highlights from across the trumpeter's copious discography.
The DJ, who was born Alan Leibowitz, tended to this mission with an understated fervor. Well aware that the music he loved no longer occupied center stage, his shows presented aural arguments on the timeless glory of acoustic jazz and the giants of the genre: John Coltrane, Billie Holiday, Coleman Hawkins, Bill Evans, Ella Fitzgerald and Wes Montgomery among them.
"Bo never compromised, preferring to showcase classic music that has stood the test of time," Tom Schnabel, KCRW's former music director and longtime host, wrote on the station's website. "He treated jazz with the respect that the art form has always gotten in Europe and Japan."
Leibowitz was introduced to jazz through his father, Irving Leibowitz, who during the 1960s wrote and edited for the Indianapolis Times newspaper.
"Back in those days, they sent records to the paper, and he scooped up the jazz titles, which I first got into when I was 15," Leibowitz recalled in a recent profile in the Pennsylvania Gazette.
After attending Penn State, the young enthusiast relocated to Boston, where he co-ran a Harvard Square record store, did a show on respected left-of-the-dial FM station WBUR and fully immersed himself into proselytizing for jazz.
In 1979, KCRW's Schnabel had just been hired as music director, and one of his missions was to find a way to offset the smooth programming overtaking commercial jazz stations. He hired Leibowitz to produce "Strictly Jazz," and the DJ headed west.
Leibowitz recalled those early years behind the boards on "this little low-watt station with a 10-mile reach, playing classical all day, jazz all night, and I was on in prime time."
Across the decades, KCRW supported the purity of Leibowitz's vision, even if it couldn't provide a living wage. For that, he became a court reporter. As the station's reach expanded, its format evolved into more contemporary-focused programming. Leibowitz's playlists were outliers, and he moved to a weekly shift in the wee, small hours.
Between 3 a.m. and 6 a.m. on Saturday mornings, he understood that the breathy Coltrane alto solo during "It's Easy to Remember," or Duke Ellington offering the pensive piano ballad "Fleurette Africaine" — both of which Leibowitz played on one of his final shows — provided an ethereal soundtrack for solitude. In April, he announced his retirement from the show.
Amid lullabies for the late-night crowd coming down, mid-tempo standards for penthouse insomniacs and uptempo post-bop for rise-and-shine listeners, Leibowitz presented aesthetically adept, softly lit sets.
He didn't just spin for L.A., though. As online listening increased, "Strictly Jazz" jumped oceans to reach aficionados around the world. For fans in Europe, the show started at 11 a.m. on Saturday. For Japanese listeners, "Strictly Jazz" aired at 7 p.m. Saturday nights.
Those who listened were not only given 180 minutes of jazz, but the accumulated knowledge of a man consumed by it. Wrote Schnabel, "Whenever I went to him with a question, he had the answer."
For tips, records, snapshots and stories on Los Angeles music culture, follow Randall Roberts on Twitter and Instagram: @liledit. Email: randall.roberts@latimes.com.
---
Inside the business of entertainment
The Wide Shot brings you news, analysis and insights on everything from streaming wars to production — and what it all means for the future.
You may occasionally receive promotional content from the Los Angeles Times.