Dr. John, a chief musical architect of the New Orleans sound, dies at 77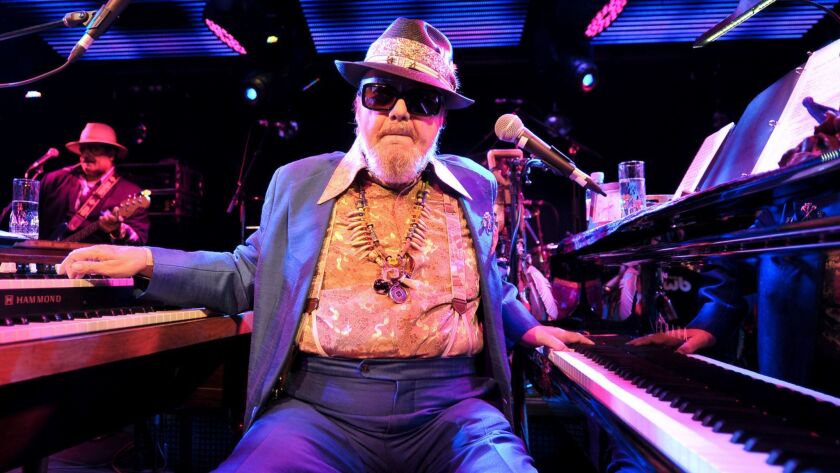 Mac "Dr. John" Rebennack, the nine-fingered New Orleans-based pianist, singer, songwriter and session musician best known for his 1973 top 10 hit "Right Place, Wrong Time," has died. He was 77.
Across six decades as a creator, Rebennack served as the unofficial voodoo ambassador of the Crescent City, and starting in the 1960s helped update the region's distinctive boogie-woogie sound for a new generation.
Rebennack suffered a fatal heart attack on Thursday morning, according to a statement released to the Associated Press.
Rebennack was born in New Orleans in 1941. His persona both on and off stage was a wonder built on myths, lies, speculation and deceit. He willfully obscured his biography in service of his art. Starting with his 1968 debut, "Gris-Gris," and extending through at least 30 studio albums, the artist created singular works that used as a template classic American songcraft — but with a handmade New Orleans roux mixed in.
In his 1994 autobiography, "Under a Hoodoo Moon," Rebennack described his mystical creation as "a medicine man who claimed to be a prince of Senegal before he was abducted and taken to Cuba."
He came up with the idea after relocating to Los Angeles in 1965. At the time he was living as a session musician with a community of roustabouts in a Melrose Avenue building misleadingly called the Hollywood Executive Hotel. He recorded "Gris-Gris," a swamp rock classic, at Gold Star Studios with off-hours studio time paid for by Sonny and Cher.
Rebennack earned his rent through studio work but remained skeptical of the so-called Wall of Sound production style of the time, which Phil Spector was constructing through dozens of musicians working in unison.
"I thought to myself, what's all this? Because in New Orleans we put out just as much sound with only six guys," he wrote in his autobiography.
By then, he'd already lost his left ring finger. In 1961, while trying to prevent a member of his band from being pistol-whipped, Rebennack got shot. "It went just right through my finger. And my finger was hanging by a piece of skin," he told the L.A. Record in 2013. "They put it back on in the hospital and they sewed it back on very poorly and it never did work right."
As a session musician, Rebennack played on seminal 1960s and '70s recordings by artists including Aretha Franklin, Harry Nilsson, Canned Heat, Carly Simon, Buddy Guy and Joe Cocker, and was a memorable presence in "The Last Waltz," Martin Scorsese's documentary on The Band's final performance.
As he evolved, Rebennack moved from a deliberately uncommercial approach to tripped-out voodoo music and toward a desire to succeed in the market. As he famously told Rolling Stone in 1973, "The only thing that makes a record commercial is if people buy it."
They didn't always buy Dr. John's records, but as he continued to tour he leaned in to his character, accruing countless purple suits, a fedora or headdress for every occasion and enough voodoo necklaces to resurrect half the population of St. Louis Cemetery.
His 1974 song and album, "Desitively Bonnaroo," birthed the name of the popular music festival held annually in Manchester, Tenn. The album featured a who's who of New Orleans funk and soul, including producer Allen Toussaint and members of the instrumental band the Meters.
Rebennack stretched and adapted as the years passed, jumping imprints every few albums — he remained a life-long skeptic of the record business — and making interesting aesthetic choices at every turn. "In a Sentimental Mood" from 1989 was a tribute to Tin Pan Alley songcraft. He followed that a decade later with "Duke Elegant," a tribute to Duke Ellington.
For his out-there 1998 album "Anutha Zone," Rebennack collaborated with members of British guitar band Spiritualized, folk guitarist John Martyn and former Jam singer Paul Weller. His 2012 album "Locked Down," produced by the Black Keys' Dan Auerbach, earned him renewed attention.
Asked about the acclaim by one interviewer, Rebennack demurred. "There's kind of a code amongst musicians that if you're ever really satisfied with what you do, you must be dead — because you ain't growing."
Across his life on the stage, the self-described "Night Tripper" wondered on the nature of death and even used his record-store-owning father's ghost as a muse for his song "Georgianna."
"There's times I've been sat on his grave and heard him hummin' stuff without seeing him," he told writer James McNair in a 2001 interview, "but on this occasion he was sitting close as you are now. He looked like when he was young, and he was singing that exact melody."
As news spread of Rebennack's passing, fans including Ringo Starr, Ellen DeGeneres and Marc Maron expressed affection for the artist. The New Orleans radio station WWOZ-FM (90.7) interrupted its regular programming to play Dr. John all night.
New Orleans R&B singer Irma Thomas told a New Orleans TV station that Rebennack played on her first recording. "Two unique things about him: His voice and his conversational vocabulary." Calling him "an interesting character, to say the least," she described Rebennack as "kindhearted."
The Twitter account of the New Orleans Jazz & Heritage Festival, which hosted Dr. John many times, wrote, "You were such a huge part of New Orleans music and the history of Jazz Fest. We love you and will celebrate all that you gave us."
"Spent a lot of my early 20s in a van listening to Dr. John," wrote pop songwriter and Bleachers founder Jack Antonoff on Twitter, describing the pianist as "one of those artists who's always with you somehow."
The writer David Simon, whose HBO series "Treme" was set in New Orleans, called the musician "one of America's greatest originals," adding, "Good night, Mac. And know that the legacy of Dr. John will live forever in the streets and music halls of New Orleans and everywhere else in this world that holds music precious."
For tips, records, snapshots and stories on Los Angeles music culture, follow Randall Roberts on Twitter and Instagram: @liledit. Email: randall.roberts@latimes.com.
---
Inside the business of entertainment
The Wide Shot brings you news, analysis and insights on everything from streaming wars to production — and what it all means for the future.
You may occasionally receive promotional content from the Los Angeles Times.