Mose Allison, pianist, singer and 'William Faulkner of jazz,' dies at 89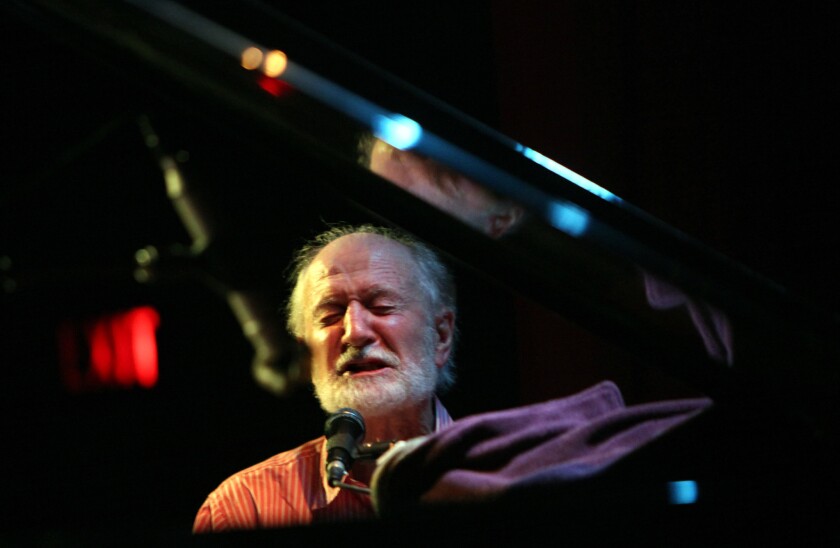 Mose Allison, a genre-defying pianist, singer and composer/lyricist whose wittily sardonic, blues-driven songs earned him the title of "The William Faulkner of Jazz," has died. The news was confirmed on Allison's official website. He was 89.
From the mid-1950s to the early decades of the new century, Allison was a much-in-demand rhythm section pianist and a jazz artist in his own right, usually performing in a trio setting.
His rapidly emerging talents as a singer and songwriter also announced the arrival of an intriguing artist who slipped through tradition boundaries.
"I guess I'm the man without a category," he told The Times in 1990. "People are always trying to categorize me as blues or jazz or folk. Some say I'm a jazz pianist that sings the blues."
In fact, he has been described, variously, either as a blues artist who plays jazz piano, or a jazz pianist who sings the blues. Both descriptions are correct. But it was Allison's songs that fully established his identity as an iconic music world figure.
"What Allison does," Richard Harrington wrote in 2004 in the Washington Post, "is craft wry songs filled with irony and mordant wit, delivering them in an easygoing, sometimes deadpan style underscored by his own uncluttered piano accompaniment."
Singer/songwriters have not been as common in jazz as they have in the pop music world. But Allison, along with Dave Frishberg, Abbey Lincoln, Bobby Troup and Bob Dorough, among others, opened the door to an expressive area of song underscored by the rhythms and harmonies of jazz.
Allison's special contributions to the jazz singer/songwriter category were the Delta blues qualities rooted within his Mississippi childhood, his affection for all areas of Americana music, and his ability to translate the complexities of his view of the world into memorable lyrics.
His songs were covered by numerous pop/rock groups, among them the Who, the Clash, Bonnie Raitt, Van Morrison, Elvis Costello, Eric Clapton, Leon Russell, Blue Cheer and the Yardbirds, as well as jazz artists Diana Krall and Karrin Allyson.
In addition, high-profile rock artists such as Pete Townshend, Ray Davies and Bill Wyman of the Rolling Stones have frequently mentioned Allison as a major influence.
Van Morrison, who contributed to the 1996 album "Tell Me Something: The Songs of Mose Allison," described Allison as "one of the great songwriters of the century."
Time Out described Allison's far-reaching impact on the rock 'n' roll world of the '60s by noting that his "gift for writing a song with a sting in the tail made him a prime source of inspiration for the UK's new generation of blues/rock artists."
Allison's best known songs include his most requested work, "Parchman Farm," inspired by a Mississippi penitentiary. Allison ceased performing it, however, in the mid-'90s, in part because some critics decried it as "politically incorrect." But Allison had his own reasons for leaving the song behind. "It's not funny. I don't do the cotton sack songs much anymore," he told Nine-O-One Network magazine. "You go to the Mississippi Delta and there are no cotton sacks."
"Everybody Cryin' Mercy," composed during the Vietnam War, was effectively revived by Allison during Operation Desert Storm and covered by Bonnie Raitt and Elvis Costello. The lyrics, as with so many other Allison songs, made their point with far-reaching universality: "Everybody cryin' peace on earth, Just as soon as we win this war."
Other Allison songs are equally expressive, often beginning with a laconic title such as "Your Mind Is on Vacation" (continuing with the lyric "and your mouth is working overtime"). "I Know You Didn't Mean It" is a classic example of Allison's dark humor: "I know you didn't mean it when you blew us up/You just happened to think it was a good idea."
His "Young Man Blues" — takes a poignant look at the circularity of the aging process: "Take it easy on the young man/They ain't got nothin' in the world these days." The song was covered by the Who in 1970 on their "Live At Leeds" album. "I made more money out of that," Allison told the Montreal Gazette "than anything else I've done."
Allison's long history as a jazz pianist did not receive the high visibility of his singing career and his songs. Nonetheless, to the musicians who employed him in their rhythm sections, he was both a dependable accompanist and an imaginative soloist. It's not surprising that he worked with a string of world-class jazz artists, each of whom found his briskly swinging backup precisely right for their individual styles.
Allison's piano playing, Josef Woodard wrote in The Times in 1993, "melds urbanity with a rough-hewn, down-home bluesiness. In a typical Allison solo, modern chordal voicings are interspersed with quirky Thelonious Monk-ish chromatic runs."
Mose John Allison Jr. was born Nov. 11, 1927, in Tippo, Miss. His father, who had been a ragtime pianist, had a large farm and a dry goods business. His mother, Maxine, was a grammar school teacher.
Drawn to music early, he began to play piano as a child and learned trumpet as a teenager. Preferring the piano, he was drawn to the blues and boogie-woogie he heard, mostly from African American musicians, in the juke joints, road houses and jam sessions of his rural community.
The central qualities of what would become his mature style emerged early. "He added elements of bebop, swing and blues," noted the Contra Costa Times, "into an idiosyncratic style that revolves around his dry, satiric wit and honey-sweet Southern drawl."
In 1945, Allison attended the University of Mississippi but left the next year to enlist in the Army. After being discharged in the late '40s, he enrolled at Louisiana State University, graduating in 1952 with a bachelor's degree in English and a minor in philosophy.
Allison moved to New York City in 1956, settling on Long Island, where he and his wife, Audre, had four children. He quickly became part of the city's burgeoning bop and post-bop jazz scene. He performed as a pianist with such major jazz artists as Gerry Mulligan, Stan Getz, Zoot Sims, Phil Woods and others.
The first album of his own, "Back Country Suite," was issued in 1957 on the Prestige label. From that point, via his work on dozens of records and virtually nonstop touring, Allison's stylistic identity embraced everything from blues and folk to bebop.
The last of his recordings, "The Way of the World," was released on the L.A. indie label Anti- in 2010 when Allison was 82. It arrived after a sabbatical of more than a decade during which Allison made no recordings and pulled back from live performances. During that period, he spoke to several journalists about his disillusionment with record companies and suspicions about their payment policies.
But the album's sales success provided a different record company experience for Allison. The media also seemed to approve. A New Yorker review by Ben Greenman described it as "a late-life triumph that sits comfortably alongside Allison's other records."
Allison was named a National Endowment for the Arts Jazz Master in 2013. The award noted that his work "defies categorization and has been a major influence on musicians, regardless of genre, for more than 50 years."
Allison is survived by his wife, Audre Mae, and four children, Alissa, Amy, John and Janine.
ALSO
Live review: Mose Allison at Largo at the Coronet
---
The complete guide to home viewing
Get Screen Gab for weekly recommendations, analysis, interviews and irreverent discussion of the TV and streaming movies everyone's talking about.
You may occasionally receive promotional content from the Los Angeles Times.