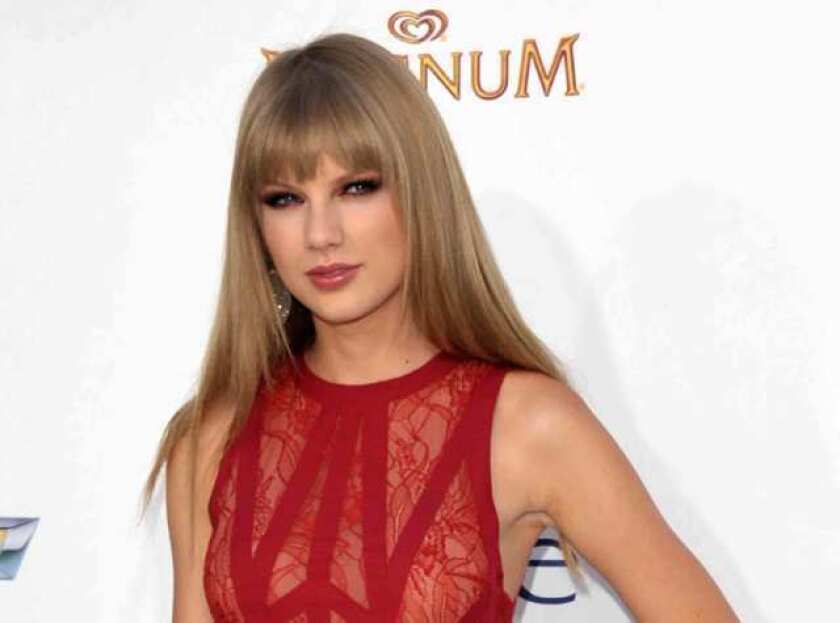 Taylor Swift has scored another one for the record books, this time logging the best first-week digital sales for a single by a female artist for her new breakup song, "We Are Never Ever Getting Back Together," which posted 623,000 paid downloads since its release last week.
That's just 13,000 short of the overall digital single sales record set in 2009 by rapper Flo Rida with "Right Round," according to Billboard, citing figures from Nielsen SoundScan. The song easily won the No. 1 slot on Billboard's Digital Songs chart.
Swift's track surpassed the previous single-week high mark for a woman set by Kesha's "Tik Tok" in 2010, and it trumped Lady Gaga's "Born This Way," which had held the record for biggest first-week sales by a woman last year with 448,000.
"We Are Never Ever Getting Back Together" becomes only the seventh single to have sold more than 500,000 digital copies in one week, Billboard notes.
It makes a strong start for Swift's forthcoming album, "Red," due for release on Oct. 22. Her previous album, "Speak Now," sold 1.047 million copies in its first week of release in November 2010, the first CD to top the 1-million first-week sales mark in more than 5 1/2 years.
Lady Gaga's "Born This Way" then slipped past "Speak Now" by selling 1.108 million copies upon release last spring. That figure generated widespread debate in the music business because a significant chunk of sales resulted from Amazon.com selling it for 99 cents for 48 hours as a promotion for the Web giant's cloud music service.
That prompted Billboard subsequently to alter its rules for counting retail sales, determining that only albums sold at $3.99 or higher would be counted as the magazine compiles chart positions based on retail sales.
Swift also announced this week that she'll perform an acoustic concert this fall at a high school or college for the winning entrant in a contest being staged in conjunction with her Nov. 11 appearance on the "VH1 Storytellers" series. Details and voting are being handled at www.taylorswiftoncampus.com. And she's slated to perform at the MTV Video Music Awards on Sept. 6 at Staples Center in Los Angeles.
ALSO:
Video: The Mockers' 'Republican Girl'
Grammy nominations show to air from Nashville
Nicki Minaj reveal: Not 'Idol,' but it smells 'like angels playing'
---