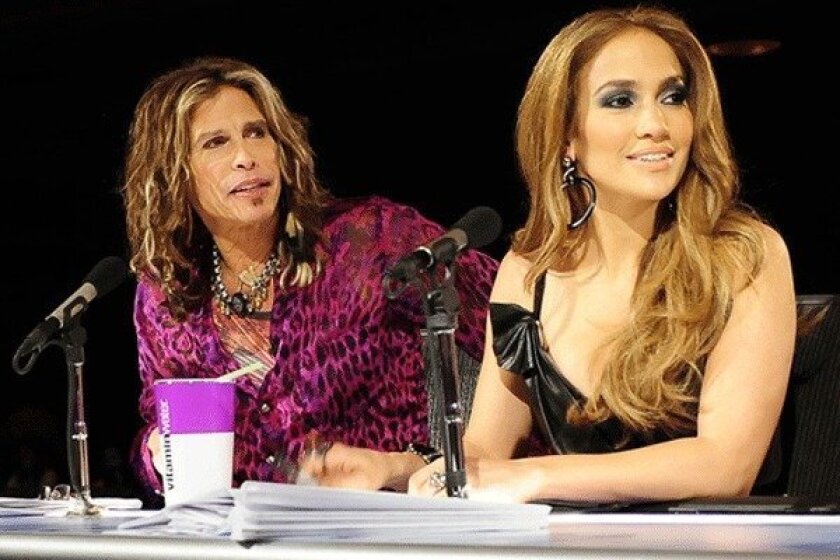 Pity poor Phillips Phillip. This is supposed to be his time. Just weeks after winning the 11th season of "American Idol"for his down-home takes on the work of Bob Seger and Matchbox Twenty, his media spotlight has been stolen by those who championed him. "Idol" judge Steven Tyler revealed Thursday that he is out after two seasons, and Jennifer Lopez is now also ready to end her role as the show's resident gusher.
For fans of the show, this news is all good. They's not because Tyler and Lopez were ill-suited for the roles, but a simple acknowledgment that the question of "who will be the next 'American Idol' judge" is far more exciting than"who will be the next 'American Idol.' " As the show has become a reliable factory for competent singers who possess an acoustic guitar but lack star power, the Lee DeWyze-Scotty McCreery-Phllip Phillips assembly line more and more exists to illicit potentially silly comments from the judges' table.
Will Kara DioGuardi offend someone? Will Ellen DeGeneres say something intelligent about music? Does Tyler really believe Joshua Ledet's take of "It's a Man's Man's Man's World" is one of the most unique performances he's ever heard, and if so, what's in his record collection? How many times will Lopez cry per episode? Does Randy Jackson even know what "pitchy" means? Does Tyler really have a pet sloth?
PHOTOS: 'Idol' judges through the years
These are the questions that pass for drama on "Idol" these days. That's fine. "Idol" has been out of step with popular music trends since Carrie Underwood's 2005 win fed into a brief celebratory moment for country-tinged female pop vocalists. As far as unscripted television goes, "Idol" has become as predictable as the most limp police procedural on network television.
The show's song catalog is frighteningly small — it's not who will sing Whitney Houston's "I Have Nothing" that's the question anymore but rather how many times it will be heard in a season — and overall the series has gradually lost a sense of fun since Simon Cowell took his charmingly grumpy sense of privilege to the reality show trainwreck that is "The X-Factor." And that's "trainwreck" in the car-chase-gripping sense of the word, as no doubt curiosity surrounding Britney Spears at the judging table will sucker in even the most cynical of pop fans.
So the departures of Lopez and Tyler puts "Idol" back in the spotlight and offers hope that the show could right itself, if not as a reflection of popular music then at least as a guilty pleasure game show. After all, what's working in pop right now is in direct opposition of everything "Idol" has built.
PHOTOS: Behind the scenes at the Live! tour
Take the arrival of R&B; singer Frank Ocean. He has sparked a unifying level of excitement among fans and critics that is increasingly rare. But what's made him a force is not what wins praise on "Idol." It's his candor, his willingness to be open with fans and to appear human that gives him star power, not his ability to interpret a decades-old song. He's refreshing in his originality, the very thing "Idol" simply can't produce by stubbornly holding to the truth that there is a right way to sing a song.
This leaves us to count on the judges to supply something unexpected. NBC's "The Voice" has music credibility in the judges' chairs — correction, NBC's "The Voice" has Cee-Lo — and yet the best moments of that show's most recent season were the result of bickering between Adam Levine and Christina Aguilera. "The Voice" works because it reveals more about the personalities of four of our current pop stars than it does any of its hopefuls.
INTERACTIVE: 'Pick the next Judge'
"Idol" may have beget "The Voice," but it's now "The Voice" that provides guidance for "Idol." A judge must be willing to reveal a side of his or her personality that fans don't normally see, a glimpse at what actually inspires this person in regards to music. Lopez was never willing to go out on a limb, as she related most every performance to her own career. Tyler was a mismatch from the beginning, using the chair to flirt with girls and solidify the Aerosmith brand in 2012 as family-friendly entertainment (just in time for a tour!).
There's fun to be had in debating who is the next judge. This is to "American Idol" watchers as fantasy baseball is to fans of the American pastime. Crazy is potentially available, should producers want it (David Lee Roth), but perhaps an outspoken Brit (Elton John) would be more fun? Or maybe a boomer opportunist like Mick Jagger is the way to go, or perhaps "Idol" should try to coax someone like Tina Turner out of retirement? Take your pick. "Idol's" opening day is just months away.
RELATED:
Steven Tyler departs 'American Idol'
After the 'American Idol' Live tour, they go solo
Adam Lambert calls 'American Idol' judging gig 'a beautiful rumor'
---