14 Images
Iconic rock guitars and their owners
Iconic rock 'n' roll guitars
The guitars of famed rock 'n' roll stars often have as much personality as the musicians behind them. Here's a look at guitars that defined not only the musician but the genre.
Update:
We've added some key guitars and their owners to the gallery. Discuss your favorite guitars in the comments.
(From left, Keith Richards (Jose Jordan / AFP/Getty Images), Joan Jett (Los Angeles Times), Prince ( Los Angeles Times))
Bob Dylan's 1964 sunburst Fender Stratocaster
Bob Dylan played a 1964 sunburst Fender Stratocaster at the Newport Folk Festival and was jeered offstage for using an electric instrument over an acoustic. However, Dylan's performance marked the end of folk music and the beginning of rock 'n' roll as the dominating sound of pop music.
(Thomas Monaster )
Paul McCartney's Höfner bass
Paul McCartney, while a multi-instrumentalist, is mostly known for his bass work with the Beatles. His bass of choice? Höfner violin bass that's known for its small body. While McCartney used many other instruments throughout his career, he returned to the Höfner in the 1990s.
(Associated Press )
Joan Jett's Melody Maker
Legendary rocker Joan Jett, a founding member of the Runaways and leader of Joan Jett and the Blackhearts, is known for shredding with the Gibson Melody Maker guitar. She became so identified with the guitar that Gibson released a special "Joan Jett" edition of the guitar in 2008.
(Ethan Miller / Getty Images)
Jimmy Page's Gibson Les Paul
While many guitarists have used the Gibson Les Paul, Led Zeppelin's Jimmy Page stands out. His modifications to his first Les Pauls, dubbed Number One and Number Two, later inspired Gibson to issue special Jimmy Page editions.
(For The Times)
Buddy Holly's Stratocaster
Buddy was one of the first well-known rock musicians to use the Fender Stratocaster guitar. The one he played just hours before his death in a 1959 plane crash is being restored.
(Rhino Home Video / SOFA Entertainment )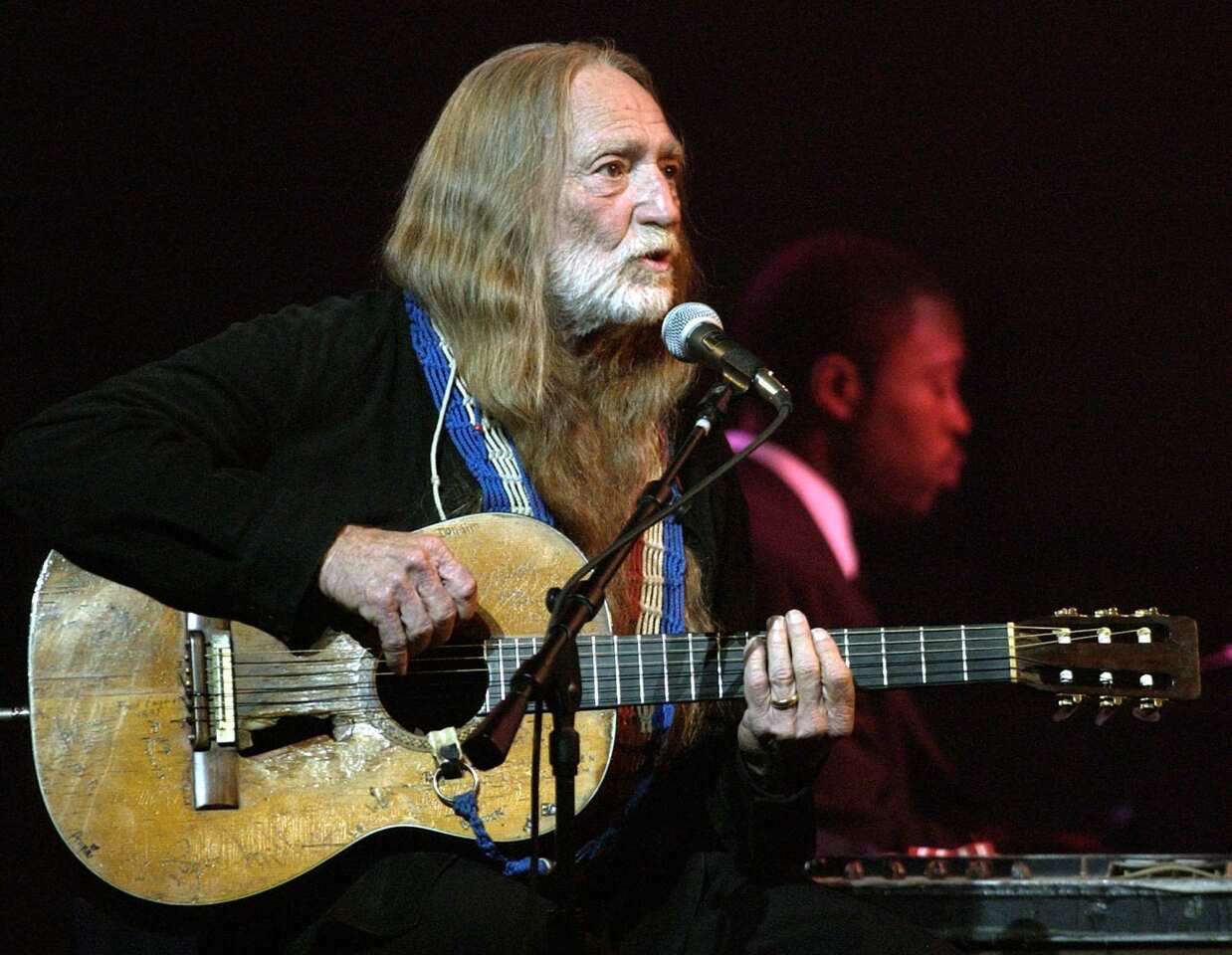 Willie Nelson's Trigger
Willie Nelson's guitar Trigger, a Martin N-20, has developed a deep, whole sound after 30-plus years of use. He got the guitar in a honky-tonk in 1969 and has vowed to quit playing if it's ever beyond repair.
(Kathy Willens / Associated Press)
Prince's love symbol
Prince has been known for his mix of jazz, funk, rock and new wave and his flamboyant stage presence. But his guitars have been equally far out. In 1993, Prince changed his name to a hybrid of the male and female gender symbols and had a guitar made in the same shape.
(Patrick Pagnano / Associated Press / CBS )
Keith Richards' Micawber
Rolling Stone guitarist Keith Richards is known for performing with his Fender Telecaster that he named Micawber. The 1950s Telecaster is missing the sixth string and was named after a character from Charles Dickens' 1850 novel "David Copperfield."
Correction: The slide originally said "David Copperfield" was written in 1935. The actual date was 1850. Also, the photo has changed to show Richards with Micawber in hand.
(Joerg Koch / AFP / Getty Images)
Eddie Van Halen's Frankenstrat
Above:
Wolfgang Van Halen playing his father's iconic Frankenstrat guitar as they perform together at the Meadowlands in East Rutherford, N.J. in 2004.
Frakenstrat is the name classic rocker Eddie Van Halen gave his guitar after he attempted to build a guitar with a Gibson sound and a Fender Stratocaster frame. Van Halen described his lipstick red and white stripped brainchild to
Guitar Player Magazine in 2004
. "It is a copy of a Fender Stratocaster," he told the magazine. "I bought the body for $50 and the neck for $80, and put in an old Gibson PAF pickup that was rewound to my specifications. I like the one-pickup sound, and I've experimented with it a lot...I see so many people who have these space-age guitars with a lot of switches and equalizers and treble boosters -- give me one knob, that's it. It's simple and it sounds cool."
(Kevin Mazur / WireImage.com)
B.B. King's Lucille
B.B. King explained the origin of his legendary Gibson ES-355 in the liner notes of his 1968 album "Lucille." While playing a gig in Twist, Ark.. in 1949, a kerosene barrel was lit to keep the space warm. During the course of the night, two men began fighting and knocked over the barrel, lighting the space on fire in the process. King ran out only to notice he left his guitar in the burning building. He ran back to retrieve his guitar, almost losing his life in the process. The day after, King discovered the two men were fighting over a woman named Lucille and bestowed the name on his guitar, and every Gibson he owned afterward, as reminder to never do anything stupid like that again.
(Juan Carlos Equihua / Associated Press)
Jimi Hendrix's upside-down Stratocaster
Although legendary guitarist Jimi Hendrix used as variety of guitars throughout his career, his signature guitar was the Fender Stratocaster. Unlike most guitarist however, Hendrix played with the guitar upside down and restrung backwards so he could play left-handed. This gave his Stratocaster a feel and sound that wasn't initially built into the design. Fender would go on to release Hendrix-style guitars in the 1990s as a tribute to the rock star.
(File photo)
Brian May's Red Special
Above:
Queen guitarist Brian May and Jessie perform "We Will Rock You," at the London 2012 Olympics closing ceremony at Olympic Stadium.
Queens guitarist Brian May built "Red Special" 40 years ago with his father, according to his
personal website
. May set out to make sure the guitar provided sound feedback by design rather than by accident. This guitar and the sound it provided May would define him as a guitarist and Queen as a band.
(Robert Gauthier / Los Angeles Times)