Album review: Elvis Costello & the Roots' assured 'Wise Up Ghost'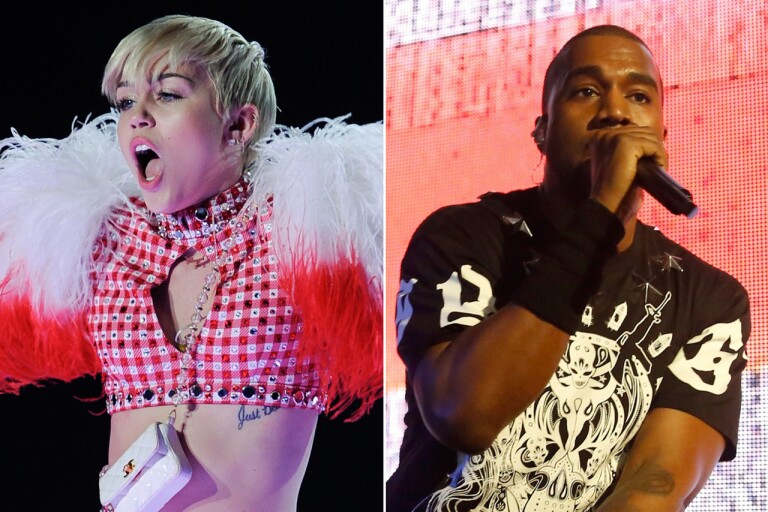 Apparently the ex-Disney star's recent penchant for twerking caught the attention of a man who likes to turn heads himself. Cyrus reportedly bailed on her own MTV Video Music Award after-party to help the Chi-City rapper remix his single, "Black Skinhead."
(Associated Press / Getty Images)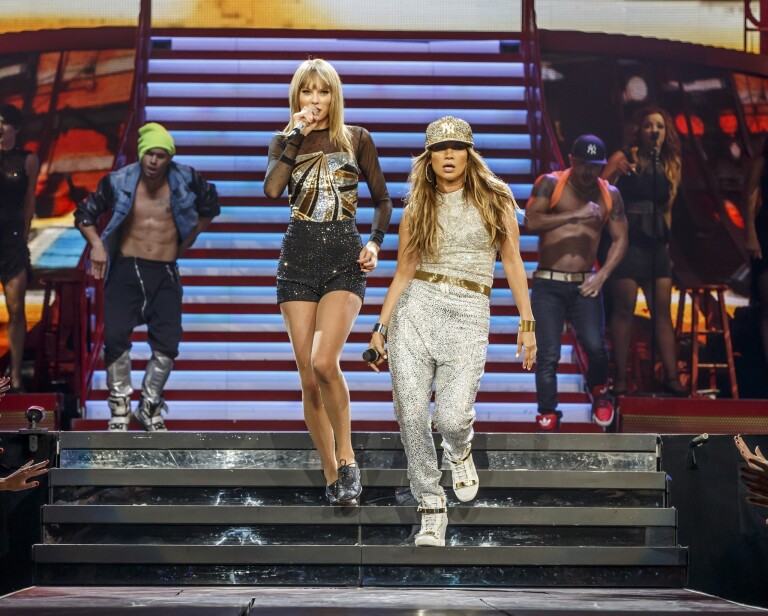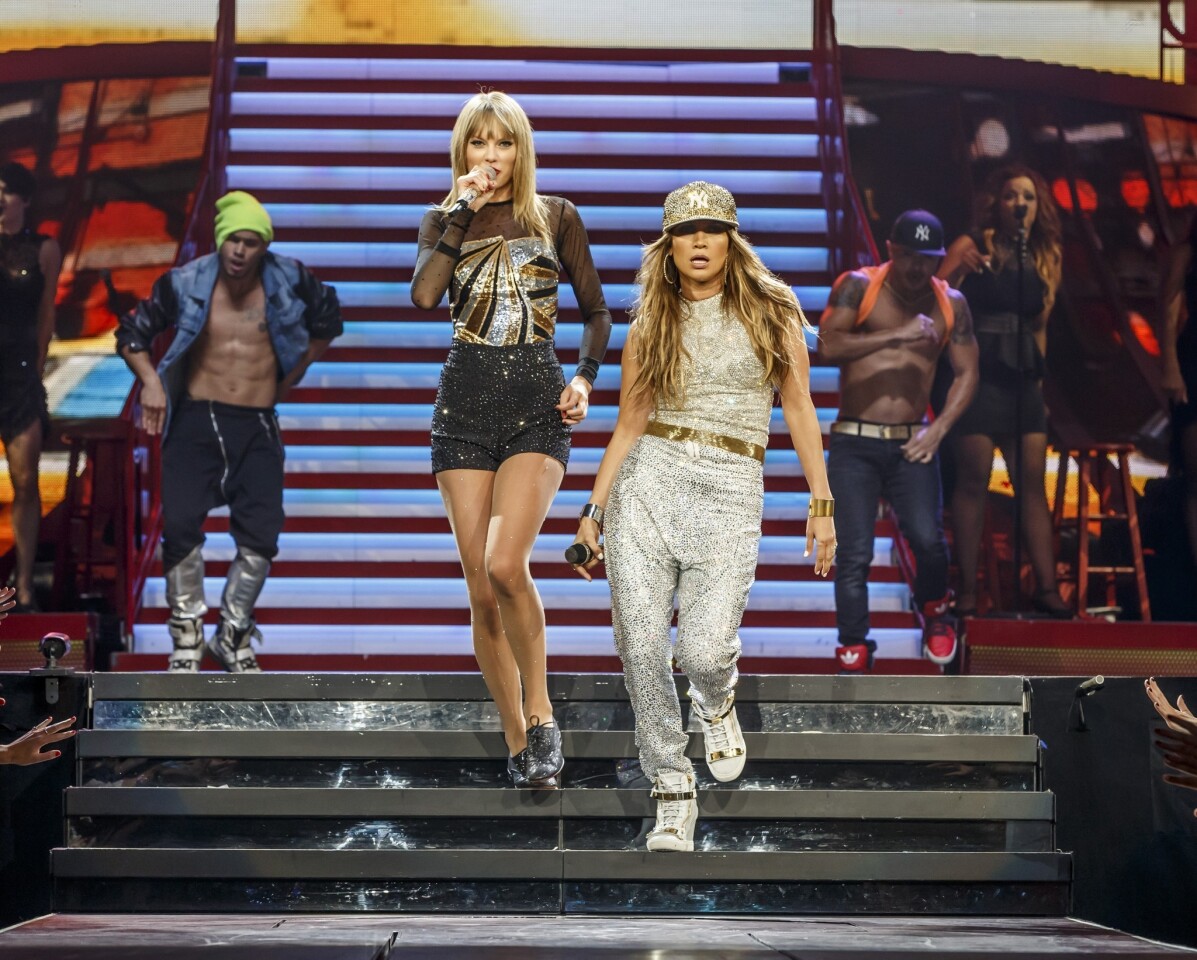 Taylor Swift's 'Red' tour briefly donned an R&B hue when the country-pop-megastar invited Jennifer Lopez onstage to sing "Jenny from the Block." Introducing the track as her childhood favorite, Swift traded lines with J. Lo, strutting into a past when her hairbrush was her microphone.
(Christopher Polk / Getty Images)
In 2009, Weezer frontman Rivers Cuomo set out to try something new and the result was a Weezer/Weezy collaboration. "Can't Stop Partying" features typical party anthem lyrics over a darker, alt-rock chord progression.
(EPA / Getty Images)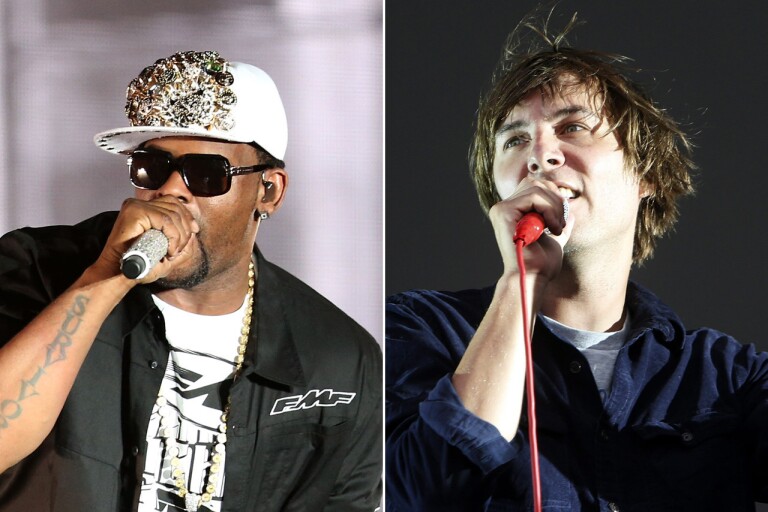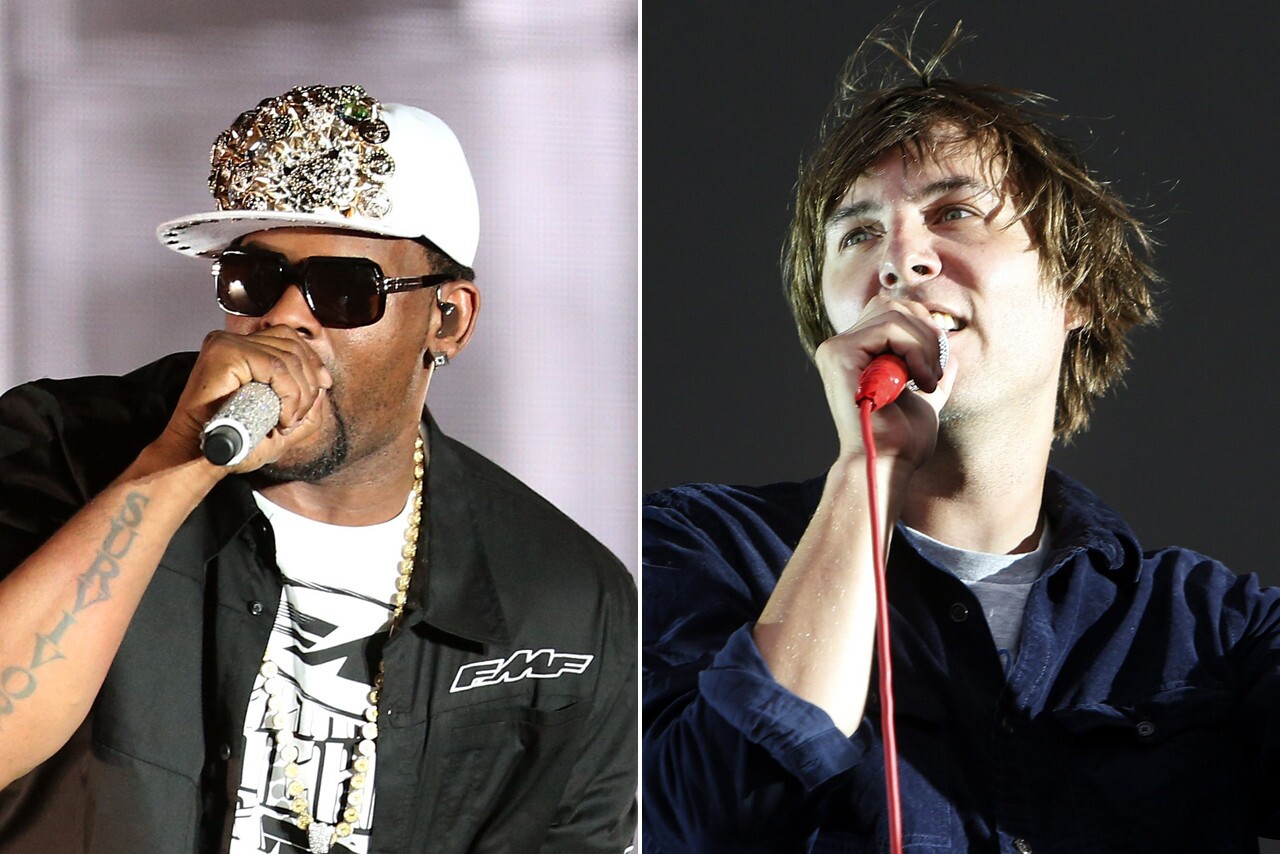 The "King of R&B" charted new territory with an official remix of French indie rock band Phoenix's newest single, "Trying to Be Cool." Kelly and Phoenix first took audiences by surprise at Coachella 2013, dotting "1901" with the melody of "Ignition."
(Getty Images / EPA)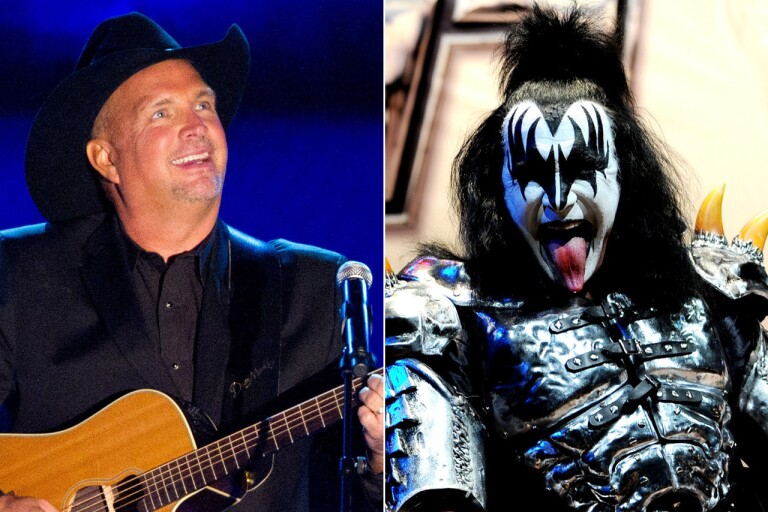 Singer-songwriter Garth Brooks dropped his country music chops to cover Kiss' "Hard Luck Woman" with the band. Though Brooks lives in the mainstream pop realm, Kiss is said to be one of his earliest musical influences, evidenced by his rock-inspired theatrics during live shows.
(Associated Press / Getty Images)
Irish rock band U2's wildly popular song "One" got a 2005 revamp featuring the multiplatinum R&B diva Mary J. Blige. Blige's effortless riffs and emotionally charged interpretation of the verses added vigor to a hit that has graced many "greatest songs" lists since its release.
(Aaron Harris / Associated Press)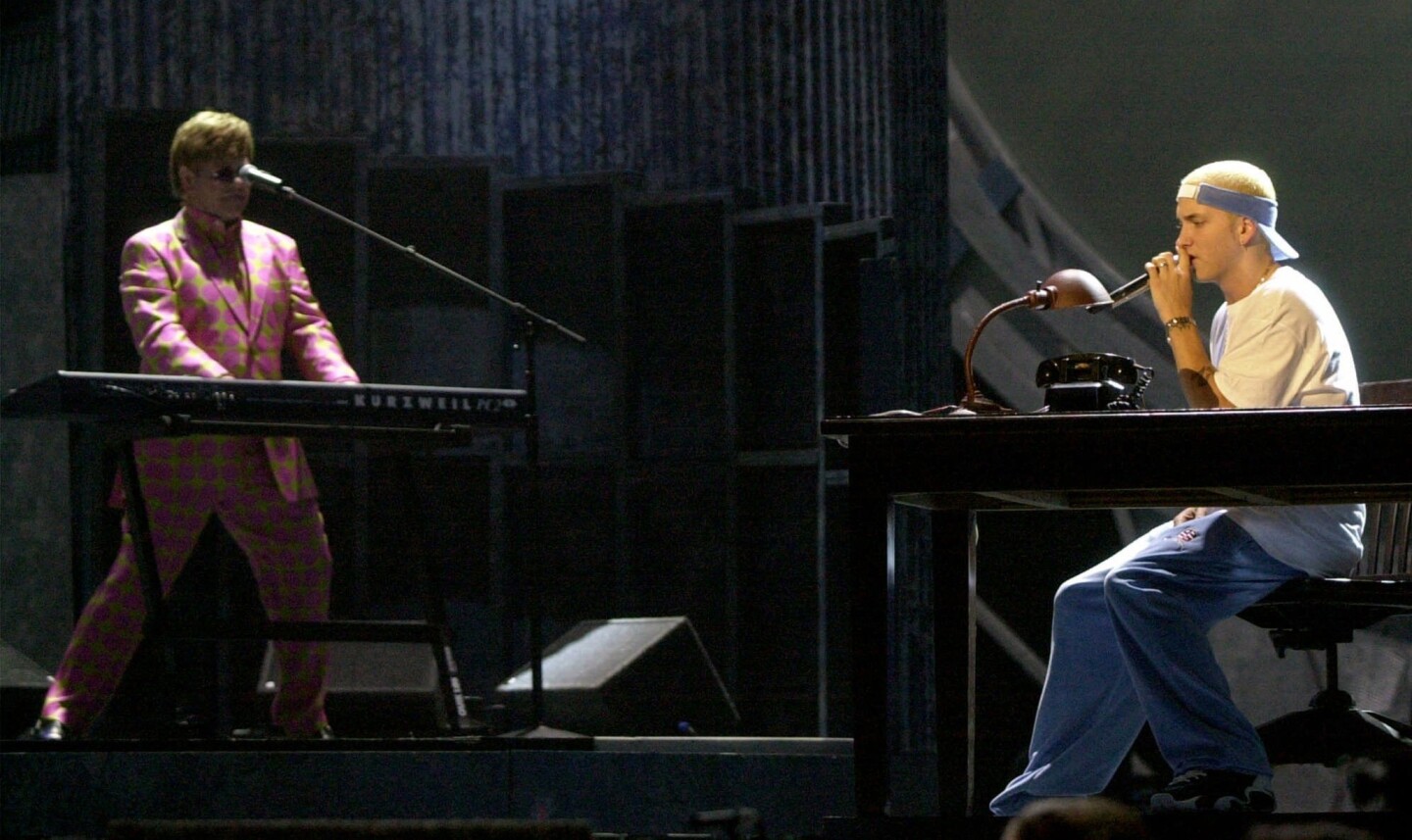 In a moment just as political as it was unexpected, rapper Eminem invited openly gay singer-songwriter Elton John onstage at the 43rd Grammy Awards to perform "Stan," in response to the barrage of criticism slung at the emcee over his lyrics and alleged homophobia.
(Kevork Djansezian / Associated Press)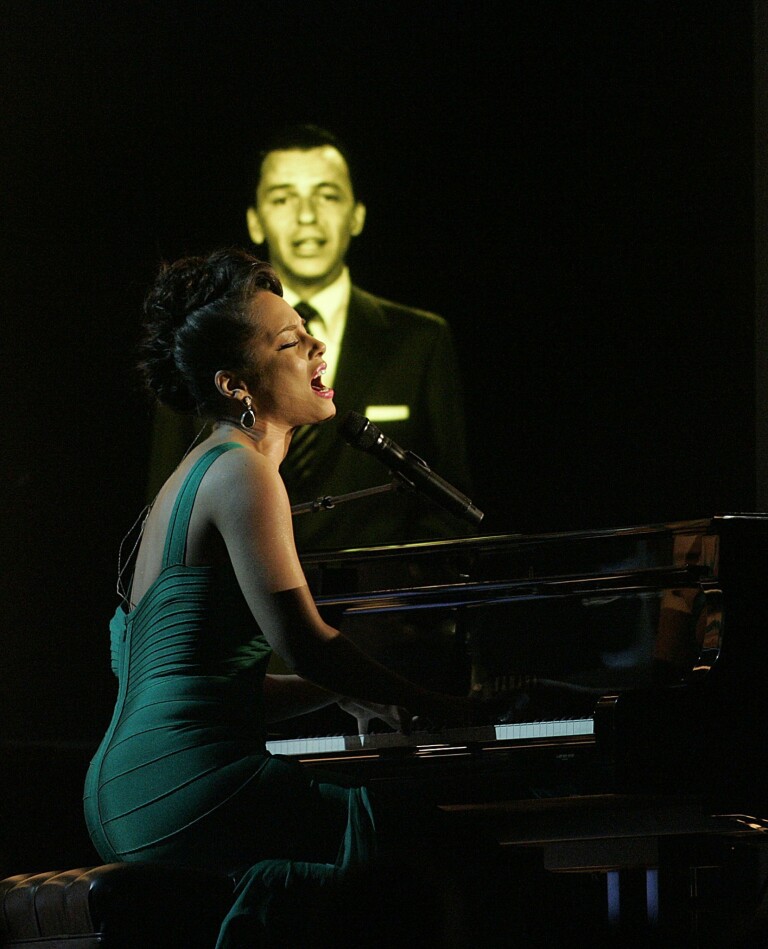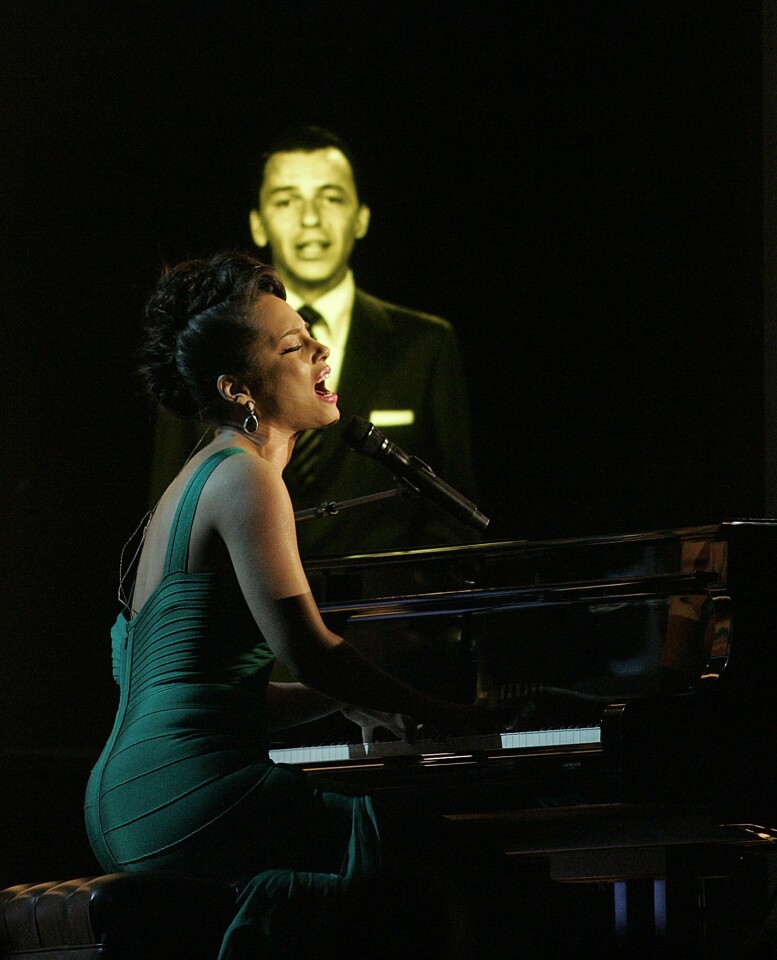 Soulful songstress Alicia Keys opened the 2008 Grammy Awards ceremony with Frank Sinatra's 1950s tune "Learnin' the Blues," using archival footage of the influential singer to pull off a duet.
(Lawrence K. Ho / Los Angeles Times)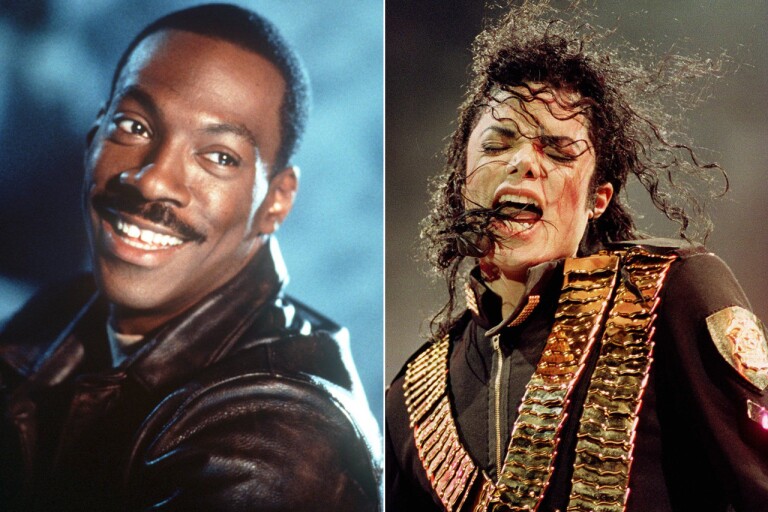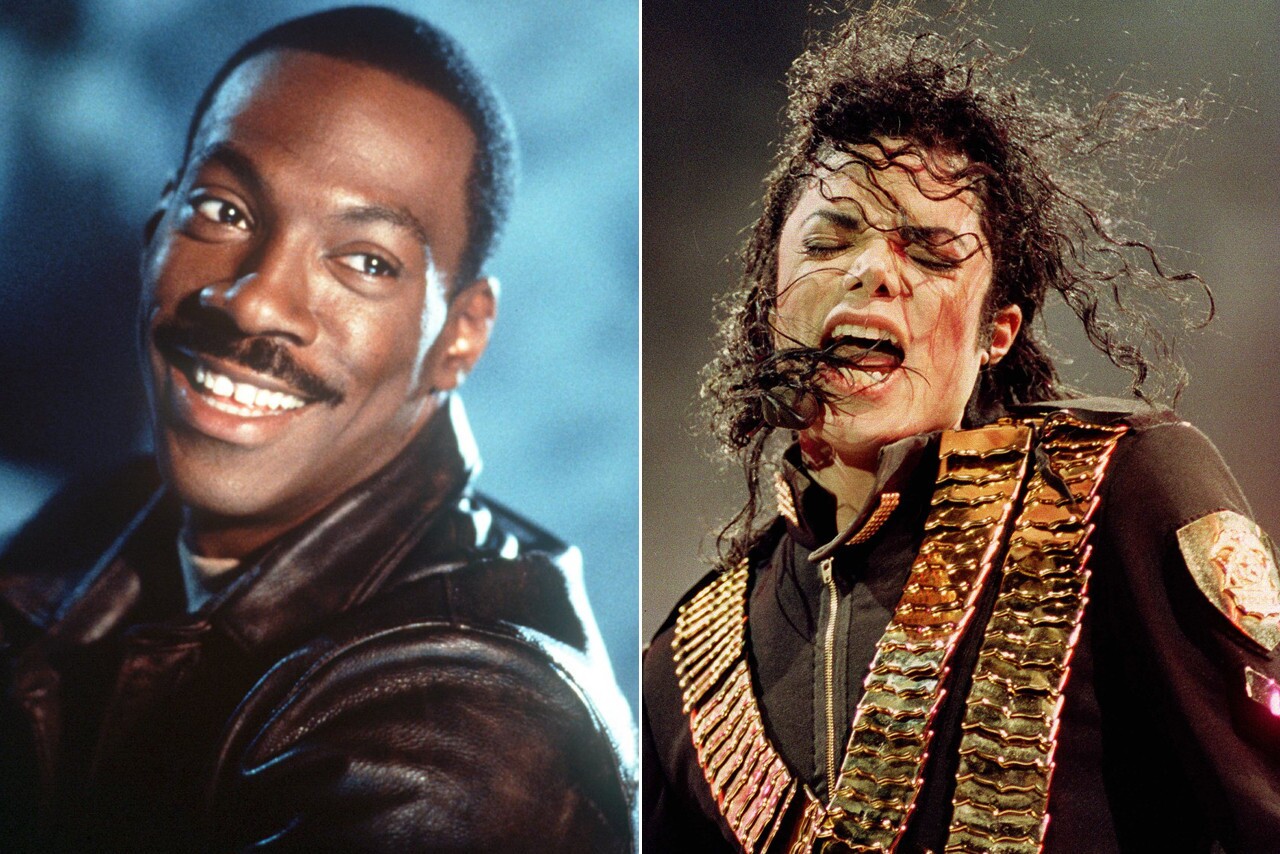 Better known for cracking jokes, Eddie Murphy did have golden moments as a musician, including a collab with the "King of Pop." His '90s single "Whatzupwithyou" features Michael Jackson during the height of his career and a psychedelic music video -- peace symbols, clouds, the works.
(Bruce W. Talamon / Associated Press)
Los Angeles Times Pop Music Critic
Few musical pleasures are as satisfying as an eloquent artist with a sharpened pen and bitter tongue delivering perfectly pitched poison -- especially if the songwriter name-checks Disco-Tex and His Sex-O-Lettes and cites soldiers "playing their Doors records and pretending to be stoned." It doesn't hurt if the band propelling these darts is the Roots.
Bitterness and Elvis Costello, how sweet the sound. On "Wise Up Ghost," the musician's powerful new collaboration with the hip-hop group (and "Late Night With Jimmy Fallon" backing band), the artist offers a dozen songs that tackle war, peace, dishonor, disappointment and strife. A record that pops with urgency, it's a journey into the world of big-picture alienation, one that highlights the little lives trying to survive amid the chaos.
PHOTOS: Best albums of 2012 | Randall Roberts
Costello has long been an expert at searing singalong indictments, but he's seldom been prone to violence. From the first to the last, though, Costello delivers songs that suggest a writer with damage on his mind. He plants a grenade in the hand of a bride in "(She Might Be a) Grenade." In "Cinco Minutos Con Vos," he and guest vocalist La Mirasoul of La Santa Cecilia sing of sirens that wail and bullets that hail, of drones and "triangle tears." "Viceroy's Row" describes a man who "made a fortune out of barbed wire / In the last days of the empire."
The structure from which Costello hurls his indictments is equally fortified. Filled with melodic and lyrical quotes from other Costello songs, the artist and band plant enough Easter eggs to excite the most avid fan. "Stick Out Your Tongue" is kin to his gem "Pills & Soap." "Tripwire" sees the band harnessing the melody from Costello's "Satellite" in service of a new work about war: "Torn from the pages of history / Repeated again and again and again / You're either for or against us / And that is how the hatred begins." The heavy snare sound that kicks off "Walk Us Uptown" pops throughout the album; washes of strings and horns dot songs with Stax-like urgency.
"Gather some stones and make them atone," sings Costello on "Come the Meantimes," a line that captures the essence of "Wise Up Ghost." A heavy work both thematically and musically, it shows one of the great songwriters of the last three-plus decades at yet another artistic peak. If you've ever fallen in love with a Costello record, be prepared for a new obsession.
ALSO:
Listen to R. Kelly's new single 'Genius'
Fiona Apple covers Willy Wonka in striking new Chipotle clip
Daft Punk, Pharrell groove in new 'Lose Yourself to Dance' video
Twitter: @liledit
---
Your essential guide to the arts in L.A.
Get Carolina A. Miranda's weekly newsletter for what's happening, plus openings, critics' picks and more.
You may occasionally receive promotional content from the Los Angeles Times.