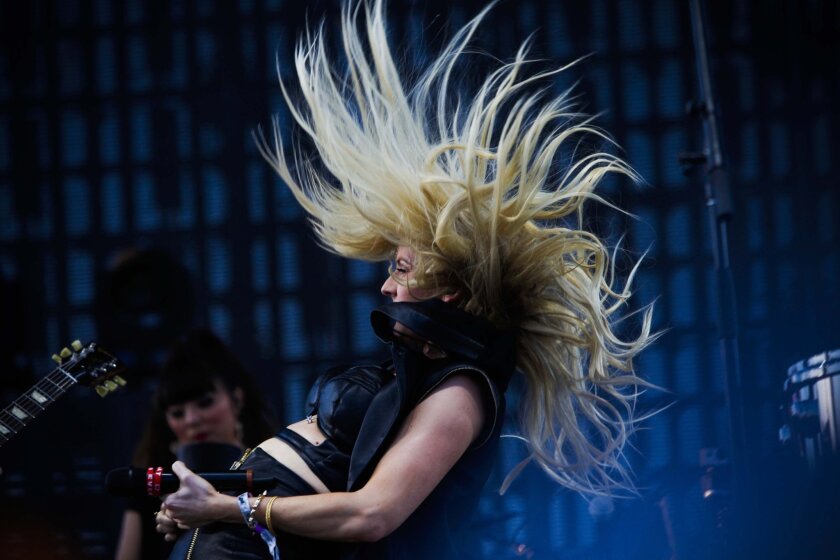 Opening day of the Coachella Valley Music and Arts Festival is history, so all of those second-weekend pass holders know what to expect -- and can plan accordingly.
With acts like Muse, Skrillex, MGMT, Lorde and Pharrell Williams among some of Saturday's can't-miss sets, here are five things we learned from Day One.
1. OutKast has a lot of work to do. Massive expectations aside, the long-awaited reunion of hip-hop's most beloved duo fell short Friday. It's understandable that the first show after a several-year hiatus would have some kinks, especially in a festival setting when stage turnaround is lightning speed compared with an arena tour. But the Atlanta duo's big set was rusty and, at times, uncomfortably sloppy.
PHOTOS: Coachella Day 1 | Day 2
Technical problems ran throughout the 90-minute set. The set time was moved up 25 minutes, which only meant the massive crowd got to watch the production crew struggle to prepare the stage (it featured a giant cube wrapped in a sheer, see-through screen in front of a big video screen). The sound was often garbled, keeping OutKast's opening tune "B.O.B." from being the explosive headbanger it should have been, and it appeared to frustrate Andre 3000, who repeatedly complained about his in-ear monitors. And more than once songs came to jarring halts. But those loose ends should be tightened before the second weekend. What's of more concern is the duo's apparent lack of cohesion.
There were some glorious moments, but Big Boi appeared to be doing most of the heavy lifting and kept his fire blazing during a lengthy solo set. Andre 3000, however, didn't seem to fully connect. Even chalking it up to technical difficulties, something felt painfully off. The audience certainly felt it, and a swarm of underwhelmed fans made their exodus before the sweaty climax, "Hey Ya!" "I know it's kind of weird," Andre said when the show came to an abrupt stop, having gone over curfew. But things had been weird for a while.
2. Ellie Goulding rules. If ever the British singer chooses to make a bid for pop queen status, her early evening set Friday should be among the supporting evidence. Her glittery, dreamy pop -- anchored by her sweeping, soulful voice -- commanded the crowd, and she had an enormous audience to keep happy given that she was the mainstage's first big draw of the day.
Backed by a seven-piece band and sporting a dramatic and sexy black leather ensemble, Goulding put in work to keep the crowd bouncing throughout a 50-minute set. Three years ago, Goulding was a sweat-soaked bubble of raw energy at Coachella. Having logged a string of top 40 hits and becoming further sharpened by time on the road, including opening for Bruno Mars last year, her second time around enabled her to show off all she's learned. When she unleashed her euphoric smash "Anything Could Happen" nearly halfway through her set the dance party began, and it never stopped.
3. Don't underestimate Girl Talk. While electronic stalwarts like the Glitch Mob, Martin Garrix and Zedd led late-night ravers to ecstasy under the Sahara tent, things were getting truly weird on the mainstage with Girl Talk. The mash-up savant offered a set crammed with pounding beats and raucous energy. Songs like Tag Team's "Whoomp, There It Is," Marilyn Manson's "Beautiful People" and Kanye West's "Black Skinhead" darted out over the crowd in ways so head-scratchingly unexpected, the set could only be considered brilliant. The stage looked like a drunken mess of a drug-fueled house party, and amid the chaos, emcees such as Too Short, Juicy J and Busta Rhymes emerged to spit bars. Listeners didn't have a moment to catch their breath.
4. Come early – or late. Arriving at the festival grounds can be stressful. The heat is blistering, the traffic brutal. But having to make multiple trips into the gates on Day One taught us this: Arrive very early or head in after nightfall. The influx of people started in the early afternoon and continued to pour in steadily. But there seemed to be a rush hour right as the temperatures peaked. Cars were bumper to bumper around the gates, and the lines to get in were rough. Those wanting to beat the heat and the mess on the roads should wait until sundown when things are calmer.
PHOTOS: All of Coachella's past headliners
5. A car tracking app is a lifesaver. The least favorite part of the festival experience? Locating the car at the end of the night. After gorging on bands for a dozen hours, the end-of-the-night walk through the parking lots can quickly become a nightmarish maze. This year I decided to test out one of those car-locating smartphone apps (there are plenty out there, but we recommend Find My Car), and it became utterly essential. As folks darted in and out of the lot holding their key fobs into the air hoping they were getting warmer, I looked at my iPhone as the map guided me closer to my car. And the less time I had to walk, the less time I could spend griping about OutKast's set.
ALSO:
Coachella 2014: 10 rising acts you should know now
Coachella 2014: Fest to now offer fancy four-course meals
---