Drake, producers battling over 'Homecoming' film days before release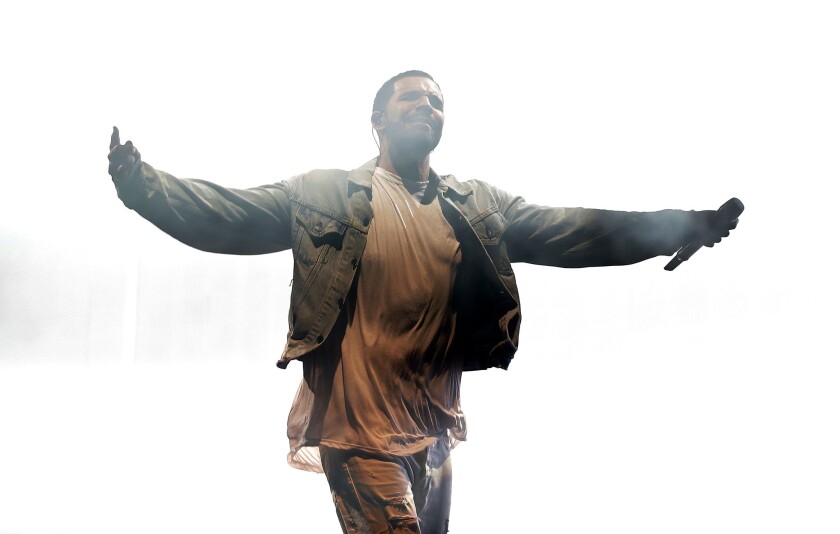 Days before a new Drake concert film hits theaters, producers are considering pursuing legal action against the rapper after he not only distanced himself from the project but is publicly labeling its release as "unauthorized."
While Drake's rise from fledgling artist and successful teen star to one of the biggest rappers on the planet has already been well-documented, "Drake's Homecoming: The Lost Footage" -- which comes to nearly 350 theaters on Thursday for a one-night engagement courtesy of Fathom Events -- promises fans a deeper look into the Canadian rapper-singer's ascent.
Built around a 2009 concert from a then-22-year-old Drake at Toronto's Sound Academy, the film boasts footage "previously believed lost and destroyed."
Early Monday morning, however, Drake himself had some different words about it.
"The Drake Homecoming film is not something OVO or Drake have any part in. I feel it is my responsibility to inform and protect my fans," the rapper told his more than 21 million Twitter followers.
"Obviously Drake and OVO only put out music and video/film that is of the highest quality for their brand and what their fans have come to expect, and do not want any fans to buy into something that has not come from them," a representative for Drake added in a statement to The Times.
The film's producers are strongly countering those claims.
Mark Berry, the chairman of Attack Media who is also listed as a co-executive producer for the film, said the matter comes down to money and Drake walking away from a commitment.
"I think he thought nothing was going to happen with the film," he said. "It's an issue of someone not honoring a contractual commitment to another person."
Berry said Drake had ample opportunity to either come aboard the project he originally agreed to -- or purchase the footage.
Back in February of 2009, Drake (real name Aubrey Graham) signed a deal with Serious Entertainment, the promoters of the Homecoming concert.
In his contract, which was obtained by The Times, the rapper agreed to the concert's filming and was paid a $15,000 cash fee and promised a 15% profit royalty for his participation in the project.
Just a month after that May 2009 concert, Drake signed to Young Money, a subsidary of Cash Money, and became a major rap star.
Since the 2009 deal, Berry said Serious Entertainment has approached Drake and his label, Cash Money, on multiple occasions to see if he wanted to purchase back the footage, but both declined.
Serious Entertainment eventually partnered with Attack Media Group and James Prince's Rap-A-Lot Records for a separate DVD and audio deal. And after seeing the footage from the Drake concert, they started work on obtaining a deal to bring it to theaters.
"There was no participation [from] Drake in the deals, because frankly he wasn't needed," said Berry. "Did we want him on board for it? Absolutely. But he just wasn't coming to the table, for whatever reason."
Further footage was added to the film, including interviews with Rap-A-Lot chief executive Prince and his son Jas Prince, the latter of whom is credited with discovering Drake and bringing him to Lil Wayne.
"When I first listened to Drake, I had no idea he was on a hit show," the younger Prince said in the original release, referring to the performer's role in "Degrassi: The Next Generation." "I just fell in love with his sound and talent. It was unique and like nothing I had ever heard before. I told him during our first conversation I would make him a star. This film documents the beginning of that journey."
Drake has known about plans to bring the film to theaters since November and even approved an early trailer, according to Berry.
Two months ago, Prince came to L.A. to go over licenses for the concert film, Berry said, and Drake issued a counter offer that would not cover all the media rights. "He came back with a DVD deal," he said.
As for Drake distancing himself from the film, Berry believes it's strictly a financial move. "Fifteen percent back when he was nobody ... and [$15,000] handed to him in a paper bag, that's a lot," he said. "[But] I think he wants a higher percentage of the movie."
Also adding to the drama of the film's release is ongoing tension between Jas Prince and Young Money distributor Cash Money.
Earlier this year Wayne, who has been embroiled since December in a rift of his own, hit his longtime label Cash Money with a $51-million suit over his delayed album "Tha Carter V." Wayne also alleged the label failed to pay for overhead costs for Young Money (a subsidiary of Cash Money) and neglected to file royalty reports for Drake.
Back in 2012, Jas Prince had brought a suit against Drake's management team, claiming he was entitled to profits for discovering the rapper and after Wayne filed suit he reportedly filed a new suit over unpaid royalties.
In the film's trailer, he shares his recollection of bringing Drake to Wayne -- and it's the complete opposite of the longstanding lore that Wayne was impressed with the Canadian performer and wanted him as a flagship artist.
"Wayne told me he sucked," Prince revealed in the clip. "He was like, 'Jas, you know, don't play me that ... no more, he's not good.'"
Berry said he doesn't believe Wayne's ongoing dispute has anything to do with Drake backing away from the project. "It doesn't make sense. [Jas and James Prince] are in his backyard on the Cash Money scenario," he said. "They have his back."
Fathom Events declined to comment on the matter, but Attack Media Group told The Times that Drake's lack of support has yet to result in blowback from fans or theater chains slated to carry the film (AMC, Regal and Cinemark are among the Los Angeles area theaters showing the film on Thursday).
"From what we've seen, a lot of fans think it's a ridiculous scenario that he's not a part of a movie that he's performing in," Berry said.
"Not that he had to promote or market the movie; he could have kept his mouth shut," Berry continued. "We've gotten more mileage with him sending out that tweet than anything."
And there's still an unresolved matter.
In the contract, Drake agreed that if the May 2009 concert sold out, which it did, he would do another show and would be paid $5,000 -- a paltry amount in comparison to the more than seven figures he's able to command now, as a superstar rapper.
The companies behind the film are now contemplating hitting Drake with a libel suit to the tune of $15 million.
"We can drag him into a stadium tomorrow if we wanted to," Berry added. "Personally, I think he should honor his commitments. Even if he does a show and the proceeds go to charity, doesn't matter to us.
"Bottom line is, you signed a contract," he continued. "You got to honor it."
For more music news follow me on Twitter: @gerrickkennedy
---
The complete guide to home viewing
Get Screen Gab for weekly recommendations, analysis, interviews and irreverent discussion of the TV and streaming movies everyone's talking about.
You may occasionally receive promotional content from the Los Angeles Times.