The best place to hear music? Cruising in the car, speakers booming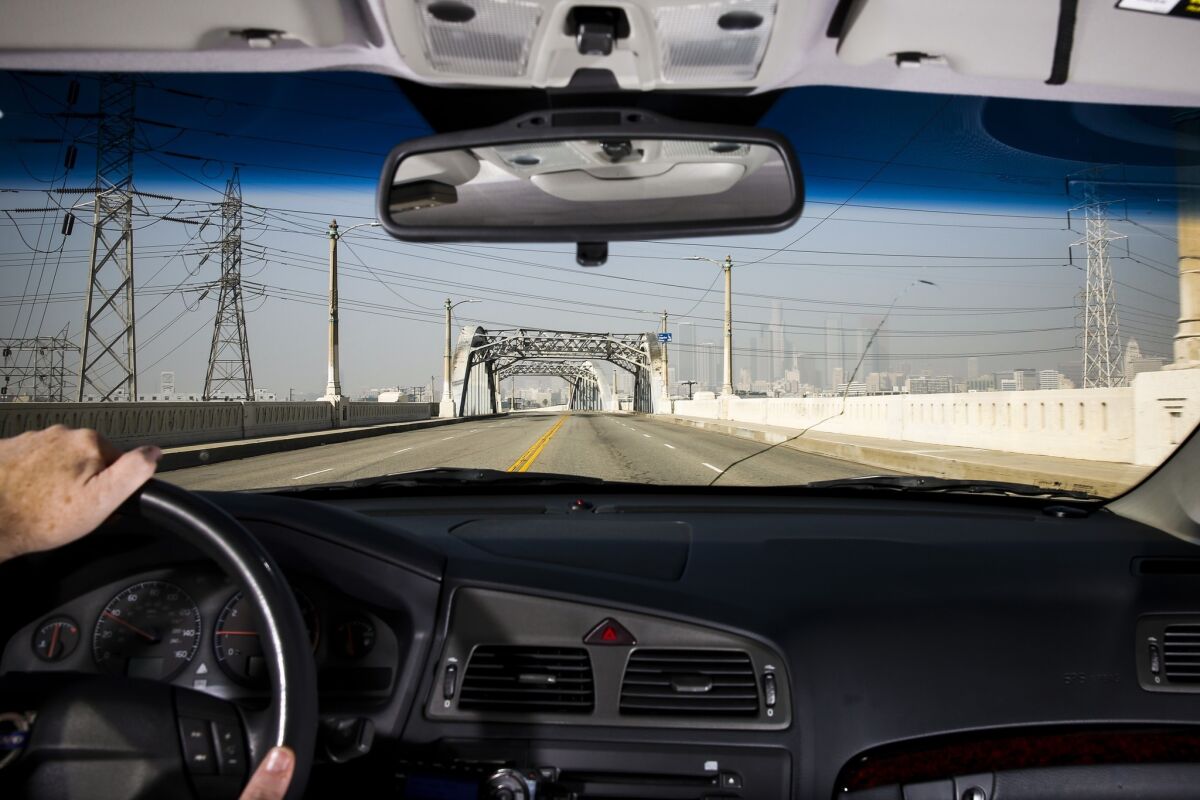 Dusk had settled on virtual Los Angeles, and I'd just hit a few pedestrians and smashed my stolen roadster near City Hall. The sound of police sirens was getting closer, and the nearest vehicle was an idling delivery truck. I pulled the driver out, kicked him a few times and jumped in the front seat. As I sped off, the car radio started playing.
Bingo! Charlie Feathers' grim country weeper "I Can't Hardly Stand It" poured forth. All was well in the realm of Los Santos, the fake L.A. setting of "Grand Theft Auto V." A city that players cruise while embarking on missions, stealing cars and causing general mayhem, Los Santos is a vividly — and darkly — crafted place.
Feathers' obscure gem rang as I headed toward the 6th Street Bridge, running lights and sideswiping lesser autos — I'm a novice, and certainly no gamer — while the rockabilly warbler strummed and sang about the sun going down and his love not being around.
INTERACTIVE: Discover songs of L.A.
The faux frequency was tuned to Rebel Radio, which features artists including Hasil Adkins, Hank Thompson and Johnny Cash. With a flip of the controller, a whole curated catalog of stations delivered DJs including Big Boy of L.A. rap station Power 106, actress Pam Grier, beat producer Flying Lotus, indie rockers Wavves and Keith Morris, former screamer for Black Flag and the Circle Jerks.
When it was released two months ago, "Grand Theft Auto V" locked in nearly $1 billion in its first three days to become the fastest-selling entertainment product in history.
Still, even as earbuds, Bluetooth-enabled systems and Beats by Dre headphones continue to infiltrate our lives, few are the songs about listening to your iPhone in the subway or doing Pilates while rocking the Cure.
Actually, as a professional listener, I find the car stereo is my sanctuary, my retreat, (mostly) my domain. It's my favorite way to hear new music — the claustrophobia of headphones be damned — and where I receive some of my least interrupted melodic messages. At home in my office I can listen as loud as I want, yes, but my wife, though tolerant, can't be expected to endure all my obsessions. In the car I can boom, scream and (ahem) rap without fear of ridicule or repercussions.
PHOTOS: 2013's year of controversial rap lyrics
I flip through the ever revolving pile of CDs in my back seat, checking out fresh sounds while stuck in traffic; scan the FM dial from KCRW (89.9) to Power 106 with no particular place to go; jump to SiriusXM for a few hundred other options or plug in the smartphone for my iTunes catalog and 15 million streamed songs.
First popularized in America by the Galvin Manufacturing Corp. in 1930, the earliest road models could fit into any car. So successful was the idea that the company survives. It evolved into the Google-owned Motorola, maker of smartphones you can listen to in your car.
Whatever the source, that magical convergence, music and driving, continues to define L.A. As we journey on freeways in what Joan Didion called "the only secular communion Los Angeles has," the stereo offers energy, solace, escape. Out there engines mix with car horns and motorcycles, but in the music zone, while you're stuck in traffic and working to remain Zen, sounds arrive uninterrupted.
No wonder some of music's greatest minds don't consider a mix complete until it passes the "car test": a roll around town with the recording cranked on the stereo. If it doesn't sound good there, something needs fixing.
For a time, Didion traveled to her reporting gigs from behind the wheel of a yellow Corvette. I'd like to believe that she chose the model in part because of its banging sound system.
I know I did when I recently went car shopping. I kept coming back to one old Lexus coupe in part because of the high-grade Mark Levinson system. When test-driving it, I carried two CDs: one that coupled DJ Rashad's new Chicago footwork album "Double Cup" with Houston rapper Maxo Kream's syrupy mix "Quicc Strikes," and a burn of Kanye West's "Yeezus." I'm one of those who, when learning that the used '08 was Bluetooth-enabled and featured a cassette deck, considered it a major selling point.
Lyrical cruising
As we ride, we sing along to lyrics about cruising, characters in a narrative written by songwriting (and car-owning) comrades. Within these lines are hidden histories that combined offer a sun-drenched snapshot of lives on the road.
The yowls of joy that dot Thee Midniters' otherwise instrumental ode to East L.A., "Whittier Boulevard", capture with hellbent distortion the sensation of racing the thoroughfare circa 1965. Across town, when the Beach Boys' Mike Love reminisces in "All Summer Long" about the just-ended season, he does so while idling in a car in front of his girl's house, as if to cool down after months spent in overdrive.
Randy Newman's "I Love L.A." tour of the town via 6th Street and Century, Victory and Santa Monica boulevards celebrates both the Valley and the basin with wry affection; the whole of Tom Petty's "Free Fallin'" feels to me like one seamless glide down Ventura Boulevard with the moon roof open and a miraculous run of green lights. Is there any better time to enjoy car music, after all, than when snarl gives way to wide open lanes?
Perhaps. Ice Cube's best 24 hours in "It Was a Good Day" involves, among other things, a Chevy Impala, Fatburger and sex, not a bad combo. Northern England-born Bryan Ferry in "Can't Let Go" was apparently living large in Bel-Air when he wrote in 1978 that "it's a winding road from Cuesta Way down Sunset to the beach."
What all share is an unspoken agreement: Good things await when you're behind the wheel in this town. Either a back-seat party is happening, a memorable night somewhere on Sunset is on the horizon or the ocean is beckoning.
The gist of Miley Cyrus' "Party in the U.S.A." involves riding from LAX to Hollywood listening to Jay Z and Britney Spears and imagining the sparkle that awaits her. Rapper Kendrick Lamar's breakout jam "The Art of Peer Pressure" sets him in a lower tax bracket: within a Toyota on Rosecrans in Compton "bumping Jeezy's first album, looking distracted." (For his part, Jimmy Webb once wrote that "Every time I drive my car past Rosecrans Boulevard/I wonder why I did it.")
RELATED: Best albums of 2013 so far | Randall Roberts
As a stereo hog, I would suggest Lamar eject Young Jeezy and pop in Earl Sweatshirt, more evidence that I'm mostly unbearable on road trips. For example, terrestrial radio mostly bugs me because, well, I'm a better DJ. Still, in open moods Los Angeles radio can offer its share of adventure.
DJ Fuze and Felli Fel's live mixes on Power 106 capture the vibe, as do KXLU's raw independent spirit and Henry Rollins', Anne Litt's and Garth Trinidad's surprising sets on KCRW. With few exceptions, commercial radio is seldom heard in my car. For my regular Top 40 fixes I rely on SiriusXM's pop channels (sans Ryan Seacrest).
Teen weekends
My car radio days began like most other non-New Yorkers: as a teen in friends' cars. I grew up in Southern Illinois and spent teenage weekends cruising in and around rural routes listening to Buzzcocks and Can cassettes in the back of my friend's vintage 1963 Chevy Nova. In summers we drove to a bluff that offered the clearest signal of the only St. Louis punk and new wave radio show, set up camp around the car stereos and absorbed the teachings of New Order, Black Flag and X-Ray Spex.
Little Richard finally made sense when smoking a first joint in the passenger side of my California cousin's Audi. Driving empty country roads, "The Girl Can't Help It" and its banging piano exploded with ferocity. I was high three times over on weed, the road and a Georgia genius.
Once-frequent road trips to Chicago were gauged by the number of mixtapes the journey took. Moving west as Radiohead's "In Rainbows" upended the industry in 2007, I can remember exactly how I first heard it: from downloaded MP3s copied onto my iPod, heading north on the PCH toward Big Sur, the Pacific on the left, sea gulls overhead and my heart lost in music.
Try capturing that in a video game.
REVIEW: Stubborn sexism, violence ruin 'Grand Theft Auto V' game play
Still, "Grand Theft Auto V" does a fine job with its programmed stations, mostly superior to — if way more limited than — the true FM radio dial. Kenny Loggins, for example, hosts a classic rock-heavy station. A pop hub features Fergie, Robyn, Rihanna, the Pet Shop Boys (whose "West End Girls" plays on a loop in a strip club). There are stations dedicated to old and new hip-hop, classic and fresh punk. Jazz or classical music? Don't be ridiculous.
The biggest difference? L.A. radio is heavy on Spanish-language programming, "GTA V" limits the dial to one scant station. At least it's a good one, curated by Mexican producer and record exec Camilo Lara.
"GTA V's" soundtrack supervisor, Rockstar Games' Ivan Pavlovich, has said that the music was crafted for the region. "What was important to us was that we capture that feeling of L.A. and California," he told Rolling Stone and added that he considers Vineland Boulevard Radio, hosted and curated by Wavves, to be "the embodiment of the young Los Angeles rock scene."
Combined, the game's 15 stations (including two talk radio options) offer a playlist containing 240 licensed songs, along with original music by Tangerine Dream, Woody Jackson and the hip-hop team of the Alchemist and Oh No. This work is as moody and menacing as the accompanying visuals.
Architecture writer (and Englishman) Reyner Banham once described the sensation of driving in L.A. traffic as causing "a state of heightened awareness that some locals find mystical." He wasn't referring to music, but the two experiences do share that lose-yourself-in-the-flow feeling of merging into fluid, evolving systems, of being a single note in a complicated arrangement that contains its own energy and personality.
Of course, it could be that they intersect for another reason. The soul-deadening, antisocial drudgery of the solo drive requires salve or diversion lest existential dread take hold. Drinking, texting or talking, doing yoga or having sex during a commute are either illegal or ill-advised. Barring the arrival of driverless cars or some Elon Musk innovation, how else are we supposed to survive?
My solution of late: dip into the pile, whether real or virtual, until you find something fresh, like "Hit Da Pavement," the new jam from Snoop Dogg (as Snoopzilla) and Dam-Funk. Two Angelenos whose new, road-rumbling "7 Days of Funk" album delivers Cadillac-sized bounce, the pair urge listeners toward the street with every measure.
Open the sunroof, take a few breaths until you get into the zone — and crank up the volume.
---
Get our L.A. Goes Out newsletter, with the week's best events, to help you explore and experience our city.
You may occasionally receive promotional content from the Los Angeles Times.