Residents clash over proposed expansion of the Church on York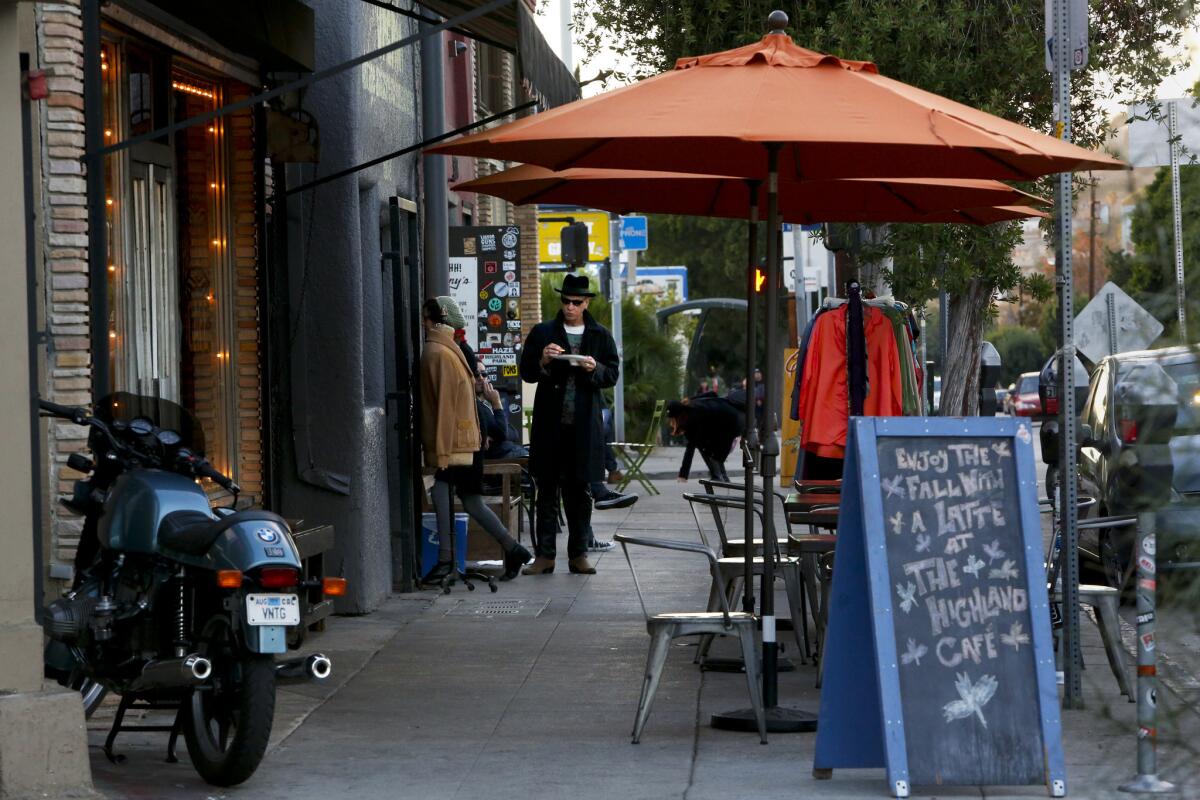 The operator of the Church on York, a budding Highland Park music and entertainment venue, went before the Los Angeles Department of City Planning on Wednesday to argue that the space needs a liquor license and a full designation as a restaurant/bar to survive. Young publicist-turned-entrepreneur Graeme Flegenheimer is seeking to transform the former church into a multi-use performance spot that would also serve beer and wine and hold a small on-site restaurant.
Nearby businesses and local musicians spoke out in favor of the venue's plans, hailing Church on York as a much-needed arts and performance space in the neighborhood. Many who live near the venue, however, expressed concern about drunkenness and traffic on a fast-transforming stretch of York Boulevard.
The Church on York, on the corner of York and Avenue 49, has been hosting indie rock-focused events since September, shortly after Flegenheimer started leasing and renovating the two-story, 7,383-square-foot space. In making his appeal before associate zoning administrator Fernando Tovar, Flegenheimer pledged his intentions to better soundproof the venue and secure parking spaces with nearby lots.
INTERACTIVE: Times music staff best of 2013 list
Additionally, Flegenheimer repeatedly stressed that the venue did more than just host concerts. On Tuesday, for instance, the Church on York held a free afternoon music class for teens, was used as a recording studio for a local band and later in the evening accommodated an Alcoholics Anonymous meeting. Past programming has included comedy events, and the 22-year-old Flegenheimer spoke optimistically about future film screenings and theatrical productions.
One man who spoke at the hearing said the Church on York was the most affordable and suitable venue near his home to host a ballet-themed party for his daughter, and an Eagle Rock resident said that his 13-year-old daughter had been receiving after-school music lessons at the space from "one of her idols." Maroon 5 members Mickey Madden and James Valentine, early supporters of the venue, are among those who have been teaching the lessons.
The Church on York is less a concert venue and more akin to an "art gallery," said Highland Park musician Miles Seaton, who has worked with indie folk-rock group the Akron/Family and has appeared as a solo artist at the space.
"It's a problem to keep referring to this place as being in league with the other bars that are on York," Seaton said. "There's a very different focus on this place. It's not going to be on drinking. It's going to be on performing arts. Having to travel around the world and play a lot of places, I can say that I'm always hoping there's a mixed-use thing that has stand-up comedy and serves the community."
PHOTOS: Musician feuds: The dirt and the detials
The Church on York is the "first space" in Los Angeles that transplant Angel Deradoorian, best-known for her work in the experimental New York outfit the Dirty Projectors, says she has felt a connection with. Deradoorian, who relocated to L.A. a couple years ago, lives in Echo Park.
"I think this is a really great opportunity for the community," she said. "The space is going to be open during the day, and a lot of other projects can be coming in and trying out new things in the community that may not have been able to flourish before."
But not all in the neighborhood are buying it.
One woman, who said she lives a block and a half from the Church on York and asked after the hearing that her name not to be published, as she said she did not want to be seen as getting into a fight with local businesses, said she has amassed the signatures of 56 people opposed to a concert venue in the neighborhood. She said that there are 13 liquor licenses from Eagle Rock Boulevard to Avenue 53 and that that area of Highland Park, being a residential neighborhood, cannot support any more night-life establishments.
"I'm an art teacher," she said, "and I'm in support of a cultural art center in our community. There would be nothing better than to have it. I don't understand why there needs to be alcohol."
GRAPHIC: Faces to watch 2014 | Entertainment
She went on to accuse Flegenheimer of "misrepresenting" his intentions, bringing up the Church on York's Facebook page, which is almost entirely dedicated to its nighttime concerts, which are ticketed events sold via Ticketfly.
Others echoed her sentiments, saying simply that the neighborhood was "not equipped" to handle a concert venue that could hold 400 to 500 people. Although Flegenheimer said that attendance had rarely topped 300 people and that he would end "amplified" concerts at 10 p.m. on weeknights and midnight on weekends, some argued that the mere influx of more people was damage enough.
A young woman who said she had studied art at UCLA and lives directly behind the Church on York argued that nighttime traffic in the area due to popular nearby nightspots such as Johnny's Bar and the Hermosillo, both within a few blocks of the Church on York, were pushing the neighborhood to the brink. She dismissed concessions by Flegenheimer to end concerts early, arguing that it would simply mean that more people would be indulging at other York Boulevard bars.
"This is a much larger group of people than the York bars are accustomed to," she said. "You're bringing in a larger population, and once the venue releases they will go to the rest of the neighborhood bars, as happens in Echo Park and Silver Lake. I understand he's proposing community events and youth events, but ... cash is key, and what will sell are events like concerts."
PHOTOS: Musicians' onstage snafus
The LAPD, while not attending, has written a letter of support for the venue, said zoning administrator Tovar. Also, the Historic Highland Park Neighborhood Council has pledged its support, said director at large Harvey Slater. However, the organization's backing is largely contingent on Flegenheimer securing some guaranteed off-site parking.
Tovar cautioned that that might be setting the venue up for long-term failure, as parking is at a premium in the neighborhood. Slater, however, still backed the venue at the hearing.
"It's important for us to protect the quality of living for people in the neighborhood as much as possible, but I don't think the applicant's intentions are to be a disruptive bar and restaurant," he said.
Tovar tabled a final decision for at least two weeks. He said he had no "serious objections to the concept" of the venue, but added that there were some complications due to its location. While there are many businesses near the venue, Tovar said his concern was the fact that it was located a few blocks from the main hub of York Boulevard's bars and cafes.
Before the hearing, Flegenheimer said that if the license application were rejected, he would stage the already scheduled concerts but that because events are currently being held with one-time use permits, the long-term success of the venue would not be sustainable.
More than 40 people who live in the blocks surrounding the Church on York have stated their support of the space in writing, said Manny Diaz of FE Design and Consulting, who recently worked with Bowery Presents on the New York promoter's plans to revitalize a theater near downtown at 1234 W. 7th St.
An additional 750 have signed an online petition, added Diaz, with 200 of those residing in the Church on York's 90042 ZIP Code.
ALSO:
Live music as a theme of downtown L.A.'s revival
'Lost' Bob Dylan lyrics make for 'New Basement Tapes' project
L.A.'s Warpaint branches out from the abstract with stepped-up spin
Get our L.A. Goes Out newsletter, with the week's best events, to help you explore and experience our city.
You may occasionally receive promotional content from the Los Angeles Times.