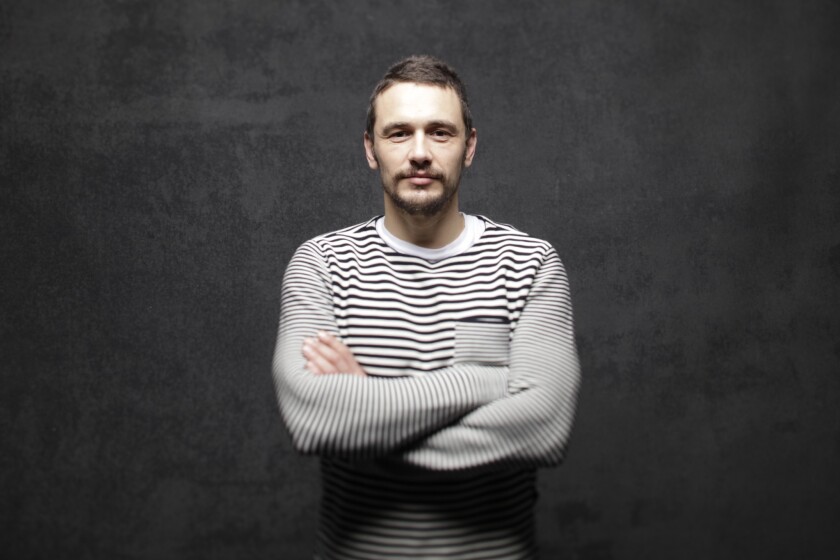 Who do you think should win the Grammy this year? Polymath actor/director/artist/etc. James Franco? High camp maestro John Waters? Recently deceased comedy diva Joan Rivers? Inspirational disco queen Gloria Gaynor? Or should the prized award go to Democratic politicians (and liberal standard-bearers) Jimmy Carter and Elizabeth Warren?
Welcome to the strange world of the spoken word category at the 57th Annual Grammy Awards.
The Recording Academy calls the annual Grammy awards the industry's "most prestigious" honors, saluting "excellence in the recording arts and science." Whether this lofty goal is actualy accomplished by the nominations and awards in the music categories is a matter for endless armchair debates. But things take a turn for the bizarre once one starts looking at the peculiar choices made year after year in the "best spoken word album" category.
How peculiar? Well, take your pick: In 1969, Rod McKuen's easy-listening concept album "Lonesome Cities" beat the Rev. Martin Luther King Jr.'s "I Have a Dream," a reissue of the famous 1963 speech, which was rush-released after his 1968 assassination. And in 1974, memorably over-the-top Irish actor Richard Harris (nominated for his reading of '70s pop-spiritual staple "Jonathan Livingston Seagull") beat John Wayne, Kurt Vonnegut Jr., Vincent Price and Billie Holiday (Holiday died in 1959, but a 1973 album of old recordings packaged as "Songs and Conversations" was deemed eligible, possibly on account of the "conversations" between takes).
In 1984, "Jane Fonda's Workout Record for Pregnancy, Birth and Recovery" and "Everything You Always Wanted to Know About Home Computers" were nominated but didn't win.
And for those who think the Recording Academy is old-fashioned in its choices, how's this for a curveball. In 1985, Henry Rollins' "Get In the Van," his spoken word account of punk life in Black Flag, beat PBS documentarian Ken Burns along with Gregory Peck (recording passages from "The Bible"[!]), Kenneth Branagh's "Hamlet" and Ben Kingsley reading "Schindler's List."
Grammy voters, like the Old Testament god, work in mysterious ways (second-guessing them is part of what music journalists and critics spend part of their valuable time doing). And the record shows that when it comes to the spoken word category, the same voters who make inexplicable choices in the music categories seem to work extra-mysteriously.
In the early years of the Grammys, from 1959 to 1967, Grammy voters favored albums recorded by literary lions like Carl Sandburg and Archibald MacLeish, revered newsmen like David Brinkley and Edward R. Murrow, and several actors renowned for vocal prowess. Price, Henry Fonda, Charles Laughton and Richard Burton were all nominated those years.
A few nominations from those early years are more curious. German Marxist playwright and poet Bertolt Brecht was nominated in 1964 (eight years after his death) for a cast album of a play based on his works. In 1962, the academy nominated sublime wit Dorothy Parker for reading an album of "her own short stories, verse and a book review" for cult jazz label Verve.
The 1968 awards were seen as a turning point for the Grammys. The academy finally recognized the youth culture revolution the Beatles had started in the early 1960s and awarded them the best album Grammy for "Sgt. Pepper's Lonely Hearts Club Band." Perhaps to even things out generationally, the spoken word Grammy that year went to 71-year-old Republican Sen. Everett Dirksen of Illinois, who had released an album and a single called "Gallant Men." (At least Dirksen beat out fellow nominee Victor Lundberg's horrendously reactionary "An Open Letter to My Teenage Son," where a father tells his son that he should burn his birth certificate along with his draft card because "from that moment on, I have no son.")
The 1970s saw nominations to the Apollo astronauts (along with Richard Nixon and JFK) for an audio documentary about the space program. Also nominated were Walter Cronkite, King (who finally won his postmortem Grammy in 1971 for "Why I Oppose the War in Vietnam) and Orson Welles. Other notable nominees included both Ray Bradbury and William Shatner in 1977 (the "Star Wars" zeitgeist might have played a role) and the brilliant but cultish British comedians Peter Cook and Dudley Moore, who won the Grammy in 1975 (the "SNL" zeitgeist, maybe).
Jim Morrison's posthumous nomination in 1980 for readings of his poetry accompanied by instrumentals by the surviving Doors opened another weird decade for the spoken word category (he lost to John Gielgud reading Shakespeare). The unpredictability continued. A year later, Pat Carroll (later best known as the voice of half-octopus sea witch Ursula in Disney's "The Little Mermaid") won for a recording of her one-woman show about modernist writer Gertrude Stein, beating "Adventures of Luke Skywalker: The Empire Strikes Back."
By the 1990s, a (slightly) clearer mission for the category began to take shape. That decade saw a bigger emphasis on recognizing big-name celebrities who had produced audiobooks about their lives and hardships. After comedians Gilda Radner and George Burns won uncontested awards in 1990 and 1991, Magic Johnson received a Grammy for the unfortunately titled "What You Can Do to Avoid AIDS" in 1993.
Bill Clinton, Hillary Rodham Clinton and Carter are all recent Grammy winners. Carter, who has become an almost perennial spoken word nominee for several audiobooks, was defeated by Christopher Reeve in 1999.
And so the strange saga of the spoken word Grammy finally arrived in the 21st century. The 2003 race presented the random spectacle of Maya Angelou (another multiple nominee) defeating actor Tim Robbins reading "The Great Gatsby," a dying Reeve and Parkinson's research spokesman Michael J. Fox and debonair Hollywood insider Robert Evans.
The 2013 nominees notably included three high-profile gay women, with '70s singer-songwriter Janis Ian winning over Ellen DeGeneres and Rachel Maddow. The 2011 and 2014 ceremonies showed wins for liberal funnymen Jon Stewart and Stephen Colbert, the latter beating fellow sophisticated comedians with blue state appeal Carol Burnett, David Sedaris and Billy Crystal.
So, will James Franco win in 2015? Whatever happens, one can be pretty sure one small defeat in the weird world of the spoken word Grammy category will not daunt him on his relentless pursuit of the coveted EGOT.
Follow me @eyecantina
---