Reporter's Notebook: Janet Jackson's 'Control' at 30: A look back
Think about the first time you heard Janet Jackson's "Control."
Were you on the dance floor of a dimly lighted nightclub? A high school dance? The record store? Listening to the radio? However you heard it, your body more than likely moved to the pulse of its frenetic, intricate beat.
And then at some point you listened to the lyrics. Really listened.
The words were impossible to ignore, by design of Jackson's aggressive assertion of independence in the song's introduction.
See more of Entertainment's top stories on Facebook >>
"This is a story about control: my control," Jackson proclaimed, her voice soft but steady. "Control of what I say. Control of what I do, and this time I'm going to do it my way."
Three decades have passed since Jackson broke out on her own and embarked on a career that would provide the blueprint for a generation of pop stars after her. And 30 years later, Jackson's influence remains omnipresent in today's pop landscape -- much of which is owed to "Control."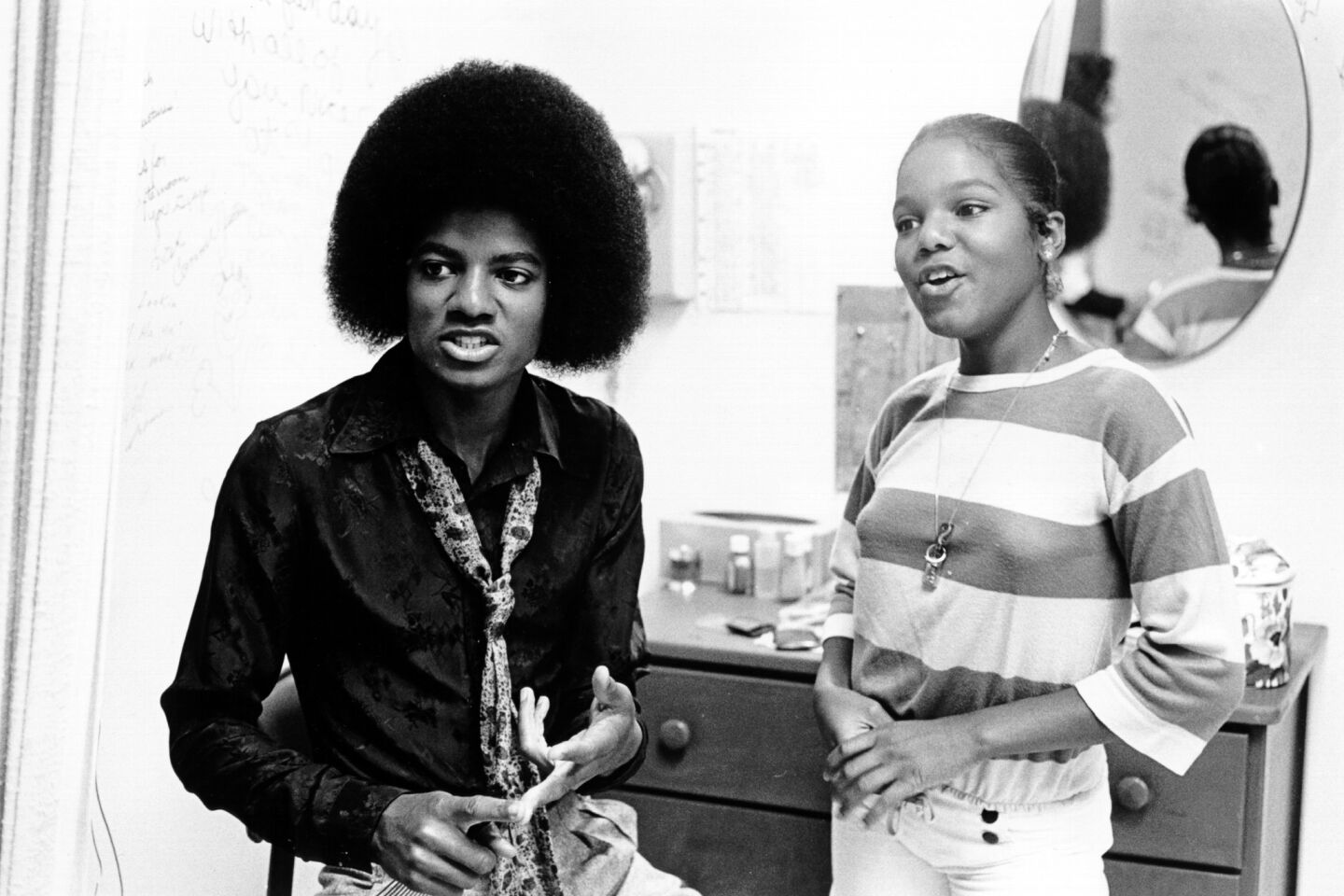 Pop singers and siblings Janet Jackson and Michael Jackson take a break during a portrait session on July 7, 1978, in Los Angeles. Janet's first album would be released in 1982.
(Michael Ochs Archives/Getty Images)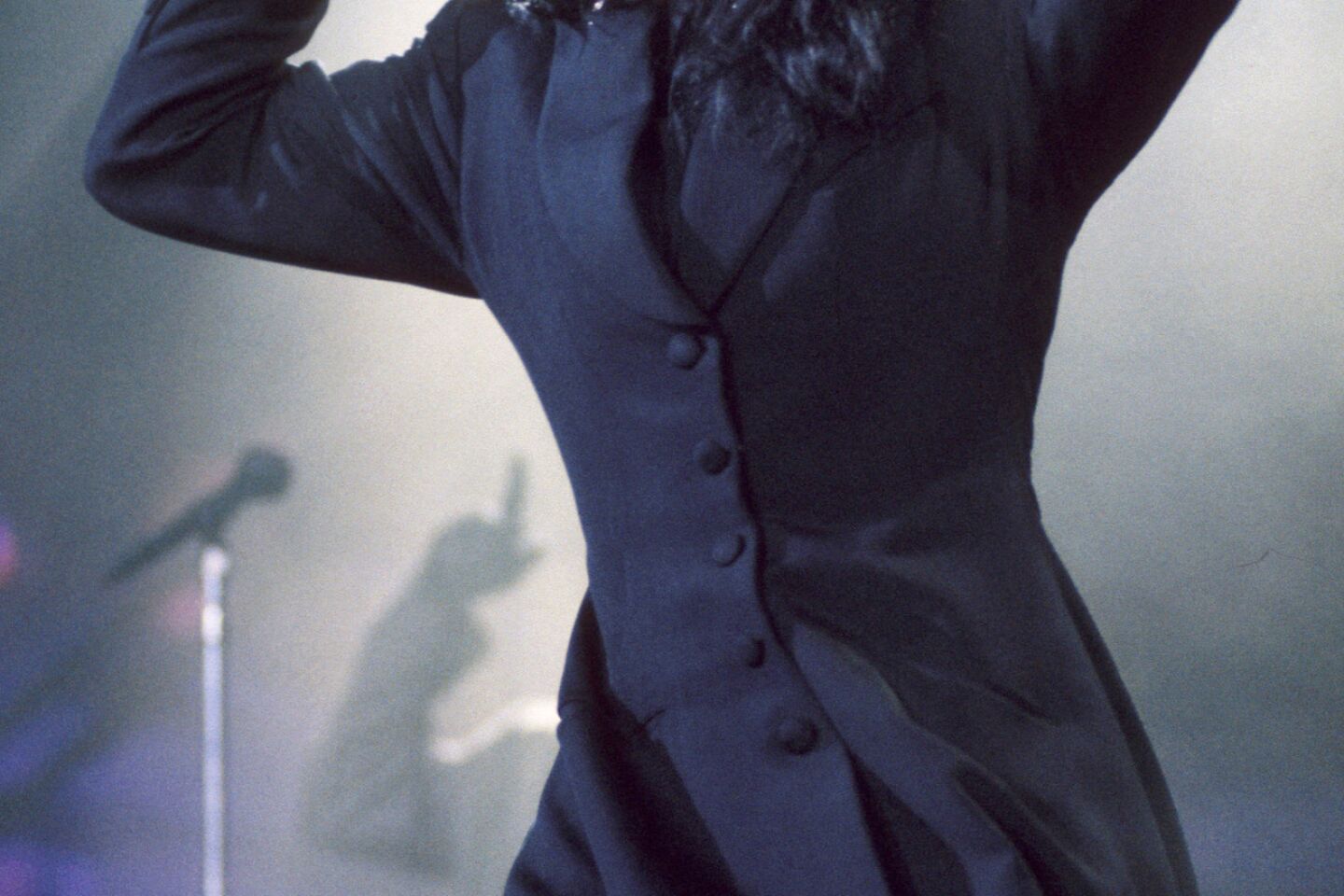 After the release of her fourth studio album, "Janet Jackson's Rhythm Nation 1814," Jackson performs in New York as part of her first headlining concert tour.
(KMazur / WireImage)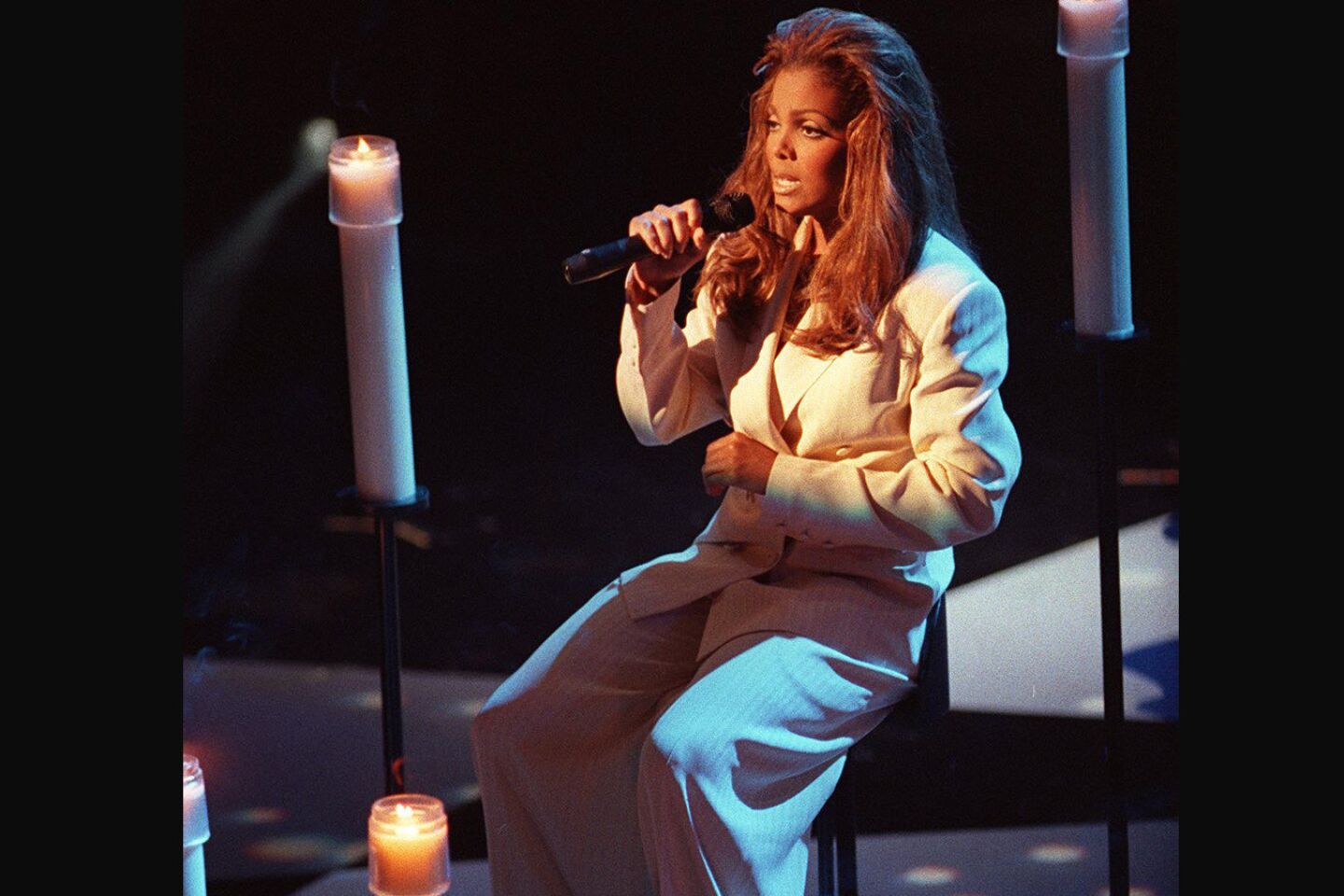 Jackson sings best original song nominee "Again," from John Singleton's film "Poetic Justice," in which she also starred.
(Meyer, Rick / Los Angeles Times)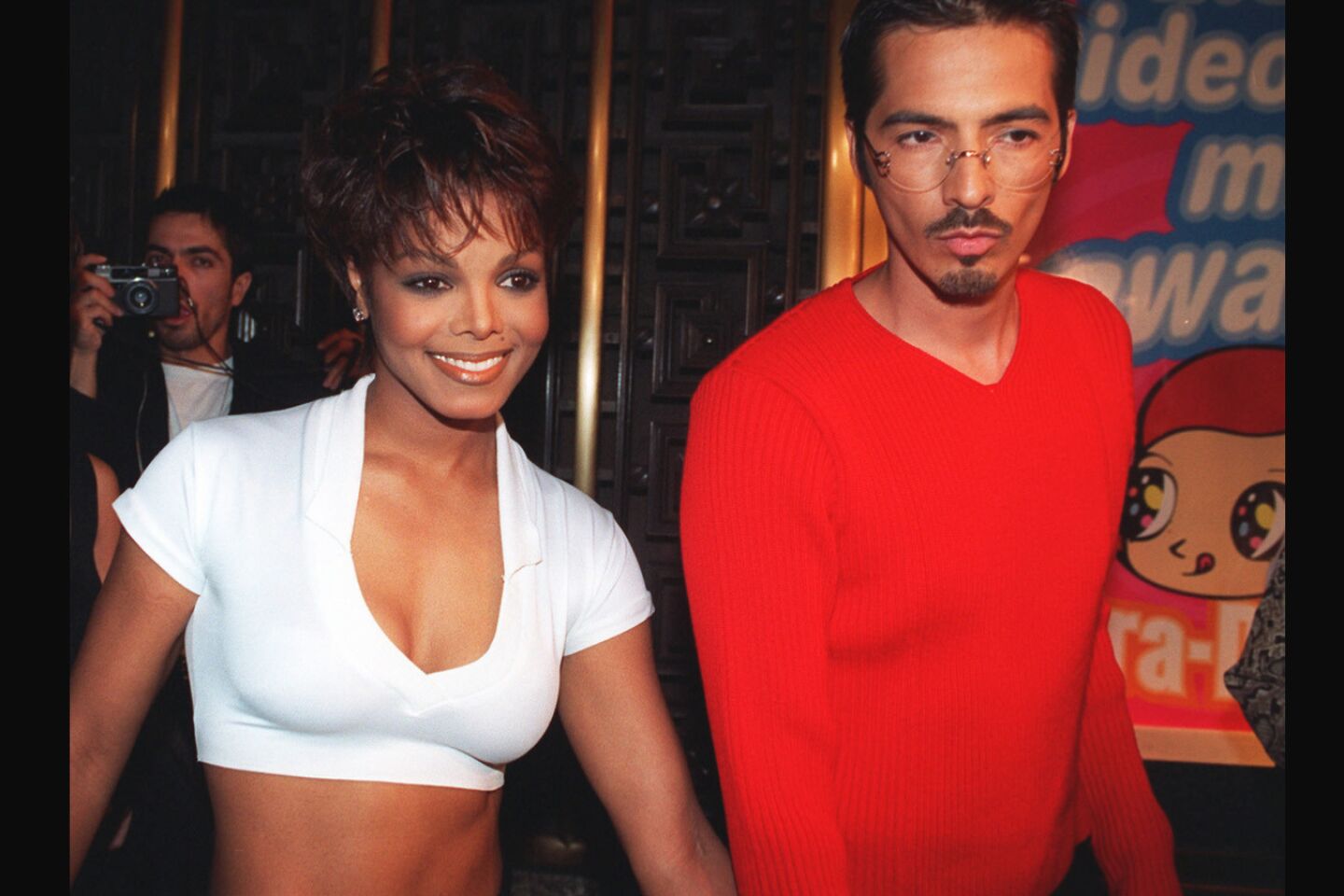 Janet Jackson and Rene Elizando arrive at Radio City Music Hall for the MTV Video Music Awards on Sept. 7, 1995. Jackson, along with brother Michael, was nominated for best video of the year for "Scream."
(Adam Nadel / AP)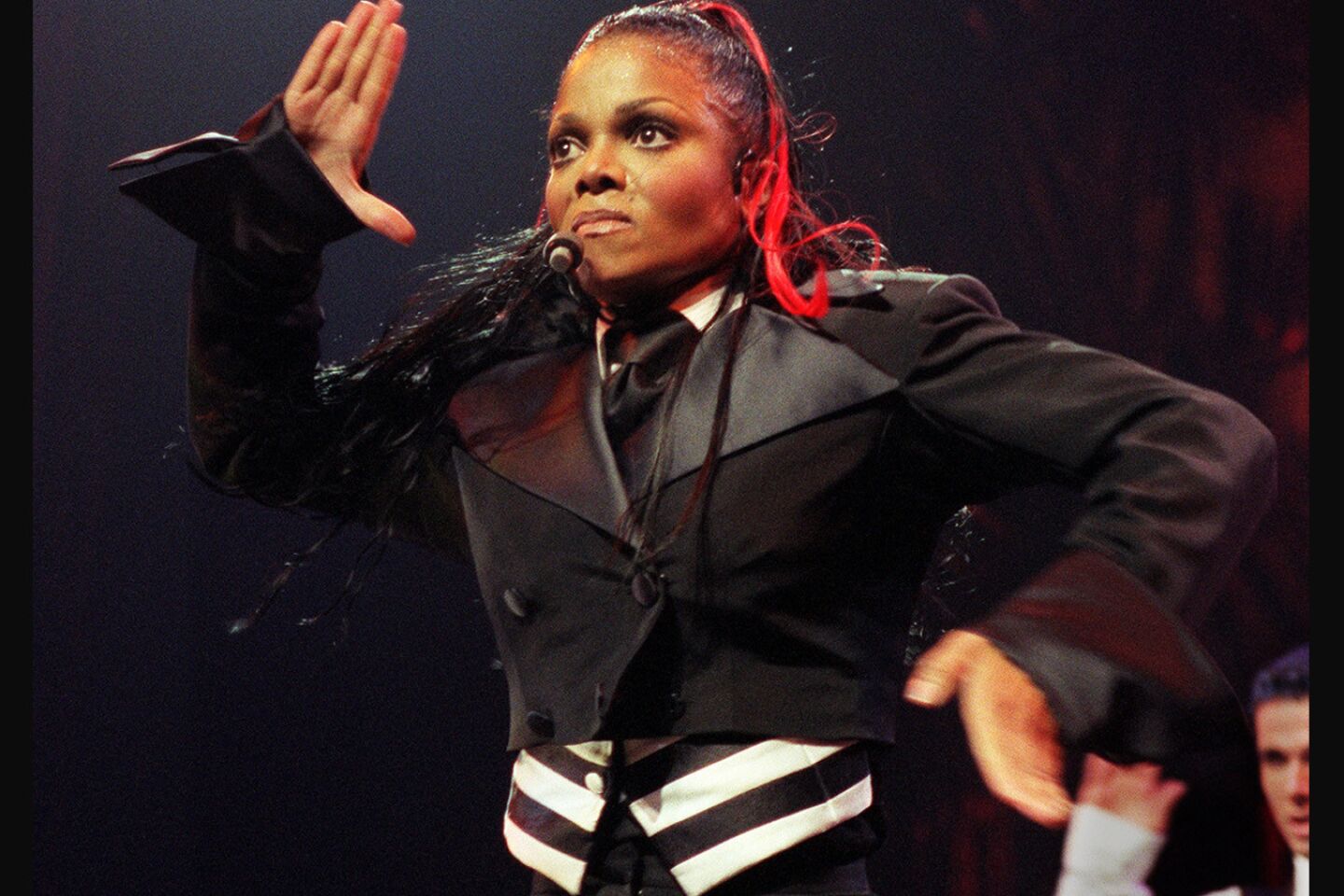 Janet Jackson in concert at the Forum on Aug 20. 1998, as part of her Velvet Rope World Tour.
(LS¥Lori Shepler / Los Angeles Times)
Jackson covers her breast after Justin Timberlake tore off part of her costume during the Super Bowl halftime show. Despite public apologies, her career suffered after the incident.
(Andy Lyons / Getty Images)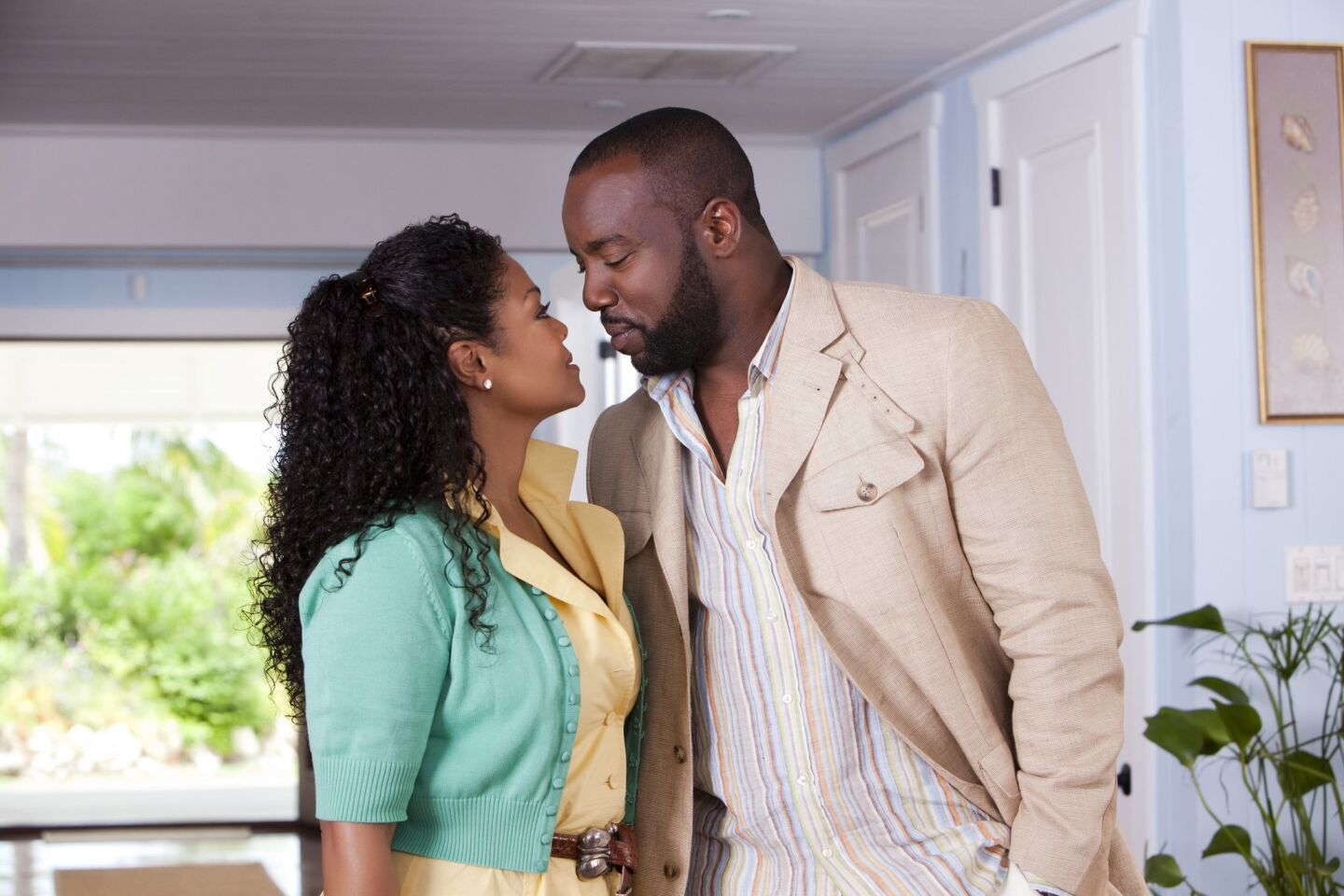 Janet returned to her theatrical roots in 2007, starring in Tyler Perry''s ""Why Did I Get Married?"" The film exceeded expectations, becoming No. 1 at the box office opening weekend and earning $21.5 million.
(Quantrell Colbert / AP)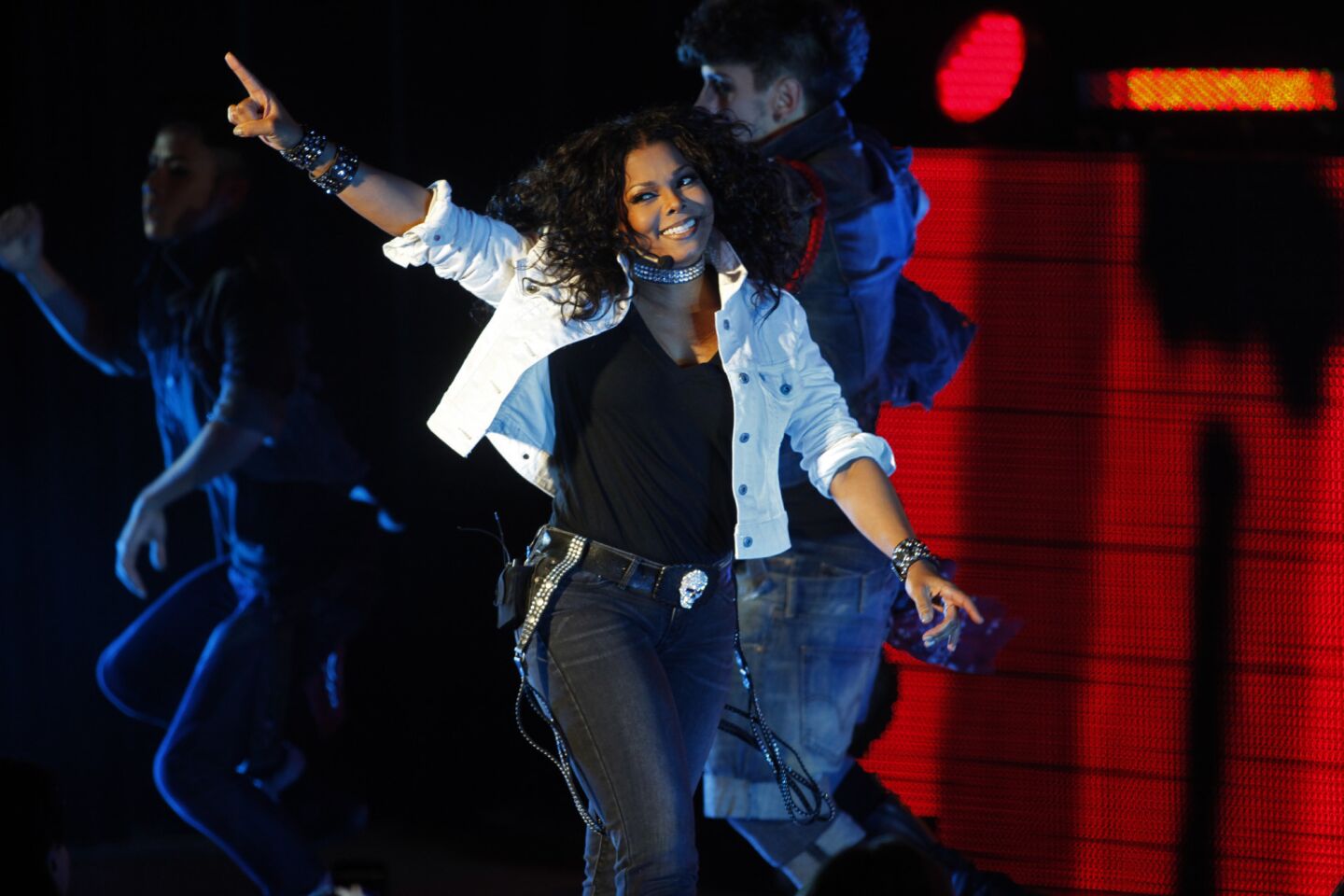 Jackson performs at the Greek Theater on Sept. 1, 2011.
(Genaro Molina / Los Angeles Times)
Jackson performs Sept. 20 on her "Unbreakable" World Tour in Miami. Her latest album, "Unbreakable," is due out any minute now.
(Alexander Tamargo / Getty Images)
It's a remarkable achievement, considering Jackson's rocky path to her breakout album. Before the release of "Control" on Feb.4, 1986, the youngest member of the talented Jackson family had yet to find her voice. Not that she hadn't tried.
Guided by her infamous showbiz dad, Joe Jackson, her early efforts -- 1982's self-titled debut and "Dream Street" two years later – traversed a safe path through bubblegum pop and soul. Neither albums sold much, though, with her debut landing outside the Top 50 and its follow-up languishing at No. 147.
Before "Control" the general public largely saw Janet as the precocious kid sister to her very famous older brothers. She was the sassy scene stealer on the Jacksons' variety show. She was cute-as-a-button as Penny on "Good Times." And at 18 she appeared on the TV drama-musical "Fame."
But no matter what she did, she couldn't escape the shadow of her megastar brother, Michael, who himself shed his own child star image for a mature look with the slinky, disco-inflected "Off the Wall" at the tail end of the '70s.
Desperate to be heard, Jackson finally took control.
Just approaching her 20s, Janet left the comforts of home and family in Los Angeles and ventured to Minneapolis to work with Jimmy Jam and Terry Lewis, a songwriting and production duo who were members of the Time, the Prince-associated band fronted by Morris Day that helped establish the electro-funk sound of the city in the '80s.
Together they fused a blend of R&B, disco, rock and dancepop that would go on to define contemporary R&B.
Innovative sound aside, "Control" really served as Jackson's coming out party, with her firmly planting her foot and walking into adulthood. There was lots to talk about on the album's taut, expertly crafted tracks -- establishing her independence from an overbearing father, coming of age, an annulment from a rebellious teenage marriage -- and she said it all with a boldness and sense of freedom that still hits hard.
"Give me a beat!" she commands on "Nasty," a punchy pushback to a man who has overstepped his boundaries.
"What Have You Done for Me Lately," an in-your-face kiss-off, will never lose its anthemic flair. "The Pleasure Principle" saw her detailing how she desired, and deserved, to be loved. "Let's Wait Awhile" coolly preached safe sex and abstinence while "When I Think of You" showed her ability to be fun, flirty and vulnerable in one swift take.
Start to finish "Control" is a knockout. Even the cover -- Jackson's stark pose accentuated with colorful brushstrokes, her name atop an abstract exclamation mark -- is a declaration of attitude.
"Whether it's Janet vowing "This time I'm gonna do it my way" or engaging in orgasmic moans and pillow talk -- in French, no less -- she proves that Michael isn't the only one in the family with a flair for taking chances," the L.A. Times review read that year. "'Control' … is a real risk-taker. Though still a teen-ager, this singer's stance is remarkably nervy and mature. She has a snotty sort of assurance that permeates several cuts, plus the musical muscle to back it up."
If the album didn't make you fall in love with Janet, there were the accompanying music videos.
Exquisitely choreographed, the visuals solidified her emergence as a pop music force and contributed to five of the album's singles becoming top five smashes on the charts.
As an obsessive follower of the Jackson clan, much of my passion for pop music is deeply connected to this family, particularly Michael and Janet. I even once made my parents make a stop in Gary, Ind., on a family vacation so that I could touch their house.
But where my love of Michael fixated on his almost superhuman talent, my admiration for Janet was always grounded in what she had to say.
I still remember the first time I really listened closely to "Control."
It was my go-to during my semi-rebellious teenage years when I thought I was too grown to be told what to do. After all, I got my first job, was pulling mostly A's and had said goodbye to my virginity. I thought I knew everything.
I was tired of listening to my parents. Tired of curfew. I was ready to be on my own, and ultimately I took the lyrics too literally. My life certainly wasn't hers, nor had I experienced a sliver of what Jackson had that drove her toward "Control" (those lessons came later).
Though I didn't grasp its importance then, I've continued to revisit "Control" throughout the years, the same way I have with her other seminal works -- "Velvet Rope" and "Janet" especially -- and my appreciation and understanding has changed as I've gotten older.
In the years since "Control," she's navigated a career that ignored, and shattered, boundaries of race, gender and genre.
Jackson has explored whatever sound caught her ear -- from groove-heavy bedroom R&B and neo-soul to disco, house, industrial, new jack swing and funk.
She's provided the soundtrack to our feelings on love, lust, heartbreak, spirituality, sexual liberation, pain and politics. She's had plenty of professional misfires and rebounded, most recently with the comeback album "Unbreakable" and its triumphant tour (her endurance is as remarkable as her resilience really).
Her lingering appeal has continued to prove itself. Rihanna's sexual freedom, Beyonce's push for female empowerment, Ciara's acrobatic footwork, FKA Twigs and Tinashe's slinky, imaginative reinterpretations of R&B -- all of them take cues from Jackson's blueprint.
And all that began with "Control."
For more music news follow me on Twitter: @gerrickkennedy
ALSO:

With Earth, Wind & Fire on hiatus in the '80s, Maurice White turned to solo and production work
Big Boi headed to Las Vegas for monthly residency
Lady Gaga to pay tribute to David Bowie at the Grammys; Nile Rodgers to direct
Get our L.A. Goes Out newsletter, with the week's best events, to help you explore and experience our city.
You may occasionally receive promotional content from the Los Angeles Times.