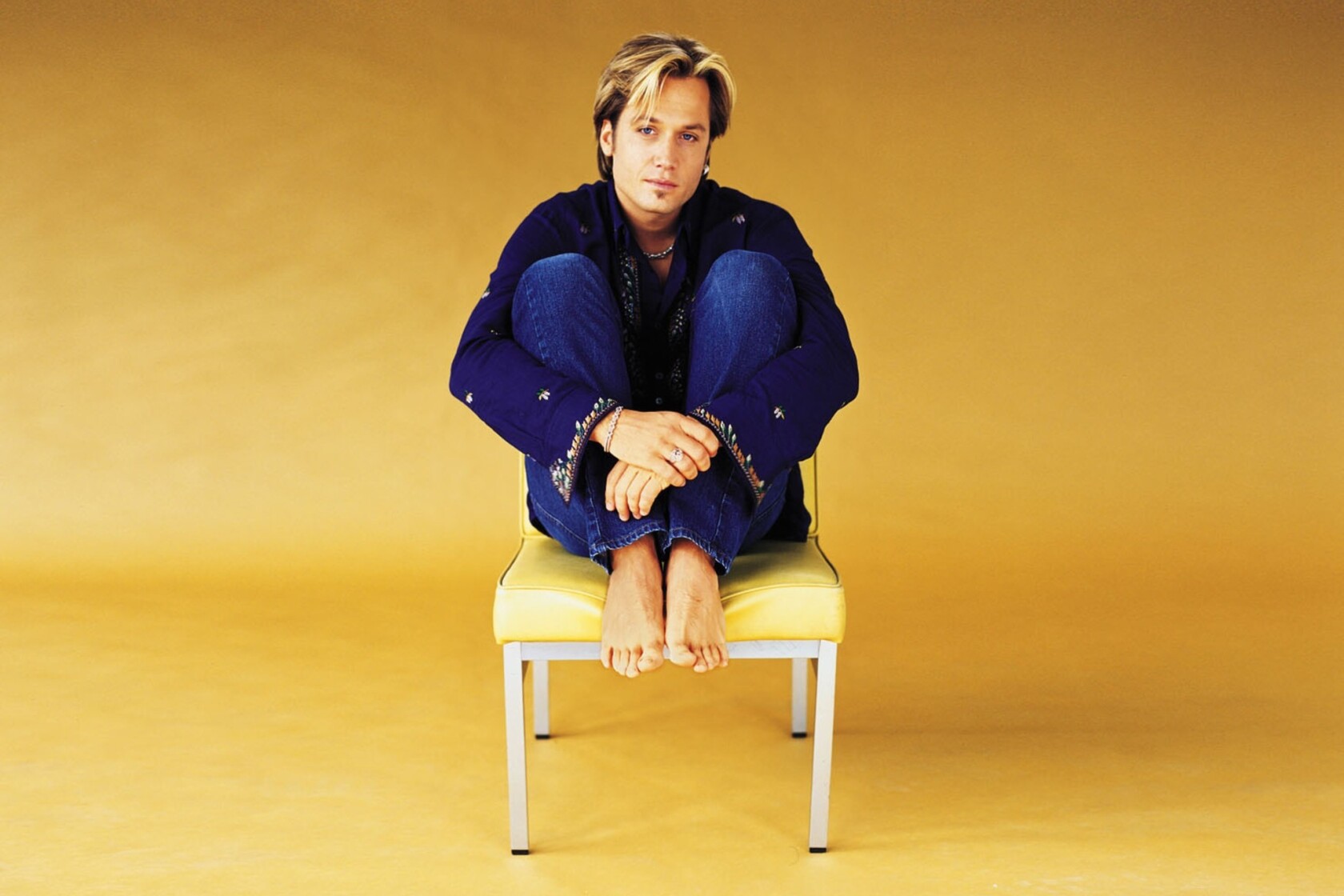 Born in New Zealand and raised in Australia, Urban released his first self-titled debut album in 1991, for which he sealed four singles on the Australian charts before moving to Nashville a year later. In America, he evolved into a session guitarist and established a band christened the Ranch. The band recorded an album with Capitol Records and secured two singles on Billboard's Hot Country Songs chart.
(Capitol Records)
Urban found himself on the radio airwaves of America with this self-titled American debut in 1999. Track highlights include "It's a Love Thing," "Your Everything" and "But for the Grace of God," which became Urban's first solo No. 1 single on Billboard's Hot Country Songs. Accolades like top new male vocalist at the 2001 Academy of Country Music Awards came with his success.
(Capitol Records)
Urban continued to cement his country star status when he issued his third album "Golden Road" in 2002. The track "Somebody Like You" was named the biggest county hit of the 2000-2010 decade by Billboard. And the single "You'll Think of Me" earned him his first Grammy Award.
(Allen J. Schaben / Los Angeles Times)
Urban's fourth album "Be Here" also ruled Billboard's Hot Country Songs with three No. 1 singles ("Days Go By," "You're My Better Half" and "Better Life"). The record was Urban's highest-selling album, earning a four-times Platinum certification. Seven of the 13 songs were produced by the country singer himself.
(Ken Hively / Los Angeles Times)
"Love, Pain & the Whole Crazy Thing" was Urban's fifth round at a solo album. The track "Once in a Lifetime" debuted at No. 17 on Billboard's Hot Country Songs -- a groundbreaking instance, marking a record for the highest-selling country single in the 62-year history of that chart. The single "Stupid Boy," co-written by country music singer Sarah Buxton, also dominated the chart and earned Urban his second Grammy Award for male country vocal performance in 2007.
(John Russel / AP )
For Urban's sixth American album, "Defying Gravity," he led with the track "Sweet Thing," which also emerged as a No. 1 single on Billboard's Hot Country Songs in 2009. The track also earned Urban a Grammy for male country vocal performance in 2010. And it was his second track release "Kiss a Girl," that became Urban's first No. 1 on the Billboard 200, selling 171,000 copies in its first week.
(Lawrence K. Ho / Los Angeles Times)
In 2010, Urban released his seventh album titled "Get Closer." The tracks "Without You," "Long Hot Summer" and "You Gonna Fly" reached No. 1 on Billboard's Hot County Songs chart. Urban's recording process was chronicled on his website for his fans to behold.
(Max Vadukul / Unkonwn)
Urban became a judge of the Australian reality singing competition "The Voice" in 2011, alongside Seal, Delta Goodrem and Joel Madden.
(Lionel Cironneau / AP)
Urban put his coaching talents to use once more when he became a judge of "American Idol's" Season 12 with Randy Jackson, Mariah Carey and Nicki Minaj. He is returning to the judging panel in Season 13.
(Michael Becker / FOX)
Urban's latest album "Fuse" is out for fans to purchase and critics to analyze. His first single "Little Bit of Everything" debuted on VEVO in July 2013. "I knew it would take time to build an album in a different way," he says of the new sounds that took two years to develop.
(AP)
Since joining the judging panel on "American Idol" last year, Keith Urban's constantly reminded of the one thing that separates the winners from the runners-up: hard work.
"The other day, I was getting a bit worn down by people who were coming in to audition who just weren't good enough," the 45-year-old New Zealand-born country singer, songwriter and guitarist said recently from his home in Nashville.
"They would start the pleading, 'I really want this!' You know," he added with a laugh, "nobody is walking in saying, 'I passively want this.' But it's not a job interview. I'm just telling [contestants] what I think, and it's something that's not going to get worked on in the next hour or the next week. If you want this, you've got to put in the work.
"Now, there are so many shortcuts, and this show itself can be a shortcut, if you've got the talent. The thing I don't have time for is people who aren't willing to work. You may walk into a career, but you still have to work all the time."
PHOTOS: Iconic rock guitars and their owners
It's easy to see that Urban backs his words with his actions. One recent day, he was booked for four separate performances at different venues in Nashville as part of the run-up to the Sept. 10 release of his new album, "Fuse," which just entered Billboard's 200 Albums chart at No. 1.
For the album itself, Urban worked every bit as intently, branching out with a cadre of producers and songwriters he'd never collaborated with before in hopes of bringing new energy to his music. Among them: Dr. Dre and Eminem associate Mike Elizondo, the R&B-pop production team of Stargate and Americana producers Butch Walker and Jay Joyce.
Urban has further expanded the sphere of influence he's created since breaking onto the U.S. country charts in 1999 by turning up on stages recently with the Rolling Stones, John Fogerty and Alicia Keys, among others.
"I'm a guitar player, and I love playing," he said. "I love collaborating with all sorts of people. I not only learn about what they do but I learn about myself and see new things about what I do. That's never more clear than when you work with eight different producers. Whatever the through line in that is, it must be me."
RELATED: Best albums of 2013 so far | Randall Roberts
Longtime Urban fans certainly won't have any trouble recognizing his pliant, easygoing voice, his invigorating guitar work or themes of keeping love and romance on track in several of the 13 songs on "Fuse" (16 on the deluxe edition).
He's on safe ground in the album's duets with Miranda Lambert ("We Were Us") and Eric Church ("Raise 'Em Up"). But he also has expanded the musical and sonic palette in serving up the raucous indie-rock energy of "Even the Stars Fall 4 U," which Urban co-produced with Walker and co-wrote with Ross Copperman and David Lee Murphy. Then there's the revealing introspection and raw emotionalism of "Shame," which he co-produced with Stargate, known for its work with acts such as Rihanna, Beyoncé and Ne-Yo.
In some ways, "Fuse" takes Urban to new vistas, as was the case with Taylor Swift on "Red," an album whose blockbuster success to some degree had to loosen the reins on the often strictly regimented sounds emerging from Nashville. But again, Urban believes he's earned the ability to move into new territory because of the work he's put in up to now.
"If I were a new artist, I don't think I could have done this," he said. "My record gets perceived differently because it's not my first. It's my particular journey that got me to this record. I wasn't trying to make a pop record. … The first thing I wanted to do was to capture a sonic energy I hadn't captured on previous records. Because I'm strongly involved in production and co-production, I've gone to producers who I might not normally work with to see if we could fuse things together to draw out something different.
"The thing I'm really, really drawn to is the balance of it all," he said, noting the same issue comes up in balancing his career and personal life with his actress-wife, Nicole Kidman, and their two daughters, Sunday Rose and Faith Margaret Kidman Urban.
"Can I make a record that doesn't sound like anything else out there, or like anything that's on the radio, and is there a way to blend the different components to make it accessible but still pushes people forward?" asked Urban, who launched his Light the Fuse tour Thursday in Cleveland and will set foot in the Hollywood Bowl for the first time when he performs there Sept. 27. "That's what took the most tinkering."
The tinkering can be a time-consuming and often frustrating experience. But in those moments, Urban said his time in the judge's seat on "Idol" also helps keep things in perspective.
"I think the effect 'Idol' has had, more than anything, is just as a reminder of how fortuitous it is for me to be in this position," he said. "If I'm having a day where I'm having some issues with any facet of my career, I remember that anybody walking through that door [to audition] would give anything for one of my problems right now. These are all quality problems I have. I'm pretty grateful anyway and I live in a place of gratitude. It's always good to have that reminder of those people who walk through that door and have everything ahead of them."
Twitter: @RandyLewis2
---