Review: Perfume Genius sashays as he devastates a sold-out Roxy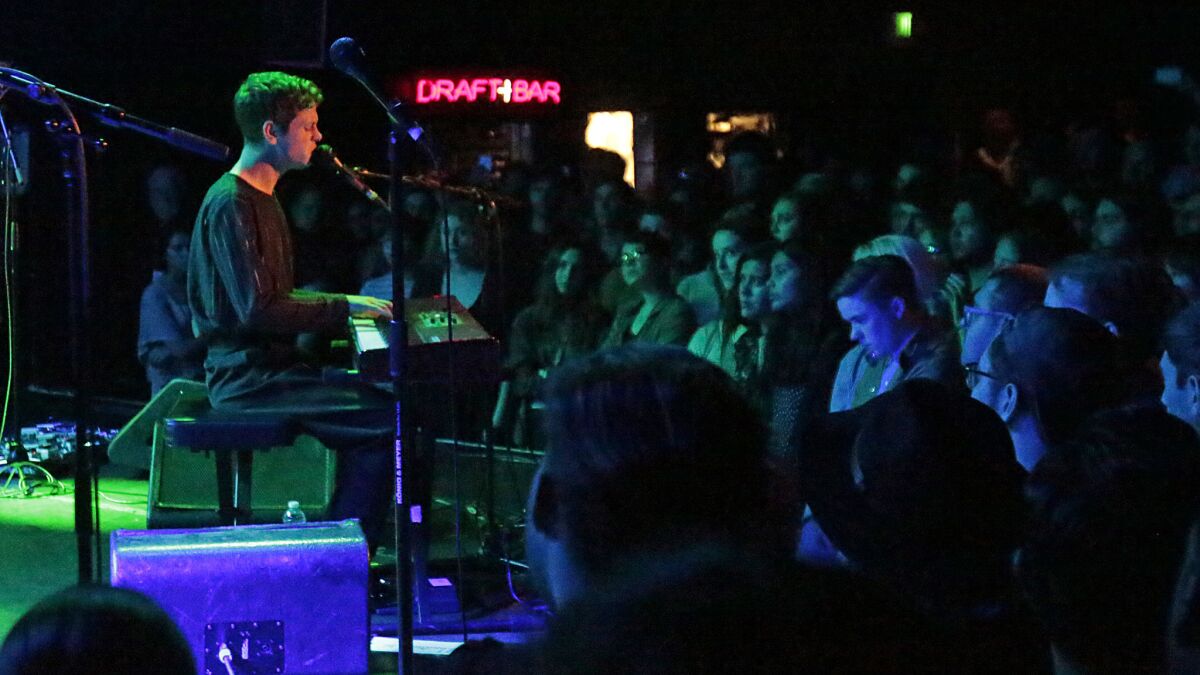 Wearing a loose-knotted black sweater that revealed his carved torso beneath, the pianist, singer and songwriter known as Perfume Genius sat before a whisper-quiet sold-out crowd at the Roxy in West Hollywood and tried to explain the raw, full-throated wail he'd just unleashed.
Dubbing it his "general horror movie scream," the artist born Mike Hadreas had just poured forth during "Grid," a highlight from his new album, "Too Bright," and devastating as performed live in a room with so much history.
It was a harrowing cry amid a remarkable set, delivered from the thin membrane that separates singing and raging, a place expertly inhabited by artists including Jeff Buckley and his father, Tim, Fiona Apple and the Cocteau Twins' Elizabeth Fraser. A realm that straddles an egoless display of creative emotion and uncontrollable onstage breakdown.
His "Grid" descent happened about halfway through the show, within a throbbing track that recalled both Kanye West's "I Am a God" and the downtown New York synth-punk team Suicide. It was so knee-buckling that afterward, Hadreas, wry and charming in front of the crowd, felt the need to acknowledge it, to somehow assure us that it was part of the plan.
The artist, who is in his early 30s, need not have. Over and over again Sunday, the Seattle-based artist displayed the ability to not only tap into that feral heart but also to control the action until its beat was an Elliott Smith-esque quiver. He opened it to a crowd so rapt that in quieter moments, you could hear the distant yowls of the aged metal heads next door at the Rainbow Bar & Grill.
The extent of that control, honestly, was something of a relief. The last time I saw Hadreas perform was in 2010, a few months after his label, Matador Records, had issued his debut, "Learning." Gigging at the Palms Hotel in Las Vegas as part of a label anniversary party, Hadreas seemed achingly fragile, a promising young artist who looked tapped out too early, like he'd endured a lot in a short period of time. (He's since acknowledged struggles with drug addiction.) I wondered whether he'd survive to make a second album.
He did, and he proved he could prevail on his third, "Too Bright." "There's no safe place/ For the heart to hang/ When the body's no good," Hadreas sang at the Roxy during "No Good," a new ballad about feeling both "all used up" and "never used enough." Alone at the piano tracing a minor key melody, the artist seemed to stare into the abyss, not with fear as before, but with resolve.
Hadreas identified another influence, and calmed us all down a bit, when he started playing Sade's "By Your Side" midway through -- only to glide effortlessly into his own quiet-storm love letter, "Dreeem."
During "Queen," the excellent first single from "Too Bright," his three-piece band and some cavernous, well-placed samples added volume and heft while Hadreas roamed the stage, shimmied a few times to the beat while lyrically contrasting "your queen, gleaning, wrapped in golden leaves" and "me, rank, ragged, skin sewn on sheets."
On this song and others, the artist offered lyrics that explored themes including isolation, the death of a former boyfriend and the quest for recovery and stability. "No family is safe when I sashay," he declared in the song's chorus.
This Roxy set, one between songs that he described as his biggest L.A. gig to date, felt special, the kind of night that in a less cluttered music world would reverberate far beyond the room Hadreas commanded Sunday.
The set mirrored the accomplishment of "Too Bright," which was produced by Portishead's Adrian Utley, himself a master of controlled detonation. Both proved that the oft-unchecked freneticism of Perfume Genius' early performances have given way to work that's more tethered, thicker and more dynamic.
Whatever it is that Hadreas endured, he's learned how to focus that turbulence until it's so dense with pressure that exuberant release is the only option.
Get our L.A. Goes Out newsletter, with the week's best events, to help you explore and experience our city.
You may occasionally receive promotional content from the Los Angeles Times.