Joshua Homme and Queens of the Stone Age are back on the clock
The guitars of famed rock 'n' roll stars often have as much personality as the musicians behind them. Here's a look at guitars that defined not only the musician but the genre.
Update:
We've added some key guitars and their owners to the gallery. Discuss your favorite guitars in the comments.
(From left, Keith Richards (Jose Jordan / AFP/Getty Images), Joan Jett (Los Angeles Times), Prince ( Los Angeles Times))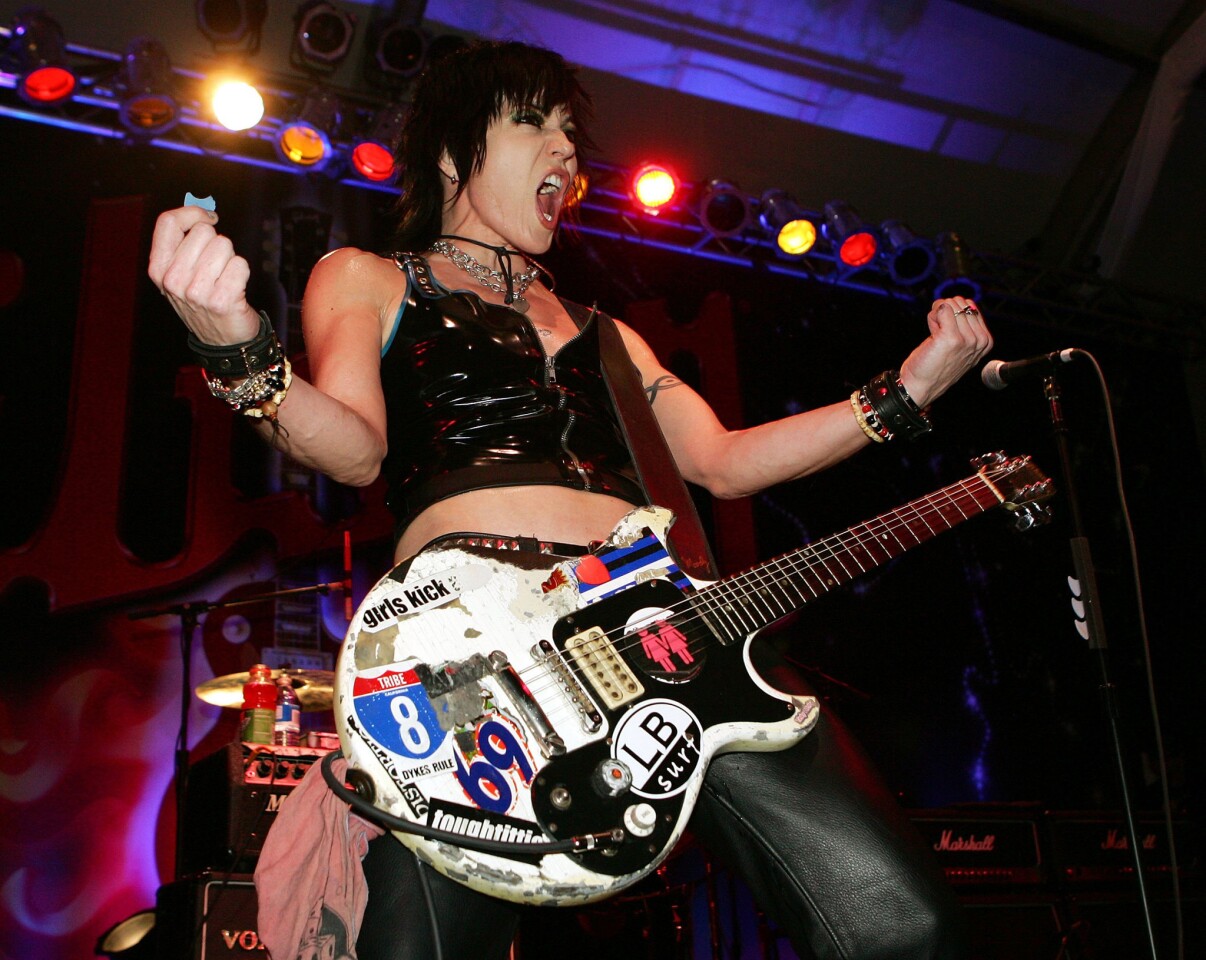 Legendary rocker Joan Jett, a founding member of the Runaways and leader of Joan Jett and the Blackhearts, is known for shredding with the Gibson Melody Maker guitar. She became so identified with the guitar that Gibson released a special "Joan Jett" edition of the guitar in 2008.
(Ethan Miller / Getty Images)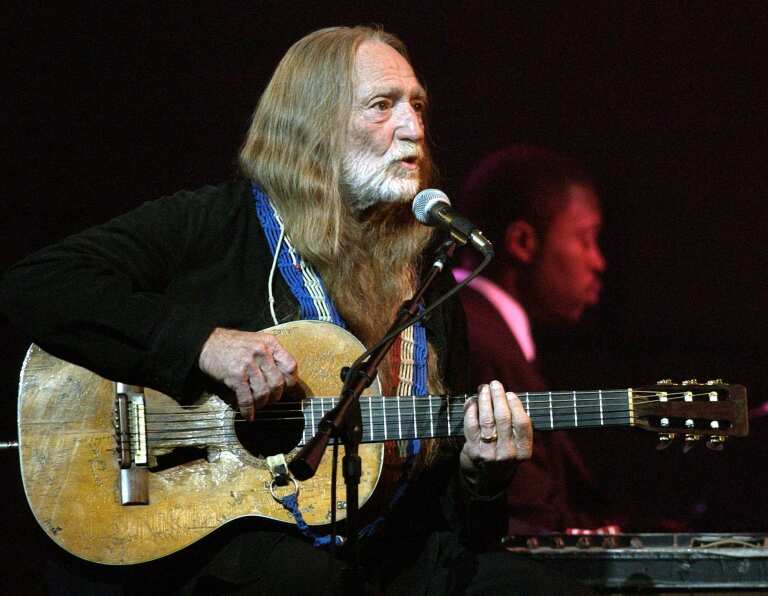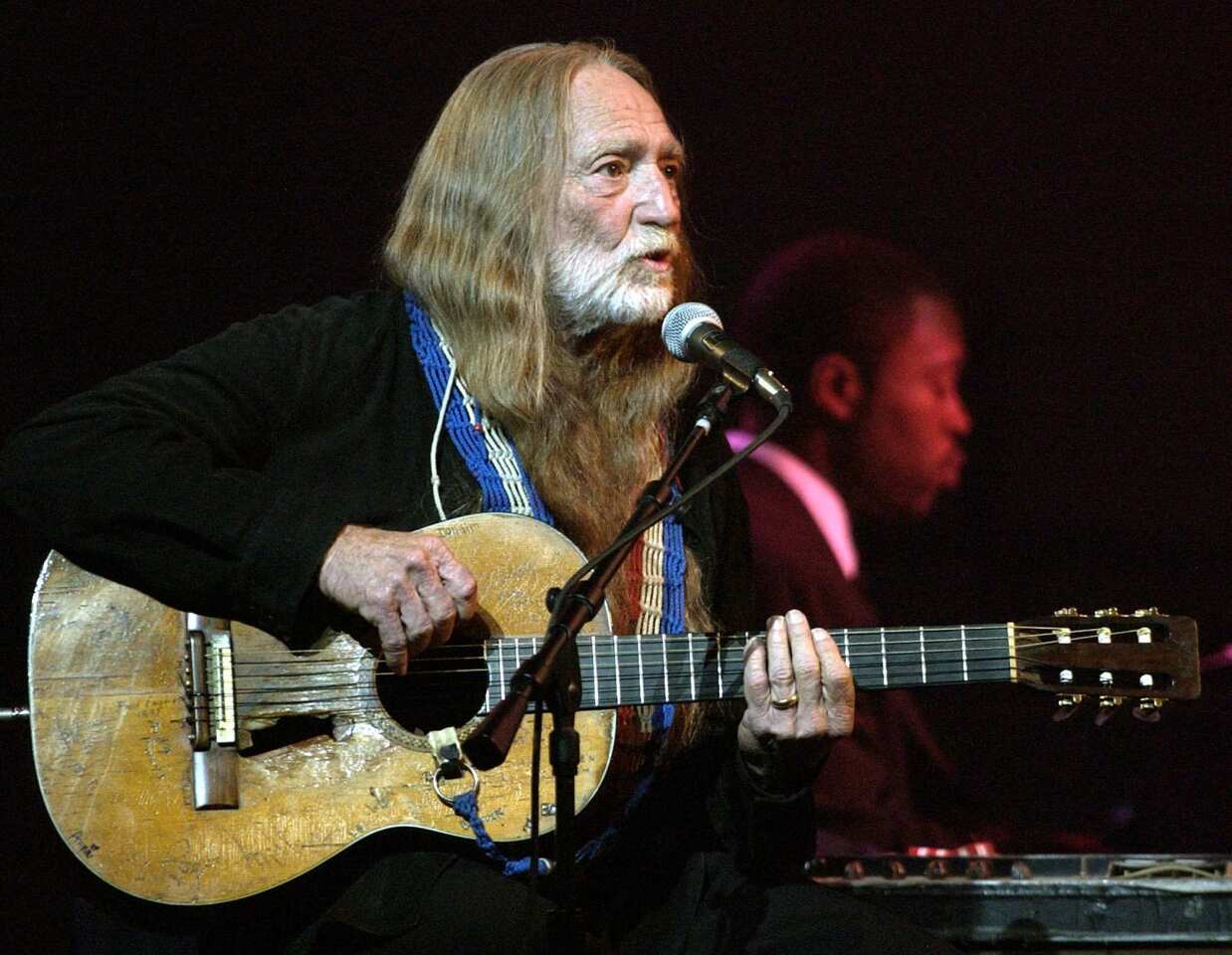 Willie Nelson's guitar Trigger, a Martin N-20, has developed a deep, whole sound after 30-plus years of use. He got the guitar in a honky-tonk in 1969 and has vowed to quit playing if it's ever beyond repair.
(Kathy Willens / Associated Press)
Prince has been known for his mix of jazz, funk, rock and new wave and his flamboyant stage presence. But his guitars have been equally far out. In 1993, Prince changed his name to a hybrid of the male and female gender symbols and had a guitar made in the same shape.
(Patrick Pagnano / Associated Press / CBS )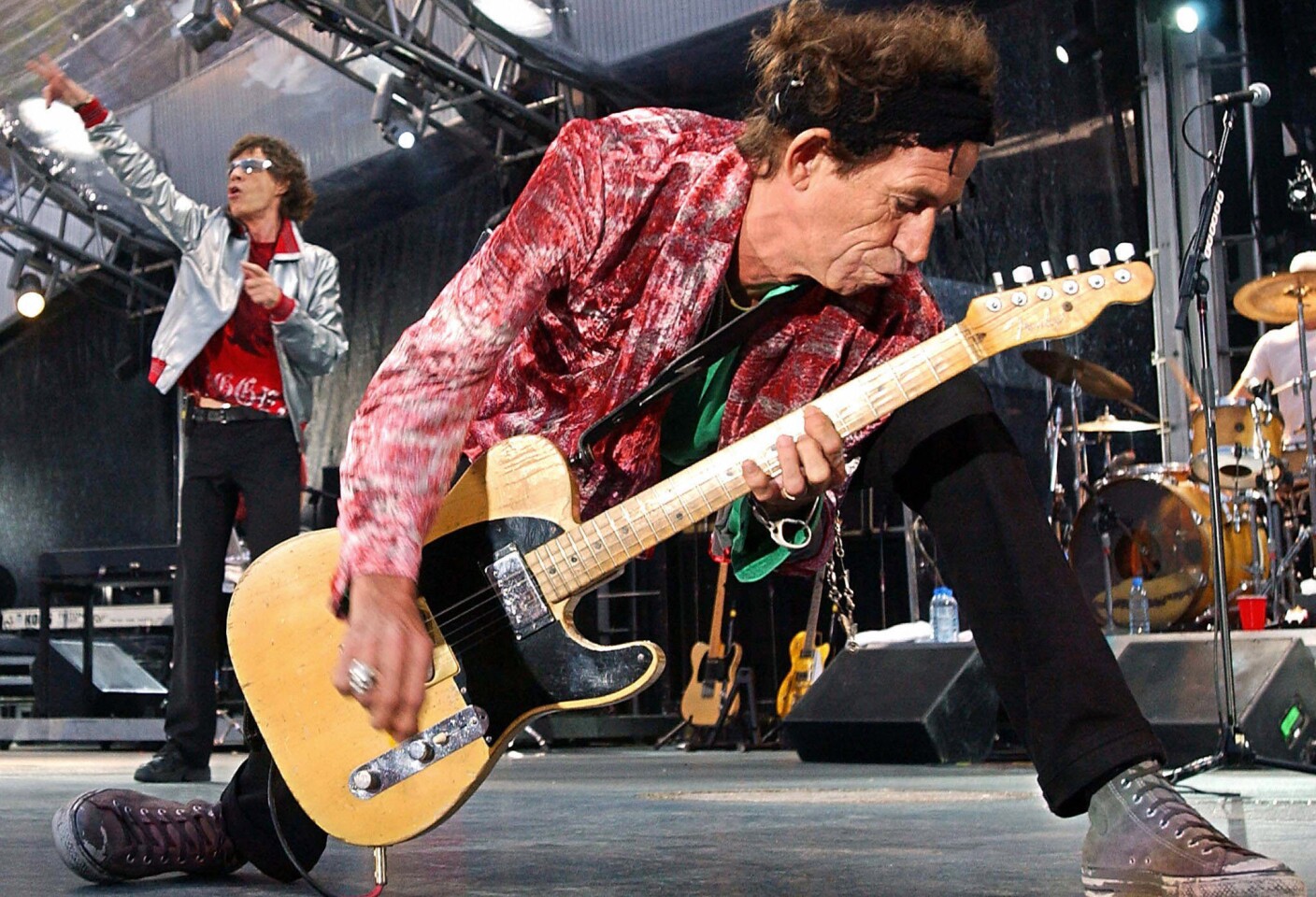 Rolling Stone guitarist Keith Richards is known for performing with his Fender Telecaster that he named Micawber. The 1950s Telecaster is missing the sixth string and was named after a character from Charles Dickens' 1850 novel "David Copperfield."
Correction: The slide originally said "David Copperfield" was written in 1935. The actual date was 1850. Also, the photo has changed to show Richards with Micawber in hand.
(Joerg Koch / AFP / Getty Images)
Above:
Wolfgang Van Halen playing his father's iconic Frankenstrat guitar as they perform together at the Meadowlands in East Rutherford, N.J. in 2004.
Frakenstrat is the name classic rocker Eddie Van Halen gave his guitar after he attempted to build a guitar with a Gibson sound and a Fender Stratocaster frame. Van Halen described his lipstick red and white stripped brainchild to
Guitar Player Magazine in 2004
. "It is a copy of a Fender Stratocaster," he told the magazine. "I bought the body for $50 and the neck for $80, and put in an old Gibson PAF pickup that was rewound to my specifications. I like the one-pickup sound, and I've experimented with it a lot...I see so many people who have these space-age guitars with a lot of switches and equalizers and treble boosters -- give me one knob, that's it. It's simple and it sounds cool."
(Kevin Mazur / WireImage.com)
B.B. King explained the origin of his legendary Gibson ES-355 in the liner notes of his 1968 album "Lucille." While playing a gig in Twist, Ark.. in 1949, a kerosene barrel was lit to keep the space warm. During the course of the night, two men began fighting and knocked over the barrel, lighting the space on fire in the process. King ran out only to notice he left his guitar in the burning building. He ran back to retrieve his guitar, almost losing his life in the process. The day after, King discovered the two men were fighting over a woman named Lucille and bestowed the name on his guitar, and every Gibson he owned afterward, as reminder to never do anything stupid like that again.
(Juan Carlos Equihua / Associated Press)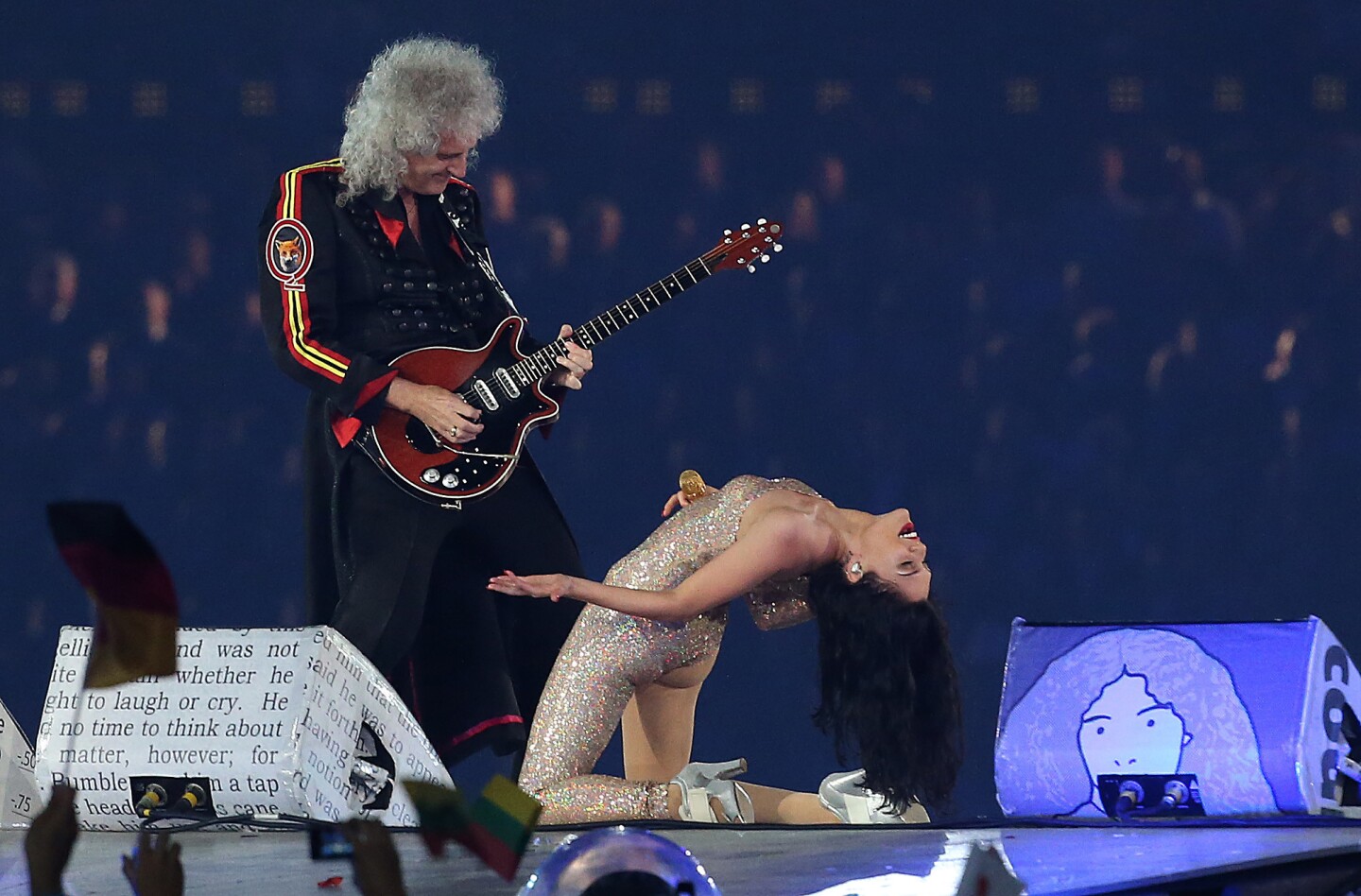 Above:
Queen guitarist Brian May and Jessie perform "We Will Rock You," at the London 2012 Olympics closing ceremony at Olympic Stadium.
Queens guitarist Brian May built "Red Special" 40 years ago with his father, according to his
personal website
. May set out to make sure the guitar provided sound feedback by design rather than by accident. This guitar and the sound it provided May would define him as a guitarist and Queen as a band.
(Robert Gauthier / Los Angeles Times)
Up in a third-floor dressing room at the Wiltern, Joshua Homme is drinking Mexican beer and struggling to enjoy a borrowed ultra-slim cigarette. The singer-guitarist from Queens of the Stone Age looks and sounds the same as always, a big, wisecracking rocker with red hair cropped extra-short.
Other band members wander in and out, trading hellos with the bandleader, but when new drummer Jon Theodore arrives, Homme asks, "You got a real ciggy, babe? How are you?"
"I'm … fantastic," replies Theodore, bearded and grinning, as he pulls out a fresh pack. "It's a beautiful day for some rock 'n' roll."
PHOTOS: Best albums of 2012 | Randall Roberts
The band has been spending a week at the Wiltern rehearsing for a coming tour and running through songs from a new album, "… Like Clockwork," set for release on Tuesday. In a few hours, Queens of the Stone Age would perform a two-hour concert to a full house of friends, family and some hard-core fans.
The album and the night's show represent a personal comeback for Homme, 40, who was quietly sidelined for a time from both a creative block and an unexpected health crisis. "… Like Clockwork" is a powerful return to the compelling hard-rock and sci-fi riffs the band is known for, with guests that include Dave Grohl, Trent Reznor, Mark Lanegan, Nick Oliveri and, most unexpectedly, Elton John. But it comes a full six years after "Era Vulgaris."
Not that Homme wasn't busy during the time between the band's albums. Most of those years were spent on tour, recording with side-projects Eagles of Death Metal and Them Crooked Vultures, a supergroup trio with Grohl and John Paul Jones. But the last three years, he tried to make a new Queens of the Stone Age album and got nowhere.
PHOTOS: Iconic rock guitars and their owners
"I've always heard music in my head since I was a little kid, so I've always played towards that. If I felt bad, that's what I did," says Homme, who grew up in desert communities of Southern California. "Honestly, when I woke up, I didn't hear anything anymore."
He turned to transcendental meditation and had long talks with Reznor, a musical peer he knew casually. "I felt like he really understood, and that I understood him," he says. "He's really funny and I don't think people know that. He's also very smart. It immensely helped me."
In 2011, Homme told Britain's NME magazine that during knee surgery he'd stopped breathing, "died" on the table and had to be revived. He spent the next three months recuperating at home in Los Angeles, a dependably sturdy rock dude suddenly deflated.
At the Wiltern, Homme wouldn't get into the medical details of that experience but said it was only part of a larger physical crisis preceded by years of disregard for his health.
"I was exhausted. I like my brain to tell my body to shut up and do what it's told, and I haven't always been nice to myself," he explains. "I've never shied away from that. But eventually my brain had to listen to my body and I got real sick. I had to examine what was going on and there was no way around it."
Some of that experience can be heard in the new music, with some contemplative and self-explanatory song titles: "I Sat by the Ocean," "I Appear Missing" and "Fairweather Friends." The opening verses of the album's quietly dramatic title song has Homme singing alone with a piano melody and at his most vulnerable: "Most of what you see my dear is purely for show / because not everything that goes around comes back around, you know...."
One more crisis came in the form of drummer Joey Castillo's exit from the band after 10 years, which Homme suggests was a difficult but mutual decision. He then refers to an old tune by 38 Special: "Hold on loosely but don't let her go / If you cling too tightly to her / You're gonna lose control."
PHOTOS: Celebrities by The Times
"That … is true. You can't be desperate to cling to something," he says. "Why we're at six records and however many years is because of being able to make hard decisions that saves everything else."
By chance Grohl was available. In addition to being part of Them Crooked Vultures, the Nirvana drummer and Foo Fighters leader had also been on Queen of the Stone Age's 2002 album "Songs for the Deaf."
"We just have a special thing. I'm so accustomed to those special symbiotic relationships having a due date, and his and mine seems far from its due date. I think it keeps getting better," Homme said.
Homme credits a session last November with another surprise collaborator for finally breaking him free of his creative block: Elton John, a fan of Them Crooked Vultures who called Homme out of the blue and ended up playing and singing on "Fairweather Friends."
"It took him 20 minutes to learn a song with nine or 10 changes in it," Homme remembers of their first, three-hour session in Burbank. "Then he wanted to come back and sing. I think we just hit it off. I like to make fun of stuff, and he does too. We were calling each other names right away, two workaholics working on the same engine."
---
Your essential guide to the arts in L.A.
Get Carolina A. Miranda's weekly newsletter for what's happening, plus openings, critics' picks and more.
You may occasionally receive promotional content from the Los Angeles Times.