Review: Justin Timberlake soaks up the love at Staples Center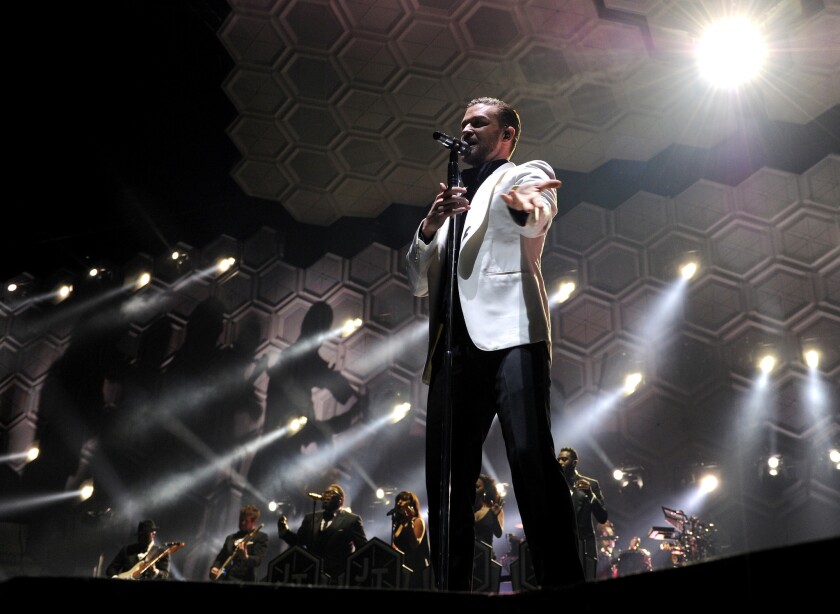 Are people tired of Justin Timberlake?
The 18,000 or so packed into Staples Center on Tuesday night weren't. Strolling across the largest stage I've ever seen at the downtown arena, the singer basked in his fans' deafening adulation for a full five seconds before he began his concert with "Pusher Love Girl," the swirling blue-eyed soul number that also opens his hit album "The 20/20 Experience." Once the song was over, he let the cheering go on for another 15.
"That's how y'all feeling tonight, L.A.?" he asked the capacity crowd. "Y'all feeling a certain sort of way."
The display was a pronounced refutation of the idea, building lately among some pop-culture pundits, that Timberlake is dangerously overexposed right now.
His presence this year has been an undeniable force, beginning in January, when the 32-year-old revealed that he'd made his first album since 2006. Then came the gig at the Grammys, the huge record sales, the late-night television appearances and the joint stadium tour with Jay Z.
There was a (laughably brief) reunion with 'N Sync on the MTV Video Music Awards and a second album, "The 20/20 Experience -- 2 of 2," that also entered the chart at No. 1. At Sunday's American Music Awards, he was named favorite male soul/R&B artist and favorite male pop/rock artist. And next month, he'll hit movie theaters in the new Coen brothers film.
It's enough to trigger an inevitable, maybe even rightful backlash, which is how Timberlake ended up telling GQ recently -- in a cover story, it must be noted, pegged to the magazine's Man of the Year title -- that "sometimes I just want to … kill everybody."
At a moment when public personalities are expected to maintain their positions through social-media politicking, that's an exciting energy to get from a superstar, the kind you might've hoped to get more of from Timberlake at Staples Center, where he brought a solo trek scheduled through the end of next summer. (It's to stop Wednesday night at Anaheim's Honda Center and Jan. 20 at the refurbished Forum in Inglewood.)
Here's the thing about thousands of shrieking ticket-buyers, though: They can make it pretty hard to work up any kind of lather. And so this show, which stretched to nearly three hours with an intermission, felt almost entirely free of tension, as Timberlake and his 15-piece backing band glided through tunes from the "20/20 Experience" discs, his earlier solo records and covers of far-flung evergreens such as "Heartbreak Hotel" and Bell Biv DeVoe's "Poison."
As always with Timberlake, the performance was technically impressive, a reminder that precision is his default approach. During "That Girl," he kept his falsetto (and his Tom Ford suit) wrinkle-free as he climbed a steep staircase; later, he harmonized with video images of himself in "Only When I Walk Away."
PHOTOS: Celebrities by The Times
"My Love" felt like a miniature catalog of the various styles at his command as the music shifted from scrubbing live-band funk to stripped-down piano balladry to the sleek robo-soul for which his producing partner Timbaland is known. And it was a kick to watch Timberlake putting his body into songs like "Señorita" and "Tunnel Vision," not dancing to them exactly (though there was plenty of choreography elsewhere) but feeling their grooves, measuring them in a way he never got the chance to in his more tightly managed boy-band days.
But part of the reason he can do that -- and part of why many of the "20/20 Experience" songs go on for longer than they should -- is because Timberlake's success has afforded him so much leeway with his fans. And despite his kingly manner, Timberlake might be at his best when he's up against something: the uncertainty that he could launch a solo career with 2002's "Justified," for instance, or the skepticism about singers moving into acting that attended his star turn in "The Social Network."
In a room full of the supremely devoted -- including a few hundred people who'd paid to sit in a VIP section named for Timberlake's brand of tequila -- he faced no obstacles, which made his use of a few lines from Kanye West's "I Am a God" at one point feel like empty grandstanding, drained of the arriviste's indignation that West brings to his song. "I Am a God" was one of several rap tunes Timberlake pulled from Tuesday, along with 2Pac's "California Love" and an unprintably titled cut from Jay Z's "Magna Carta Holy Grail." His license appears unrestricted.
Occasionally, the magnitude of the singer's celebrity provided its own thrill, as when he mounted a platform that detached from the main stage and brought him to within spitting distance of crowd members at the opposite end of the arena. (Needless to say, nobody tried to spit at him.) And in several songs -- "TKO," "True Blood" and especially a snarling "SexyBack" -- he showed a bit of menace, his domination taking on a welcome edge.
Yet those appealingly combative flashes only made you wish that Timberlake had more to be angry about. Maybe a few more months of blowback will do the trick.
ALSO:
Listen: Justin Bieber goes up, then down in 'Roller Coaster'
American Music Awards: Performers stick to routine at AMAs
Review: One Direction's one goal on 'Midnight Memories': the very top
Twitter: @mikaelwood

---
The complete guide to home viewing
Get Screen Gab for weekly recommendations, analysis, interviews and irreverent discussion of the TV and streaming movies everyone's talking about.
You may occasionally receive promotional content from the Los Angeles Times.