Review: The Rolling Stones rock Staples in first gig of tour
Ronnie Wood, left, Mick Jagger, Charlie Watts and Keith Richards perform at Staples Center in Los Angeles on Friday as part of the Rolling Stones' 50 and Counting Tour.
(Jay L. Clendenin / Los Angeles Times)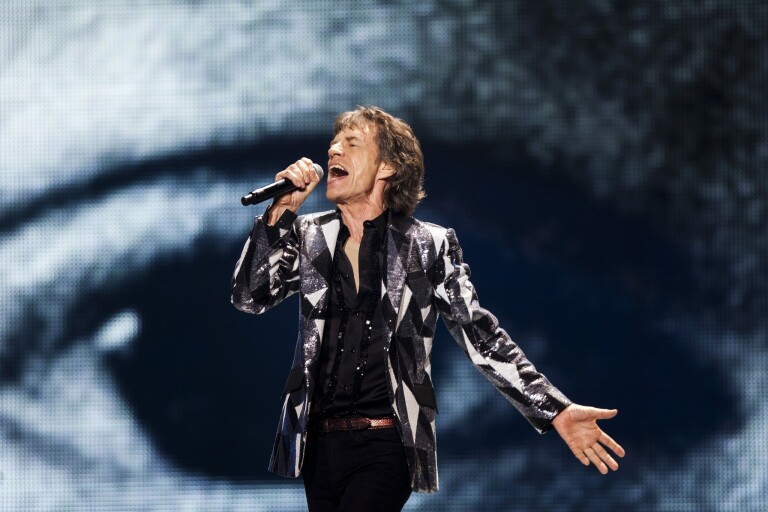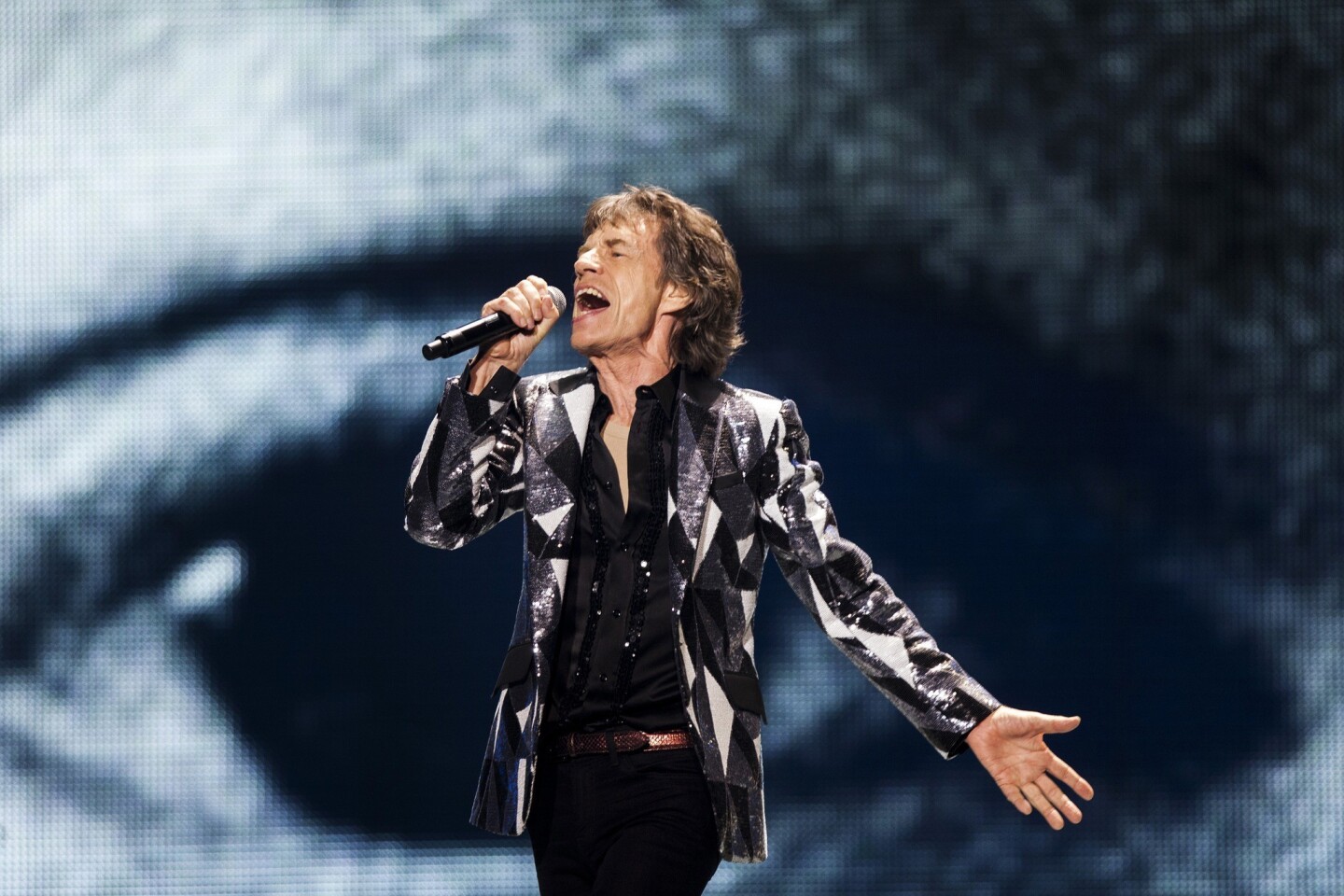 Mick Jagger at Staples on Friday.
(Jay L. Clendenin / Los Angeles Times)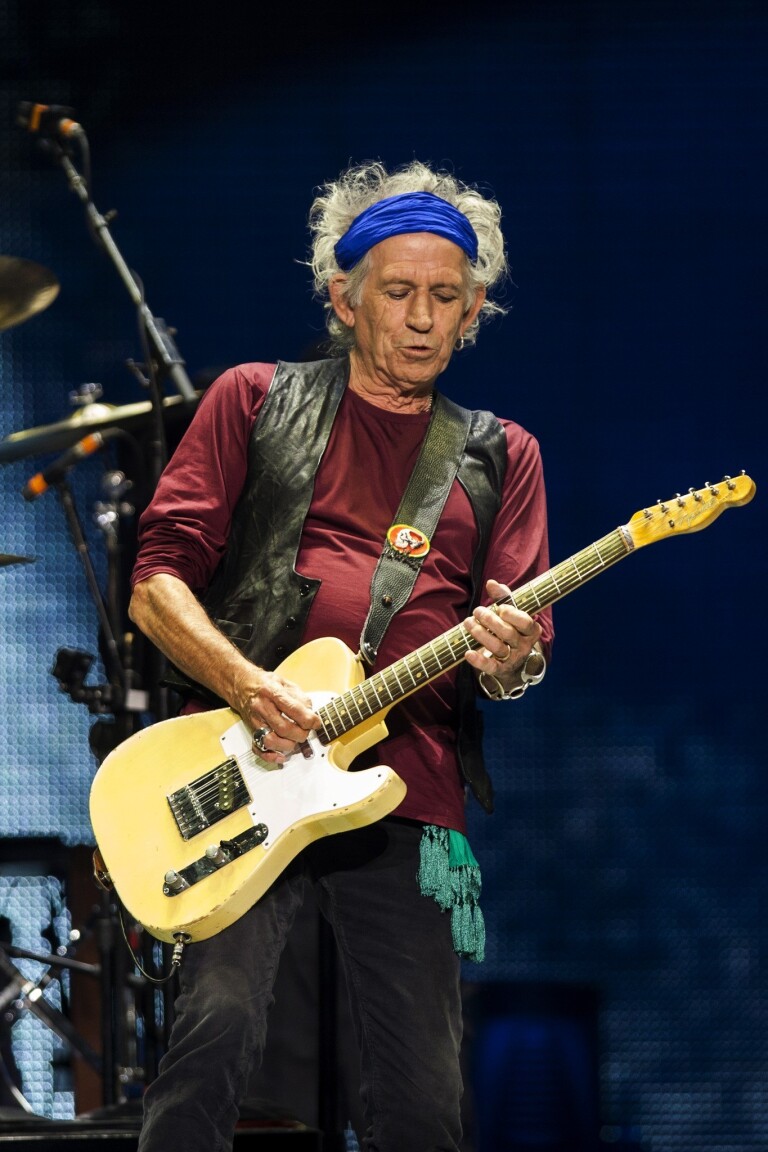 Keith Richards
(Jay L. Clendenin / Los Angeles Times)
Mick Jagger prowls the Staples stage.
(Jay L. Clendenin / Los Angeles Times)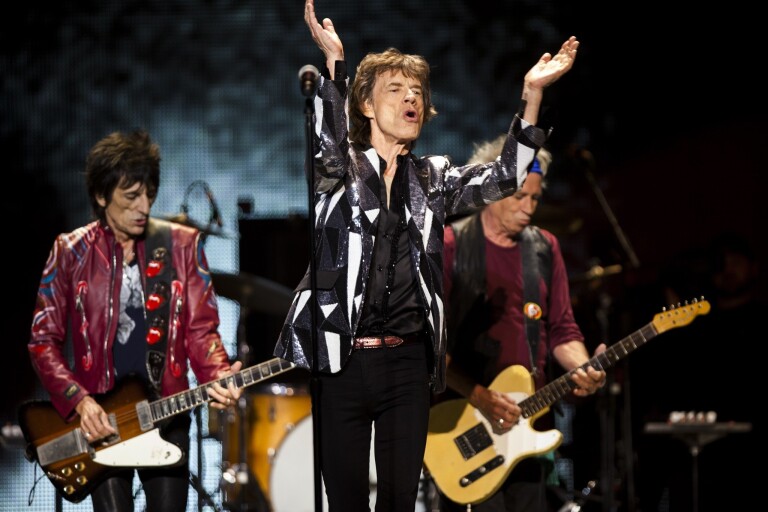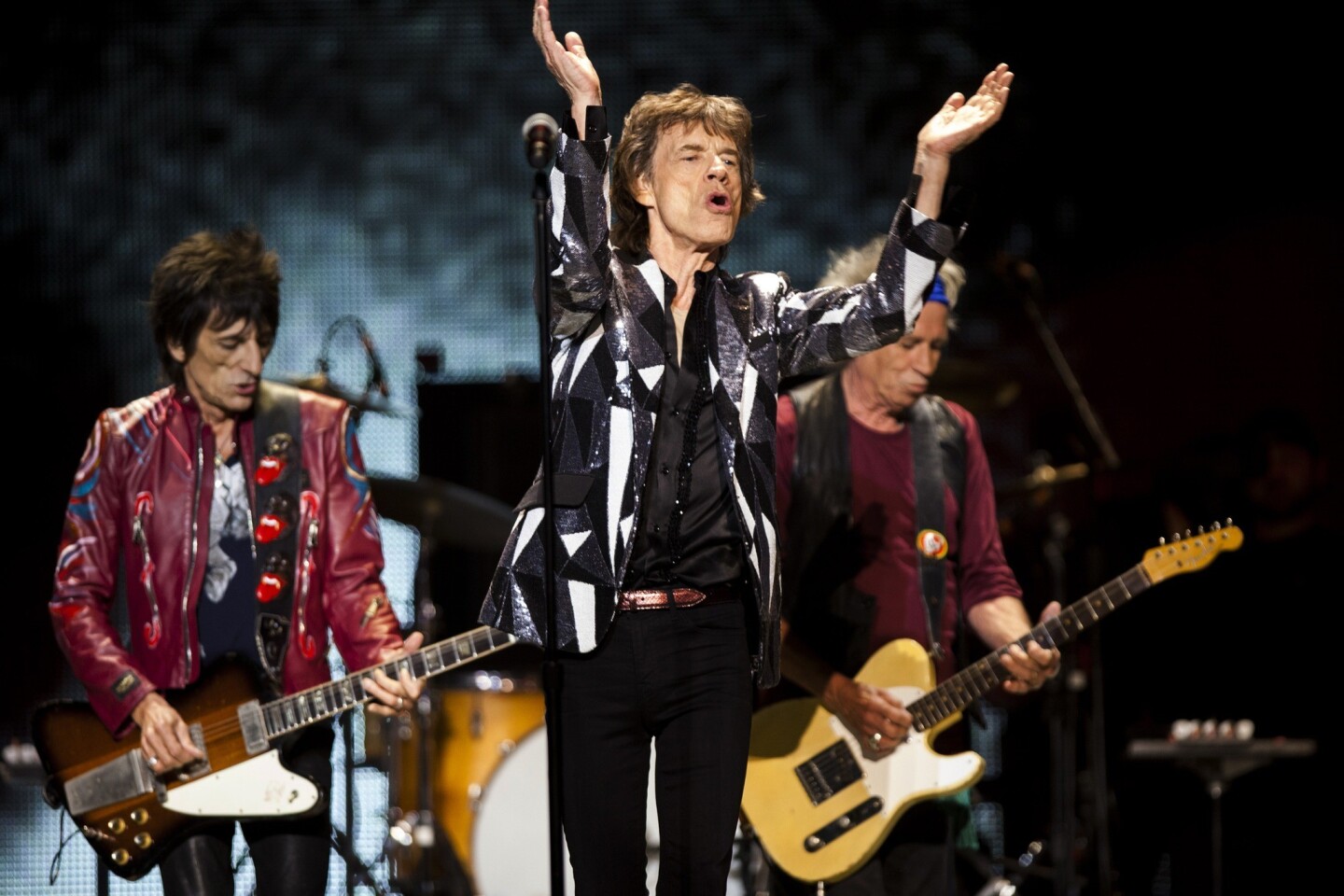 Frontman Mick Jagger flanked by Ronnie Wood, left, and Keith Richards.
(Jay L. Clendenin / Los Angeles Times)
Mick Jagger
(Jay L. Clendenin / Los Angeles Times)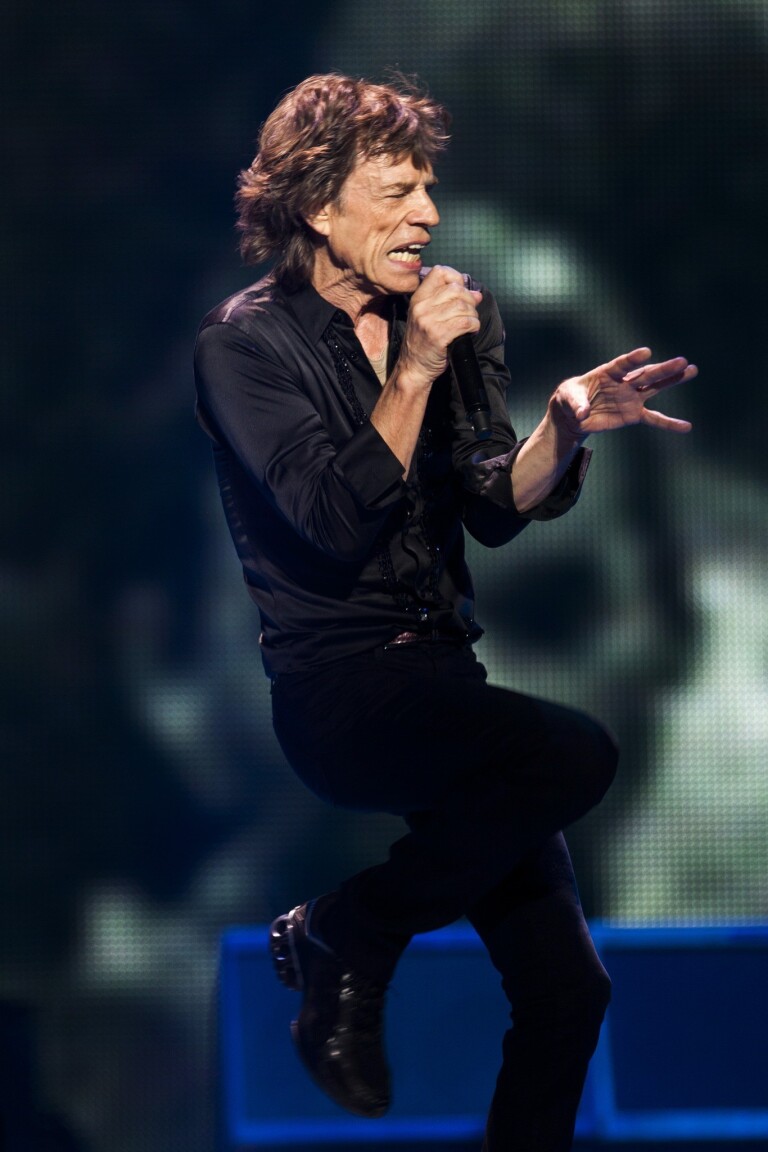 Mick Jagger
(Jay L. Clendenin / Los Angeles Times)
Mick Jagger, right, and Ronnie Wood.
(Jay L. Clendenin / Los Angeles Times)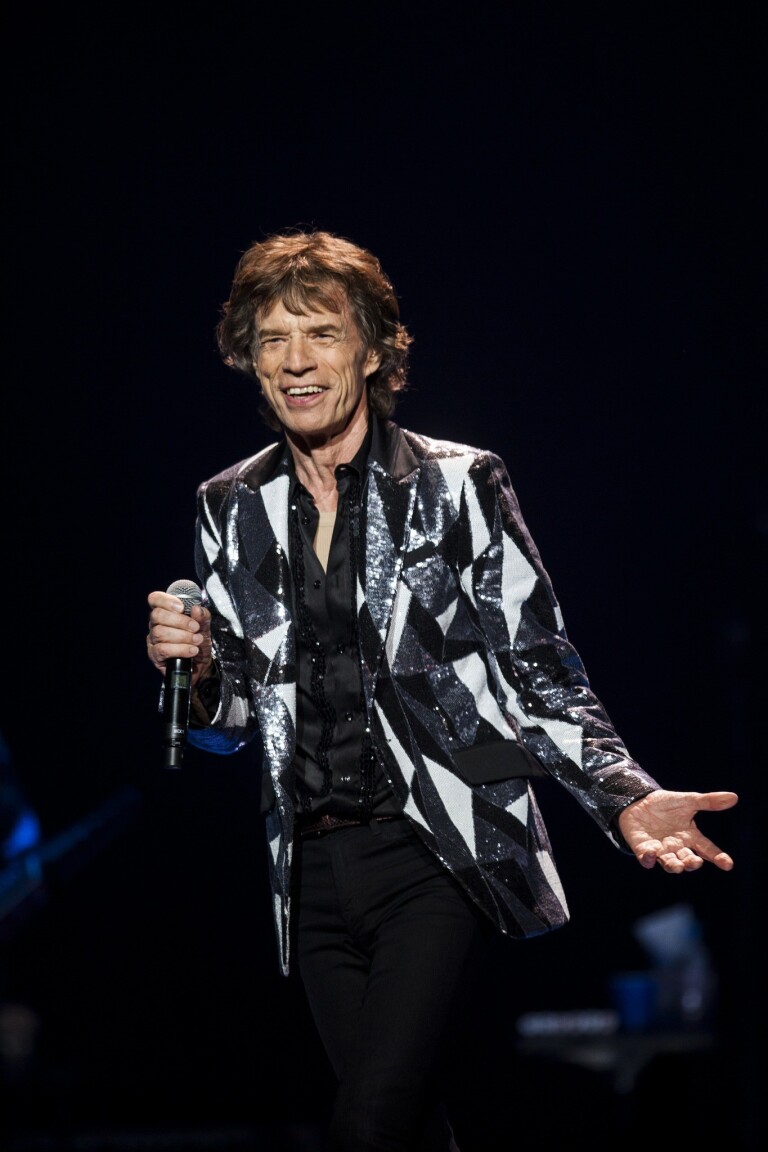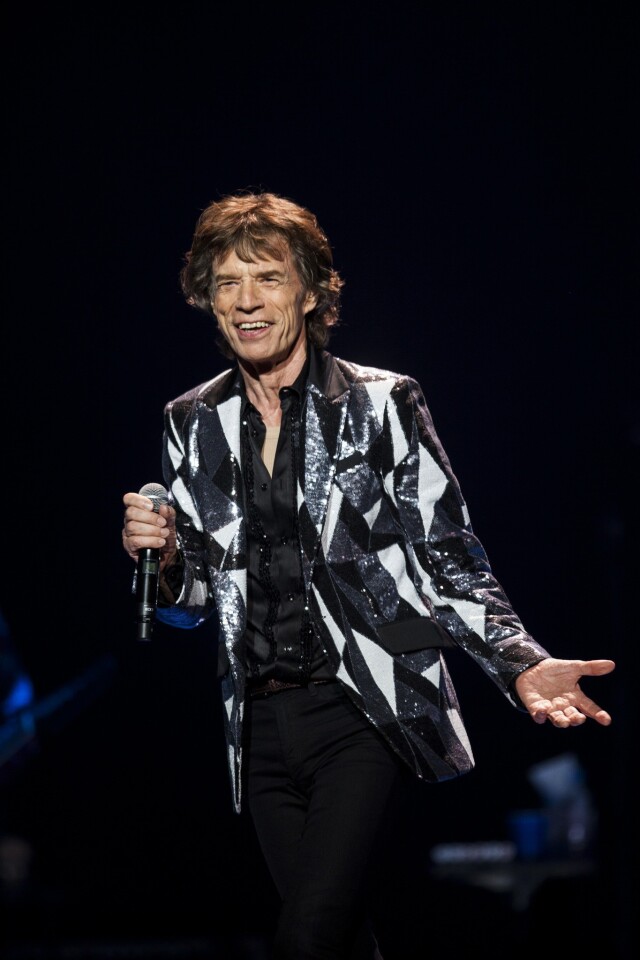 Mick Jagger
(Jay L. Clendenin /Los Angeles Times)
Mick Jagger, with Keith Richards on guitar.
(Jay L. Clendenin / Los Angeles Times)
Mick Jagger and Keith Richards.
(Jay L. Clendenin / Los Angeles Times)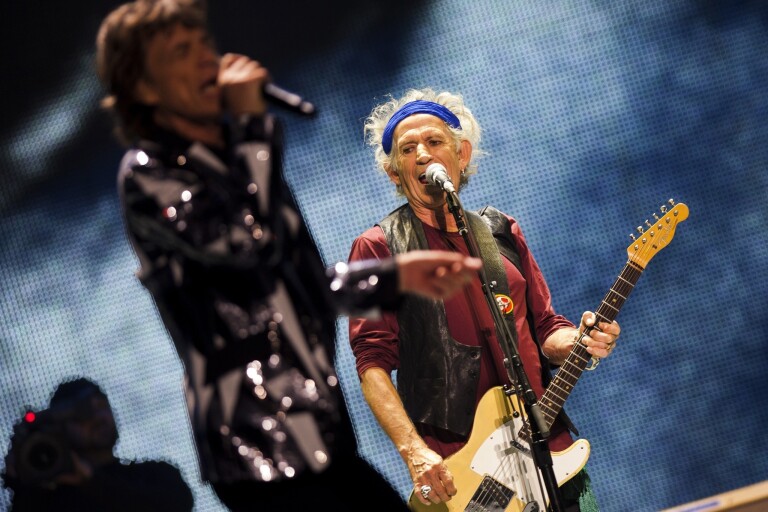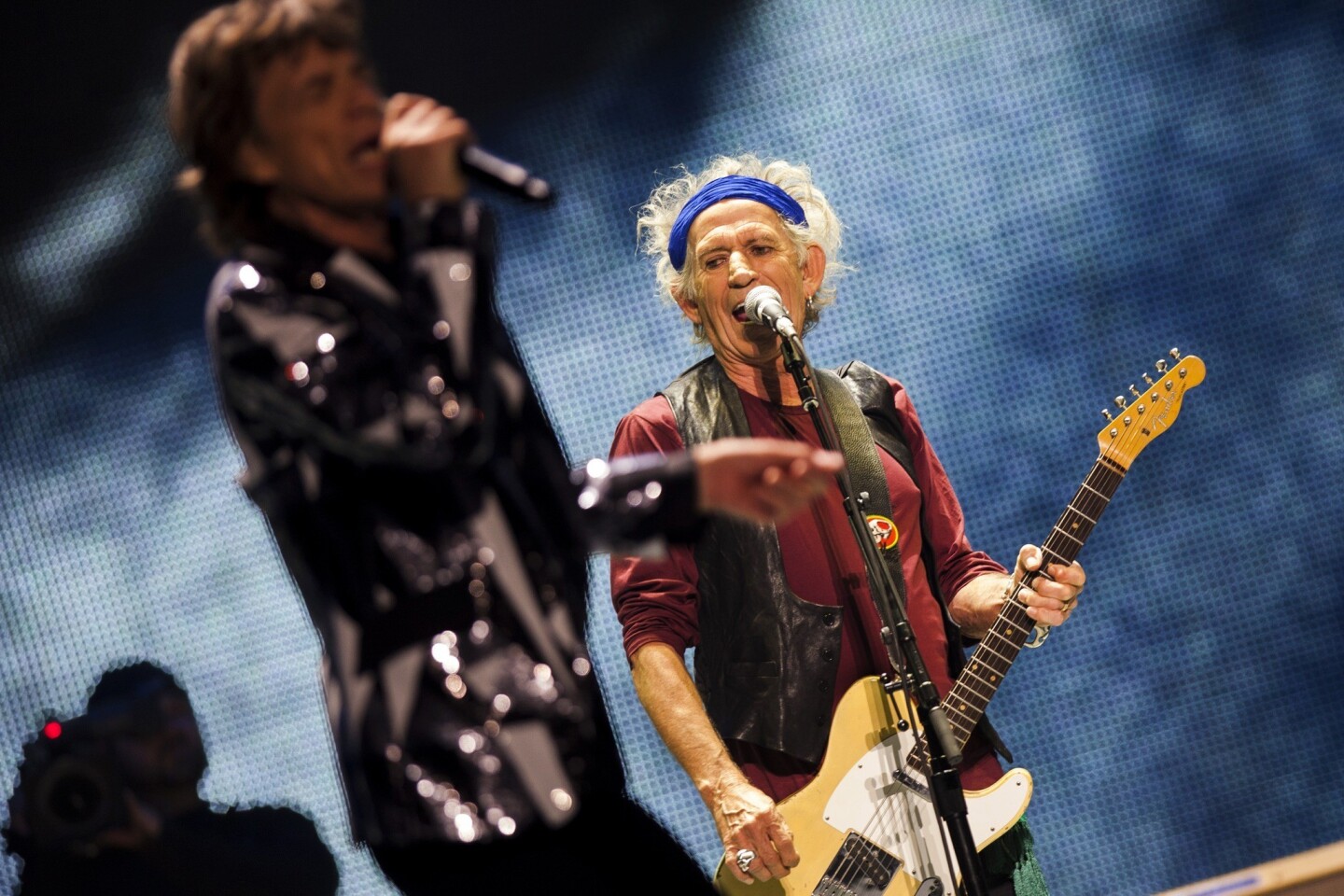 Keith Richards, right, and Mick Jagger perform.
(Jay L. Clendenin / Los Angeles Times)
<i>This post has been corrected. See the note below for details.</i>
The first measures heard at Staples Center as the Rolling Stones began their 26th (give or take) concert in Los Angeles didn't include Keith Richards' riffs, Mick Jagger's sweet falsetto, Ron Wood's delicate guitar lines or Charlie Watts' snare snaps.
Rather, the boom of the UCLA Marching Band, streaming in through the middle of the crowd in its formal blues while the sound system brass-blasted "(I Can't Get No) Satisfaction," announced the arrival of the world's oft-greatest rock band into Los Angeles, and the commencement of its 50 and Counting tour of North America.
PHOTOS: The Rolling Stones at the Echoplex
The Stones -- Jagger, Richards, Watts, Wood and a six-piece support group -- are celebrating 50 years as a band, and did so at a capacity arena with a typical combination of power, nuance and versatility.
That the group stumbled only a few times, most notably when No Doubt singer Gwen Stefani attempted to duet with Jagger on "Wild Horses," is a testament to both the enduring power of their creations and their continued ability to deliver renegade spirit. After all, these rich men could be relaxing in mansions, going on drunken benders or -- as Richards once memorably did -- falling out of coconut trees.
They are the last band standing, let alone prancing, shaking, shimmying or prowling.
Their cockroach-like survival stands to reason. This is durable music, after all, built on solid foundations that have supported and moved entire cultures. Songs such as "Tumbling Dice," "Miss You," "You Can't Always Get What You Want" and "(I Can't Get No) Satisfaction" -- all of which they played on Friday -- have fired the neurons of billions of brains.
Or, as Richards eloquently explained in his 2010 autobiography, "Life," the band offered repeated proof of achieving the ultimate goal of a musician: "to stretch yourself into other people's hearts." Richards wrote of the craft as being "almost an obsession," adding that "to write a song that is remembered and taken to heart is a connection, a touching of bases. A thread that runs through all of us. A stab to the heart."
The Stones stabbed hearts over and over Friday. Among the more celebrated victims at the gig were Jack Nicholson, Eddie Murphy, Nicole Kidman and husband Keith Urban, James Caan, Babyface, Melanie Griffith and longtime Stones producer Don Was. During "Brown Sugar," Nicholson pumped his arms like a teenager along with the other 19,000 fans.
Opening with their brash brush-off "Get Off of My Cloud," the band moved quickly into the equally heartless "The Last Time" (a portent?) and followed that with their lesser anthem "It's Only Rock 'n' Roll." Momentum thus gained, the band barreled through the set with riffs on blues, arena rock, disco, funk, soul, balladry, country and western and, of course, rock 'n' roll.
PHOTOS: The Rolling Stones through the decades
Beneath a stage set-up that featured the band seeming to perform within their iconic lips, they sang of meeting dangerous women in Memphis ("Honky Tonk Woman"), of wandering New York City and mumbling after dark on "Miss You," which was punctuated with a saxophone solo from the Stones' longtime kindred Bobby Keys. Jagger complained of high-society tramps ("Respectable," featuring an impressive cameo by country rocker Keith Urban), and during the band's first-ever live performance of "Emotional Rescue," the Stones' 69-year-old singer nailed his falsetto before deepening to explain his desire to be "your knight in shining armor" while Watts offered a steady disco beat.
On the exquisite country-honk of "Factory Girl," from "Beggars Banquet," Jagger crooned of slumming for working-class women while he and Richards strummed acoustic guitars and Wood mimicked the sound of a mandolin on his electric guitar. "Gimme Shelter" saw Jagger and longtime backing vocalist Lisa Fischer nearly setting the arena ablaze. Watts sat upright behind his simple kit keeping time and observing his obnoxious mates.
Let's not overdo it, though (too late?): The Rolling Stones have had a miraculous run, but haven't truly led the musical conversation in nearly three decades. They've released good songs and decent albums in that time, but haven't been the undisputed kings since 1981's "Tattoo You" and its hit "Start Me Up." Not coincidentally, this was around the same time that hip-hop started fueling a new youth revolution and the Stones were hitting 40.
Yes, the later work contains its share of excellence, but few, for example, screamed along to the only two post-1981 songs the band played, the recent "Doom and Gloom" and "One Last Shot."
That they're vincible was evidenced with the arrival of Stefani. The No Doubt singer is fine when barking out her own words, but she disappointed during "Wild Horses." Her voice, a piercing, high-pitched wail, tyrannically ruled the upper register while Jagger's assured, unabrasive tenor moved through the middle. The version had the feel of a third-wheel friend arriving just as you were on the verge of seducing a lover.
Half a century is a long time to be doing anything, let alone prancing around and letting loose on the dance floor, as Jagger did throughout the night. Angelenos both famous and not have had ample opportunity over the years to witness him and company in action. Since the Stones' first appearance at Los Angeles Memorial Sports Arena in December 1965, they've played the Hollywood Bowl, the Forum, the Coliseum, the Rose Bowl, Dodger Stadium, the Wiltern, the Echoplex and Staples Center -- to say nothing of the many gigs in Anaheim.
PHOTOS: The Rolling Stones at the Forum in 1975
It was during "Midnight Rambler" that Jagger best illustrated the miraculous, nearly superhuman ways in which he's touched Los Angeles. The crawling blues song, which featured a cameo by former Stones guitarist Mick Taylor, lasted nearly 10 minutes. In that time, the singer moved across the stage like a 25-year-old. He spun and dropped, strutted in rhythm, bent his skinny frame into symmetrical angles, tiptoed to the beat, fluttered his fingers before wrapping them around a harmonica for a solo.
And although Richards looks like he's about 150 years old, damn if he doesn't seem as invulnerable as when he was a boy Brit with a bowl haircut and a dead-eyed stare performing on "The Ed Sullivan Show." Richards sang two of his best songs, "Before They Make Me Run" and "Happy." The glimmer in his eyes and the huge smile he flashed as the crowd gave him an ovation arrived with a palpable rush of emotion.
"Sometimes I think songwriting is about tightening the heartstrings as much as possible without bringing on a heart attack," wrote Richards in "Life." On Friday, the vibrations at Staples Center suggested thousands of strings as taut as tightropes. That not a single one snapped is a testament to the Rolling Stones' enduring, apparently indestructible skills.
[For the record, 2:26 p.m. PDT May 4: An earlier version of this post reported that the USC Marching Band performed at the concert. It was the UCLA band that opened the show.]
ALSO:
The Rolling Stones invade Echo Park
PHOTOS: The Rolling Stones through the decades
PHOTOS: The Rolling Stones play at Echo Park's Echoplex
Follow Randall Roberts on Twitter: @liledit
---
The complete guide to home viewing
Get Screen Gab for weekly recommendations, analysis, interviews and irreverent discussion of the TV and streaming movies everyone's talking about.
You may occasionally receive promotional content from the Los Angeles Times.